Karg Dunkles Hefe-Weißbier
| Brauerei Karg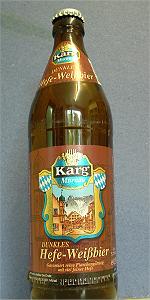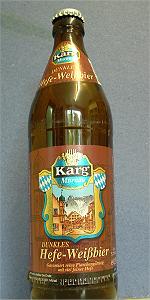 BEER INFO
Brewed by:
Brauerei Karg
Germany
brauerei-karg.de
Style:
Dunkelweizen
Alcohol by volume (ABV):
5.00%
Availability:
Year-round
Notes / Commercial Description:
No notes at this time.
Added by JohnW on 11-09-2005
HISTOGRAM
Ratings: 10 | Reviews: 6
Reviews by Atricapilla:
4.44
/5
rDev
+19.7%
look: 3.5 | smell: 4.5 | taste: 4.5 | feel: 4.5 | overall: 4.5
This beer has a lot of Trub and makes it very cloudy, even for a Weissbier. There are a lot of floral aromas with a slight roasted scent. The flavor has bananas and a hint of nuttiness. Even though one may be turned of by its overt cloudy appearance it is very drinkable. It has very little hoppiness and feels somewhat creamy in the mouth.
340 characters
More User Reviews:

3.09
/5
rDev
-16.7%
look: 3.75 | smell: 2.75 | taste: 3 | feel: 3.5 | overall: 3.25
.5L bottle served in an Ettaler weizen glass.
Cloudy brown with visible carbonation. The tan head is foamy-creamy, has very good retention, and leaves a little bit of lacing.
The beer has the flavor and aroma of wheat and yeasty banana. Toasted malt is rather faint.
M: decent mouthfeel, with medium carbonation and body.
O: below average for a Bavarian weiss dunkel.
372 characters
4.1
/5
rDev
+10.5%
look: 4 | smell: 4 | taste: 4 | feel: 4 | overall: 4.5
Pours medium dark and very cloudy (assuming you have poured it correctly for an unfiltered wheat beer!!) so it looks very thick and heavy. Aroma is all you would expect of a Dark Wheat beer...fruity - banana and cloves, but malty and hint of the roasted barley, maybe even burnt caramel, but not overly sweet. Taste matches the aroma, rich, very fruity, but great balance between the rich fruitiness you expect of a wheat beer, and the slightly bitter hints of the roasted barley malts. I enjoyed this very much, and if you enjoy this style of beer, then definately worth searching out. It is not as heavy or as rich as Aventinus or the Andechs Dunkel Wheat beer, but is a lesser alc at 5.2% but would rate it very close behind those two wonderful beers.
John W
B'ham UK June 2006
785 characters
4.29
/5
rDev
+15.6%
look: 3 | smell: 4 | taste: 4.5 | feel: 4.5 | overall: 4.5
On tap at the Battersea Beer Festival poured into a pint glass.
The appearance ! What can I say, I'd like to rate it higher but it doesn't look like it's fit for drinking! Murky/cloudy yellow/brown like a cross between dirty canal water and a banana smoothie! Frothy tan head and a decent one at that. That's sold it to you hasn't it!?!
But it get's better, much better, oh yes !
Good aroma's come off this beer, all the usual suspects for the style, banana, clove, maybe something sweet in there too, vanilla/cream/caramel?
Top notch in the tasting department, toffee, caramel, banana, clove, a little yeast and a bit more 'nana for good measure.
Mouthfeel also top notch, rich, creamy, massages the throat as it goes down, fairly low carbonation.
Overall I really enjoyed this beer, having sampled a great many from this style on my various trips to Deutschland. Don't let the appearance put you off, it's a very good beer!
931 characters
3.68
/5
rDev
-0.8%
look: 4.5 | smell: 3.25 | taste: 3.75 | feel: 4.25 | overall: 3.5
2.49
/5
rDev
-32.9%
look: 2 | smell: 3 | taste: 2.5 | feel: 2.5 | overall: 2
Man, is there a sh*t load of yeast in this beer. Looked good on the initial pour, nice almost rusty brown, tight head. Then, after the swirl and pour, the beer turned a murky brown, with the cloud of yeast visibly swirling in the beer before finally integrating itself fully. Result is very murky, almost muddy brown. I'm a little frightened. Head was pretty tight, but I think all that sediment made it crash.
Aroma is muted banana and spice, and something, something grainy and mildly resembling burnt popcorn?
Flavor is muted as well with some banana and clove. Mild citric character in the finish.
Feels a little to full and heavy on the palate.
Have to say, sludgy yeastiness of this one was a big turn off and I couldn't get past it. I felt it weighed down the whole beer. Was going to have this one with the chinese stir fry I made for dinner -- pork (marinated in oyster sauce, hoisin, soy sauce, honey, garlic, ginger, sherry, chili paste), shiitakes, red pepper, eggplant, scallion, snow peas, cashews. Dinner was excellent. This beer, not so much.
1,071 characters
3.63
/5
rDev
-2.2%
look: 3.5 | smell: 3 | taste: 4 | feel: 4 | overall: 3.5
Dark red to copper cloudy beer with a light brown head with a bubbly texture. There is also a fair bit of sediment in the glass after the pour.
Strong toffee and malt presence upfront with this one along with some lighter caramel and clove notes. There is also some banana on the nose but this is more subdued than the other aromas.
Toffee and caramel, blended with some strong malts and roasted sugar notes. I could detect some clove and spices with a little banana but not a lot.
Smooth and medium bodied with a sweet, dry finish and good spicy notes throughout.
I found this one to be a nice dunkelweizen without being all that great or memorable. Not a bad beer by any means and the mix of banana, cloves and the malts was a good one and together with the nice wheat aftertaste I don't have too many complaints to make about this beer.
A Bar With No Name:
http://abarwithnoname.wordpress.com
902 characters
Karg Dunkles Hefe-Weißbier from Brauerei Karg
Beer rating:
3.71
out of
5
with
10
ratings