Old Courthouse Stout
| Trailhead Brewing Co
BA SCORE
76
okay
15
Reviews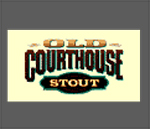 BEER INFO
Brewed by:
Trailhead Brewing Co
Missouri
,
United States
trailheadbrewing.com
Style:
American Stout
Alcohol by volume (ABV):
not listed
Availability:
Year-round
Notes / Commercial Description:
No notes at this time.
Added by pezoids on 10-19-2002
Reviews: 15 | Ratings: 33
3.31
/5
rDev
+10.3%
look: 4.5 | smell: 3.5 | taste: 3.5 | feel: 3 | overall: 2.5
pours a dark black color. 1/2 inch head of a light tan color. Good retention and good lacing. Smells of roasted malts and a general sweetness. Fits the style of an American Stout. Thick and bubbly mouth feel, bitterness and carbonation levels so high it was hard to drink. Tastes of roasted malts up front and strongly in finish. A distinct grass flavor in the middle of the beer. Also, picked up some strong malts in the background. Overall, the grass flavor and the carbonation detract from the beer. Not a real good example of a stout.
★
538 characters
2.88
/5
rDev
-4%
look: 3.5 | smell: 3 | taste: 3 | feel: 2.5 | overall: 2.5
Tasted at the Trailhead Brewpub on 02/23/06.
Black in color with a low tan head. A decent but light roasty malt aroma. Primarily a roasted malt aroma but not very robust. Light bodied and a tad watery with a dry roasty finish.
A fairly weak American Stout ... Their Brown Ale is much more robust than the Stout. Disappointing effort after tasting the Brown.
★
363 characters

2.98
/5
rDev
-0.7%
look: 3.5 | smell: 3 | taste: 3 | feel: 2.5 | overall: 3
Sample at the brewpub: Pours a flat black color with a compact tan head that dissipates quickly. Patchy lacing on the glass. Aroma of roasted malt and a little coffee. Slightly watery, glassy smooth mouthfeel with flavors of roasted malt and mild hops, with coffee throughout. The finish is mildly roasty with weak hops on the tongue. One-dimensional and kind of a disappointment like most of their other offerings.
★
415 characters

4.01
/5
rDev
+33.7%
look: 4.5 | smell: 3.5 | taste: 4 | feel: 4 | overall: 4.5
The Old Courthouse Stout was my favorite of the six beers I sampled at the brewpub. It was very good, though a little thin for a stout.
The color was a very dark brown/black with a good, tan foam head. The aroma was very mild, but smelled of roasted malt. The flavor was intense of dark chocolate and bitter coffee and dark roasted malt with some hop bitterness. The mouthfeel was good, with the bitterness lingering on the tongue, and some carmel in the finish. The drinkability was very good, and I had a second pint.
★
522 characters
2.67
/5
rDev
-11%
look: 3.5 | smell: 1.5 | taste: 3 | feel: 2 | overall: 3.5
The pour was a very deep brown/black with a nice looking brownish head that left lace after lace –even though the pint glass was chilled (Trailhead style). For a stout, pretty thin in the taste and mouth. No aroma at all. Just small tingles of hops and malt, although drinkable for a session. Overall, again for a stout, somewhat disappointing – seems Trailhead is making a stout for *mass* appeal.
Dave the bartender says this one is around 4.5% ABV.
★
456 characters
2.91
/5
rDev
-3%
look: 3.5 | smell: 2.5 | taste: 3 | feel: 3 | overall: 3
A: Dark brown with a decent tan head that faded slowly to a light lacing.
S: Very faint aroma primarily of roasted malt.
T: Light coffee with a mild malt taste and very slight bitterness.
F: Medium body but not the creamy texture I would expect from a stout.
D: Another unoffensive brew from the Trailhead Brewery. Not a beer that I would go out of my way for. This seems to be a beer that blends well a meal more than as a stand alone brew.
★
445 characters
2.62
/5
rDev
-12.7%
look: 3 | smell: 3.5 | taste: 2.5 | feel: 2 | overall: 2
A - Extremely dark brown that looks black unless it's directly in the light. The head is light brown and a solid finger. Some foamy brown lace is left on the glass.
S - Burnt grains and old coffee that's been on the burner too long. Some asphalt of tar aromas are there too.
T - I like the old coffee smell, but the flavor is also a bit like old bitter coffee, and that just isn't working so well.
M - Too watery for a stout IMO. Slightly overcarbonated also.
D - One of the lesser-quality beers from Trailhead. I didn't really care for this one much, which was surprising since I usually look forward to trying each brewery's stout.
★
639 characters
3.48
/5
rDev
+16%
look: 4 | smell: 3.5 | taste: 3 | feel: 4 | overall: 4
This brew is listed as the tastiest at the brewery. I am convinced that is not accurate. A deep black color and mottled thin tan head introduce a light roasted malt aroma. The heavy roasted malt flavor is supported by a smooth body, thin relative to the style. The flavor is not nearly as complex as the Red or the Brown ales, and not nearly as satisfying. Not bad, but not a favorite.
★
389 characters
2.19
/5
rDev
-27%
look: 3.5 | smell: 2 | taste: 2 | feel: 2 | overall: 2.5
In the past this stout was a favorite. It was appropriate color and sported a good head and lace. Aroma was strong buttery. Nice carbondation for this style. I found it to have a watery mouthfeel and generally a poor body with little going on with the taste. A little hop finish but also dissapointing. Just drinkable.
★
318 characters

3.68
/5
rDev
+22.7%
look: 5 | smell: 4.5 | taste: 3 | feel: 4 | overall: 3.5
When poured, the head was small in size with a light brown headand fine-small sized bubbles that mostly diminished.The body was uncarbonated and opaque and the hue was black.The nose was malty and roasted coffee.The flavor was that of roasted coffee with a smooth and creamy mouthfeel.It was medium bodied with fair lacing.Not one of the better tasting stouts that I have rated, but it was decent.
★
397 characters
2.08
/5
rDev
-30.7%
look: 2.5 | smell: 2 | taste: 2 | feel: 2.5 | overall: 2
Served this American Stout on-tap, in a pint glass, at the brewery. The Stout poured a dark brown color and produced a thin tan head. Retention was poor and only minimal amounts of lacing were left behind. The aroma was very faint...small amounts of roasted malt and coffee were present. The taste had a mild roasted malt base, coffee and it was slightly bitter. Medium in body, just overall....not much to get excited. Another safe, bland beer from Trailhead.
T
★
464 characters
3.7
/5
rDev
+23.3%
look: 3.5 | smell: 3.5 | taste: 4 | feel: 2.5 | overall: 4
A dark black color with a one-finger off-white head that lasts a long time.
Smell is of faint roasted malt and some chocolate. Not too strong of a scent.
Taste is of roasted malt and a little chocolate. A little hop bitterness is also present as well.
Mouthfeel is too thin and carbonation is a little less than I would like.
Drinkability is pretty good.
A decent stout.
★
386 characters
3
/5
rDev 0%
look: 3 | smell: 3 | taste: 3 | feel: 3 | overall: 3
Appearance: Pours very dark brown with ruby highlights. A creamy, tan head starts out strong, but fades away to nothing.
Smell: Aroma of roasted grains and coffee. Fairly one-dimensional...
Taste: Starts out with a strong roasted, coffee flavor, and ends with a slight fruit flavor...strange, considering this isn't anywhere close to being an Imperial Stout. The taste, like the smell, is somewhat one-dimensional and lacking.
Mouthfeel: A little thin for the style. I like my stouts thick and chewy and this falls way short.
Drinkability: I would say that this is a highly drinkable brew, considering it goes down so easy, but that's the main problem here: it's just not memorable enough to want to put down more than one. A very average brew...
★
758 characters

2.44
/5
rDev
-18.7%
look: 2.75 | smell: 2.5 | taste: 2.5 | feel: 1.75 | overall: 2.5
this dark brew had a very minimal snow white head that like magic disappeared almost instantly leaving zero lacing down glass
a hint of roasted grains no hop and a touch heavy with diacetyl aromas
the flavor followed the aromas with zero hop a hint of roasted grain and a bit thick on the butterscotch diaceyl
thin as a stout gets in a bad way
i found this brew to be unpleasant
★
378 characters
2.89
/5
rDev
-3.7%
look: 4 | smell: 2.5 | taste: 3 | feel: 2.5 | overall: 3
Note: My beer was extremely cold. I found a little ice around the rim of the glass, I don't know if they frosted the glass or the keg was just kept too cold. I think the coldness of the beer might've impacted this tasting.
Appearance: Very dark, no light penetrates. A smallish one finger lightly colored head covers the beer but disapates within a few minutes.
Smell: Faint roasted coffee, not much of a scent to speak of.
Taste: A little underwhelming, slight coffee taste is present if you look for it, otherwise has a very dry somewhat malty character.
Mouthfeel: Decently balanced between viscosity and lightness. Not as thick as I like a stout, but not too light.
Drinkabilty: A very drinkable beer alltogether, not bad enough to dislike but not good enough to slowly savor. An easy-drinking session beer.
I've yet to be impressed by a Trailhead beer. and this beer was no exception. Like most of the beers I've had there it seems to eschew character in favor of being unoffensive. It was obviously designed to be as close to Guiness as possible and it is close.Still, certainly nothing extraordinary and probably not worth the effort to seek out, but if you're in the area and enjoy Guinessesque stouts then it's worth a try.
★
1,255 characters
Old Courthouse Stout from Trailhead Brewing Co
3
out of
5
based on
33
ratings.