The Eagle Has Landed
| The Schlafly Tap Room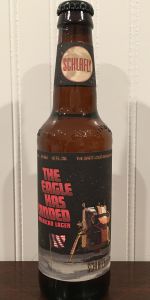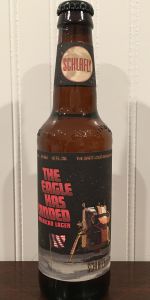 BEER INFO
Brewed by:
The Schlafly Tap Room
Missouri
,
United States
schlafly.com
Style:
American Lager
Alcohol by volume (ABV):
5.00%
Availability:
Limited (brewed once)
Notes / Commercial Description:
Light, golden and refreshing, this true American lager pays homage to the famous phrase that has been cemented as one of the most memorable sayings in our history.
Reviews: 10 | Ratings: 14
Reviews by jzlyo:
3.84
/5
rDev
+7.6%
look: 4.25 | smell: 4 | taste: 3.75 | feel: 3.75 | overall: 3.75
Aroma is grains/malts and a hint of apples. The flavor is malts/grains, fruit/hint of apples, somewhat slick texture and a slightly sweet/mostly smooth finish.
160 characters
More User Reviews:

3.71
/5
rDev
+3.9%
look: 3.5 | smell: 3.75 | taste: 3.75 | feel: 3.5 | overall: 3.75

3.7
/5
rDev
+3.6%
look: 4 | smell: 4 | taste: 3.5 | feel: 3.5 | overall: 3.75
Floral...lager notes from a clear yellow brew. Short lived puffy white head. The taste is balanced....slight sweetness in the front and some mild hop notes in the hindtaste. Flavorful and well made.
201 characters
3.68
/5
rDev
+3.1%
look: 3.75 | smell: 3.75 | taste: 3.5 | feel: 4 | overall: 3.75
Straw yellow in color with great clarity. There's a fingernail of off white around a third of the rim and about a third of the top. The aroma is of corn and grassy German hops. I'm tasting a splash of light malt and the grassy hops. The mouth is smooth and refreshing.
276 characters
3.53
/5
rDev
-1.1%
look: 3.5 | smell: 3.5 | taste: 3.5 | feel: 3.75 | overall: 3.5
A: The beer is clear light yellow in color and has a light amount of visible carbonation. It poured with a short bright white head that quickly settled down, leaving a collar around the edge of the glass and a thin film of bubbles covering the surface.
S: Light aromas of grassy hops are present in the nose.
T: The taste follows the smell and has light flavors of grassy hops along with underlying notes of pale and pilsener malts. There is a light to moderate amount of bitterness.
M: It feels a bit more than light-bodied and clean on the palate with a moderate amount of carbonation.
O: This is an honest lager that goes down easily. I liked the subtle aromas and flavors of grassy hops.
Serving type: bottle
714 characters
3.55
/5
rDev
-0.6%
look: 3.25 | smell: 3.75 | taste: 3.5 | feel: 3.5 | overall: 3.5
From the bottle, it pours a hazy light amber with a modest head that reduces to a robust ring and leaves lacing. In the nose, it is somewhat hoppy and grassy. In the mouth, it some grassy hops and light malts.
211 characters

3.34
/5
rDev
-6.4%
look: 2 | smell: 3.5 | taste: 3.5 | feel: 2.75 | overall: 3.5
12 oz bottle. Pours golden with long lasting white head and soda like carbonation. Aroma is of grassy hops, some lemon and biscuit malt. Body is medium and crisp. Grassy hops, biscuit malt and some pepper fill the mouth. Finish is long, dry and a little spicy. Nice refreshing brew.
287 characters

3.44
/5
rDev
-3.6%
look: 3.5 | smell: 3.25 | taste: 3.5 | feel: 3.5 | overall: 3.5
Taste: crisp, grassy grapefruit hop nose, a bit chewy. Citrus grassy, earthy nose. Golden hue, clear, with a tall white soapy head and some lace. Medium to Med/full body. Hoppy lager. 25 IBUs
191 characters
3.86
/5
rDev
+8.1%
look: 4 | smell: 3 | taste: 4 | feel: 4 | overall: 4.5
Another of the Lunar Lager mixed pack. I'd tried a bottle of this on a stunted palate and wasn't impressed, then I had one after a long day at work yesterday and had a different impression. Looks like "American Lager" includes the likes of BMC, PBR, Grain Belt & Special Ex -- not sure what Neil Armstrong enjoyed, but I thought he was a bourbon drinker.
Poured into my tall Becher.
L -- Clear, light gold (not quite straw) with a dense and sudsy white head that settles slowly.
S -- Cereal grain nose -- bordering on harsh, but doesn't offend.
T -- Sweetish to husky graininess with a mild citrus character and herbal hop bitterness in the finish. Some bready malts round out the aftertaste.
M -- Mouthfeel is soft to crisp with a light to light-medium body.
O -- Poured over a fresh palate, this is a pretty tasty beer. I have the feeling it would stomp all over any BMC product in a blind tasting just because it has good flavor without being harsh or too adjunct-heavy. There is corn in the recipe, but it sure doesn't detract as in some beers of similar style. Worth a sample.
1,093 characters

3.25
/5
rDev
-9%
look: 3.25 | smell: 3.25 | taste: 3.25 | feel: 3.25 | overall: 3.25

3.59
/5
rDev
+0.6%
look: 4 | smell: 3.75 | taste: 3.5 | feel: 3.5 | overall: 3.5
Pours a lightly foggy golden yellow with two fingers of dense, white foam. Head retention is good. Aroma is straw, biscuity, wafery, crackery malts with a broken, raw grain behind. Zesty, herbal, and very light floral hops pepper in a little depth. Flavor profile is straw, herbal, floral, zesty, spicy hops with grainy, biscuity, crackery, wafery malts that fall apart as if they're soggy. Mouth feel opens up with a very fine crispness, and then fades into 'watery'. It has a medium-thin consistency. Overall, raw grain and malt form the bulk of the aroma and flavor profile with hops sprinkling in a touch of pizzazz, but it loses its focus towards the finish and breaks apart re-entering orbit, leaving a less-than-desired finish.
Served in a 15.5oz Speigalau tulip from a 12oz bottle.
790 characters
4.17
/5
rDev
+16.8%
look: 4.25 | smell: 4 | taste: 4.25 | feel: 4 | overall: 4.25
Pours a crystal clear light golden-straw color. Incredibly effervescent initially and gradually becoming less so. Two finger head collapses quickly leaving a thin layer of patchy white foam on top of the beer and some sticky lacing along the outside of the glass.
Aroma has notes of grain and a slight sweetness from the grain is noted. Stale bread and some light herbal hop notes.
Taste follows the nose with notes of sweet grains, light honey notes and some stale white bread. Semi-dry finish comes through with some herbal hops that do have a slight touch of spice to them.
Feel is crisp, light and easy drinking. Bright carbonation. Semi-dry finish.
Overall this is everything you'd want from an American Lager ... Any knock on this beer is a style knock rather than a knock on the quality of the beer itself.
821 characters

3.74
/5
rDev
+4.8%
look: 3.5 | smell: 3.75 | taste: 3.75 | feel: 3.75 | overall: 3.75
2.53
/5
rDev
-29.1%
look: 2.5 | smell: 2 | taste: 2.75 | feel: 2.5 | overall: 2.75
The Eagle Has Landed from The Schlafly Tap Room
Beer rating:
3.57
out of
5
with
14
ratings