Simco 3
| Brauerei S. Riegele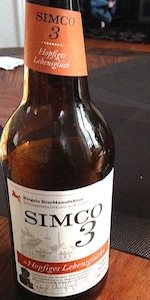 BEER INFO
Brewed by:
Brauerei S. Riegele
Germany
riegele.de
Style:
American IPA
Alcohol by volume (ABV):
5.00%
Availability:
Year-round
Notes / Commercial Description:
No notes at this time.
Added by clarknova on 11-26-2013
Ratings: 14 | Reviews: 4
Reviews by Intrinsic:
4.06
/5
rDev
-3.1%
look: 5 | smell: 4 | taste: 4 | feel: 3 | overall: 4.5
This beer is unbelievably good considering where it's made. Most German beers are quite ordinary, but Riegele's (and this one in particular) stand out from the crowd. By far the best part of this beer is how it looks. It's a beautiful orange colour with amazing retention and nice lacing. The smell and taste both stand out as well - the Simcoe hops are the stars here. A perfect example of an American IPA, but brewed in Bavaria. Try this one out if you get the chance!
470 characters
More User Reviews:
4.03
/5
rDev
-3.8%
look: 4 | smell: 4.75 | taste: 3.75 | feel: 4 | overall: 3.75
L:
-pours a cloudy amber-orange with a big,frothy,offwhite head
-medium to high carbonation
S/T/F:
-strong taste of elderberries,Mango and Honey
-Definite Grapefruit
-well carbonated
-middling hop bitterness,grapefruit,little watery finish
O:
Mix of american/german hops,def. differs from a usual PA.
301 characters

3.48
/5
rDev
-16.9%
look: 3.5 | smell: 3.5 | taste: 3.5 | feel: 3.25 | overall: 3.5
4.16
/5
rDev
-0.7%
look: 4 | smell: 4.25 | taste: 4.25 | feel: 4 | overall: 4

3.55
/5
rDev
-15.3%
look: 4.5 | smell: 3.25 | taste: 3.5 | feel: 4 | overall: 3.5
4.03
/5
rDev
-3.8%
look: 4.5 | smell: 4 | taste: 4 | feel: 4 | overall: 4

4.44
/5
rDev
+6%
look: 4.75 | smell: 5 | taste: 4.25 | feel: 4 | overall: 4.25
A little hazy with a huge, only slightly off-white head that leaves no lacing, but lasts. Smells like fresh blended mangos and apricots; absolutely beautiful aroma. Taste is super fruity, although not as intense as hoped, probably due to the relatively low ABV. Bitterness is very low - to a fault - leaving it a bit boring at the end. Still, a delicious example of low ABV IPA (were it categorized as a Session IPA, this would be one of the best.) Medium body, but low carbonation. Overall, a little more bitterness and higher carbonation would be nice, but still a really great beer.
585 characters

4.59
/5
rDev
+9.5%
look: 4.75 | smell: 4.5 | taste: 4.75 | feel: 4.25 | overall: 4.5
Appearance: Apricot is a good descriptor by @JHDStein under a really bright white, tight, fluffy and tiny bubbles that last a long time. Love it! The foam laces and clings to the glass when swirled. Nice.
Aroma: My god, hello. I get all the normal Simcoe hop aromas: citrus-lemon, maracuja, mango, a little apricot, a tad pine, all exploding out of the glass. Mixed under those fruit aromas is a nice base of Münchner malt caramel wafting up. Wow. After a few minutes, the aroma lets go and I really have to swirl the stuff to get any aroma.
Flavor:
Up front: A nice thwack of bitterness, but not too heavy, sets up on the front, and the bite of a citrus, nay lemon flavor pervades.
Mid: Much more bitterness, quite heavy here, though it never leaves the pleasant range. You get more orange, then grapefruit, then mango, finally a slight pine, I guess the usual Simcoe flavors here.
Back: Again, a lovely bitterness lays over the tongue, always just at the goldilocks level. Also all the same flavors of Simcoe I mentioned above are present in spades. Lovely. There's a backbone of German malts here, Pils, Münchner, oh this is wonderful, with a tiny bit of tartness.
Aftertaste: Wow.... it lingers... by that I mean the goldilocks bitterness and some mango.
Mouthfeel: Going by this alone, I'd say it was a typical German beer, very much a thick but quite dry feeling all over the mouth.
Overall: A WOW beer, and the best non-Pax Bräu German version of an IPA, but this is defiantly a German IPA. They mention on the back label using Hallertauer Perle and Opal with Simcoe (hence the 3 in the name). They also use Pils, Münchner and Steffi (?) and wheat (yeah, the dryness I got) malts. This is a goldilocks beer with a wonderful base of German Noble hop bitterness mixed with Simcoe fruit flavors. All that floats over the base malts and mix so well together, it makes this beer never too much of anything but just enough of everything popping all the right exotic, pregnant flavors that bear fruit in a wonderful flavor-mix. I love this beer, but the only thing I could nitpick with is to make it a real German IPA, I'd boost the Münchner and Pils flavors if possible. I give this a 4.6 of 5. Not a WOWOWOW beer, but still a WOW beer. At 5%, not an IPA, but I like that it's more like a Pils in this respect, allowing one to drink more than one would a stiff IPA. I'd call this an German Simcoe Ale.
2,411 characters


3.96
/5
rDev
-5.5%
look: 4 | smell: 4.25 | taste: 3.75 | feel: 4 | overall: 4

Simco 3 from Brauerei S. Riegele
4.19
out of
5
based on
14
ratings.