Schönramer Hell
| Private Landbrauerei Schönram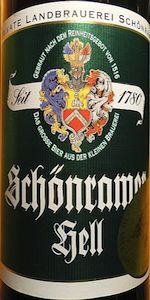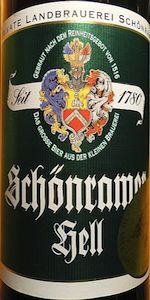 BEER INFO
Brewed by:
Private Landbrauerei Schönram
Germany
brauerei-schoenram.de
Style:
Munich Helles Lager
Alcohol by volume (ABV):
5.00%
Availability:
Year-round
Notes / Commercial Description:
No notes at this time.
Added by Sachsenfreude on 09-28-2010
HISTOGRAM
Ratings: 11 | Reviews: 4
Reviews by kojevergas:

3.25
/5
rDev
-14.7%
look: 3.25 | smell: 3.25 | taste: 3.25 | feel: 3.25 | overall: 3.25
500ml brown glass bottle with a green label and a branded pry-off crown cap purchased at Ambrosetti in Berlin. Regrettably brief notes below:
Best before: 07.05.16. 5.0% ABV.
Served cold into a pilsner glass.
APPEARANCE: Has an overzealous off-white head occupying initially ~80% of the glass to the tune of 15cm (!) width, but it quickly recedes to a more reasonable ~10cm. From there, it's a good ~8 minutes until it recedes completely. Head is frothy, foamy, adequately thick, coating, and heavy on the lacing (to its benefit), leaving thick patches of legs on the sides of the glass.
Body is a predictable bright (i.e. helles) yellow, though the vibrance of the hue is limited. Clean, lacking any visible yeast or sediment.
AROMA: Munich malts. Noble hops (i.e. grassiness). Seems balanced, albeit simple (to style).
No off-notes. No booze. Yeast profile is clean, indicating ester-free cleanly attenuating lager yeast.
TASTE: Follows the aroma, with the addition of a straw-like note. Simple, straightforward, classic drinkable helles lager.
TEXTURE: Smooth, wet, refreshing, medium-bodied, somewhat refreshing, overcarbonated. Doesn't elevate the beer as a whole or accentuate specific notes, but it complements the taste nicely.
OVERALL: Highly drinkable to style, with sufficient depth of flavour and nice balance.
High C+ (3.25) / ABOVE AVERAGE
1,363 characters
More User Reviews:

4.66
/5
rDev
+22.3%
look: 4.75 | smell: 4.25 | taste: 5 | feel: 4.5 | overall: 4.5
Very good on a hot day or with a burger.
40 characters
2.93
/5
rDev
-23.1%
look: 4.5 | smell: 2.75 | taste: 2.75 | feel: 3.5 | overall: 2.75
L:
-pours a clear straw-golden with amedium,foamy,white head
-medium-high carbonation visible
S:
-honey,green apple,lemon,floral,herbs,dishwashing liquid
T:
-spices,herbs,vegetable (Rucola),white pepper,quite hoppy for a Helles
F:
-light-medium body,medium-high carbonation
O:
Taste didn't quite suit me and it's a little too hoppy for a Helles.
345 characters
4.3
/5
rDev
+12.9%
look: 4 | smell: 4 | taste: 4 | feel: 5 | overall: 5
This is one of the masters of all Helles and I believe it could be a standard for the style.
appearance; brown bottle with a green label. Pours a pale straw yellow color with a decent white head. Some moderate lacing.
smell; pure somewhat flat odor, with light hints of hops and clean water, slight alcohol.
taste; hop flavors are most noticed but not over powering, a little bit of barley. Somewhat zesty and not much sweetness. Hints of water but in a refreshing way, very crisp but not too light with a bit of alcohol flavor.
mouthfeel; complex, very loose and goes down easy but with a sharp frothy carbonation that could be expected from a thicker beer. I never had a Helles with such a nice mouthfeel and this makes it my favorite of the style.
drinkability; a perfect session beer that sits well in the stomach, a little heavy but perfect with food.
If you like this style of beer, this one is a must try. A very pure and clean beer, just like the region where it is brewed.
999 characters

4.04
/5
rDev
+6%
look: 4.25 | smell: 4 | taste: 4 | feel: 4.25 | overall: 4
3
/5
rDev
-21.3%
look: 3 | smell: 3 | taste: 3 | feel: 3 | overall: 3

4.39
/5
rDev
+15.2%
look: 3.75 | smell: 4.75 | taste: 4.5 | feel: 3.25 | overall: 4.5
The reason I was interested in and ordered this beer from Biershop Bayern is this beer won the Gold in 2011 for European Beer Star in the category German-style Helles/Lager.
Appearance: Light gold, looks almost the color of an American AAL, under a snow white head.
Aroma: Lots and lots of Pils malts waft up with some grassy notes typical of Noble hops.
Flavor: In the front, nice bitterness, actually a hefty amount of bitterness, yum. In the middle, grassy, hay-like flavors with more bitterness. In the back, lots of sweet Pils malts, and some more bitterness. Though I keep mentioning bitter hop flavors, my girlfriend described the beer as "mild," which I take is she gets lots of Pils sweetness in the back if you swig the beer to the back without letting it hit other parts of the tongue. Nevertheless, it's imbued with both a bitter and sweet Pils focus. When I say sweet, I'm not talking cloying oversweet, but genuine malt sweetness.
Mouthfeel: Here's the only part I don't like. It's quite thin, not AAL thin, but tending in the direction, thinner than many Helles and Pils and makes me feel it's a little weak. Maybe this would hit the spot on a hot summer day in the sun under shady trees, but it's not summer now, it's cold, and it just doesn't have the heft I expect for a German beer.
Overall, a very nice combination of Noble bitterness with Pils malt sweetness, neither extreme nor too weak. It's really good, but I don't see it as the best Helles I've had. I really like the bitterness, up and down the tongue, that part is great, but still the thinness turned me off slightly, and I really wasn't wowed by this beer. Score: 4.5
1,653 characters
4
/5
rDev
+5%
look: 4 | smell: 4 | taste: 4 | feel: 4 | overall: 4

3.94
/5
rDev
+3.4%
look: 4 | smell: 3.75 | taste: 4 | feel: 4 | overall: 4
07/03/2017, in Berchtesgaden, Germany.
38 characters

3.93
/5
rDev
+3.1%
look: 3.75 | smell: 3.75 | taste: 4 | feel: 4 | overall: 4
Schönramer Hell from Private Landbrauerei Schönram
Beer rating:
3.81
out of
5
with
11
ratings