Fox River Brewing Co. at Fratellos Waterfront Restaurant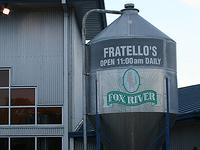 PLACE INFO
Type:
Brewery, Bar, Eatery
1501 Arboretum Drive
Oshkosh
,
Wisconsin
, 54901
United States
(920) 232-2337 |
map
foxriverbrewing.com
Notes:
No notes at this time.
Added by BeerAdvocate
Ratings: 14 | Reviews: 10
Reviews by WJVII:

2.17
/5
rDev
-35.8%
vibe: 3 | quality: 2 | service: 2 | selection: 2.5 | food: 1.5
As did fellow BA buddy CDKrenz, I too was in Oshkosh for the half marathon as my wife ran.
This place has a nice set up, bi level seating with glass walls on the Fox River, along with a good amount of TVs for sporting events. a great glass wine cellar (even for a beer lover it was quite impressive). The tables have a brown "paper bag" covering and a glass of crayons so you can write on the table. It was a little cheesey that the waiter wrote his name upside down, but it was kind of impressive.
On to the beer and service...the beer mediocre, but you can read m reviews. The service was ok, but my friends had their pizza "dropped" on the floor and we had to wait to eat. It was taken off their bill, but come on, dropping a pizza. And the portions were small and not that well made. Very processed and not that good tasting. Really not somewhere I would go again.
872 characters
More User Reviews:

3.75
/5
rDev
+10.9%
vibe: 3.75 | quality: 4 | service: 3 | selection: 4 | food: 4.25
3.69
/5
rDev
+9.2%
vibe: 3.75 | quality: 3.75 | service: 3.5 | selection: 3.75 | food: 3.75
I had been here about 20 years ago and was in the area and thought I was way overdue for a return visit.
Located on the river, they have a great location with boat docking, a nice large beer garden, a large tap room and separate restaurant area. The taproom has lots of TVs so it is a great place to catch a game while having some beers.
Speaking of beers, they had 8 or so house beers on tap while I was there. We had full pints of their session IPA, a very amped up APA and a hoppy pilsner. All were good to very good. They also offer their bottled beers to go.
Food was decent, not earth shattering but pretty good pub grub.
Service was friendly but a bit slow, no real issues for us as we weren't in any hurry.
Atmosphere was much better in the tap room but if you want a lower key spot for lunch or dinner the restaurant is a good option.
863 characters
4.48
/5
rDev
+32.5%
vibe: 5 | quality: 4.5 | service: 4.5 | selection: 4 | food: 5
Came here during a Packers Night. Apparently this was the right choice.
The bar hosted a "Packers Battleship" during the game where the rules included lining up the last number of the opposing teams' score and our team's score (GO PACK!) after every score change to land on a large square which offered us $5 Bloodys, $3 pints, $4 double shots, or $3 bombs.
Every touchdown from GB landed the whole bar free shots. And as the Packers kept scoring, we kept getting jollier.
They also gave out free raffle tickets and did drawings every quarter for free Fox River and Packers merch including pint glasses, t-shirts, growler fills, sports tickets, and more. Their food and presentation of it was dare I say, world class. Just...top shelf. Everything from the vinegarette drizzle underneath the mozzerella tomato bruschetta to the garnishes on the top layer of the beer cheese dip with enormous pretzels...and the sandwiches and salmon tacos were to die for. Fall-off-the-bone wings with creamy ranch and a crunchy exterior. Pairings were offered and of course many of their dishes incorporated the house beer into the recipes. Everyone was friendly, the beer was decent, and we came away with a memorable night and a couple extra pounds.
As you can see by other reviews here, the beer may not have won any awards (still good though!), but this brewpub's atmosphere and down-to-earth hospitality and group culture just made the night one to remember. Here, you're welcomed as "one of the group" and they let you know it.
1,523 characters
3.51
/5
rDev
+3.8%
vibe: 3.25 | quality: 3 | service: 4.5 | selection: 3.25 | food: 3.5

3.74
/5
rDev
+10.7%
vibe: 4 | quality: 3.75 | service: 3.75 | selection: 3.5 | food: 4
3.35
/5
rDev
-0.9%
vibe: 4 | quality: 3.5 | service: 3 | selection: 3 | food: 4
Stopped in here on our way home from a trip up north. Great location right on the river. If it wasn't a stifling 90+ degrees we would have ate outside. It looked great on the patio.
We sat at the bar inside and ordered a few beers and some food. I had the blu. Which turned out to be a wheat ale loaded with actual blue berries. I'm talking at least 20 real berries in the glass.This made it a bit hard to drink. All the beers we drank were lower in flavor.
The food was rather good. No complaints there. The bartender was a bit slow but she was dealing with a dozen senior golf buddies so I can't really fault her there.
Overall just another brew pub in my book. Nothing worth going out of your way for.
710 characters
3.53
/5
rDev
+4.4%
vibe: 3.5 | quality: 4 | service: 3 | selection: 3.5
Place has nice location on Fox River and has a modern building. The beer was solid, but in choices was not bold enough for me and selection was somewhat limited. The servers did not seem to know much about beer, either the process or the industry in general. It was a rather tame experience, and considering the alternatives in the area one of the better ones. Still, the craft beer movement here seems to be lacking here compared to other places, and it would be nice to see a brewery take some chances, although I understand that might not make the best business sense in Oshkosh, WI. If you're in town its worth a stop and their beers are ok, but don't expect nothing spectacular.
683 characters
2.91
/5
rDev
-13.9%
vibe: 2.5 | quality: 2.5 | service: 3.5 | selection: 3
Nice exterior. It's not a huge building so much as it's a long line of large buildings, resembling a robot turd, that houses a brew house, the main drinking and dining area, and a music venue. There was a band playing at the venue and, thankfully, we weren't forced to pay a cover to get into the bar.
Atmosphere is clean, almost antiseptic. The decor looks like it was designed by a guy who cares way too much what his apartment looks like. I'll give it points for straying away from the Applebees, "Crazy/old timey crap on the walls!" feel, but still the vibe strikes me as cold and disingenuous.
Tried a few of the brews are they ranged from slightly below to slightly above average. The bartender was nice but nothing special and it was too late to try any food.
Overall, I'd say this is the kind of brewpub that grandma would enjoy. It's completely inoffensive and at times it borders on being worth visiting.
918 characters

2.63
/5
rDev
-22.2%
vibe: 3.5 | quality: 1.5 | service: 4.5 | selection: 2 | food: 2
My wife ran the Oshkosh Half Marathon yesterday and after the race we stopped in at the Fox River Brewing Company for some lunch and a few pints. We'd heard of the establishment but had never been there before. A couple of friends joined us for the festivities.
Walking in, the atmosphere is nice with a great view of the Fox River. I'm a big fan of leveled seating in brewpubs, bars and restaurants and this place did a pretty good job with it. It had the bar on the top level and it tapered the seating down three levels the closer you went towards the large widowed-walls looking out to the river. It was not busy or bustling, which most good brewpubs would be on a Saturday at noon. That did take away from the atmosphere of the joint.
The quality of the beer and food, in my opinion, was not good. I had one pint of the Caber Tossing Scottish Ale which according to their limited beer menu had won the brewery four awards in years past. I was not impressed with it and I sampled a sip of a few others, which also were not up to my expectations. I paid for only the Scottish and did not order another.
In addition to the Scottish ale the brewpub offered a wheat, pale ale, light, porter, a fruit beer and the Buzzin' Honey Ale which according to our server was their best selling brew. My wife's second pint was the Buzzin' and it wasn't bad.
The food menu offered a decent selection but nothing that really caught my eye so we ordered a pizza and an appetizer of spring rolls. After waiting for about 20 minutes for our food, even thought the place was by no means busy, the manager approached our table and told us the cooks had dropped out pizza on the floor and were making us another one. She asked if we wanted the rest of the food brought out as it was done and ready to be served. We agreed it best to have the food served while it was hot. The spring rolls were $7.00 and we only got two of them. My friends had gotten a crab cake sandwich and what looked like a steak Philly rolled in a thick tortilla. Both there meals were very well presented. I was told the crab cake was good but the bun it was on could be better. The steak sandwich looked great and I think he made out the best of all of us. When the pizza came it was tiny. I knew it was 10 inches, $1.00 an inch, but it was also paper-thin. The best part about the pizza was that it was free because the manager took it off our bill because they had dropped the first one on the floor.
Our server was pretty good even though he seemed to be pretty green. He was a bit nervous but did a good job nonetheless.
The beers were $3.50 apiece which is way to much considering the quality of the brews. The food is also too expensive for what you get. I will likely not go back.
2,748 characters

4.13
/5
rDev
+22.2%
vibe: 4 | quality: 4 | service: 4.5 | selection: 4 | food: 4
Lovely location right on the Fox River with nice views. Nice bar area, plenty of table seating and nice patio area for "in season" dining and a REALLY cool wine rack refrigerator...holding like 1200+ bottles!
Decent beer selection with the, what I assume would be rather pedestrian, but drinkable usuals. We opted for the Titan Porter, nice and the Peach Farmhouse...way better than I expected!
Opting for a lite lunch as not to ruin our dinner latter we had an appitizer...wonderfully done spring rolls and soup, I, sweet cream pea and smoked ham...C had Catfish Veracruz...a take on the classic seafood soup from Veracruz, Mexico.
Our service by our waitress, Cristy, was wonderful...very attentive and friendly. She was very profesional...a quality employee!
All in all a nice stop....we were not expecting much and to our delight were very pleased wth our experience. Certainly a good stop if you are in the area.
923 characters
3.05
/5
rDev
-9.8%
vibe: 3.5 | quality: 3.5 | service: 2 | selection: 3 | food: 4
I've been here twice, once in the spring of last year and just last week during Airventure 07, a time when close to 3/4 million visitors come to Oshkosh for the worlds largest aviation gathering. Located right on the Fox river makes for a great spot to have a pint or two whether your inside or out on the deck. Modern, well appointed and spacious best describes the general feel I got. The service was marginal the second time I was there considering that we were seated right away and other tables were still available. I did get much busier though during our stay. I only tried a few of their beers, the porter was alright but the Scottish ale was a winner. The menu is extensive. I had good food both times. The last time 4 of us ate light, but were filled and including 5 pints the bill totaled about $60.
810 characters
3.83
/5
rDev
+13.3%
vibe: 4 | quality: 4 | service: 4.5 | selection: 3 | food: 3.5
THis place has a beautiful location with nice river views. Neat stuff inside the building including an airplane hanging from ceiling. It took a while to find this place, could have been me but I think the roads in that town are weird. No biggie, I found it.
Selections of beer were the same as the location in Appleton. with the addition of Golden Pride and Titan Porter. That meant a total of 9. I should say 8 because they had a problem dispensing the Titan so I was S.O.L aagain. Same thing happened in Appleton.
The beers are fresh and tasty, the food was reasonable in size and price, the atmosphere was nice and service great.
A must stop if you are in Oshkosh.
676 characters
Fox River Brewing Co. at Fratellos Waterfront Restaurant in Oshkosh, WI
3.74
out of
5
based on
40
ratings.