Cheers Liquor Mart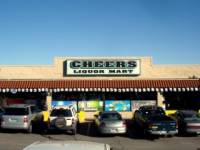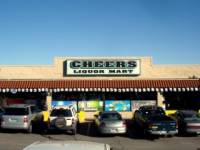 Store
1105 N Circle Dr
Colorado Springs
,
Colorado
, 80909-3134
United States
(719) 574-2244 |
map
cheersliquormart.com
Notes:

4.1
/5
rDev
+3%
vibe: 4.25 | quality: 4 | service: 4 | selection: 4.25
Overall it had a great selection. i could most any style of beer. Almost everything was coolers which was nice. I really didn't deal with the workers walking around, but the ones I saw interacting with people were knowledgable and friendly.
245 characters
4
/5
rDev
+0.5%
Cheers has one of the better selections of craft brews in COS. Their bomber cooler section was a great addition, although their selection isn't quite on a par with some of the other stores in town, especially when it comes to Belgians. They occasionally are able to get some rare beers, but mostly their stock and prices are pretty comparable to other stores in town. Their staff is always friendly, helpful and pretty knowledgeable. Join their brew crew for additional discounts and swag as well!
497 characters

4.29
/5
rDev
+7.8%
vibe: 4 | quality: 4.25 | service: 4.25 | selection: 4.5
I sent my wife in their store last year with a list when I found out they carried Russian River, so I have never actually been in the store. We live OK and she went to visit a friend. They had most things on my list (about 10 different beers from Russian River, Dogfish, Boulder Beer) and the person working there helped her find what I was looking for. The prices seemed to be reasonable and the selection was what I was looking for.
One of my friends has an aunt that lives in Colorado Springs and we sent her in there last week to clean out their Russian River inventory, they told her that there is currently a waiting list for Russian River beers with no date as to when the order could be filled. I would recommend calling the store before making any long distance trips.
779 characters
4.15
/5
rDev
+4.3%
vibe: 3 | quality: 4 | service: 5 | selection: 4
I live in OK, but I sent a friend there to snag some brews for me while he was in CO Springs. Our beer selection here in OK is pathetic, so i was very excited when I called Cheers and found out they had Russian River on hand. They said they also just got in some new Stone, as well as Ommegang and Brooklyn Brewery. Since I didn't get to view their inventory in person, I can only go by the stock they had online, and it seemed pretty nice. There may be other stores in the area that have a better selection, but this store seemed to be building a nice inventory of beer recently.
The lady in the beer department at the store that I spoke with over the phone was willing to hold some beers for my friend to pick up, she was informed about the selection, and extremely friendly. Nothing but good things to say here. I can't vouch much for the in-store atmosphere other than my friend telling me after he picked up my beer that the store was "interesting".
955 characters
3.31
/5
rDev
-16.8%
vibe: 2 | quality: 3.5 | service: 3 | selection: 4
recently they have added to their beer selection which is getting better compared to a year ago. Prices when items are on sale are reasonable when not they are not much better then your local store. It has the big box service and athmosphere issue, but being the largest store in town has it's benefits in a large selection of beers, wines and spirits... overall not too bad a place
382 characters
4.15
/5
rDev
+4.3%
In the last year or so the selection has gone from pretty good to great in this store. They have expanded from a single cooler for specialty craft and import beers to a double cooler and extra shelves dedicated solely to specialty craft and rare import. There is also a large selection of six-packs in the endless coolers that wrap around nearly the entire store. Another recent addition is a mix-your-own sixer area, which looked pretty cleaned out, but is always a welcome feature. The service in my experience has been great. I cam here looking for a limited release beer and the staff was very helpful in ultimately helping me to get my hands on some. This is my second favorite store for beer in Colorado Springs.
718 characters
2.85
/5
rDev
-28.4%
An average selection for Colorado Springs yet they seem to be improving of late. They added Lost Abbey once those made it to Colorado and were the only store in the Springs that Great Divide sent the Barrel Aged Yeti and Ruffian to. They have added a couple new coolers to house some specialty beers and seem to be trying to add to the line-up. They have an average selection of six packs but nothing to get excited over. My preference in the Springs is Coaltrain but this is closer to my house, plus they are cheaper on a few items, such as La Folie.
551 characters
3.85
/5
rDev
-3.3%
Cheers is one of the classic liquor stores in the springs. It is located east of downtown and bit far from me, so I usually don't venture out there.
They have good sales and a really good wine and liquor selection. The beer can be hit or miss depending on the season. Not much selection as far as ultra premiums, but they carry many of the standards here in Colorado.
The best asset they have is their buyer Rick. He is really good with special orders. He got me a case of Abyss the last two years when most places had a 5 bottle limit. They came out to $8 a piece with the case discount. I also order my Great Divide kegs from him. He gives them to me for around $70 for 8 gallons of Oaked Yeti, Hercules and Old Ruffian. Thanks Rick.
739 characters
3.8
/5
rDev
-4.5%
I had heard loats about this being the biggest and best liquor store in Colorado Springs. I was somewhat pleased with their selection, but would not call it the "tops" of liquor stores in the Springs. I did like their selection and layout of the wines and liquors and is the place I usually go to for my other than beer purchases. The beer selection was kind of standard issue with a respectable but not really impressive selection of crafts and bombers, in a tight little corner of the store. For the size of the place and selection of liquor and wine, you'd expect a little more attention towards the beer. I agree with another report that they need bigger coolers to avoid stacking beer on the main floor, even though those stacked beers would not be on my shopping list (BMC), it just doesn't feel right to treat it that way. What I did like about this place is the little corner of "accessories." They sell some glassware, cork openers, bottle openers, decorative wine bottle bags, etc. I visit this place regularly, it's just not my "go-to" place when I'm replenishing my favorite beers.
1,093 characters
3.8
/5
rDev
-4.5%
Update, 23 Oct 08: Odells woodcut, the dissident, & BA Yeti & Ruffian all sitting on the shelf. A bump up on selection
I will ding these guys on quality because if its not one of their mainseller it sits at room temperature & sometimes the beer suffers for it
The staff is helpful, but not very beer-oriented
Selection is pretty good & I have picked up a few here that I haven't seen elsewhere. Their main weakness is imports. Not a whole lot of choices other than usual stuff. They do better in the micro area, they do an okay selection of CO beers & seem to be slowly improving with their choice of american craft beers
They usually have great deals on their sale items.
I try to hit this place about every 6 weeks & about every other time I come away with a good haul. There are at least 4 other stores in the springs I'd reccomend over this place, but don't pass it by if you're in the area
900 characters
4.35
/5
rDev
+9.3%
I decided to check out Cheers mostly because no one had reviewed it yet. It's a really impressive place with a lot of liquor and wine. I was kind of disappoint with the beer selection, until I realized everything is not in the coolers. The coolers are marked, Import, micro, ultra-premium, and premium (macros make up premium, so I don't know what qualifies as less than premium).
The selection includes all or most of the Colorado breweries and the normal selection of Western breweries. The bomber selection is above average.
The service was great, and I was asked if I needed help a couple of times, and there were numerous sales staff around who seemed knowledgeable.
Overall a good place that I will go back to.
728 characters
Cheers Liquor Mart in Colorado Springs, CO
Place rating:
3.98
out of
5
with
16
ratings