Judge Baldwin's Brewing Company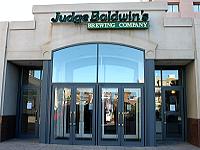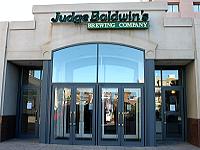 Brewery, Bar, Eatery
4 South Cascade Ave
Colorado Springs
,
Colorado
, 80903
United States
// CLOSED //
Notes:
Recent ratings and reviews.
| Log in to view more ratings + sorting options.
Ratings by loren01:

Reviewed by loren01 from Washington
2.48
/5
rDev
-20.3%
vibe: 4 | quality: 1 | service: 3 | selection: 3
Went to Judge Baldwin's while on a summer vacation through Colorado. The wife and I were staying in the Hilton hotel and Judge Balwin's is actually conected to the hotel so we decided to stop over for a couple drinks. Its a very nice bar acutally where you can see the brew kettles and things behind it. I ordered a pale and she ordered a raspberry wheat. The pale tasted like a bad batch of homebrew, it actually tasted like one of my first screwups when I started homebrewing. Very flat, no carbonation, and nasty taste. We finished our beers and quickly walked across the street to phantom canyon and had much better beer.
Sep 04, 2005
More User Ratings:
Reviewed by rye726 from Colorado
3.2
/5
rDev
+2.9%
vibe: 3 | quality: 3.5 | service: 3 | selection: 3 | food: 3.5
This is your average brew pub/restraunt. Located in downtown Colorado Springs. Parking can be a hassle at times. They offer a decent selection of beer and food.

They have good deals on appetizers during happy hour. I think they are like two o rthree bucks. Other than that, I have not had an actual meal there, but what I've seen looks good.

Their beer selection is decent. Usually stocked with average wheat and mild ales. Somtimes they have a good porter or stout on tap.

The best part of Judge Balwins is their happy hour. On Fridays and Saturdays they sell growlers for $3.
May 07, 2008
Reviewed by Skywave from Oklahoma
2.75
/5
rDev
-11.6%
vibe: 3.5 | quality: 2 | service: 4 | selection: 2 | food: 3
I stayed in the adjoining hotel and had a late dinner here at the bar. Walking in it looked like a very nice hotel bar. The bar was a longish wooden beauty. The decor was American breweriana with signs and trays from old breweries of the 50's and 60's. Then above the bar were the Bud and Bud Light neon signs--not what you'd expect from a serious brewpub. They had four or five house beers on tap and I tasted two. The Dark Alt was decently drinkable at first but had no head and had the mouthfeel of slightly flattened Pepsi. The wheat beer was just "blah"--weak and not worth the money. Behind the bar are windows to the brewery. I wonder if they are an extract brewer because from what I could see, there was no mash/lauter tun and the beer reminded me of extract homebrew.

Food was standard pub fare but there was a rather short list to choose from. I had the fish and chips which was served on a giant triangular plate with enough fried cod and fries to feed 3 people. I ate less than half of it. It was served quick and hot and it was OK.

Service was good and other people in the bar were having a great time drinking their Miller Lites and Fat Tires.
Apr 27, 2008
Reviewed by barleywinefiend from Washington
3.06
/5
rDev
-1.6%
vibe: 3.5 | quality: 3 | service: 3 | selection: 3
This place must have remodeled or something. The place I visited was nice. Walk in on the 1st floor was a nice deep rown wooden bar, nice tap handles and lots of bar area. I was greeted on the walk in and that made it pleasant. The old lady at the bar was not so nice. Disgruntled bartender of the month. The other people there were nice. Atmosphere was exactly like a hotel bar but a nice one. you would never expect abrewery to be here but you can see the tuns and tanks from the bar. Had three beers here and ranged from average to terrible(see reviews). Price was reasonable and if you have time worth a try.
Mar 01, 2008
Reviewed by benito from Oregon
2.38
/5
rDev
-23.5%
vibe: 1.5 | quality: 1 | service: 3 | selection: 3.5 | food: 3
There's no reason to spend time knocking a place too much, so I'll keep this short and sweet. Suffice it to say, the beer at Judge Baldwin's--a small brewpub in a hotel, and with the atmosphere of a hotel bar (TVs, tiled floor, frosted-glass inlaid on wood dividers/walls)--may be the worst craft beer I've ever had at a brewpub.

I had tried to visit in the past--one time, last winter, their beer was all frozen and I couldn't try it, and when I finally did get a chance to taste their wares, they had seven brews on tap: the American-style wheat was the only passable beer; the other six (an amber lager, rasberry wheat, oktoberfest, oud bruin, pale ale, and porter) all suffered from off-flavors that ranged from celerial (the porter) to out-of-control phenols (the oud bruin), to under-attenuated syrupyness (the raspberry). The only redeeming quality to the beer was that the $4 sampler came in the largest sample servings I've ever seen...I just asked myself why I couldn't have that sampler with someone else's beer!

The food is standard pub fare; my onion rings were made to order and hot, and the service was fair as well. Were this not a brewpub, it would be a passable hotel bar and restaurant, but what is going on with the beer here?

Even the most die-hard beer traveler should skip Judge Baldwin's and spend an extra hour at Bristol, Arctic Craft, or Phantom Canyon--just across the street.
Sep 29, 2007

Reviewed by russpowell from Arkansas
2.88
/5
rDev
-7.4%
vibe: 3 | quality: 2 | service: 4 | selection: 2.5 | food: 3.5
Had to go try this, just because of all the negative reviews I saw. When i went here spring 03 this joint & its beers were better. But here's the review

Some brewania, but the interior is just a jumble, kind of like a er, hotel bar.

Tried 2 of the beers & headed for the door. Don't understand how you can make such blah beer, might as well just the local micros or pump Phantom Caynon from across the street.

Service was attentive, but I was at the bar at 1:15 PM, so they weren't exactly swamped

5 beers on offer, tried the brown porter & amber. 2 wheat beers & a pils, if this was summer I'd understand, where are the seasonal offerings

Food selection is slightly better than pub grub. My green chilli was passable

$3.50 for pints of this beer, why bother. My reccomendation; cross the street & go to Phantom Canyon
Nov 18, 2006
Reviewed by mushroomcloud from Texas
2.75
/5
rDev
-11.6%
vibe: 2 | quality: 2.5 | service: 2.5 | selection: 3.5 | food: 3
I walked to Judge Baldwins after a visit to Phantom Canyon. It is inside the Hilton in downtown Colorado Springs. The atmosphere is nothing more than a bar/pub style. There is a long bar, lots of tables and several TVs. I went during a slow time and the service was very inattentive. There were six beers on tap during my visit (Biere de Garde, Oktoberfest, Raspberry Wheat, Cascade Amber Lager, Champion Wheat and an Indian Summer Rauchbier). The beer was decent, but like the actual place, I think it could have been much better. The biere de garde stood out to me the most. The food was pub style - burgers, sandwiches and appetizers. The brewhouse is visible from the end of the bar and it looks fairly large.
Oct 21, 2006

Reviewed by MEANxOLDxTOM from New York
3.4
/5
rDev
+9.3%
vibe: 3.5 | quality: 3 | service: 4 | selection: 3 | food: 4
So I stayed in the hilton while attending a conference this past weekend.
The Judge was very good to me...It provided a place to grab drinks between panels....and was fairly reasonable for being attached to the hilton. Service was good and so was the food. The beer that they brew at the pub was alright...Although I did not take notes the best was the Porter(if rating it would have reviewed a 3.5) and the worst was the pale(2.8). During the weekend growlers to go are only $6 or $3.50 for refills...pitchers were about $9...very poor selection of bottled beer. Atmosphere was OK....I really did not notice the music or televisions...I was surrounded by too many good conversations. Definitely a place to check out if staying in the hilton...not a place to go if it is out of your way...and phantom canyon is across the street and far better.
Oct 17, 2006
Reviewed by dauss from Colorado
3.84
/5
rDev
+23.5%
vibe: 4 | quality: 3.5 | service: 4 | selection: 4
Located in the Antlers Hilton in downtown Colorado Springs. Big spacious bar, lots of dark wood trim all over. It definitely has the feel of a bar. The bartender was nice and the service was good, but she didn't ask if I wanted a lemon in the two wheat beers that came in the sampler, and put them in anyways. Come on, give me a break.

The beer selection was good, but the actual beer wasn't that great. They were all average, watered down, and bland. I did like the glassware. The beers came in there mini mugs, and the glass of water I had was enormous, probably around a quart in size. The menu selection looked good, but nothing out of the ordinary. I didn't get a chance to eat because I ate before I went. I probably won't go back because the beer just wasn't really good.
Aug 05, 2004

Reviewed by palliko from California
4.33
/5
rDev
+39.2%
vibe: 5 | quality: 4.5 | service: 4.5 | selection: 4 | food: 3.5
Beautiful location in a huge hotel, old world dark oak paneling, large glass windows allow you to view monstrous copper brewing vessels where they make the beer. Tables either have tall stool type chairs or regular low chairs. Menu has Reuben, club, steak, hamburgers and Philly sandwiches. Good selection of six in-house beers: Cascade Amber Lager, Dark Alt, Rasberry Wheat, Baldwin's Wheat, ZZ Lager and Ruby Lager - my picks are the Baldwin's Wheat or Dark Alt. Also, on-tap domestic beers and a full bar. Worth a visit!
Mar 12, 2004
Judge Baldwin's Brewing Company in Colorado Springs, CO
Place rating:
0
out of
5
with
10
ratings