R&D Vintage 2016

New Glarus Brewing Company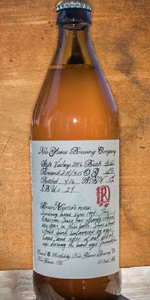 Rate It
Beer Geek Stats
| Print Shelf Talker
Style:

ABV:

5%

Score:

90

Avg:

4.15

| pDev:

6.27%

Reviews:

11

Ratings:

From:

Avail:

Retired (no longer brewed)

Wants

Gots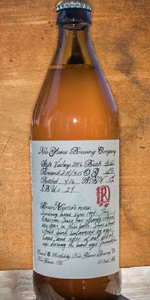 Notes:
Tsar_Riga from Indiana
4.35
/5
rDev
+4.8%
look: 4.25 | smell: 4.25 | taste: 4.5 | feel: 4.25 | overall: 4.25
A - Pours superbly clear gold until the end, when a touch of cloudiness comes in, minimal white head, quick fade, no lacing.
S - Punchy sourness, light fruitiness, and a hint of barnyard funk around the edges.
T - Open starts bright apple and floral, but a stronger tide of sourness soon takes hold, funky Brett notes, and a tinge of earthy bitterness joins the lemony sourness in the finish.
M - Brisk, lingering spiky sourness, not puckering but persistent, strong enough to linger through the close.
O - One tasty sour, we'll built and refreshing, with several levels and without a real flaw. Delicious.
Nov 10, 2019
Buck89 from Tennessee
4.03
/5
rDev
-2.9%
look: 3.75 | smell: 3.75 | taste: 4.25 | feel: 4 | overall: 4
An absolutely delicious beer. Slightly hazy and blonde in the glass with a modest white head. A fruity aoma with Apple, plum, cherries, and peaches. The taste did not disappoint. Slightly tart with a heavy phenolic Brett influence, with heavy Band-Aid notes. The beer was also punctuated by The fruity notes as listed above. Dry and clean on the finish. Overall, a very funky beer with a Brett dominant flavor punctuated with the fruity elements.
Apr 03, 2019
StonedTrippin from Colorado
4.16
/5
rDev
+0.2%
look: 4 | smell: 4.25 | taste: 4.25 | feel: 4 | overall: 4
this is great beer, a lambic type, but its subtle to me, lacking some of the wild complexity of the best new glarus wild beers and not quite hitting that all the way mature palate for me, despite its age at this point. not sure if this is a blend of vintages or not, i would assume it is, since others in the series have been, but this is somewhat straight forward, an obvious turbid mash and aged hop complexion, wheaty and pale, some lemonade notes to the nose, lactic and citric but not as runaway funky and developed bretty as i look for in the style, at least from the old world. the oak profile is strong, some white wine character to it too, and a sort of cereal porridge vibe on the grain side. there is a sharpness to it, but its not fully up front, fresh lemon zest vibes seem odd in here, wheaty and dry, a little musty, even a little oxidized. i liked this quite well, found it relatively unique, but less classic lambic-esque than i expected, and far less compelling and dramatic overall than the champ rouge from these guys that i had right next to it! enjoyable drinking experience, a rare one at this point i know, so fun to try, but a little less amazing that i thought it might be. i probably need to revisit this one in a little less busy beer setting, but sometimes lots of beers in the same session forces the best ones to rise up, and this one didnt quite get there for me, interesting and delicious as it is. i like that its different on the fermentation side, farmy and old worldy, unconventional.
Oct 06, 2018
BEERchitect from Kentucky
4
/5
rDev
-3.6%
look: 4 | smell: 4 | taste: 4 | feel: 4 | overall: 4
The playful spirit of New Glarus is alive and well with their R&D series of beer that tinkers with sour ale and a host of whimsies. Their 2016 Vintage boasts the additions of indigeonous apples on a spontaneously fermented base sour ale for a local taste with a deeply rooted sourness.
Hazy straw and sprite with a popping champagne froth, the sparkling beer radiates with a peppery nose of fermented spice, tart fruit, cider, wine and a funk-filled cloud of must. Light sweetness captures the taste of apple and white wine with its wafer breadiness and honeysuckle delicacy.
Sweetness rapidly retreats and leaves the middle palate a battleground for fruit and spice. Leading with green apple flavor, a taste of pear, melon, white grape and under ripened berries precede a balance of oak, pepper, brazen acidity and a stern linoleum-like alcohol spice that heats up the late palate.
Medium light on the palate, the beer's drying power leaves the mouth warm with white wine, puckering with grapefruit and lime sourness and lightly bitter with lemongrass, juniper and parsley before closing with a quick after palate and an aura of damp basement.
Aug 22, 2018
SadOldMrTot from Wisconsin
4.57
/5
rDev
+10.1%
look: 3.75 | smell: 4.75 | taste: 4.75 | feel: 4 | overall: 4.5
Half liter bottle from the brewery. 1000th Wisconsin rating (I mostly rate elsewhere)! Murky orange, large fizzy white head, good retention. Aroma of pepper, funk, dry lemon. Taste is lemon, funk, pale malt, leather, vinegar, hints of leather. Medium bodied, strong lingering tartness.
Jul 02, 2018
Proteus93 from Virginia
4.4
/5
rDev
+6%
look: 4 | smell: 4.5 | taste: 4.5 | feel: 4.25 | overall: 4.25
A: Nice straw colored head, topped with a thin head which left a slim line rimming the glass.
S + T: Pleasant, sour yet sweet--some fruity esters evident in the aroma, perhaps most like pear.
M + O: Light-medium body, with a sharp carbonation which gives it a good, refreshing finish. A good beer to end the day... thanks to dkachur for sharing!
Jul 02, 2018
joe1510 from Illinois
3.81
/5
rDev
-8.2%
look: 3.75 | smell: 4 | taste: 3.75 | feel: 3.75 | overall: 3.75
500ml Bottle
$15
New Glarus Beer Depot
Vintage 2016 pours a darker golden with faint sunset orange highlights.The pure white foam grows to a finger in height on the pour buts crackles away to nothing in about 30 seconds. Streams of carbonation burst forth from all over the glass but they don't seem to great any foam. Besides the lack of foam this beer looks excellent.
The nose isn't quite as complex as the others in the series. Peach and pear are first up. They come straight from the trees, still a little dewey, a little cobwebby. There is a touch of minerality popping up here and there with a soft tartness that's more fruit than vinegar driven. Damp oak gently runs the periphery. What's there smells good but it's also faint. You have to work to pull everything out.
The flavor also doesn't seem to have much going on. What's there is good but there's not a lot there. Peach and pear kick it off. There's a nice little sweet & sour back and forth in the middle. Some of the aspects I mentioned above flash through here and there but nothing really sticks, damp oak, musty orchard fruit. Again, there's not much depth. That's all there is to it.
The body is light and airy despite the lack of foam. It's carbed up. The finish is dry and it leaves behind some tannins from the oak and a touch of tartness. It's a highly drinkable beverage. My only slight knock of the body is that it's a little watery for whatever reason.
Vintage 2016 falls short in the line of New Glarus Vintage releases. It's just rather one note. Doesn't match up with the quality of the others. With that said, what is there still tastes good.
Apr 02, 2018

Sabtos from Ohio
4.18
/5
rDev
+0.7%
look: 4 | smell: 4 | taste: 4.25 | feel: 4.25 | overall: 4.25
Crystal clear sparkling gold with a persistent white pillowy blanket resting against the glass in ridges.
Smell is sharp bright funk with lemon, backed by barnyard and cheese, accented with hay, green apple and sticky, overripe peach.
Taste is perfectly tart of lemon and green apple, a mix of lactic and malic sorts of acid, with some toasty oak and a slightly sharp white wine.
Semi-dry, crisp medium-light body with an airy froth.
Dec 25, 2017

Dactrius from Wisconsin
3.91
/5
rDev
-5.8%
look: 3.75 | smell: 4 | taste: 4 | feel: 3.75 | overall: 3.75
Definitely my least favorite of the Vintage beers. Nearly flat and the flavor/flatness really makes me think of an inferior Bruoscella and that's the only Cantillon I don't particularly like. The nose/flavor is pretty one-note with no real complexity. Not bad or unenjoyable, but it's a bit odd that their Vintage beers have been decreasing in quality.
Oct 13, 2017
4DAloveofSTOUT from Illinois
4.38
/5
rDev
+5.5%
look: 3.75 | smell: 4.5 | taste: 4.5 | feel: 4.25 | overall: 4.25
Hazy golden straw yellow body (since I poured in the sediment) which pours a big bone white head that is gone in a matter of seconds. Smells of oak and citrus. Also getting a waft of that New Glarus Fruit cave signature funk. Flavor is lemon and green apples. Moderate sourness. Light funk and lots of oak character that is really nice. No overly complex, but still very tasty blended wild ale. Medium body with light carbonation. Semi dry finish. Bubbles seem soft on the palate though. Not the best vintage that Dan has blended, but it is still tasty wild beer.
Aug 22, 2017

Stevedore from Oregon
3.9
/5
rDev
-6%
look: 4 | smell: 4 | taste: 3.75 | feel: 4 | overall: 4
500ml bottle from the 2017 release. Served in a snifter glass. Pours a lightly cloudy golden yellow body, one finger white head, good retention, not much lacing. Smell is astringent bitter lemon zest, a bit of mild acetic acidity, mild oak, light cheese, a bit of grain. Flavour seems to somehow fall short, not sure how. Mild acetic acidity, touch of hay and straw, lemon zest, a bit of astringency, bits of oak. There isn't much going on here, honestly. It's fairly astringent, lemony and in some ways two-noted without the complexity of Vintage 2014. Mouthfeel is medium-lighter bodied, good carbonation, some bitter zest on the finish. I am not sure where they thought this one was going to go, but using Vintage 2014 as the bar, this certainly didn't come close to meeting that bar for me. It's still a good American wild ale, but disappointingly not up to par for New Glarus.
Aug 21, 2017
R&D Vintage 2016 from New Glarus Brewing Company
Beer rating:
90
out of
100
with
40
ratings