Hometown Blonde
| New Glarus Brewing Company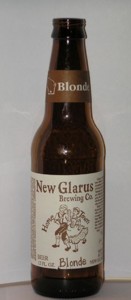 BEER INFO
Brewed by:
New Glarus Brewing Company
Wisconsin
,
United States
|
website
Style:
German Pilsener
Alcohol by volume (ABV):
4.80%
Availability:
Rotating
Notes / Commercial Description:
No notes at this time.
Added by BeerAdvocate on 04-05-2002
Reviews: 84 | Ratings: 306
3.43
/5
rDev
-15.7%
look: 4.5 | smell: 3.25 | taste: 3.25 | feel: 4.25 | overall: 3.25
12 oz bottle served in a COAST brewing curved pint. Split with the fiancee.
A: Pours a solid gold color with a pure white head forming on pour. It recedes slowly to a thick cap with tons of sticky lace.
S: Sticky German hops with that specific spicy bite. Pale malts with a little bit of mineral-like qualities to it.
T: Typical German hop profile, slightly gluey with pale cracker malt and some wheat like qualities. Lightly spiced hop quality as well.
M: Light bodied with a medium high carbonation level. Slightly sweet finish.
O: Pretty typical German style lager. The hops are the star which is standard for the style. Nothing mind blowing.
★
650 characters
3.43
/5
rDev
-15.7%
look: 4 | smell: 3.5 | taste: 3 | feel: 4.5 | overall: 3.5
12oz bottle poured into a pilsner glass.
A - Medium sized white cap of tight head. Light golden in color with good clarity. Good lacing on the glass.
S - I'm finding a little bit of noble hops but this beer seems to be slightly light struck. There are some husky grain smells also.
T - Very quick and light malt to a good grassy hop flavor mid palate. I get some of that skunkiness mixing it up with the hops throughout. Crisp feel to its finish with a grassy hop that lingers for a while.
M - Nice carbonation to the beer helping accentuate the hop flavors. Light body, very dry.
O - Great appearance. I'm disappointed in the condition of the beer although it wasn't completely ruined. Flavor wise the green bottle character somewhat mimicked, to an extent, the hops.
★
773 characters
3.4
/5
rDev
-16.5%
look: 3 | smell: 3 | taste: 3.5 | feel: 3 | overall: 4
Bottle courtesy of IowaHerkeye. Thanks!
Pours rich golden into a pilsner glass with a nice bubbly and foamy white head giving good lacing. Smell is nice light malt, a bit lemony, tangy yeast and nice fresh breadiness. Taste is a touch thin, but nicely crisp, a hint lemony and very refreshing with a nice neutral bitterness. Easy to drink with no off flavors and a uniqueness to it. Simple but nice.
★
399 characters
3.35
/5
rDev
-17.7%
look: 3 | smell: 3 | taste: 3.5 | feel: 3.5 | overall: 3.5
12oz bottle obtained via trade with kmpitz2. Thanks for the opportunity.
Poured into an imperial pint glass, formed a 1/4" white head over the cloudy golden amber brew. Head is quickly down to a skim of teensy bubbles, with average slow-falling lace. Aroma is minimal, with pale malt sweetness trying to take a stand. Taste starts with the pale malts, goes a touch fruity in the middle, and then closes with a slight bitterness. Mouthfeel is pretty smooth, and definitely sedate, and drinkability is not bad either. This beer seems to be trying to fly under the radar, not too much standout, but nothing bad either.
★
617 characters

3.35
/5
rDev
-17.7%
look: 3.25 | smell: 3.25 | taste: 3.25 | feel: 3.75 | overall: 3.5
Sweetish and malty-sweet with a big, full body.
Seems that it should exhibit more hop bite and crispness, all the way around.
More of a Helles to my mind, and would make a darn-good one at that.
It's an old bottle and my palate is on the mend, but it has nice character that shines through.
★
294 characters
3.24
/5
rDev
-20.4%
look: 4.5 | smell: 3 | taste: 3 | feel: 3.5 | overall: 3.5
Thanks to JeffKrenner for this beer.
A: Vivacious golden rod color with thousands of scurrying bubbles vortexing too and fro. Head is quite spectacular, full and creamy made up of tight off white bubbles. So far so good.
S: Noble hops, aluminum, grass clippings and corn pops.
T: Begins very metallic. Transitions to soft green fruits; pear, grape and apple. Some really minor honeysuckle, clover and melon. Finishes mildly bitter with more metallic tastes.
M: Medium body and soft
D: Not bad. Not a huge fan of the flavor that my wife likes to refer to as the "yuck, coins" flavor.
★
599 characters
3.18
/5
rDev
-21.9%
look: 4 | smell: 3.5 | taste: 3 | feel: 3 | overall: 3
Looks the part...a very clean, clear gold with a frothy white head on top...European style hops on the nose and the buds...pretty good maltiness, but the hops are this beers calling card...a husky hop bite with long lingering bitterness on the finish.
This isn't my type of beer, but tastes pretty close to what I envisioned a beer billed as a german style pilsner to taste like..
★
383 characters
3.07
/5
rDev
-24.6%
look: 2.5 | smell: 3 | taste: 3 | feel: 4 | overall: 3
Cloudy straw-colored body wth no head or lacing. Looks more like a hefe than a pilsener.
Aroma of sweet grain and skunked hops.
Taste is super-hoppy for a pilsener, they overload the palate and barely let the malt show through.
Mouthfeel is right on, highly carbonated and drying.
I was disappointed with this one. There are a lot of stylistic errors here, but it's a decent drink. Though not one I would seek out again.
★
424 characters
2.36
/5
rDev
-42%
look: 4 | smell: 3 | taste: 2 | feel: 2 | overall: 2
Overall, I like this beer. It is a very solid example of American micro pilsener. The bottle says "German-style brew", but there is nothing in Germany even close to this. The ample addition of caramel malts is the first problem, the use of dry hopping the second. The cloying mouthfeel and the aromatic hop oil aftertaste scream American micro. If you like Samuel Adam´s Noble PIls or Victory`s Prima Pils, you will like this one. If you like Bitburger and Warsteiner, you will not.
★
483 characters
Hometown Blonde from New Glarus Brewing Company
4.07
out of
5
based on
306
ratings.