Serendipity
| New Glarus Brewing Company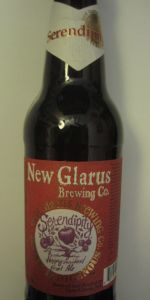 BEER INFO
Brewed by:
New Glarus Brewing Company
Wisconsin
,
United States
newglarusbrewing.com
Style:
Fruit / Vegetable Beer
Alcohol by volume (ABV):
4.00%
Availability:
Rotating
Notes / Commercial Description:
Severe Drought, we shared the farmer's horror as Wisconsin's cherry crop failed! Dan bought what cherries he could. The Apple crop fared better. Then joy! A grand Wisconsin cranberry harvest. What will Dan brew with Apples, Cranberries and Cherries? Oh my! You hold the happy accident of Wisconsin's favorite fruit aged in oak with an almost magical wild fermentation. Serendipity is a wondrous celebration that sparkles your senses and dances across your palate. A kaleidoscope of flavor discovered by accident in a sour ale!
Cheers to the unexpected.
Added by Lemke10 on 10-15-2012
Reviews: 284 | Ratings: 2,781

4.62
/5
rDev
+5.7%
look: 4.5 | smell: 5 | taste: 4.5 | feel: 4.5 | overall: 4.5
Upon opening the bottle, there is a fruity aroma that fills the air. Pours with a small finger of head. Virtually no lacing left. It's a clear ruby red color that's very appealing.
Smells quite similar to Belgian Red. Cherries and cranberries are most prominent. I am not picking up too much of the apple. It smells just delicious. A mouth-watering fruitiness really jumps out.
Tastes of cherry leads the way followed by cranberries. The apple comes through on the end. A pleasant tartness keeps this from being too sweet. Light woody, earthy note is quite subtle.
Very light carbonation makes this very easy to drink.
I can't think of a tastier fruit beer. At least as good as Belgian Red, maybe even better.
★
714 characters
4.77
/5
rDev
+9.2%
look: 4.5 | smell: 5 | taste: 4.5 | feel: 5 | overall: 5
A - Strong hiss when the bottle was opened. Clear dark ruby with a thin head the fizzes away to nothing.
S - A lot of tart cherry like Belgian Red but with some apple and very light cranberry. The combination creates thoughts of cinnamon.
T - Sweet initially followed by tart cherry and cranberry mixed with apple cider. Light wood notes.
M - Sweet and tart at the same time with spritzy carbonation.
D - This beer screams harvest. A lot of similar characteristics of Belgian Red but fairly different at the same time. New Glarus can work magic with their fruit beers.
★
572 characters
4.43
/5
rDev
+1.4%
look: 4 | smell: 4 | taste: 4.5 | feel: 4.75 | overall: 4.75
poured into tulip glass.
Appearance: medium red bodied beer with 1 finger of white head and sticky lacing. Head drops down to a fine cap on top the beer. The beer is a light rose color when its held up to light. The beer is brilliant and clear.
Smell: A big cherries and apples with a hint of cranberries. I think that I might smell raspberries too. The red fruit notes here are big and spectacular!
Taste: This beer almost tastes similiar to blending Belgian Red and Apple Ale. Great mixture of sweet fruit and tart fruit notes. You get a nice mellow oak note and a touch of vanilla as the sweet fruit notes blend with the oak note in the middle of the beer. There is definately some type of a mild spiciness in this beer, its almost like a cinnamon stick in apple cider. The cranberries add a nice mild tart zing to the end of this beer. All three fruits seem to be really well balanced with each other through the entire beer and not a single fruit seems to try and steal the spotlight. Really unique and I enjoy it!
Mouthfeel: light bodied beer with low end of moderate carbonation. The carbonation is really soft and delicate on the palate. Its like they blended the lower carb levels of Belgian Red and the aggressive champaign like carbonation of Raspberry Tart. Its carbonation perfection!
Overall: Dan Carey is a fruit beer genius! This beer proves it. He is no one trick pony hiding behind his world famous "fruit twins" and shows off his originality, creativity, and diversity with this beer. He is a truely amesome brewer who is not afraid to step out of his comfort zone and change it up for the better when conditions are not optimal for making his tried and true Belgian Red. He took all the strengths of the fruit beers (Belgian Red and Apple Ale) that he already brews, adds some cranberries and POOF the next big thing to come from this amazing small town WI brewery! Honestly, I enjoyed Serendipity better than both Raspberry Tart and Belgian Red; Senendipity blows both them both away. Raspberry Tart is now dethroned as my favorite New Glarus fruit beer. Lets keep in mind that both Raspberry Tart and Belgian Red are also wonderful fruit beers with very high accolades. My only request is... Dan please brew Serendipity all year long! Yep, I just said it!
★
2,284 characters
4.47
/5
rDev
+2.3%
look: 4 | smell: 4.5 | taste: 4.5 | feel: 4.5 | overall: 4.5
A ruby hued brew with a ring of tan foam around the edge of the glass.
Huge fruit laden nose with cherries and cranberries standing out the most.
Apple cider up front with the ripe cherries coming through in the middle portion and cranberry tartness and dryness on the end. Incredible how all three fruits can be picked out separately. Nice fruit sweetness with lower tartness.
Lighter feel with low carbonation and an extremely dry finish, which I would guess comes from the cranberries.
This may very well be my favorite fruit beer from New Glarus. All of them are so well done and this is just a unique twist for a fruit beer and it works wonderfully.
★
658 characters

4.83
/5
rDev
+10.5%
look: 5 | smell: 4.5 | taste: 5 | feel: 4.5 | overall: 5
750ml bottle poured into my Central Waters tulip on 10/17/12. It cost me like $9.50 after tax.
A: This beer looks amazing! It pours a dark ruby red with little head, which settled after a couple minutes. Didn't leave much lacing on the glass.
S: The smell reminds me of the Belgian red, but not as strong and with hints of the apple ale. So pretty much just the cherries and apples, Yum! I really didn't get any of the cranberries though (or oak) so it lost a couple points there, even though it smells great.
T: Here it's a little different than the smell, the cherries are still there along with the apples but the apples are a bit more faint. You get a good taste of the cranberries as well and they add to the nicely tart finish. The three fruits blend together very well. It is very delicious and easy to drink, It is actually quite hard to stop drinking it.
M: The mouthfeel is pretty nice, I'd say it is about right for the style at like medium-light. It finishes kinda dry, but then your mouth starts watering and wanting more!
O: Overall this is another excellent Fruit beer from New Glarus, although I wouldn't expect anything less from Dan Carey! This is definitely a beer to seek out, I prefer it to both the Belgian Red and the Raspberry Tart. Both of them are also great beers, but they are a bit one dimensional where the Serendipity is a bit more complex. I hope this one sticks around, it shouldn't be a beer that temporarily replaces the Belgian Red, it should be added as another year round option.
★
1,523 characters
4.88
/5
rDev
+11.7%
look: 5 | smell: 4.5 | taste: 5 | feel: 5 | overall: 5
750 ml wax-dipped bottle poured into a Duvel tulip.
No date or info.
A - Serendipity's cap cracks with a loud carbonation hiss, a prelude to the tall, rocky off-white foam which rests on the beer for quite some time. Stunningly beautiful, this gorgeous beer pours a clear, rich ruby, almost blood red color.
S - It's interesting that this beer is coming in to briefly replace Belgian Red due to the cherry shortage because Serendipity smells incredibly similar. Bold fresh cherry and light cherry skin tannins come through with a juicy red apple nose appearing from a swirl. I'm hard pressed to pick out any cranberries within this aroma but, it's not a hindrance. Earthy tones and faint wood peek out as the fruit beer warms.
T - A happy accident indeed, this beer strays from the Belgian Red-like aroma into it's own unique territory, really coming into it's own. Stronger apple presence reminds us we're in the harvest season and suggests sipping cider at an orchard while cherry and cranberry bring a balancing tartness to the table. Like the aroma before it, earthy and faint wood notes start to emerge carefully as the beer warms up.
M - Pleasantly sweet, Serendipity walks a fine line, cautious not to step onto the cloying side, carefully balanced by spritzy carbonation, a lighter body, and a mildly tart, dry finish. Lingering flavors on the tongue beg for another sip, and another sip, and so on.
O - If you've experienced Belgian Red and Raspberry Tart, you'll find yourself in quite a familiar realm with Serendipity but, this beer doesn't only piggy back on their successes, it flourishes with new and delicious fruit experiences! Serendipity proves, once again, Dan Carey is an expert brewer of fruit beer. Buy without hesitation and be rewarded, for this, without question, will be another award-winning beer from New Glarus.
★
1,847 characters
4.5
/5
rDev
+3%
look: 4.5 | smell: 4.5 | taste: 4.5 | feel: 4.5 | overall: 4.5
750ml poured into my D'Achouffe tulip.
Pours a dark red/pinkish color with a very nice inch and a half pinkish white head.
First smell is cranberries, similar to a glass of Ocean Spray cranberry juice. If you dig a little deeper, the cherries are definitely there, similar to the smell of Belgian Red albeit more subdued than Belgian Red. After giving it a good swirl the apples are there, but barely. Cinnamon is also in there.
My initial reaction after the first sip was, "oh wow!" The tart cherries are there initially but the cranberries follow through so perfectly, totally masking the tartness that I expected to get with this brew. Finishes with just a slight hint of apple and caramel.
Mouthfeel is medium with great carbonation levels.
Overall this may be my new favorite fruit brew from New Glarus. It's slightly tart as advertised but nowhere near Belgian Red or Raspberry Tart levels. The different fruits work so well together. I will definitely be buying much more of this brew and hope that it works its way into a somewhat regular rotation in years to come.
★
1,079 characters
4.97
/5
rDev
+13.7%
look: 4.5 | smell: 5 | taste: 5 | feel: 5 | overall: 5
WOW!!! I've had all of the New Glarus beers, all the Thumbprints, etc, and this is a REALLY special beer. I got 6 bombers of this today and I am enjoying my first glass as I type this. This is really like a combination of Belgian Red, Raspberry Tart and Enigma. That's the best way I can describe it. It has all the flavors of all 3 of those beers all blended into one. In fact, I emailed the brewery to tell them this was the best beer I've ever had by them. This is really an amazing beer. Wow. I can't recommend this more highly than I do. GO BUY THIS NOW!!!! World Class beer by NG.
★
586 characters

4.55
/5
rDev
+4.1%
look: 4.5 | smell: 4.5 | taste: 4.5 | feel: 5 | overall: 4.5
I got a 750mL bottle of this from Woodman's in Janesville, WI in October 2012 for $8.79.
Happy accident indeed! New Glarus took the poor cherry crop in 2012 in stride and came up with a new delicious brew. Serendipity pours a burnt reddish color with a slightly pink head. The scent is still mostly cherries but is overall very fruity and sweet smelling giving it that classic sour ale smell. Taste is sweet and fruity with all the main elements (cherry, cranberry, and apple) evident in the mix. Added to the mix was the great decision to age this in oak to make this an interesting, fruity, and delicious sour ale that is supposedly only to be around until Jan 1 in place of their usual Belgian Red. Get it while you can folks!
★
735 characters
Serendipity from New Glarus Brewing Company
4.37
out of
5
based on
2,781
ratings.