Hummel Räucherator
| Brauerei Julius Hummel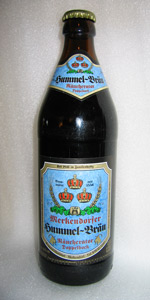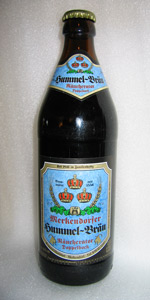 BEER INFO
Brewed by:
Brauerei Julius Hummel
Germany
brauerei-hummel.de
Style:
Doppelbock
Alcohol by volume (ABV):
8.10%
Availability:
Rotating
Notes / Commercial Description:
No notes at this time.
Added by UncleJimbo on 09-18-2006
HISTOGRAM
Ratings: 10 | Reviews: 8
Reviews by TKempe:
3.92
/5
rDev
-2.5%
look: 3.5 | smell: 4 | taste: 4 | feel: 3.5 | overall: 4
The colour on this one is a dark reddish brown and it has a rather small tan head.
The aroma of smoked malt is strong and so is the sugary sweetness that is so typical for the Bock style. There is a weak dusty undertone to the nose and a touch of refreshing hops sitting next to it. This is very sweet, even somewhat cloying, but at the same time very potent and enticing.
A major thrust of sweet, caramel-like malt excites the taste buds and then slowly starts loosing its sweetness and turns more spicy and salty and slightly woody, while in the finish the smokiness starts coming out, pairing up with a toasty, ashy kind of bitterness. Hops are fine-tuned to a level of delicacy and seasoning. Alcohol is hidden well, but it definitely makes itself felt in the head.
The heavy dose of malt creates a full-rounded and somewhat heavy body and a mouthfeel that is smooth and a little sticky. Carbonation is low and maybe just a bit too weak.
One of the sweeter ones even among the Bocks. Also the strongest Rauchbier I know of. And a very good combining of the two.
1,069 characters
More User Reviews:
3.95
/5
rDev
-1.7%
look: 4 | smell: 4 | taste: 4 | feel: 3.5 | overall: 4
Pours dark brown with a slowly dissipating fluffy head. Good rauch aroma. Rich malty body that makes this a rich, very drinkable treat. Middling mouthfeel.Caramel, Very clean and well executed, not too sweet, mild hops on he finish, nor not too smokey.Bottle from Phyl21.
271 characters
3.97
/5
rDev
-1.2%
look: 3.5 | smell: 4 | taste: 4 | feel: 4 | overall: 4
Bottle: Poured a clear medium brown color bock with a large foamy head with good retention and some lacing. Aroma of medium smoked notes with light caramel malt notes is pretty satisfying. Taste is a great mix between some smoked malt notes with some solid notes of caramel malt with light residual sugar notes. Body is light with good carbonation and no apparent alcohol. Well brewed and very sessionable if it wasn't for the 8% ABV.
436 characters
3.72
/5
rDev
-7.5%
look: 3.5 | smell: 4 | taste: 4 | feel: 3.5 | overall: 3
This beer is red brown with a thin, big bubbled head.
Smell is very smokey, reminds me of smoked Italian raw ham. There is a oily, greasy smell, but I can't determine if this is my association with the smoke and therefore with the ham or it is really oily. Nothing else really that fights through the smoke, maybe a very small malt whiff, that's it.
Taste is interesting, the smoke sets off at first and covers the inside of my mouth with a strong smoke taste, again it reminds me of ham, but now also the taste of wet wood burning. After this initial overkill of smoke, my mouth gets used to it and a nice maltiness comes through. The dark malts create a maltbitterness, which in combination with the rauchmalt give a very dark taste. Body is medium and fits this beer really good. Aftertaste is dry and bitter and mouthfeel is a little astringent.
For drinkability I have taken some points off, because the smoke dominates the beer and no other tastes come out.
971 characters

4
/5
rDev
-0.5%
look: 4 | smell: 4 | taste: 4 | feel: 4 | overall: 4
Hard to find, but worth it. Only available during Lent. To get this beer, I have cleaned out the last bottles in a Getraenkemarkt and also gone to the brewery itself.
2017 Update: Still hard to find, but excellent!
218 characters

4.15
/5
rDev
+3.2%
look: 4 | smell: 4 | taste: 4 | feel: 4.5 | overall: 4.5
500 mL bottle, capped, with "best by" date notched on label. Purchased at the brewery.
This smoked doppelbock poured a clear, coppery color with creamy, light brown foam that persisted a while. The smell was a strong smoked aroma with some light malt poking through the smoke. The taste was initially very smokey, but this gave way to a good maltiness. There was a slight tanginess and moderate hoppiness beneath the smoke, and there was a touch of alcohol flavor as well. The mouthfeel was slightly sweet upfront but dry overall with medium-full body and low carbonation. The finish was tangy and dry and smoked. This was quite easy-drinking for an 8.1% ABV beer, and the smoke was quite enjoyable. This beer is smoked on a par with Schlenkerla.
747 characters

4.18
/5
rDev
+4%
look: 4 | smell: 3.5 | taste: 4.5 | feel: 4 | overall: 4.5
I got this bottle in a trade with Nutbrown. Thanks Alan!
It pours a hazy deep amber with a 2 finger head of foam.
The smell has a smokey nose with a light graininess peaking through. Overall, though, it's a light nose.
The taste is definitely smoke dominated and tastes delicious! Behind the smoke, I get a good caramel sweetness, a slight nuttiness, and some hop bitterness that's mostly of a lemon type. Man, this one is easy to drink. The alcohol is very well hidden.
Medium mouthfeel with a lowish level of carbonation. Very tasty and the head retention and lacing are quite good.
Bottom line: I'm a big fan of smokey brews when they are done right. This one is!
671 characters

4.1
/5
rDev
+2%
look: 4 | smell: 4 | taste: 4 | feel: 4 | overall: 4.5
Muddy pumpkin with a murkiness that stops well short of opacity. There's a slight reddish cast to the beer as well, although it's hard to see on this overcast morning. A thick chunk of khaki colored foam looks good as it melts, depositing a beautiful band of shredded lace in the process.
As the name suggests, this offering is a smoked bock, which is obvious after one whiff. The wood smokiness is right upfront and makes me eager to take that first sip. Does anyone brew beer like this better than the Germans?
If you like smoked, malty beer then you'll like Hummel Raucherator, it's as simple as that. I'm not sure that it's on the same level as Brauerei Heller-Trum's masterpieces of smoke, but it's damn tasty all the same. Not to mention the fact that it drinks like the ABV is no more than 6.0%. A measly 500 ml isn't going to be enough.
There isn't enough malt for the beer to be considered rich (which is why it drinks so easily). Nevertheless, there are solid underpinnings of sweetness that are a nice counterpoint to the near perfect amount of smokiness. Oily, cured meat flavors are at a minimum, which should please the squeamish... assuming they'd even give this brew a second look.
The body/mouthfeel seems light-medium initially, but hangs on in impressive fashion and is supremely lagery smooth in the end. Laid back carbonation, as is almost always the case, works better than energetic carbonation would have.
Given its purchase price of $4.25, Hummel Raucherator Smoked Doppelbock isn't cheap. On the other hand, there aren't too many similar beers that are better. If you're a fan of the style, then you owe it to yourself to track this one down. Since this is only the fourth review, that might not be such an easy task.
1,748 characters
Hummel Räucherator from Brauerei Julius Hummel
Beer rating:
4.02
out of
5
with
10
ratings