Weiherer Bock
| Brauerei Gasthof Kundmüller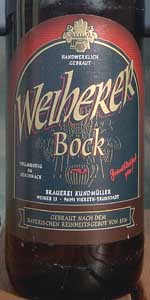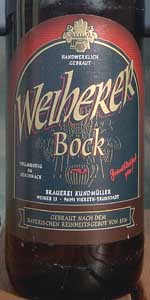 BEER INFO
Brewed by:
Brauerei Gasthof Kundmüller
Germany
kundmueller.de
Style:
Bock
Alcohol by volume (ABV):
6.60%
Availability:
Year-round
Notes / Commercial Description:
No notes at this time.
Added by HappyHourHero on 03-23-2007
HISTOGRAM
Ratings: 11 | Reviews: 6
None found.
More User Reviews:
4.26
/5
rDev
+11.5%
look: 4.5 | smell: 4 | taste: 4.25 | feel: 4.25 | overall: 4.5
Brauerei Gasthof Kundmüller "Weiherer Bock"
on tap at Luppolo 12, Via dei Marrucini, 12 00185 Roma, Italy
Notes: Mainly clear amber body beneath a creamy head of white. Excellent head retention and lacing. Aroma is grainy and malty with what appears to be Pilsner and Munich or Vienna malts. There's a golden caramel note to it, and a hint of apple. More malt comes through in the flavor than the aroma suggests, adding some bready toastiness, but it's not particularly rich - this is clearly done in the helles style. Minor floral, spicy, and herbal hops liven it, and it's nicely balanced by a median bitterness of about 25 IBUs. Quite nice!
646 characters
3.8
/5
rDev
-0.5%
look: 3.5 | smell: 3.5 | taste: 4 | feel: 3.5 | overall: 4
Poured a tall, frothy, cream colored head that fizzled to a thin film. Pale amber colored beer has a nice glow to it. A bit of malt in the nose, but mostly grassy hops and alcohol. The flavor is malty and bready with a light bitterness towards the finish. The mild flavors let the alcohol poke through a little. Mouthfeel is watery and moderately full. I'm not much of a fan of regular bocks, because I prefer the darker malts in the doppelbocks, but this one is pretty good.
475 characters

3.96
/5
rDev
+3.7%
look: 4.5 | smell: 3.5 | taste: 4 | feel: 4.5 | overall: 4
50cl bottle poured into seidel
BBE 22 Sept 2011
A- Toffee/caramel dark shade of gold with slight hue. Head is solid creamy 3 finger with excellent retention and lacing.
S- A light sweet fruit note, perhaps apple or pear. Some toasted malts. Pretty minimal nose.
T- Subtle appley fruity ester comes through again balancing with some subtle toasty/biscuity malt in a full finish.
M- Medium carbonation and body, lager clean.
D- Perhaps lacks the depth of malt character of a really good bock nevertheless it was a tasty enjoyable beer. Clean finish with a subtle but tasty palate. Definitely looked the part (1/2 mark off due to slight hue in clarity but thats picky).
672 characters

3.42
/5
rDev
-10.5%
look: 3.75 | smell: 3 | taste: 3.5 | feel: 3.75 | overall: 3.5
100th Bavarian beer review. From a half litre flip top bottle, impressed by the healthy "plop" sound.
A: Pale Gold, clear, medium head, decent lacing.
S: The freshly opened bottle had that really nice nutty aroma that often accompanies Bavarian
beers, sadly it didn't transfer to when the beer was poured into a glass, slight hoppy aroma
came through towards the end.
T: Nice balance of mildly sweet grassiness, balanced out by bready bitter finish. Noted hints of clove, apple, banana and booze. Well carbonated, medium to thick texture.
O: Fairly decent, I would place this on the Märzen/Bock border.
611 characters
3.06
/5
rDev
-19.9%
look: 3 | smell: 3.25 | taste: 3 | feel: 3 | overall: 3
3.98
/5
rDev
+4.2%
look: 4 | smell: 4 | taste: 4 | feel: 3.75 | overall: 4
4.31
/5
rDev
+12.8%
look: 4.5 | smell: 4 | taste: 4.5 | feel: 4.25 | overall: 4.25
From the bottle (just beyond it's "Best by" date), it pours a lightly hazy amber with a fluffy whitish head. Lightly malty to the nose. The mouth follows the nose, being malty with a light touch of hops. Lovely and yummy!!
This beer has won several European Beer Stars
272 characters
4.33
/5
rDev
+13.4%
look: 4.5 | smell: 4 | taste: 4.5 | feel: 4 | overall: 4.5
Over the course of 2 days, 26 and 27SEP10, Caitlin and I stopped into Bambergs Cafe Abseits twice. During that time, I imbibed five 0.5l bottles of this golden nectar, at €2.50 each. Didn't enjoy it much, eh? ;-)
My stein was brimming with a medium golden brew, with a bit of haze. A fluffy, marshamallow topping of white, rock froth stared up at me. it lasted nicely, with top-shelf lacing in the glass. Nose was quite bready, along with decent florality. Solidly medium, this bock was also very smooth traversing the tongue.
Bready, crackery malts lay on a nice coating of sweetness upon the palate. There's subtle apple in the background, and smooth, extremely satisfying florality in the finish. Nice, real nice! A keeper, imo.
Prosit!!
4.35
look: 4.5 | smell: 4 | taste: 4.5 | feel: 4 | drink: 4.5
1271
814 characters

3.67
/5
rDev
-3.9%
look: 3.75 | smell: 3.5 | taste: 3.75 | feel: 3.5 | overall: 3.75
Weiherer Bock from Brauerei Gasthof Kundmüller
Beer rating:
3.82
out of
5
with
11
ratings