St. Marks Ale House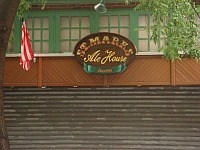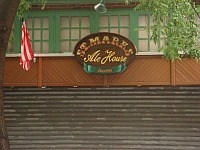 Bar, Eatery
2 Saint Marks Place
New York
,
New York
, 10003-8092
United States
(212) 260-9762 |
map
stmarksalehouse.com
Notes:
Reviews by TheLongBeachBum:
TheLongBeachBum from California
3.36
/5
rDev
-4.8%
vibe: 3.5 | quality: 3.5 | service: 3 | selection: 3.5
Located on the corner of 3rd Avenue and St. Marks Place, it's easy enough to find. After an earlier beer or two at the LightHorse Tavern in NJ and then a trip to Somerville Supersaver, Davo and I raced across town to get here to meet up with Dave (DJGonzalez) and Sabrina (RokotGirl) and the Friday after-work crowd.
Set in and amongst Punk Shops, Tattoo Parlors, trendy bars and a variety of other funky Clothing outlets, St. Marks Ale House feels like it should be a great joint to hang out in on a Friday afternoon.
Problem was, this place was very noisy though, I guess it is only to be expected at 6:30pm on a Friday Night, especially as the Happy Hour had just ended and the late night brigade overlapped and mixed with lots of shouting and partly drunken Office workers who were all headed home. The interior has a plethora of TV's of all sizes and shapes, lots of wooden floors, tables and chairs as well as a host of Breweriana all over the walls. Music was great, a solid selection played throughout the visit, but it was still hard to talk in hear, erm I mean, here.
A mélange of rooms, cubicles and off-shoot area's here and there, the interior is well-worn and has a real down to Earth Tavern feel to it, though I suspect it is much younger than it portrays. Nevertheless, it feels like a great Boozer, and during less busier times I am sure it is.
The bar sits to your left as you enter and several "clumps" of Taps total around Two Dozen when counted with little to no duplicates on each tap. Yet strip the Macros and Brooklyn's to one side and it boils down to about 3-4 solid micro offerings for the hard to please, like me. A decent enough selection for the area, but nothing outstanding here, in fact such was our thirst that Davo and myself got Hoegaarden (don't tell the Bros we don't drink local).
Plenty of Taps and choice, though it was hard to pull it all together at times and make a decision without walking the taps and having to lean and walk behind the bar implanted Punters, which felt strange at times, wish they would have had a Chalkboard for the brews on offer to make things easier - if there was a list I missed it. Happy Hour prices are great, the regular ones are not. I never tried the food, but everyone that had some on the Table I sat at seemed to be enjoying it and the plates were all cleaned empty when we left. Service was slow and sloppy and sort of care-free, you had to make a fool of yourself to get served here.
Maybe I'm being a little harsh but this really isn't all that bad as a Bar, and it is a decent enough place for an hour or so if you're nearby. But personally I really couldn't wait to get out of here to be honest, it was far too warm, there were too many Yuppies, wanna-be Rock/Film Stars, stuck-up loud talking cash flashing ass-holes, it was a little crowded and just way too noisy to have a conversation over your Pint with friends without shouting, and I hate that. If you're an old fuck like me who enjoys simple old-fashioned conversation then leave this one for the quieter times, otherwise Happy Hour offers some neat prices but you'll have to fight the Yuppie crowds.
Last Visit: Friday 11th November, 2005.
Nov 25, 2005
More User Reviews:
Mr27 from New York
4.35
/5
rDev
+23.2%
vibe: 5 | quality: 4.5 | service: 4 | selection: 4 | food: 5
Awesome place, awesome beer, awesome food, great atmosphere. Prices were a little steep but loved every bit of this place so it was kind of worth it. Huge projection screen had the rangers game on so I was in love right away. Pretty good beer selection and the food was delicious. Very hard to get a table though, it's fend for yourself and we never even seen a table clear the whole time we were there. Best bet is get there early and watch like hawks. Other than that this place is amazing.
Mar 17, 2013
iRoy from New York
3.46
/5
rDev
-2%
vibe: 3 | quality: 4 | service: 2.5 | selection: 4
Had a few Magic Hats with a buddy here. Bartender was kind of a douche for checking my ID as hard as he did, we didn't even come in on a busy day it was weird. But yeah decent selection and nice interior. When I went there there weren't many hipsters as you would expect considering the area. It was more of the older crowd. A lot of flat screens showing sports, a lot of suits were paying attention. Not my style but the prices were good. Location is pretty good too right near the Astor Place Subway stop. Will probably go there again because of the many record stores and other places I got to in the area.
Feb 02, 2011
ommegangpbr from New York
3.33
/5
rDev
-5.7%
vibe: 3 | quality: 3.5 | service: 3 | selection: 3.5 | food: 3.5
In a neighborhood full of interesting places I don't necessarily go out of my way to go to this one but I like knowing that it's there. A seat is usually hard to come by when I find myself near there. Lots of tvs, a decent selection of beers, but mostly american and macro to my recollection. The menu is full of football watching food and was better than decent. The men's room is very worn in and a little scary. It gives the place a bit of character but not for the weak hearted.
Happy hour specials are usually pretty good. The service I've gotten has varied greatly between the bartender being right and ready at all times, to absent for long periods of time while an empty glass was in front of me.
Not worth a pilgrimage but makes for a suitable pit stop.
Mar 11, 2005
PopeJonPaul from Oregon
3.23
/5
rDev
-8.5%
vibe: 3.5 | quality: 3.5 | service: 3 | selection: 3
OK, I have to say I went here SOLELEY for the fact that Slander said "this place ain't so bad." This bar is in one of the last neightborhoods (other than maybe East NY) that you'd look to find a quality beer bar. Sandwiched between an Original Infamous Famous Rays and a slew of cheap-ass tattoo parlors and magnet junkshops for 18-20 year-old coffee house groupies in the heart of a NY tourist trap, I walked by this place probably 150 times before finally peeking my head in.
First off, it has a surprisingly nice sports-bar atmosphere, with at least 17 TVs set at every possible angle. I am certain someone sat in every chair on a crowded Friday night and made sure there was at least one visible TV from any corner. Lots of wood, looks older than its 1995 origins. The monk painting in the back looks kind of out of place, and there's only 2 holes to piss in in the entire place, counting the ladies room.
About 24 taps, didn't really see a bottle menu. Lots of decent stuff, nothing special, a few Brooklyn beers, German beers (Paulaner, Spaten), a couple IPAs (Lagunitas, Stone 420 IPA,) Victory, Dogfish, etc. Service was spotty, the Yankees were on in the post-season and the bartender couldn't get both eyes off the TVs. Not a bad place, a good place to catch a game but there are better places to grab a beer.
Oct 14, 2004

far333 from Connecticut
3.14
/5
rDev
-11%
vibe: 3 | quality: 3 | service: 3.5 | selection: 3
Sorry, I just don't get this place. It's in the edgiest part of town, and has no edge to it. Lots of beers on tap, but really nothing special. The crowd is a bunch of yuppie posers who don't fit into the downtown East Village neighborhood. Atmosphere is a bit antiseptic, and it gets too crowded. Keep walking east down St, Mark's place, and try some other places.
Sep 18, 2003
slander from New York
3.86
/5
rDev
+9.3%
vibe: 4 | quality: 4 | service: 4 | selection: 3.5
We first visited St. Marks Ale House a few years ago during the "Pre-Ubufest walk through" for Ubufest IV. Oddly enough, we're always able to get some good table space here and there's always a decent amount of us to be housed.
They're pouring 24 taps, nothing crazily outstanding but some good American Micros can be found here. Sierra Nevada, Anchor, a bunch of Brooklyns, Sam Adams and the first place I've seen the A-B Bare Knuckle (Budstout). Good comfortable bar with a pleasant decor and a greaaaaaaaat jukebox. Surprisingly roomy and riddled with some tables back away from the bar. A good place to visit if you're doin' the McSorley's/Brewski's/Burp Castle hop as it's 1 avenue up and just around the corner.
Aug 10, 2003
St. Marks Ale House in New York, NY
Place rating:
3.53
out of
5
with
7
ratings