Portsmouth Hop Harvest #1
| Portsmouth Brewery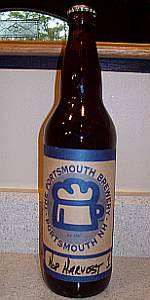 BEER INFO
Brewed by:
Portsmouth Brewery
New Hampshire
,
United States
portsmouthbrewery.com
Style:
American Amber / Red Ale
Alcohol by volume (ABV):
6.50%
Availability:
Fall
Notes / Commercial Description:
The use of a hundred pounds of fresh Centennial & Cascade hops make this a rare find on the east coast. A beautifully balanced red ale with medium body & lots of hop flavor.
Added by Bierman9 on 10-02-2004
Reviews: 29 | Ratings: 41
4.38
/5
rDev
+8.1%
look: 4.5 | smell: 4 | taste: 4.5 | feel: 4.5 | overall: 4.5
Acquired via trade from purplehops, so a big "Thank you" goes out to him. Poured from a 22oz bottle into a mug glass.
A: The beer is a bright orange-amber color with a large off-white head that fades slowly and leaves a thick lace on the glass.
S: The aroma is full of fruity citrus along with a good amount of floral hops and a little bit of caramelized malts.
T: The taste is very well-balanced with a nice burst of hops bitterness, which doesn't over-power you. Then there's a very fruity and sweet flavor of sweetness along with some caramel flavor as well. The malt character is considerably thin for the style, but since the hops & alcohol aren't tremendously strong, it allows to beer to be on the light side while maintaining a good balance. However, I would argue that this is more of a regular IPA than a Double IPA. The after-taste is slightly sweet and slightly hoppy.
M: Crisp and very smooth, medium body, medium carbonation, finish is clean.
D: Very tasty, goes down easily, not very filling for the style, decent kick, good representation but as I mentioned previously, I think it's more like a regular American IPA, in fact it tastes very similar to their Bottle Rocket IPA, which I liked an awful lot on-tap. Also like Bottle Rocket, this is a very good beer to drink for a whole evening.
1,324 characters
4.38
/5
rDev
+8.1%
look: 4.5 | smell: 4 | taste: 4.5 | feel: 4.5 | overall: 4.5
Secured a bottle of Hop Harvest from JayT and had it for lunch today. I was expecting a deep, earthy hoppy beer similar to the BIG A but I was surprised how easy drinking this beer turned out to be. The initial sip had a nice rich but sweet hoppy character to it, that last through the entire pour. Very well balanced, a great beer to share with friends, biut I didn't want to share this beer with anyone after my first taste. It had an almost smoky taste to it as well - not sure if that's JT's doing, but it was one of my favorite beers I have tried this year. Keep up the good work and thanks for the free sample. allen, Dogfish
631 characters

4.42
/5
rDev
+9.1%
look: 4 | smell: 4.5 | taste: 4.5 | feel: 4 | overall: 4.5
Growler received in a trade with portia99 thanks!
Appearance: Pours a deep auburn with honey orange folds. The head is minimal and off white. It shows little retention and lace but a nice hop oil sheen remains like a film across the top of the glass!
Smell: Super dank hop oil over a bed of dark earthy malty goodness.
Taste: Wow this is a fantastic tasting brew. Loads of fresh cascade and centennial hops in a red style ale! Barely any bitterness despite the massive hop flavor!
Mouthfeel: Medium bodied with just enough carbonation to get by but I would like some more carbonation!
Drinkability: I could and would love to drink this all day!
649 characters
4.42
/5
rDev
+9.1%
look: 4 | smell: 4.5 | taste: 4.5 | feel: 4 | overall: 4.5
I'm not entirely sure that this is classified correctly. I would probably call it an IPA as opposed to a DIPA and I'll rate it as such. It has a nice dark amber/red body with a decent white head. The aroma is nice and sweet with a bunch of caramel and a good citrus kick. The flavor is much the same with caramel having a strong presence with a great hop kick. Very tasty beer all around. Great drinkability.
408 characters
4.47
/5
rDev
+10.4%
look: 4 | smell: 4.5 | taste: 4.5 | feel: 4.5 | overall: 4.5
Had this on cask, and now this is my review of the tap version, which I also had while at the brew-pub yesterday. Basically, I'll contrast the differences which I saw between the two serving styles. Dark amber in color, the head was lower and less dense than that from the cask. Some lace in my glass. The aroma from the tap was even more prominant of that lovely candy like hop quality, which I love. Taste was actually pretty comparable to the cask version, but there was more definition from the malt and the hops in this on-tap version. Still good, although maybe the cask is a touch more session-like. Alcohol tries to hide...it's so tasty and easy to drink, but you do need to keep one eye on the abv :-)
710 characters

4.55
/5
rDev
+12.3%
look: 4.5 | smell: 4.5 | taste: 4.5 | feel: 4 | overall: 5
This is the fall 2009 Hop Harvest I, it's a single hop IPA using Summit Hops that were over-nighted from Oregon and used to brew the day of arrival. Poured from a growler into a perfect pint.
The pour yields a thin foamy white head that leaves a surprising amount of lacing as it fades to a white ring around the top of the glass. The beer is murky amber with an orange glow around the edges.
The smell is intense hops-grapefruit citrus, pine resin, fresh cut grass and some lemon zest. Way down deep beyond the hops on third sniff you can get some type of a malty sweetness, but that's not important.
The citrus hop really comes to the fore on the tongue, followed by some pine resin and a spicy/peppery hop. The citrus comes back at the end of the taste and finishes the flavor on a juicy, almost sweet, bitter note.
The beer is perfectly carbonated, medium bodied, and fantastically hoppy. I am definitely tempted to drink the entire growler in one sitting.
964 characters
4.55
/5
rDev
+12.3%
look: 4 | smell: 4 | taste: 5 | feel: 4.5 | overall: 4.5
Notes from tasting 10/25/07.
Appearance: Rusty copper colour, hazy. Rocky white head leaves big gobs of lace.
Aroma: A good dose of skanky fresh green hops. Piney and grassy. Hoppy for sure, but solid malt backbone.
Taste: Quite balanced. Agreed that it wasn't a DIPA, but a very fresh hopped IPA. Citrus and pine from the hops compliment a nice caramel flavour.
Mouthfeel: Medium bodied, perfect carbonation level. Sticky and very easy drinking.
Final Statement: One of the best, if not the best beers I've ever had. Very balanced but more hoppy than the Sierra Nevada Harvest Ale, which suits me.
604 characters
4.57
/5
rDev
+12.8%
look: 4 | smell: 4.5 | taste: 4.5 | feel: 4.5 | overall: 5
I picked up a growler of this on 10/16/09, drank on 10/17/09. Vigorous pour into a tulip left a coarse one finger head which quickly faded to leace heavy lacing, somewhat cloudy, burnt orange, good carbonation. Huge pink grapefruit nose, some herbal characteristic as well perhaps? Very pleasing. Great hoppy/grapefruit taste, good bitterness, a little caramel maltiness, clean bitter finish with a hint of cotton candy. Nice medium body with good carbonation, smooth. Very drinkable, my favorite fresh hop beer yet, could drink them one after another.
552 characters
4.75
/5
rDev
+17.3%
look: 4.5 | smell: 4.5 | taste: 5 | feel: 5 | overall: 4.5
Wow, picked this one up on the way home from the vagabond release, and it did not disappoint. This beer is juicy, fruity, and full bodied in a way only one other IPA variant I've had is: the vaunted pliny the younger. This beer as everything I'm looking for in an IPA. It's incredibly drinkable, full bodied, and full of hop flavor without being overly bitter. Well worth the trip.
381 characters
Portsmouth Hop Harvest #1 from Portsmouth Brewery
4.05
out of
5
based on
41
ratings.