Portsmouth Hop Harvest #1
| Portsmouth Brewery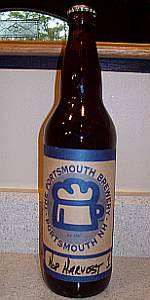 BEER INFO
Brewed by:
Portsmouth Brewery
New Hampshire
,
United States
portsmouthbrewery.com
Style:
American Amber / Red Ale
Alcohol by volume (ABV):
6.50%
Availability:
Fall
Notes / Commercial Description:
The use of a hundred pounds of fresh Centennial & Cascade hops make this a rare find on the east coast. A beautifully balanced red ale with medium body & lots of hop flavor.
Added by Bierman9 on 10-02-2004
Reviews: 29 | Ratings: 41
4.42
/5
rDev
+9.1%
look: 4 | smell: 4.5 | taste: 4.5 | feel: 4 | overall: 4.5
I'm not entirely sure that this is classified correctly. I would probably call it an IPA as opposed to a DIPA and I'll rate it as such. It has a nice dark amber/red body with a decent white head. The aroma is nice and sweet with a bunch of caramel and a good citrus kick. The flavor is much the same with caramel having a strong presence with a great hop kick. Very tasty beer all around. Great drinkability.
408 characters

4.13
/5
rDev
+2%
look: 4 | smell: 3.5 | taste: 4.5 | feel: 4.5 | overall: 4
An amber color with a thick white head and some impressive stickiness. It had a grassy, floral aroma, but the aroma was a little weak (either that, or my nose died). A nice, crisp citrus taste with some good hop bitterness. Fairly assertive, a good beer to drink. Goes well with food.
10/07: have now had this beer several times (I think they're in their third incarnation), and it just gets better each time. More fragrant, more taste. It's becoming one of my favorite beers at the Brewery.
491 characters
3.88
/5
rDev
-4.2%
look: 4 | smell: 3.5 | taste: 4 | feel: 4 | overall: 4
Pours clear copper, with an off-white, rocky head.
Retention is noteworthy with duration lasting throughout.
Clingy lacework of dots and erratic rings.
Aromatics have a subdued, but fresh hop profile balanced with crisp malt.
Mildly grassy and citrusy, with a hint of chaulkiness and a nod towords Burton.
Body is medium and crisp, some light residuals add some additional mouthfeel.
Pallet is a balance of hops and malt, with most of the hopping being in the bitterness.
An ever-so-slight wet hop character peeks through, but not much.
The brew itself is quite fresh, but the full-on grassy, typically earthy hop presense is not there.
Finishes with a firm bitterness and some lingering caramel and citrus.
More reminiscent of a good APA.
Big thanks go out to Hopasaurusrex for hooking me up.
805 characters
4.38
/5
rDev
+8.1%
look: 4.5 | smell: 4 | taste: 4.5 | feel: 4.5 | overall: 4.5
Secured a bottle of Hop Harvest from JayT and had it for lunch today. I was expecting a deep, earthy hoppy beer similar to the BIG A but I was surprised how easy drinking this beer turned out to be. The initial sip had a nice rich but sweet hoppy character to it, that last through the entire pour. Very well balanced, a great beer to share with friends, biut I didn't want to share this beer with anyone after my first taste. It had an almost smoky taste to it as well - not sure if that's JT's doing, but it was one of my favorite beers I have tried this year. Keep up the good work and thanks for the free sample. allen, Dogfish
631 characters

4.06
/5
rDev
+0.2%
look: 4.5 | smell: 3.5 | taste: 4 | feel: 4.5 | overall: 4.5
Sampled on-tap at the brewpub in September 2005.
This Wet Hopped Harvest Ale poured a hazy/cloudy, rusty brown color with creamy, light tan foam that settled slowly and clung to and coated the glass. The smell was hoppy, though surprisingly mild for a fresh harvest ale, backed up with some malty aroma. The taste was nicely richly malty (some Munich malt?) with dry hoppiness and mild hop bitterness but plenty of hop oils in the finish. The finish was also lightly fruity. The mouthfeel was dry and smooth with medium body and modest carbonation. There were dry, woody notes in the feel. This ale was very drinkable and quite enjoyable.
641 characters

4.25
/5
rDev
+4.9%
look: 4 | smell: 4 | taste: 4.5 | feel: 3.5 | overall: 4.5
Enjoyed this one on tap last weekend and was fortunate to bring home a couple bombers to enjoy in the comfort of my own home.
Pours a dark copper color w/ a half a finger of bright white head after a fairly agressive pour...thin lacing forms.
Fresh floral hop aroma...iced tea, and a mild sweet maltness.
The taste is incredibly enjoyable w/out going over the top...a nice balanced brew. Hops become more fruity on the pallet and supplies a bitterness that is fantastic...the malt adds a sweetness in the finish w/ no alcohol detected.
Mouthfeel is a tad thin for the style, but the drinkability is very high...this one just goes down too easy.
These guys at Portsmouth really know how to pick a style and produce one fine offering...although, it is not the punch you'd expect from most IIPA's these days, it is a definite IPA times two.
843 characters
3.97
/5
rDev
-2%
look: 3.5 | smell: 4 | taste: 4 | feel: 4 | overall: 4
Had on tap from the brewpub. The beer was presented in a standard pint glass and had a sliver of white head. The beer itself was a light brown color, and very little lacing was left throughout the sample.
The smell was hoppy and floral but with a distinct malt accent as well. A slight pine nut smell. Overall, I thought the smell to be a "malty IPA."
The taste was very alla arrogant bastard with a hearty innitial malty taste that soon yeilds to an outpouring of hop flavor, bitterness, and intensity. Each sip has a crispness finished off with a bitterness at the back and sides of the tounge. Not strong or warming with alcohol, but hopped up more than their "standard" IPA.
Medium body with ample carbonation and very easy to drink. One for hop lovers as it delivers the bitter arrogance of a DIPA without the alcoholic kick.
839 characters
4.47
/5
rDev
+10.4%
look: 4 | smell: 4.5 | taste: 4.5 | feel: 4.5 | overall: 4.5
Had this on cask, and now this is my review of the tap version, which I also had while at the brew-pub yesterday. Basically, I'll contrast the differences which I saw between the two serving styles. Dark amber in color, the head was lower and less dense than that from the cask. Some lace in my glass. The aroma from the tap was even more prominant of that lovely candy like hop quality, which I love. Taste was actually pretty comparable to the cask version, but there was more definition from the malt and the hops in this on-tap version. Still good, although maybe the cask is a touch more session-like. Alcohol tries to hide...it's so tasty and easy to drink, but you do need to keep one eye on the abv :-)
710 characters
4.03
/5
rDev
-0.5%
look: 4.5 | smell: 4 | taste: 4 | feel: 4 | overall: 4
Made with 80 pounds of hops, according to their website.
Well, it looks desirious! Has a deep copper color, with a hint of haze. Topped by a very creamy, light tan - beige head; lasts decently, and laces well also. An acceptable aroma, for sure: very west-coasty...citrussy, with light malt playing second fiddle. Most decidedly a hoppy bier. Solidly in the medium body category, with a pleasing smoothness tongue-wise. After a few sips, I see a solid toasty malt character, with a suggestion of caramel. Soon thereafter are the hops, and lots of them! Very citrussy; I'm guessing loads of Cascades were used, along with... ? Dunno... (turns out they're Centennial, from the web...). The lupulins stick in the crevasses of the mouth and throat. A gustatory delight! Nice job, Mr Mott!
Zum Wohl!
overall: 4.1
appearance: 4.5 | smell: 4 | taste: 4 | mouthfeel: 4 | drinkability: 4
761
885 characters
Portsmouth Hop Harvest #1 from Portsmouth Brewery
4.05
out of
5
based on
41
ratings.