Portsmouth Winter Weizen
| Portsmouth Brewery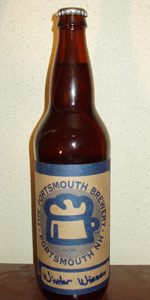 BEER INFO
Brewed by:
Portsmouth Brewery
New Hampshire
,
United States
portsmouthbrewery.com
Style:
Dunkelweizen
Alcohol by volume (ABV):
6.00%
Availability:
Winter
Notes / Commercial Description:
This hefeweizen is brewed with a bit more wheat malt & hops to create a well balanced, robust winter ale.
Added by Truh on 12-29-2004
Reviews: 27 | Ratings: 45

4.67
/5
rDev
+13.3%
look: 4 | smell: 4.5 | taste: 5 | feel: 4.5 | overall: 4.5
So I go to Kate day and since I'm a hefe head and love all related beers I had to get a growler of this.
A cloudy burnt orange with a white head. Decent retention and touches of lace. Not much bubbling going on until you sip, then a fog like carbonation wells up from the middle of the glass.
Smell is your first clue that you have struck gold. Large amounts of banana followed by a healthy amount of clove and an undercurrent of bubblegum. Nice. A deep dark wheat grained malt with a peppery spiciness and maybe a hint of alcohol. Just maybe. Some caramel like notes. A light hefe like yeasty funk with faint lemon adds the finishing touch.
Taste is just perfect. If a 5 means can't improve then that is what I'm saying. All the attributes of the nose with a bigger lemon presence. There are so many flavors in this glass. All of the nose flavors with so much more. Banana rides in first and sits on the horse. Followed by cloves and juicy sour green apples. A subtle lemon background. There is a roasted wheat malt breadiness for a backbone and faint cinnamon. So delicious. Sweet caramel and more banana. There is a dry tartness that expresses the peppery spiciness. Finish is long and filled with banana bread, caramel, and dry tart apples with a melon juiciness and cloves. Alcohol just barely peeks out but if you are not paying attention on a hyper level you will miss it. Feel is crisp and light with a perfect microfine effervescence. A quenching brew that while satisfying does not have any heaviness.
Drinks like a low abv beer. You want to quaff this one and kick back but it's so well made you have to sip and savor. At least for the first glass. After that all bets are off. Then you have to watch out for the sneaky abv. Now that I've had it I'm going to have to contact my new friends in the area to procure some more of this stuff. If I could get this all the time the only thing that would stop me from drinking it would be a hefe of the same caliber. Then I could switch beer from warm months to cold. Best dunkel I've had
2,048 characters
4.8
/5
rDev
+16.5%
look: 5 | smell: 5 | taste: 4.5 | feel: 5 | overall: 5
A: 22 oz bottle w/ classic Portsmouth Brewery label w/ "Winter Weizen" hand-written in sharpie on the front. No freshness or bottling date. This beer pours with a towering creamy head, standing tall for awhile, then settling into a rocky yet igneous surface of at least 1/2 inch throughout. Beautiful cloudy golden color. Looks great.
S: Smells of freshly baked bread, ripe bananas, clove, and cinnamon. Like a loaf of banana bread.
T: First sip is bananas and spice, giving way to a strong wheat taste, finishes both buttery and cinnamon-fresh. The slightest tang. Tastes crisp with mild bittering hops paving the way for an oh-so smooth sweetness, but not cloying. This is like the best dessert ever.
M: Like drinking cumulonimbus clouds. A great body containing a light, delicate fizz with a slickness that keeps it sliding down the trap, begging you for another quaff. So luxurious and refreshing.
D: A perfect five for drinkability. You couldn't find a more drinkable beer. I could drink a gallon of this.
Notes: This is absolutely the best Weizen/Weizebock/Dunkelweizen I have ever had. Better than all the big name german ones, even. Kudos to Todd and Tyler for putting Portsmouth on the map, again. I wish this was a year-round brew.
1,246 characters
Portsmouth Winter Weizen from Portsmouth Brewery
4.12
out of
5
based on
45
ratings.