Portsmouth Smoked Dunkelweizen
| Portsmouth Brewery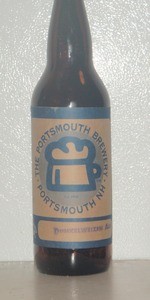 BEER INFO
Brewed by:
Portsmouth Brewery
New Hampshire
,
United States
portsmouthbrewery.com
Style:
Dunkelweizen
Alcohol by volume (ABV):
5.00%
Availability:
Fall
Notes / Commercial Description:
No notes at this time.
Added by MuddyFeet on 10-26-2005
Reviews: 14 | Ratings: 31

4
/5
rDev
+1.5%
look: 4 | smell: 4 | taste: 4 | feel: 4 | overall: 4
Maple syrup brown color. I had to use a hard pour to force a decent head. Lacey speckles left like a frozen snowglobe.
Smells like fall. Light clove and gentle smoke mingle with maple syrup and squishy 'nanas.
Smooth, not particularly spicy clove, and woody Munich. Smoke is subtle and compliments the other flavors rather than overwhelm them. The strength of this beer is that all the flavors are blend well and compliment each other in perfect balance.
457 characters
4.02
/5
rDev
+2%
look: 3 | smell: 3.5 | taste: 4.5 | feel: 4 | overall: 4
Fills the glass with a murky brown body and a decent tan head, but it failed to provide the big fluffy head you look for in weizens.
Sweet brown sugar and caramel malts on the nose. Yeast seems to add in some fruity esters as well. Smoke is present but a bit reserved.
A lot of different flavors going on with the first few sips. Nice malt presence with some toasted bread and caramel character. A healthy dose of yeast flavor as well, with some clove like spice and a fruity bubble gum note. The smoked aspect doesn't really come through until the end but leaves a nice lingering flavor.
Mouthfeel is light and bubbly. Finish is a bit drying. Overall, this beer was a bit underwhelming at first but it really grew on me as I worked my way through. Lots of flavor in a nice low-ABV package.
794 characters

3.58
/5
rDev
-9.1%
look: 4 | smell: 3.5 | taste: 4 | feel: 2 | overall: 3.5
Poured from a 22oz bottle into my Portsmouth glass. As I opened the bottle foam started gushing out of the bottle. It took a long time for it to settle down in the glass as well. Once it did though it was a very nice looking caramel color with a huge, fluffy, tan head to it.
The aroma shows off the sweeter, bready, wheat flavors nicely. I get some malty, dark fruit, caramel and toffee flavors all coming out as well. The smoke is pretty reserved, but noticeable.
The taste starts out with more of the sweeter, bready, wheat and dark fruit flavors. The smoke really starts to come out in the back end and gives it a very nice campfire like quality. I really liked the wheat and smoke combination.
The mouthfeel is where things didn't seem right to me. It was extremely carbonated, to the point where it was so fizzy it was hard to drink. Overall it had some very nice flavors to it. I really like how the smoke and wheat mix. The mouthfeel didn't fit at all though and hurt the beers enjoyability for me. Overall a good beer that had potential to be excellent.
1,067 characters

3.67
/5
rDev
-6.9%
look: 3.5 | smell: 4 | taste: 3.5 | feel: 4 | overall: 3.5
A - Pours a huge(1/2 the glass), foamy light tan head that sits around forever. The beer is dark brown with red highlights. It is cloudy with tons of visible carbonation bubbles.
S - There is a little bit of bacon and smokiness on the nose combined with a spiciness. There is also a fruitiness from the yeast.
M - Medium in body with moderate carbonation. I expected it to be over-carbonated with the huge head, but that wasn't the case. Has a creamy feel to it.
T - Malty sweetness up front followed by light smokiness. Some fruity esters hit the tongue next along with banana and clove which linger in the finish.
The smokiness isn't as strong in the taste as in the aroma. The Dunkleweizen and smokiness play together very well.
735 characters
4
/5
rDev
+1.5%
look: 4 | smell: 4 | taste: 4 | feel: 4 | overall: 4
A huge fluffy 3 finger head rises up and fades semi slowly, making it difficult to pour, over slightly clear reddish maroon mahogany colored beer. As it eventually fades, the head leaves a ton of sticky lacing.
Nose is weird, it has some campfire smoke and a bit of smokey malts, but with that is some Belgian yeast like dark fruits, some toasted malts, a very slight salty minerality that seems to come from the smoke, and a touch of brown sugar, its interesting to say the least.
Taste brings smoke again, but this time comes with some creamy malts, a bit of dark wheats and dark malts, slight taste of bananas foster with caramelized brown sugar, light taste of dark fruits, and some sweetness. The smoke comes with a touch of campfire and smoked malts, but is creamy and light, not overpowering, but does bring a slight salty minerality. A very slight clove like taste as well. I can almost get a slight apple wood flavor from the crab apple tree smoke. A slight sweetness to start dries quite a bit and adds to the smoked experience as it dries quite a bit, with some light malts on the finish, and plenty more lingering smoke, bringing a bit of smoked cheese flavor on the finish as well.
The mouth is medium bodied with good carbonation.
Drink is OK, a long lingering smoke makes me not drink quickly so I can enjoy the smoke, reminds me of late night BBQs, it's actually almost sessionable with the low abv and creamy taste and feel, but a bit of the salty minerality gets in the way.
1,496 characters
4.03
/5
rDev
+2.3%
look: 4.5 | smell: 4 | taste: 4 | feel: 4 | overall: 4
22 oz bottle
A: Deep brown body under a medium to large sized slightly off white head. Good lace and retention.
S: Nice blend of smoke and typical dunkel character, clove, banana, bit of bubble gum, sweet. Smoke drowns out most toasted character and carries a nice "meatiness" to it.
T: A lot of smoke with some malty sweetness in the back ground. Dunkel character is a little drowned out by the smoke. Some bread and banana character with a slight smoke bitter finish. Not quite as balanced as the aroma but still good.
M/D: Medium bodied, carbonation is low, body feels slippery on the tongue. Good drinkability, a very solid beer.
637 characters
3.76
/5
rDev
-4.6%
look: 5 | smell: 4 | taste: 3.5 | feel: 4 | overall: 3.5
Received this brew from the ever generous BeerTruth. I'm not a huge fan of Dunkelweizens but he assured me it was good. Drank from my Surly nonic pint glass.
Appearance- Pours a hazy dark reddish brown with a beautiful one finger super creamy off-white head. A perfect half finger cap and collar remain the entire beer along with thick sheets of coated lacing.
Smell- Lightly spicy with those unmistakable yeasty Weizen notes of banana and clove. A nice toasted maltiness as well with a light bit of cocoa and nuttiness. As I really breath the beer in deep I definitely get a nice peat smokiness but its definitely subtle. Nothing too crazy here but a fairly nice smelling nose.
Taste- Hmmm, a bit different than what I was expecting but nice. The yeast and banana notes are VERY light compared to the nose. The smoke isn't really strong either as I think the slight fruitiness and slight smokiness really offset one another. Its nutty and toasty with a sort of lingering husk and black pepper spice. The finish is long and lingering as a somewhat charred, somewhat citric bitterness that coats my tongue.
Mouthfeel- Very creamy and rich with a nice full body and a sort of tingly aggressive carbonation that really cuts through the big body.
Drinkability- Very interesting beer that I enjoyed. I think the smoke and Weizen aspects aren't a match made in heaven but none-the-less fun to try. The body and look of the beer are top notch though, that's for sure. Thanks much Adam!
1,479 characters
3.97
/5
rDev
+0.8%
look: 3.5 | smell: 4 | taste: 4 | feel: 4 | overall: 4
Dispensed via growler on 11/15/09, courtesy of Deuane.
A - Poured a cloudy, smokey brown body with deep amber highlights and a bubbly beige-colored head that settled into a patchy retention and very modest lacing.
S - The somkey character of this dunkelweizen dominates the aroma, imparting hints of woody notes and tree bark, but with a slight dark fruit tang. Malt character is thick and sweet, suggesting maple syrup.
T - Flavor combines hints of dark fruit and thick caramel malt with moderate smokey and meaty notes and a touch of earthy bitterness. There is also a very faint inkling of coffee in the background. However, there's not a lot of dunkelweizen attributes present.
M - Medium bodied with a syrupy texture and moderate carbonation. Finishes with mild bitterness on the palate.
D - Pleasant, easy-drinking brew with a fairly complex flavor profile and nice smokey character, although this doesn't really strike me as a dunkelweizen.
955 characters
3.65
/5
rDev
-7.4%
look: 3.5 | smell: 3.5 | taste: 3.5 | feel: 4 | overall: 4
Thanks to Deuane for sharing this growler. We originally thought that it was a smoked doppelbock.
A: The dunkelweizen is a dark brown hue, completely opaque, with a rather substantial white head atop it. That head should have been the first indication that it wasn't a doppelbock.
S: The nose is thick and meaty, heavy with smoke. A veritable smokehouse of cured meats, this one smells very nice. There is, however, little (okay, no) indication of a weizen.
T: The smoke, much like in the nose, rules everything tastewise. The first sip is full, well-smoked with a lingering meatiness that refuses to dissapate. Behind the smoke, there is very little malt-wise that stands out. That makes some sense, as it is a weizen behind the smoke and not a big malt bomb. The ale is very chewy, easily passing for a smoked meat plate.
M: The mouthfeel is a meat-lover's delight, a smokehouse. I'd like to taste more dunkelweizen though, it does get lost behind the smoke.
D: The ale scored lower because the dunkelweizen side shys away from the limelight. I do like the ale though and would gladly have another glass.
1,111 characters

3.97
/5
rDev
+0.8%
look: 3.5 | smell: 4 | taste: 4 | feel: 4 | overall: 4
On tap at the brewpub on 11/1/08. Served in a pint glass.
Pours a muddy brownish orange without much of a head. Just a thin, fizzy, white retention with just some thin wisps in the center that. To it's credit though, this does stick around for a while, leaving some solid lacing behind. The aroma starts out with a nice pugent smokiness right off the bat that greets the nose. The Dunkel smells come in right after, with oranges, wheat, clove, and yeasty banana notes that shine.
The taste is similar to the aroma but in reverse. This time those solid Dunkel flavors come out first but are then followed by a subtle yet pervasive smoked malt character that works itself down along the backend of the profile, finishing with notes of smoke and tang. The mouthfeel is medium bodied with a touch of beef to it and a firm carbonation that carries the flavors well.
Very nice. Quite robust with a nice balance between the smoked malt character and the other flavors. I definitely could have enjoyed another glass of this.
1,022 characters
4.17
/5
rDev
+5.8%
look: 3.5 | smell: 4 | taste: 4.5 | feel: 4 | overall: 4
This is the Smoked Dunkelweizen from a growler poured off the tap at Portsmouth today, 10/25/2008.
Beer is cloudy to the point of opacity and is a rust brown shade like apple cider. A thin cream-colored head disappears rapidly leaving a ring and a little spotty lace.
Scent is lightly smoky at first, then yeasty and fruity. The smoke flavor is mouthwatering.
Taste is banana, apples, apple peel, lemon, and spices - clove, coriander, cinnamon. An apple cinnamon flavor now and again. Sour, yeasty and wheaty. Following is a subtle smoked flavor which takes its time developing and, once established, lingers on the palate for a remarkably long smoky finish. The smoke flavor is understated and subtle; it's balanced well by the fruit and yeast / wheat flavors.
Mouth is creamy and smooth with a very fine light carbonation; somewhat coating.
Drinkability is very good.
I have to admit I love smoked beers. They just really do it for me. In typical Portsmouth fashion this is a delicious and well crafted ale and I'm glad I have a whole growler of it.
1,057 characters
4
/5
rDev
+1.5%
look: 4 | smell: 4 | taste: 4 | feel: 4 | overall: 4
David absolutely loved this one. This isn't my favorite style, but knowing Portsmouth's quality, I knew it would be a good brew. Hazy nut brown and a bit ruddy in the glass. Intitial whiff of smoke, folowed by the traditonal German Weizen aroma. Some bubblegum as well. Medium mouthfeel. Tastewise, the initial smokiness is followed by some weizen bubblegum notes. Some nuttiness also present.
393 characters
4.1
/5
rDev
+4.1%
look: 4 | smell: 4 | taste: 4 | feel: 4 | overall: 4.5
Had a couple of pints of this today at the Brewery. Had the pleasure of sitting next to asst Brewer JayT. He said he and Tod Mott personally smoked some malt for this baby.
Poured a deep, dark brown/chestnut hue, and was opaque. Head was hardly evident, just a bit of a rim job: tan, fine bubbles around the edge, though they did lace the glass up a bit. Aroma of light choco, some clove, and an easily evident smoky nature. Body was a middle of the road medium, and the bier was fairly smooth, without the usual Hefe bubbly/prickliness. Good to hear.
Flavor was a bit crisp; choco notes, as in the nose, plus clove again. Smokiness present; not strong, yet easily evident. It tends to linger, and stick in the throat a bit. Nice!! Also possesses a touch of fruitiness... bananas like a good Weizen should have.. Has some characteristics of an Aventinus combined with a Schlenkerla plus a Scotch Ale. An interesting combo, and eminently quaffable!! Tod and JayT, nice work!!
Zum Wohl!!
overall: 4.05
appearance: 4 | smell: 4 | taste: 4 | mouthfeel: 4 | drinkability: 4.5
858
1,080 characters
3.85
/5
rDev
-2.3%
look: 3.5 | smell: 3.5 | taste: 4 | feel: 4 | overall: 4
Picked up a growler of this freshly tapped beer while at the brewery for an early lunch. An interesting take on a style I have little experience in trying.
Poured a murky brown in color. Almost sludge like in color but fortunately without a sludge-like texture. Little rings of lace around the edge of the beer up against the beer and extremely thin filmy spots of head on top. A couple rings of lace around the glass.
Nose is full of toasted malts and there are its of banana and cloves behind it all. But those other aromas are very subtle and it took me a while to place them.
Reminded me of eating slow smoked hickory ribs. The smokiness is very pungent and want to be clopying but slides away after a moment. The wheat provides a nice sweetness. Also got some slight hints of lemon zest.
The wheat gives the beer a texture that is kind of soothing. Medium body but perhaps a little watery.
906 characters
Portsmouth Smoked Dunkelweizen from Portsmouth Brewery
3.94
out of
5
based on
31
ratings.