Portsmouth Barleywine
| Portsmouth Brewery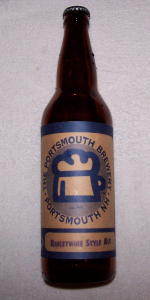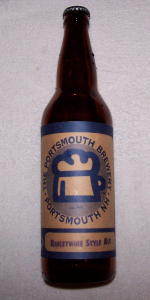 BEER INFO
Brewed by:
Portsmouth Brewery
New Hampshire
,
United States
portsmouthbrewery.com
Style:
American Barleywine
Alcohol by volume (ABV):
11.50%
Availability:
Rotating
Notes / Commercial Description:
A deep amber, full bodied, intensely bold beer that is made to show off the true qualities of the malts used. Flavors of figs and dates and malt sweetness predominate with enough earthiness from the hops to balance this beer.
Added by Bierman9 on 09-04-2007
HISTOGRAM
Ratings: 58 | Reviews: 32

3.82
/5
rDev
-1.3%
look: 4 | smell: 4.5 | taste: 3.5 | feel: 4 | overall: 3.5
Had it at the brew pub.
poured s beautiful ruby/amber color. With barely any head but it had nice lacing
smell was kind of sweet and malty. Great combo!
Taste was sweet at first which I loved! Sweet up front , maybe grapey. Then followed by a pleasant warming sensation from the good ole 11.5%! With a good bitter hoppy after taste
334 characters

4.12
/5
rDev
+6.5%
look: 4 | smell: 4.5 | taste: 4 | feel: 4 | overall: 4
Vintage 2007
Pours mahogany with crimson hues and a half inch head of off-white. The humble layer of suds retreated quickly leaving barely a trace on the surface and zero lacework.
Aromatics are malty, figgy, and caramel stuffed.
Tropical fruit lay underneath a massive malt presence, and layers of toffee, wet leather, and nougat rise up as it warms.
Very much in the English vein in the nose.
Creamy, sticky and chewy mouthfeel. Substantial.
Raisins, plump malt, chewy caramel, toffee and alcohol lead off the pallet.
The throat warms as residuals and a firm bitterness linger and ripe fruit pulls through.
Finishes with a blend of resinous pine, boozy alcohol, and leathery malt.
This bottle at cellar temperature is superior to the draught version served fresh and cold.
Not even close to peaking.
804 characters

3
/5
rDev
-22.5%
look: 3 | smell: 3 | taste: 3 | feel: 3 | overall: 3
Got this beer at the brewpub. Served as part of a 10 beer 3oz sampler package.
A-ruby, purple-ish, brownish, no head
S-sweet, grapey,
T-sweet grape-like taste, maybe a little tail end bitterness
M-medium
D-I have to admit, I don't drink much of this style. But for one of my few tries it not bad.
302 characters

4.07
/5
rDev
+5.2%
look: 3.5 | smell: 4 | taste: 4.5 | feel: 4 | overall: 3.5
Enjoyed on tap at the brewery.
Pours a really deep mahogany with some brighter red highlights. No head initially, but after a couple of sips and some gentle swirling a one finger off-white head forms that faded slowly and left a thin cap. No lacing at all.
Nose of fruity esters, some caramel, toffee maybe?, and some dark fruits like raisins or plums. Definite alcohol presence.
Taste is moderately sweet, with some caramel/toffee malts up front followed by sweet dark fruits and a slightly sour finish. A big alcohol warming in the finish, but it just beckons for another sip.
Medium-bodied and smooth with light carbonation; it coats the mouth a bit, but without being overly sticky or syrupy.
Pretty drinkable for such a big beer. I could enjoy a couple of these at home, but one is enough given the ABV and the fact that I need to drive home.
852 characters

4.1
/5
rDev
+5.9%
look: 4 | smell: 4 | taste: 4.5 | feel: 4 | overall: 3.5
Brought this home from my trip to New England earlier this month,poured into an oversized wine glass a deep burgundy/brown color with a thinner but pretty well sustained white head.Deep fruit in the nose like prune,raisin,and sweet cherry some sweet alcohol and a passing whif of leather,bid and sweet up front with that dark fruit and brown sugar coming through that leather component is more pronounced on the palate a decent dose of resiny hop finishes it off.It packs a malty punch it made me sleepy like alot of the style do,I liked the hop punch it gave in the finish,pretty darn good.
591 characters
3.88
/5
rDev
+0.3%
look: 4 | smell: 3.5 | taste: 4 | feel: 4 | overall: 4
This was a good beer, but it wasn't among the best barleywines I've had. The body was dark red with a bit of white lacing on the surface. The aroma isn't very strong at all with a slight amount of sweetness and some slight bitterness that because more apparent as the beer warmed. The flavor is pretty sweet and very malty overall with only a slight bitterness to balance. There are good caramel notes. It is a bit light bodied for a barleywine but it still fits. I'd definitely drink this again but it's not the best I've had.
527 characters

4.38
/5
rDev
+13.2%
look: 4.5 | smell: 4 | taste: 4.5 | feel: 4.5 | overall: 4.5
A wonderful beer. Poured into a tulip glass, it was a golden brown color with a medium head that dissipated quickly. Sweet, caramel/toffee aroma with a hint of malt. More malt evident in the taste, also dark fruit and caramel. The alcohol is noticeable, but not in an unpleasant sense. A good mouthful, very drinkable,
318 characters
4.35
/5
rDev
+12.4%
look: 4 | smell: 4 | taste: 4.5 | feel: 4.5 | overall: 4.5
Stopped in for a Labor Day lunch with Alewife yesterday... Both scored a couple of snifters of this, enjoyed in their open-air inner courtyard patio. First recipe from new assistant-brewer Tyler, we were told by our server, Anna.
Was poured in a tulip-style glass, perhaps a 12oz fill. Color was a clear, deep chestnut/mahogany hue. Minimal carbo espied within, and the bier was topped by a thin, wispy, light tan layer of bubbles. Belgian lacing was quite nice. Very malty nose, hints at sweetness, with a solid base of caramel evident. Bier itself was silky smooth on the tongue, while the body was easily medium-plus, bordering on chewiness. A nice feel, oh yeah.
Flavors kicks off with lots of sweetness, brown-sugar like, yet not cloying at all. Caramel and toffee are right up front, too. Hoppiness is not in-your-face strong, but still easily noticeable, with rindy, piney characteristics. Hints of dark fruit waft about on the palate, and the abv is well up there. Gives me the impression of a rum-soaked fruit cake. Overall, malt is more pronounced than the hoppage, though it is a lovely combo. Scarily drinkable, despite the high alcohol content. Nice job, Tyler!
Prosit!!
overall: 4.3
appearance: 4 | smell: 4 | taste: 4.5 | mouthfeel: 4.5 | drinkability: 4.5
1010
1,281 characters
Portsmouth Barleywine from Portsmouth Brewery
Beer rating:
3.87
out of
5
with
58
ratings