Portsmouth Sour Brune
| Portsmouth Brewery
BA SCORE
84
good
13
Reviews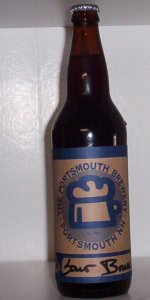 BEER INFO
Brewed by:
Portsmouth Brewery
New Hampshire
,
United States
portsmouthbrewery.com
Style:
Flanders Oud Bruin
Alcohol by volume (ABV):
5.00%
Availability:
Rotating
Notes / Commercial Description:
No notes at this time.
Added by lordofthewiens on 03-08-2008
Reviews: 13 | Ratings: 30
4.38
/5
rDev
+18.1%
look: 3 | smell: 5 | taste: 4.5 | feel: 4 | overall: 4
Bottle thanks to the Globetrekker BeerWorld. Shared with a couple other Queens natives. :) Poured into my Yards sampling mug.
Oily amber brown color, slice of greasy off-white head.
Smells of musty half-turned wine & full blown, aged vinegar. Curious amount of toffee in the air, some green apple too. Different.
Red wine vinegar on my tongue, faintly metallic, weak grain, but with lots of backup from tasty, pity fruit & soft spoiled wine notes.
Average to decent carbonation. Free-flowing feel. Not intensely sour. Some wooden spoon texture.
I'll take another. :)
571 characters

4.3
/5
rDev
+15.9%
look: 4 | smell: 4 | taste: 4.5 | feel: 4 | overall: 4.5
Also picked up at the brewery store yesterday.
Color: Dark brown color with a very thin head and lively carbonation.
Aroma: Sour and malty with hints of tropical fruit in the nose.
Taste: Very sour and vineous upfront with a strong hint of tropical fruit as mentioned. Tart and even a bit tangy.
Mouthfeel: Sour but tangy and a bit sweet. Smooth.
Drinkability: Very, very drinkable. Unless you have something against sour beers, you would like this one.
Verdict: A very nice sour beer from Tod Mott and the Portsmouth Brewery! You should seek it out if you go to the brewery sometime.
594 characters
4.18
/5
rDev
+12.7%
look: 4 | smell: 3.5 | taste: 4.5 | feel: 4 | overall: 4.5
A sour brown from Portsmouth? Upon hearing about it, I knew I had to try it, and a trip up to visit the family for Easter was a perfect opportunity. The beer pours a fairly clear light brown/amber color with a thin, quickly-dissipating head. Smell is tart, with some hints of vinegar and sourness to it, a bit of cherry as well. Taste is where this brew shines though, but only if you like sour brews. If you don't like sour beers, you probably won't enjoy this one. Taste is sour, with hints of cherry and other fruit present. A bit of sweetness from the malt counters. The most fascinating part to me was the hint of hop I got from time to time. It wasn't on every sip, but a few sips I would catch a couple notes of a citric hoppiness - and I can say hops, because it had that distinctive flavor that only hops can give, it wasn't due to the sourness. It was fascinating, and made the beer even better than it already was. Carbonation was lively and good, and the it drank smooth, with a nice crisp finish. I could definitely put down a few of these in a night, though with most sour beers, they can get to be a little much too quickly. I'd say this is similar to a Rodenbach in many respects - different taste, but still quite good. Very enjoyable, and another winner from Portsmouth.
1,288 characters
4.15
/5
rDev
+11.9%
look: 4 | smell: 4 | taste: 4 | feel: 4.5 | overall: 4.5
Purchased 22oz bottle from the retail store at the Portsmouth Brewery. Salesperson noted this was a brown ale with a sour mash.
A - Reddish brown, amber, clear, thin head which was quick to disappear. Very appealing.
S - At first sweet and sugary, quickly followed by a vinegar/acidic aroma that balances nicely with sweetness of the malt. While there is some balance in the aroma, there is no doubt this is a sour beer.
T - First sip was more acidic than expected given the slightly sweet aroma. After a second, the brown ale characteristics make an appearance through the malty, maybe even a little caramel flavor that balances that sourness that lingers at the back of your tongue. Aftertaste is mostly dominated by the acidity of the beer. I found it became more balanced as it warmed in the glass. No hop flavor or aroma noted. I will be interested to see how the second bottle tastes in 6 to 12 months.
M - Dry, medium to high carbonation, strong acidic aftertaste. Showed the characteristics I expect in this style of beer
D - Terrific drinkability, refreshing from its dry finish. I don't know the abv on this beer but seems to be around 4.5% which helps increase its drinkability.
I enjoy this style of beer and was pleasantly surprised when I heard Tod Mott attempted a sour mashed beer. Hopefully, we will see more sour beers from the Portsmouth Brewery in the future.
1,389 characters
4.12
/5
rDev
+11.1%
look: 4 | smell: 4.5 | taste: 4 | feel: 4 | overall: 4
First some brewer's notes from Todd Mott:
All of the sourness in the flavor comes from the process of souring the mash. To create the ideal mash for souring we doughed in at 164°f. The mash eventually stabilized at 149.5°. We then proceeded with saccrification, followed by a vorlauff to clarify the turbidity of the mash. Once the extract was clarified we brought the temperature of the mash down (using the heat exchanger) to 130°. We added a handful of unmalted wheat to the top of the mash bed and floated a "bed" of Argon gas over the mash for about a half hour, displacing the oxygen in the mash tun and creating an "inert gaseous zone," making the atmosphere anaerobic. Then we left the mash to do its thing over the weekend. We arrived to the smell of pineapples and weird esters I had never encountered in a mash tun. We then ran off the extract as usual and brewed the wort, hopping it lightly and adding some malto-dextrin and lactose to sweeten up the wort, knowing the final product would be quite sour and might need some balance. That is how we made the sour mash Brune.
Hmmm, lets see...
Pours hazy amber with a ruby hue, and a one-inch head of white.
Retention was brief, and some stray lacework clung for the first several sips.
Aromatics are extremely fruity and sour.
Tart cherries, spoiled peach pits, malt vinegar, musty suede, with hints of rotted cedar and sherry.
The mouthfeel is medium, puckering, and a bit sticky.
Over-ripe fruit and sherry vinegar lead off the pallet. Cherry stones, tannic citrus pulp, lemon pith, and acidic malt.
Finishes with a lingering sourness and fruit, and fades with a drying tartness.
There's enough cherries in the nose to pose as a flanders red, while the pallet is more "brune" in character.
The typical vineous, oaky character found in either of those styles is not here though, instead there's just a whallop of acid.
Bring on the bugs and barrel-aging and this beer would be remarkable.
1,960 characters

4.11
/5
rDev
+10.8%
look: 4 | smell: 3 | taste: 4.5 | feel: 4.5 | overall: 4.5
Huge thanks to purplehops for this one. Too generous!
First off, I love the label. The simplicity of the logo along with the hand-written "Sour Brune" screams "craft" to me. I had a difficult time poppin' this one open as I didn't want to not have it in my posession anymore, if that makes any sense.
Sour Brune pours a hazy, dark brown with burgundy highlights. The fizzy head subsides quickly.
There's not a ton of aroma, but I'm made well aware that this is not a typical American Brown Ale as it's been catagorized here (Edit: I do see that it's been correctly changed to Flanders Oud Bruin). It's a little bit sour with a hint of vinegar.
Tastes wonderful. The sourness is high but doesn't bring on a pucker. A slight grape candy sweetness follows the initial sourness, and it finishes tart and somewhat dry. No noticeable alcohol or hops.
Highly drinkable. I feel fortunate to have enjoyed this one, and it's quite a refreshing change from the usual. Seek it out!
976 characters
4.02
/5
rDev
+8.4%
look: 3.5 | smell: 4 | taste: 4 | feel: 4.5 | overall: 4
Brownish with red highlights, medium fizzy head that lasts a minute before falling into a ring. Smell has a good deal of tart fruit with some toffee and caramel to back it. Light brown sugar. Earthy hops and a light spice. Taste is a step up. Good fruit flavors again. Purple grapes, reminds me of a Popsicle but not as artificial. Some green apple and also cherry that comes through more and more. Almost makes you pucker until some caramel and toffee comes through. There is a slightly toasted biscuity, doughy bread to help balance along with a slight nudge from the hops. Good stuff. I like the mouthfeel in that it's borderline sour but has a decent sweetness from the malt and a great doughy texture in the finish that helps it greatly. Drinkable enough for me and almost surprisingly so. I didn't expect this one to grow on me so much after the first sip but it did.
Thanks goes to joepais for this brew...
915 characters

3.97
/5
rDev
+7%
look: 3.5 | smell: 4 | taste: 4 | feel: 4 | overall: 4
Bartender said this was worth a try, that it was a brown ale brewed with a sour mash. Pretty good beer. It was a hazy red/brown color with a small head that dissipated quickly. It had a sweet, sugary aroma. The taste was reminiscent of those hard sour candies I used to eat. Nice pucker factor, not too sour. Had a couple of these and enjoyed them.
348 characters
3.97
/5
rDev
+7%
look: 3.5 | smell: 4 | taste: 4 | feel: 4 | overall: 4
The Sour Brune pours a dark brownish, reddish color. While it settles, it has lots of little tiny bottles floating up to the top, almost like a glass of champagne. The head is slightly fluffy and dissipates quickly. The smell is not overly strong and there is not a sourness that would in any way be a turn off. Instead its sort of combination of malts and slight sour notes. A little bit of sour cherry and other fruits as well as a faint bit of vinegar. Its interesting, you can pick up lots of different subtle smells.
The minute this stuff hits your tongue you feel the sourness. Even before your taste buds kick in, your tongue is telling you that its something special. Its a nice tart dry taste along with enough sweetness to balance it perfectly. It has some citrus tastes to it and the same response from my mouth as when I drink real grapefruit juice. It also has a similarity to a red wine. This is by no means a strong beer despite its complexity. Its very, very drinkable.
986 characters
3.38
/5
rDev
-8.9%
look: 3.5 | smell: 3 | taste: 3.5 | feel: 3.5 | overall: 3.5
22 ounce bottle acquired in a trade a while back with hoppymeal, thanks again for sending me the wants item Derek, drank tonight from my Maerlant tulip glass, color is a dark red mixed with a soft brown, two inch creamy beige head, some retention retention at first but minimal lacing, aroma conists of tartiness, cherries, vinegar, oak, caramel malts, light toffee, red wine, and grassy accents, flavor starts off with an aggressive sourness, some vinegar and oak in the middle, finish has a good amount of earthiness and lingering sweetness from different malts, tartiness tames a little as it warms but more vinegar comes along with that, sweet vinegar unlike other brews I have experienced in the past where they were overly sour, decent brew but needs more complexity, tart, sour, and full of berries in the mouthfeel, light to medium bodied, moderate to high level of carbonation, taste does not last long, could drink a good amount of this stuff, went down easy at first but gets a little vinegary later on, not overly sour or anything though, only other beer I have had from the brewery that produces the tasty Kate the Great, it was neither a disappointment or a letdown, pretty average and what I was expecting, might drink again, worth trying
1,253 characters

3.38
/5
rDev
-8.9%
look: 3.5 | smell: 3 | taste: 3.5 | feel: 3.5 | overall: 3.5
Thanks to my buddy Tim for giving me a bottle of this to try.
Before I cracked this one I read the story of how this beer came to be from an earlier review...pretty interesting brewing techniques.
Pours almost a muddy brown with some red on the sides. About an inch of foam formed but it quickly disappeared.
The aroma is unique to say the least. Very earthy and there's an aroma of old vinegar and musty wood that's quite odd. A bit of fruits, like cherries, try to get through but they just don't seem to come to the surface. I'm also getting a bit of a pickle aroma.
Taste is much of the same, slightly tart and vinegar with a good dose of wood flavors. Quite shocking at first and I did not enjoy the first sip...the second sip I was a little more prepared and the flavors seemed a bit more tamed and I picked up some sweet malt and berries in the second half. A little better after a couple of sips, there's still a flavor in the finish that I can't pin-point but I'm not liking it too much. At the right temperature it's inoffensive but it lacks essence...flavor that hold's on to the palate. Most of the flavor is in the aftertaste, earthy, wood, vinegar, a bit of fruit and malt, brown sugar. Another thing I taste is a type of vegetable salt flavor, and celery.
Very low carbonation, somewhat easy to drink.
1,323 characters
3.03
/5
rDev
-18.3%
look: 3.5 | smell: 3 | taste: 3 | feel: 3 | overall: 3
Reviewed on 06/05/2009. Bottle sampled at PPRBSG09. This beer pours brown with a small head. The aroma is largely of sour yogurt. The flavor is also rather yogurty as well as lactic. I don't detect a malt backbone at all. Overall, I really didn't like this one much...
268 characters

1.22
/5
rDev
-67.1%
look: 3 | smell: 1 | taste: 1 | feel: 2 | overall: 1
Got this beer at the brewpub. Served as part of a 10 beer 3oz sampler package.
A-ruby, amber color
S-cider like smell
T-cherry pit, rotten, vinegar
M-medium, very acidic
D-I just could not bring myself to finish this beer. I think its great that brewers dig up recipes from around the world and give them a try. This just does not taste good at all. Way too sour, way to acidic. Way to funky. This beer should probably be a fruit and veggie beer. This just can't be a brown ale. I think cherry stems are used in making brune. I am not sure about this.
556 characters
Portsmouth Sour Brune from Portsmouth Brewery
3.71
out of
5
based on
30
ratings.