Portsmouth Gose
| Portsmouth Brewery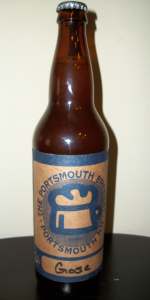 BEER INFO
Brewed by:
Portsmouth Brewery
New Hampshire
,
United States
portsmouthbrewery.com
Style:
Gose
Alcohol by volume (ABV):
4.00%
Availability:
Rotating
Notes / Commercial Description:
16 IBU
Added by Bierman9 on 06-11-2010
Reviews: 36 | Ratings: 74

3.89
/5
rDev
+0.3%
look: 5 | smell: 3.5 | taste: 4 | feel: 3.5 | overall: 4
Bomber picked up from the brewery, opened after some months aging into goblet:
A: Quite nice hazy light-golden orange color with a substantial , creamy, lasting head. It's quite a good-looking beer.
S: Light wheaty citrus smell, pleasant. Not too funky.
T: Significant green apple sour taste on the wheat, with some spice there as well. More lemony on the finish, with some slightly dry hop bitterness, but the tart green apple dominates.
M: Medium body, mostly creamy with some slight dry carbonation.
D: A highly drinkable, yet supremely funky beer. Not much of a hop kick to speak of, perhaps only contributing to a touch of the dryness. This beer is unlike any other I've had, and I think the apple funk that they add covers up the usual unpleasant funk bad wheat beers all too commonly exhibit.
804 characters
3.33
/5
rDev
-14.2%
look: 4 | smell: 3.5 | taste: 3 | feel: 3.5 | overall: 3.5
Received this rarity from CooperEllis... Thanks a ton John for an Epic Trade!! Shared with the Boise peeps over the weekend.
Nice rocky head.. descent lacing atop a hazy golden brew.
Nose immediately strikes me as pretty fruity... very reminiscent of a BPA.
Same flavor profile as the nose... hints of apple and pear... a bit flimsy with some minor spiciness... salt seems to be an afterthought, but it is present and does help tie things together.
Body is light with a sorta spritzy carbonation.
4/3.5/3/3.5/3.5
518 characters
4.2
/5
rDev
+8.2%
look: 4 | smell: 4 | taste: 4 | feel: 4 | overall: 5
22 oz bomber poured into a tulip. This is the first beer of this style I will ever have. Pretty excited. The body is hazy yellow with about a centimeter of white head on top that reduces to thin lacing. The aroma is like a barnyard with lemon zest. Lost of grain kissed slightly with citrus twang. It's a really nice smell, not complex, but the aromas are very pleasant. Starts nice and tart and mellows to follow through with earthy. grainy flavors. The mouthfeel is good, nice carbonation and drinkable as the rest, especially at 4.5. I did this, would really like to try more examples of the style.
601 characters

4.33
/5
rDev
+11.6%
look: 4.5 | smell: 4 | taste: 4 | feel: 5 | overall: 5
I officially traded for this beer with CooperEllis and also received a bottle each in random boxes of beer from zimmerbloke and mjn5036. So thanks guys. I wanted a bottle of beer that only 1 person had listed as a got on this site and promptly received 3 bottles. Cascade and Upright both brew representations of the style that I really enjoyed so this was a natural want as soon as I found out about it.
The pour yields an opaque marigold yellow with a huge half snifter salt white head. Clumpy lacing on the glass. Oh yeah...thanks to CooperEllis and mjn5036 for each sending me a Portsmouth snifter so my wife and I now have a matching pair.
What a great fresh aroma! Smell is lemon juice, citrus zest, freshly cut hay, and mushrooms.
Taste is saison like. Lightly tart lemon, a touch of sour, and damp earth is where I draw that comparison from. The salty aftertaste reminds me that this is indeed a Gose.
Mouthfeel is highly carbonated with scrubbing prickly taste removing bubbles. Thin and finishes clean.
Extraordinarily drinkable! I liked this a lot and wish to see more of the style. Good job Portsmouth. Make sure to keep brewing this style and I will be sure to keep tracking it down!
1,206 characters

4.07
/5
rDev
+4.9%
look: 3.5 | smell: 4 | taste: 4 | feel: 4 | overall: 4.5
Thanks to Brez07 for bringing a fresh growler to the latest SMBDC meeting, this was the first time I've tried a Gose.
Pours a cloudy golden yellow color with a small head that fades fast, not much in the way of lacing.
Smell has a strong wheat aroma, good amount of citrus, banana and other spices.
The taste is quite interesting, I learned beforehand that Gose actually have salt added to the beer, which I could make out faintly in this beer, it's not overly salty but is certainly present, light and crisp and goes down rather easily, the citrus and spice help quite a bit in this beer but aren't overbearing either.
I was told that if you want to drink a beer while exercising that this would be the best style to do it because the salt will balance your electrolytes.
776 characters
3.09
/5
rDev
-20.4%
look: 3.5 | smell: 2 | taste: 3 | feel: 4 | overall: 4
Got this bottle in the cooler at the brewery. Seasonal release, so let's try...
A: Murky banana yellow with slight hints of gold. A small thin white head that quickly fades. Decent.
S: Hints of malt and bready banana upfront with not much else going on. Kind of thin here. Blah.
T: Very light and refreshing. Kind of watery bready malt with a slight hint of bitter hop far on the backend. Kind of like a high end Bud. Ok.
M: Very light and crisp. Does not leave any noticeable tastes on the palate. Good for the style.
D: Goes down very easy. This one is definitely an easier brew to handle. Good.
All in all, this was an ok brew. A decent summer sipper if you get the chance to try. I'd recommend hunting down only if you're a fan of the Gose style. Otherwise, don't bother unless you have access to the brewery.
819 characters

3.88
/5
rDev 0%
look: 4 | smell: 3.5 | taste: 4 | feel: 4 | overall: 4
In an imperial pint glass the beer was a hazy lemon color with a thick white head and a lot of lace.
Aroma a little faint, some fruit and sweet malt.
Taste came through better. Banana, a little lemon, and a hint of spice in the finish'
Very enjoyable on a hot summer day. Good session beer.
290 characters

3.95
/5
rDev
+1.8%
look: 3.5 | smell: 3.5 | taste: 4 | feel: 4 | overall: 4.5
Had this on-tap at the brewpub - figured I should do the low ABV beer with a long drive ahead of me. Served in a pint glass.
A - Looks like...gose? A finger of eggshell foam dissipates to a thin cap and leaves a few fingers of lace. Milky straw color. Looks like the few other examples of the style I've tried.
S - Banana, salty yeast, sourdough bread. Not a huge nose here, but accurate for the style.
T - The taste is bigger, with more crackery pale malt sweetness. Finishes slightly yeasty, salty, and sour in the back of the throat. Surprisingly refreshing on a hot summer day.
M - Crisp, refreshing, and not too thin (even with the low ABV). Nice zesty but soft carbonation. Residual feel is a bit slimy.
D - I drank this down pretty fast, and if I were loitering at Portsmouth and not driving to Syracuse I would gladly have had another. The low ABV and refreshing texture make it a good session option.
914 characters
4.07
/5
rDev
+4.9%
look: 3.5 | smell: 4 | taste: 4 | feel: 4 | overall: 4.5
A: Came to the table in a normal pint glass. The liquid within was a hazy, pale yellow colored capped by a thin white ring of head. Very little lacing.
S: Aromas of orange, lemon peel, a little coriander, and the typical banana/bubblegum heffe yeast esters.
T: More of the same in the flavor: good amount of citrus, some subtle spice, and banana esters. Lots of lemon flavor comes through in the finish.
M: Light bodied; crisp and refreshing.
S: A nice beer for a summer day. I didn't really find this representation of the "gose" style to be any different from most other wheat beers I've had, but it was still good. It went well with the Alehosue muscles!
665 characters

2.9
/5
rDev
-25.3%
look: 3 | smell: 3 | taste: 3 | feel: 3 | overall: 2.5
Lets say that I review this one because it probably will be the only one I ever see of the style.
The glass came to me with a minimal head that disappeared quickly. It was a murky hazy yellowish brown it reminded me of swamp water. Another interesting note on the appearance was you could see salt settled at the bottom of the glass after a while.
I am extremely sensitive to the hefe yeast strain Portsmouth uses so I just get the bananas and bubble gum coming from the glass most time this time I did however get a hint of coriander as well. The flavor was kind of unique to me almost bizarre. salty, sour, bananas I think would qualify as that. Again this is the first of the style I have tried and I will say I haven't met a beer I didn't like but ...it certainty a unique style. With a medium feel to it and light carbonation.
I hate to say it but it was a one and done for me. I do appreciated the chance at trying the style thanks guys
946 characters
4.03
/5
rDev
+3.9%
look: 4 | smell: 3.5 | taste: 4 | feel: 4.5 | overall: 4.5
Gose was a pleasant hazy yellow in the glass. Decent head that dissipated a tad on the quick side but still left a nice lacing along the sides of the glass.
The coriander used left a prominent mark on the aroma along with a sweet and sour air. No real noticeable hops profile.
The initial sip was dominated by salt that quickly integrated itself into the remaining sweet-sour and zesty coriander flavors. Just a tiny tinge of bitterness from any hops...barely noticeable.
The heft of the body was average but the beer seemed to coat my mouth letting its flavors linger nicely.
Gose was quite refreshing and even invigorating. Very drinkable. It was a delightful surprise and seems an excellent choice for a summer beer.
724 characters
Portsmouth Gose from Portsmouth Brewery
3.88
out of
5
based on
74
ratings.