Portsmouth Fruit Gruit
| Portsmouth Brewery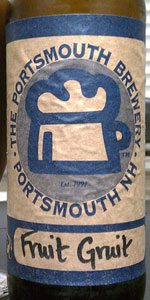 BEER INFO
Brewed by:
Portsmouth Brewery
New Hampshire
,
United States
portsmouthbrewery.com
Style:
Scottish Gruit / Ancient Herbed Ale
Alcohol by volume (ABV):
6.00%
Availability:
Limited (brewed once)
Notes / Commercial Description:
No notes at this time.
Added by Gosox8787 on 08-30-2011
This beer is retired; no longer brewed.
Reviews: 7 | Ratings: 21
3.3
/5
rDev
-11.5%
look: 4 | smell: 4 | taste: 3 | feel: 3 | overall: 3
Had at brewery—poured into a tulip
Appearance: minimal head, hazy, dark brown in color, moderate carbonation
Smell: blueberry and blackberry
Taste: light chocolate, blueberries and blackberries are dominant, but there is some strength from a pale malt and some sourness—slight earthy hops at the end.
Mouthfeel: medium-light body, a sweet and sour combo, high carbonation
Drinkability: I am still kind of on the fence on this one. It is not a bad beer, but one where all the pieces just did not come together for me. I think some of that has to do with the pale tasting malt. It is complex and worth a try, but in small doses.
636 characters

3.43
/5
rDev
-8%
look: 3.5 | smell: 3 | taste: 3.5 | feel: 4 | overall: 3.5
22oz bottle gifted to me by my sister...poured into a Portsmouth 20th Anniversary stemmed glass.
A - Pours a muddy and mostly opaque dark brown color. A thick finger and a half of khacki foam fizzes away to the surface over the span of about 30sec leaving behind a thin fizzy collar and barely a trace of lacing on the glass.
S - Fruit isn't really coming to mind here. I get more of a lightly spicy and more herbal and grassy aroma over cola, some mild roasted notes and some traces of coffee. Not particularly well versed in this style, but not close to what I was expecting from my limited previous experiences.
T - OK...flavor is more what I expected. Again getting some cola flavor with a hodge podge of fruit flavors, a muddle of herbal character and a lower level tartness. I almost think of this as a liquid Ricola cough drop...although a bit milder in intensity.
M - Just on the lighter side of medium bodied. Mid level fizzy carbonation. Very herbal from start to finish and beyond. Fruitiness is less prominant...cherries, berries kick in with an almost fruit punch effect.
O - Overall...I like it, but don't love it. Difficult style to have a lot of. Every time I've had this style, it's been one glass and sometimes a struggle to finish. This is going down smoother than some of the other gruits I've had...that being said, I like Ricola cough drops and most cough drops in general are somewhat candy-like for me. The more I drink the more I think I could recreate this experience by sucking on 3 cherry Ludens cough drop and a Ricola at the same time. Probably not for everyone, but worth a shot for the brave and adventurous.
1,645 characters
3.66
/5
rDev
-1.9%
look: 3 | smell: 4.5 | taste: 3.5 | feel: 3 | overall: 3.5
22oz bottle poured into a Portsmouth tulip. Bottle generously sent by 603BeerMe as an extra, thanks a lot Clark!
A - Pours a murky amber color, pretty hard to see through besides when drinking and it hits the thinnest parts of the glass. About a finger's worth of tan head lays on top, with fairly low retention. Lacing is almost non-existent, unfortunately, rather it slides quickly down the edges of the glass.
S - An interesting aroma rises from the glass, and it almost resembles tea in the way that the herbs and flowers come through. Definitely getting rosemary in large amounts, some lavender, and a good amount of fruit. I'm getting something along the lines of cherry pits or plum skins, along with a bit of peach or pears. It's actually a bit tart which I wasn't expecting, but it's nice and clean. It's all very natural smelling, as if being able to put a smell to a Scottish landscape.
T - Where as the nose explores a wide range of characteristics, I feel the flavor takes a step back and kind of reduces the scope of vision. I am not getting the depth of herbs that the nose brought, and it just seems simplified somehow. There's a nice dash of rosemary to begin, but it quickly skips over the rest of the herbs, lavender, and spices in a race to bring the fruit, which I think hurts it in the long run. Even the fruits seem less complex, with only flashes of plum, peach, and pear before finishing in a rush of flavors that almost reminds me of cola.
M - The mouthfeel is moderately light-bodied with low carbonation. Probably my least favorite aspect of this beer that definitely hurts the flavor as well. It seems much to thin and watery. It isn't completely flat, but the lack of carbonation really detracts from it.
D/O - Drinkability is moderate. Definitely an interesting beer in an obscure style, I feel it definitely had promise. It delivers on the nose, but the flavor and mouthfeel just falls a bit short. I think this was made with a porter base, so maybe something a bit more hardy would've helped the thin feel a bit. I don't mean to completely rip this beer, though, as I feel it drinks really easily, and drinking it was a steak marinated in a brandy peppercorn sauce seemed like a perfect companion. Definitely worth a try, and hopefully some more breweries embrace this style.
2,313 characters
3.7
/5
rDev
-0.8%
look: 3.5 | smell: 3.5 | taste: 4 | feel: 3.5 | overall: 3.5
Little head. Slightly hazy brown color. No lacing.
Aroma is Musty fruit, plums, berry.
Fruit influence is strong. Very light herbal notes. I actually enjoy this. Fruity and almost menthol like. The malt profile balances nicely with the fruit/herbal notes.
Non-distinct body/carbonation.
Interestring, pretty nice. Lost some interest towards the end of the glass.
369 characters
3.82
/5
rDev
+2.4%
look: 3.5 | smell: 4 | taste: 4 | feel: 3.5 | overall: 3.5
Reviewed from notes: Huge thanks goes out to Brewedawakening for sending us a growler to celebrate our 6th wedding anniversary.
appearance: murky brown with slight orange hue under the right lighting
smell: first sniff brought thoughts of christmas and the winter season, very spicy to the nose, hints of cinnamon, more like a cinnamon stick than anything. also hints of dark fruits, such as raisins and plums
taste: much like the smell, almost like a mulled cider minus the apple flavors. very holiday-like flavors
mouthfeel: crisp, medium-heavy body, moderate carbonation
overall: so happy to have received this and had the opportunity to try it. its makes a great transition brew into fall.
cheers
The CPJ
714 characters

3.85
/5
rDev
+3.2%
look: 3.5 | smell: 3.5 | taste: 4 | feel: 4 | overall: 4
Presentation: Poured from tap into an Imperial Pint glass in the basement of the Brewery.
Appearance: Dark brown in color and not much of a head. The color seems a bit dull to me.
Aroma: Flowery note stand out. Lavender and some bitter herbal notes as there as well. I get a bit of berry notes here too. Definitely interesting.
Taste: The lavender and flower notes from the aroma give this a bit of a perfume like taste. Some berry notes are definitely in there to balance. Fresh peach juice is way more evident here than in the aroma and adds a nice refreshing quality. I get a bitter, herbal aftertaste too. It's not overpowering, but noticable.
Mouthfeel: Light bodied for the most part. Low on carbonation, but refreshing enough.
Overall, a really interesting and unique beer and one I'm glad I got to try. The interplay of the herbal notes and the fruit was nice, but it could get a bit much after more than a glass. Certainly worth trying.
960 characters

3.92
/5
rDev
+5.1%
look: 3.5 | smell: 4 | taste: 4 | feel: 3.5 | overall: 4
In an imperial pint glass this beer was a turbid brown color with a thin tan head.
A dark fruit aroma, some caramel malt, and a herbal hint.
Raisin and plum taste, sweet. Some toffee. Spicy finish.
Medium-bodied, very sweet.
First btime for this style. I enjoyed it.
270 characters
Portsmouth Fruit Gruit from Portsmouth Brewery
3.73
out of
5
based on
21
ratings.