Hefty Weiss
| Onion Pub & Brewery / Wild Onion Brewing Co.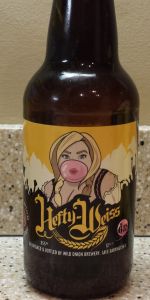 BEER INFO
Brewed by:
Onion Pub & Brewery / Wild Onion Brewing Co.
Illinois
,
United States
onionpub.com
Style:
Hefeweizen
Alcohol by volume (ABV):
6.60%
Availability:
Rotating
Notes / Commercial Description:
No notes at this time.
Added by TMoney2591 on 01-05-2011
Reviews: 7 | Ratings: 36
3.37
/5
rDev
-4.8%
look: 3 | smell: 3.5 | taste: 3.5 | feel: 3.5 | overall: 3
Served in a tumbler with a lemon, no thanks.
Very murky brownish dark orange color, opaque with a few randomly surfacing stray pond bubbles. Not much head, and no lace at all. Doesn't look all that appealing to be honest.
Sweet bready aroma and taste, some impression of banana chips, but nothing in the way of fresh banana. Light astringency, slight paperiness. Feel is average, the sweetness and lack of expressive yeast makes for an average Hefeweizen.
This is way too much like Hacker-Pschorr or similar mass produced and overly sweet Hefes... take a look at Dancing Man as an example of a good domestic Hefe.
618 characters

3.85
/5
rDev
+8.8%
look: 3.5 | smell: 3.5 | taste: 4 | feel: 4 | overall: 4
Served in a weizen glass (with a lemon wedge) at the brewpub.
And my visit to the Onion ends here. It pours a surprisingly clear golden straw topped by a finger of white micro-froth. The nose comprises wheat, lemon zest, cardamom, coriander, and flowers. The lemon wedge may have biased my nose, but I did try to work around it. The taste holds notes of mandarin oranges, lemon zest, coriander, wheat, and a minor touch of caramel. The body is a light medium, with a light carbonation and a drying finish. Overall, a nice hefe, though it seems lacking in the way of hefe-ness, so to speak. I'm not really sure how else to put it. Still pretty good, though.
659 characters
3.43
/5
rDev
-3.1%
look: 2.75 | smell: 3.5 | taste: 3.5 | feel: 3.75 | overall: 3.25
Pours a clear amber color. 1/4 inch head of an off-white color. Slight retention and poor lacing. Smells of wheat, sweet malt, slight alcohol, hint of clove, hint of yeast, and a hint of pine. Fits the style of a Hefeweizen. Mouth feel is sharp and clean, with a low carbonation level. Tastes of wheat, sweet malt, hint of pale malt, slight yeast, hint of hop, hint of alcohol, and a hint of bubblegum. Overall, poor appearance, very low carbonation for a Hefeweizen, decent aroma, body, and blend.
505 characters

4.2
/5
rDev
+18.6%
look: 4 | smell: 4 | taste: 4.5 | feel: 4 | overall: 4
This one is a gusher. After a quick pour and a cleanup, though, the beer is amazing. It has a tall white head and a dark gold, Amber color. Some haze. The smell is strong of bubblegum and malt, flowery hops, and subtle spice. Medium sweetness and lots of wheat softness. Great!
283 characters
3.45
/5
rDev
-2.5%
Pours amber in with haze and a thin head. Smell has predominately banana esters along with a large wheat presence,sweet doughy malt,and yeast. Somewhat thicker for the style but moderate amount of carbonation help cut the body
226 characters

1.67
/5
rDev
-52.8%
look: 2.5 | smell: 3 | taste: 1 | feel: 2 | overall: 1
A - Dark orange color, no head, no lacing
S - Really smelled of old bananas to me. Some lemon also. Not a super strong smell.
T - Almost no banana flavor which I found odd for a hefeweizen. a bit of caramel, but overall just tasted like a skunky old beer. Just in case I was crazy, I had 5 other people try a sip or two who are all BAs, and everyone agreed. Either there was something wrong with the keg, or this is just a really terrible beer. For the first time ever I had to send back a beer. The bartender said I was not the first to say it was a drain pour.
M - Flat. No carbonation at all. Not an enjoyable feel.
O - I really like hefeweizen's but this was terrible. I could not get past a couple sips and had to drain pour it. For the first Onion beer I have tried, it really made an extremely poor first impression. I really hope it was just a bad keg, or some really really dirty keg lines (seems unlikely based on the bar).
937 characters
4.77
/5
rDev
+34.7%
look: 4 | smell: 4.5 | taste: 5 | feel: 4.5 | overall: 5
I'm a sucker for a Great Hefe.
Nose right away double bubble favorite gum! Light Lemon highlights.
Poured a murky orange with a huge puffy cloud with lots of stickiness.
Taste is excellent, Spark of Clove and a hint of caramel great mouthful.
Loved it so much purchased my first Growler from the Wild onion filled with this delicious brew!!
Great service and my type of Pub!!
383 characters
Hefty Weiss from Onion Pub & Brewery / Wild Onion Brewing Co.
3.54
out of
5
based on
36
ratings.