Dismiss Notice
Dismiss Notice
Drago
| Onion Pub & Brewery / Wild Onion Brewing Co.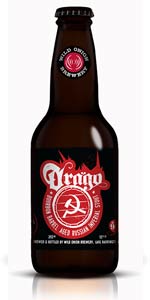 BEER INFO
Brewed by:
Onion Pub & Brewery / Wild Onion Brewing Co.
Illinois
,
United States
|
website
Style:
Russian Imperial Stout
Alcohol by volume (ABV):
9.00%
Availability:
Limited (brewed once)
Notes / Commercial Description:
No notes at this time.
Added by TMoney2591 on 04-16-2012
This beer is retired; no longer brewed.
Reviews: 8 | Ratings: 48

4.3
/5
rDev
+8.9%
look: 4 | smell: 4.5 | taste: 4.25 | feel: 3.75 | overall: 4.5
Pours a thick menacing black with zero visible signs of carbonation. Smell is terrific. Tons of brownie batter, barrel char, heavy vanilla and chocolate interplay, and some smooth cream. Wow. The nose of this promises something far better than any other wild onion brew I've tried to date. The flavor doesn't disappoint either. Assertive fudge and brownie paired with bourbon and oak. Great balance here, it is super rich but never borders into the world of boozy. Mouthfeel is heavy and viscous with almost no carbonation. Overall, this beer is no joke. I imagine this one will go under appreciated, but if you get the chance to try it, I highly recommend it!
★
660 characters
4.24
/5
rDev
+7.3%
look: 4 | smell: 4.25 | taste: 4.25 | feel: 4.25 | overall: 4.25
On tap at the brewpub, quick review from written notes.
Black with a thin layer of creamy tan foam, that parts after a couple minutes. Sparse lacing. Rich chocolate aroma, smooth and appealing.
Light feel and medium body, smooth feel with light carbonation. Undercurrent of dried fruit, plums. Dry dark chocolate, bitter aftertaste that lingers nicely. Appealing flavor, could use a little more heft in the body. Strong offering though. Heard this was put into bourbon barrels recently... should be interesting to try.
★
521 characters
4.21
/5
rDev
+6.6%
look: 4.5 | smell: 4 | taste: 4.25 | feel: 4.25 | overall: 4.25
Thanks to mrn1ceguy (Reddit) for this one.
Pours thick, dark pitch black heavy looking beer, with a darker thick 1 finger head that fades at a med pace, thick lacing and long legs.
Nose is nice, dark chocolate, dark caramel, biscuity cocoa cookie, little black roasty malt that borders being acrid, fair roast and little booze note, faint vanilla oak, but late gets a touch of a plasticy phenolic booze note perhaps, hard to tell, although it actually could just be the esters from the wood.
Taste brings thick lush beer, creamy but heavy, not too sweet either, nice dark chocolate, cocoa, into a little roasted malt and hint mocha java, even a bit fudgey. Then a bit of an earthy hop note, with touches of dark fruits covered in dark chocolate, and dark caramel as well, a touch of fluffy nougat. Then a mild barrel note, not much but a little vanilla oak, and touch of a whisky like character, and a fruity bourbon. Faint booze washes over at the end, and it finishes a little sticky, dries a bit and more booze cuts in, more dark chocolate and creamy lush cocoa and roasted notes lingering.
Mouth is heavy creamy thick, decent carb, a little warming booze.
Overall pretty nice, barrel is light but enough, nice malts dark chocolate and roast without really getting acrid, hint of hops too, and that weird note at the end of the aroma was perhaps a brain confusion as it was barely there and not at all on the taste.
★
1,423 characters

4.15
/5
rDev
+5.1%
look: 4 | smell: 4 | taste: 4 | feel: 4.5 | overall: 4.5
Served in a snifter at the brewpub.
When you're a fan of the Jack Stout (like I am), news of an impy stout here at the onion is more than welcome. This stuff pours a straight onyx topped by a finger of sienna foam. The nose comprises deep dark chocolate, light molasses, light maple syrup, roasted malts, fudge, and a vague stroke of dark breadiness pervading the interior ether. The taste brings in more of the same, with the roast tempering a bit whatever sweetness the chocolate can muster. Nice. The body is a light heavy, with a light moderate carbonation and a mildly chewy feel. Overall, a damn fine impy stout, one of the best beers I've yet had here. Good times, indeed.
★
682 characters

3.98
/5
rDev
+0.8%
look: 4.25 | smell: 3.75 | taste: 4 | feel: 4.25 | overall: 4
I poured this into a standard pint glass. When I poured this out, it was solid black and that was it. No real carbonation coming from this aside from a few stray bubbles. On scent, this hit me with strong bourbon. It was a tad offensive at first. First taste was heavy bourbon, but as I was sipping, I was picking up more of the chocolate and vanilla from it. It seems like mid-glass, and at warmer temperatures, is where this beer shined most for me. You could really get the oak and a bit of fruit as well, but it seemed to take a bit for me to pick that up. It was very smooth for an Imperial. Not something I am crazy about with it having that heavy bourbon scent, but not a bad beer either.
★
695 characters
3.87
/5
rDev
-2%
look: 4 | smell: 3.75 | taste: 4 | feel: 3.75 | overall: 3.75
Unknown bottle date.
Pours nearly opaque, black for sure. Darker tan color head and retains ample collar.
Nose is roast, chocolate, and vanilla. Faint bourbon.
First sip carries the vanilla and a decent dose or bourbon although more so than what would be expected given how faint it was in the aroma. Some chocolate. Continuing thru, the flavors become somewhat muted compared to the bourbon. Not in a bad way but it just doesn't carry a deep roastiness to compliment the barrel. As it warms, it carries some light bitterness from roasted malt.
Feel is just medium. Carbonation is a bit higher than expected. A bit sticky.
Pretty good BBA RIS. Its ABV on the bottle says 9.5% so it's a bit "small" compared to many other BBA stouts and the flavor and feel reflect that.
★
781 characters

3.54
/5
rDev
-10.4%
look: 3.75 | smell: 3.5 | taste: 3.5 | feel: 3.75 | overall: 3.5
Absolutely dark beer - thick and black. The head is tall and light-brown (like light brown sugar). The aroma is malty and boozy. Sugary, sweet, and roasted. The taste is sweet and fruity....absolutely port-like. Sweet and bitter are the overwhelming qualities. Aftertaste of plum pits, brandy, and tar. Interesting and intense beer...extremely warming, but not particularly well put-together.
★
399 characters
3.18
/5
rDev
-19.5%
look: 3.5 | smell: 2.25 | taste: 3.5 | feel: 3.25 | overall: 3.5
Aroma is dark malts, fruit and paper/wood/cardboard. The flavor is dark malts, chocolate, paper/wood, mild coffee, dark fruit and an acidic/warming finish.
★
155 characters
Drago from Onion Pub & Brewery / Wild Onion Brewing Co.
-
out of
100
based on
8
ratings.