Fox And Hound English Pub And Grille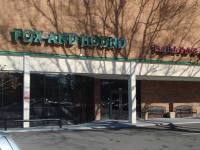 PLACE INFO
Type:
Bar, Eatery
367 Lower Mall Drive
Winston-Salem
,
North Carolina
, 27103
United States
(336) 722-6000
// CLOSED //
Notes:
No notes at this time.
Added by BeerAdvocate
Ratings: 11 | Reviews: 11
Reviews by ncbeermonger:
2.36
/5
rDev
-21.1%
vibe: 2.5 | quality: 2.5 | service: 2 | selection: 2.5
You can get your own pint...that they will keep there...
It was more of a sports bar than an English Pub. There are lots of big TVs, and loud music. The service while attractive was slow to help, and not very knowledgeable about the beers.
The other people in the bar seemed to enjoy everything, and as far as Lager watering holes in Winston Salem goes it's not that bad. It's near the highway so its easy to get to, and leave. The beer mugs on the wall are a good way to get people to come back. It's not too far from the mall, so if you are heading down I-40 and need to grab a cold one (passengers only of course!) this one is not a bad place to stop, so long as you like the "house beer" selection.
702 characters
More User Reviews:

3
/5
rDev
+0.3%
vibe: 3 | quality: 3 | service: 3 | selection: 3 | food: 3
Fox and Hound is a reasonable sports bar. They have lots of televisions, and it's a good enough place to watch a game. They also offer billiards, darts, shuffle board and a couple of video games. They have a lot of taps, with some decent craft offerings, but really nothing worth seeking out. You will find standard selections and a couple of seasonals from Rogue, Samuel Adams, Sierra Nevada and the like here. The food is fine, but again not necessarily worth a special trip. There are worse places to watch a game, but there's not enough here to make it a frequent destination.
580 characters
3.73
/5
rDev
+24.7%
vibe: 4 | quality: 3.5 | service: 4 | selection: 3.5 | food: 4
I have eaten at several of these across the country and decided to stop in this one today. A typical sports bar with tons of plasma tv's all around is about what you would expect it to be. Beer selection is average, had a couple natty taps, a rogue, sam adams, dfh, not bad but not the best in the world for sure. Food is good and is your standard fair. Staff does not really care all that much but they are certainly not rude or anything. Overall just a typical hangout out with a slightly better then average beer selection.
526 characters

3.18
/5
rDev
+6.4%
vibe: 4 | quality: 3.5 | service: 2.5 | selection: 3 | food: 3.5
I've been to this place countless times to watch my beloved Packers as it's one of the few places around here that will show them. There's plenty of room to sit and eat and only is packed out on "big game" nights. There's a dozen or so pool tables, dart boards, video games, and the like. The food is decent but I have been disappointed a few times. Their fish & chips is pretty good. They have a pretty good selection of brews, bottled and on tap. Mostly it's the mainstream large co. beers, but they have some of the local micros also, such as: Natty's, Red Oak, Carolina Blonde, etc. They have a large selection of Samuel Smith's in bottle form, but are a bit pricy. They rotate in certain seasonals as I just had some SA O'fest. Mmmmm...good. One unique thing that I really like about this place is their built-in humidor where they sell certain selections of cigars. I love me a good cigar. But that's for another time and place. All in all, this is a decent place to get a brew, but a better place to watch a game...
1,022 characters
2.3
/5
rDev
-23.1%
vibe: 2.5 | quality: 2 | service: 2 | selection: 3 | food: 2
Went to the F&H for a Baptist Hospital related gathering so we didn't experience the whole sitting at a table and paying for drinks kinda thing, but rather were off in a seperate private function room, with snacky-type foods and a couple of drink tickets.
Basically the only reason I wanted to review this place is because it was the first time I was introduced to Battlefield Black. Was intrigued by the name and ordered it without knowing anything about it. Ended up really liking it - so much so I kinda stole another drink ticket to get another BB.
That aside - it was a fairly standard sports bar, with ok food (I'm assuming the food we had was from F&H) and pretty lousy service (granted we as individuals weren't paying - but the hospital had booked this event). I can't speak to the prices or value of the food or drinks as that tab was prepaid. Between the not-so-stellar food and the lousy wait-staff I won't be much of a return visitor.
The ONLY reason I would go back it for the Battlefield Black as it appears to be the closest place to me that serves it.
1,077 characters
2.5
/5
rDev
-16.4%
vibe: 4 | quality: 2 | service: 2 | selection: 3 | food: 2.5
Wow.... F&H.... how many times did I go here as an undergrad at WFU... and as a grad.
It seems like every football game, I would do the customary Wake thing, and leave at halftime to go do other stuff.. in my case, go to F&H to watch my Sooners beat up on some poor Big 12 fools =P
I love how their "special" is 4 BMC Light bottles for $10. Not only is that not a deal, I would consider that slightly overpriced for such filth. In fact, as many others have mentioned, almost every beer in this place is overpriced. The selection, while not awful, is certainly nothing to brag about. Typical Guiness, Bass, Yuengling, Killians, etc etc.
The service is atrocious... it is IMPOSSIBLE to get someone to come to your table. Frequently, I would look around, and see 3 or 4 staff all congregated over by the register, watching the games and making no effort to appease the customers' thirst.
The food is very hit or miss... I've had decent stuff, I've had some really bad stuff... but all in all, not too terrible.
So... with all this bitching, why do I keep going back, you ask?
Lots and lots of televisions = lots and lots of sports.... thats the simple and honest truth.
All in all.... nice atmosphere if you like sports on 40 tvs... ok selection, certainly wont find anything special... absolutely godawful service, and steep pricing (for NC). There is only one reason to go here, and thats during game time.
1,425 characters
3.63
/5
rDev
+21.4%
vibe: 4 | quality: 3 | service: 4 | selection: 3.5 | food: 4.5
I forgot to review this one back in late March but I can remember it for the most part. My wife and I came out to see good friends there during the WVU-Wake Forest NCAA basketball tournament, where WVY won (go 'Eers!). Had a great time and the service was excellent for such a large, raucous crowd.
A bit disappointed that my first two selections on their rather large beer list was unavailable. The Godfather Chicken I ate was one of the best items i've ordered at any restaurant in months. The quality and atmosphere is better in Charlotte, but a good time nonetheless.
575 characters
3.34
/5
rDev
+11.7%
vibe: 3.5 | quality: 3 | service: 4 | selection: 3
First bar I've checked out in Winston since my recent move. One of my housemates knew about it so we headed out to play some pool. It was a Tuesday so all of the pints were 2.50, no matter what you got.
A good number of taps, probably 20 or so, mostly macro but some common micros on as well. The usual Guiness and Pilsner Urquell and some InBev distributed European imports were there along with SNPA (which they were out of). They had Flying Dog Doggie Style on tap as well as the NC standard of Highland Brewing Oatmeal Stout. They had what seemed to be the starts to an okay bottle selection, but since pints were cheap I didn't look at the bottle list too much.
Atmosphere was okay. The place seemed to be trying to do too many things at once: restaurant, bar, sports bar, billard hall. Place just seemed like it was too much of a "converted Shoney's" to me.
Service was pretty good for us. We were at the pool tables, but the waitress was always on top of keeping us refilled without much wait. We never had to search her down at any point, except for when we were ready to leave.
Like mentioned above, the beer price on Tuesdays was great especially considering you could get something decent to drink. Pool table prices were $8/hr which is a bit high.
Overall, a decent place if you want to shoot some pool and have a relatively cheap night with some okay beer on a Tuesday.
1,397 characters
2.68
/5
rDev
-10.4%
vibe: 3.5 | quality: 3 | service: 1.5 | selection: 3 | food: 3
Quite a popular haunt during my college days, and going back, I can't quite remember why. 20+ taps, all of them macro, and if you wanted something that wasn't a pretty common high-end macro, you were often out of luck. Several times I've walked in and seen a tasty brew handle and gotten excited, only to be informed, "No, that's actually Coors on that tap." Crap. In the 20ish visits I've made, the service has always been inaccessible, grumpy, or downright rude. The food is barely decent and overpriced. But, on the plus side, there are lots of pool tables, and there's more room to spread out here than in just about any other bar in town. Lots of TVs and comfy stools and chairs make it a great place to watch a game.
722 characters
2.7
/5
rDev
-9.7%
vibe: 3 | quality: 3 | service: 2.5 | selection: 2.5 | food: 2.5
I have visited this place many times, each time the service sucks.
The atmosphere is great for sports and nothing special for beer. There are TV's everywhere, one of the few, if the only, sports bar in Winston. They also have pool tables and dart boards. But it is smokey and the servers are not educated about the beer.
The quality is hit or miss. They have 24 taps all macros with the best being Bass or Newcastle, not bad, but nothing to run out for. Their bottle selection is a little more extensive but it is still mostly all macros with some Samuel Smith which runs $6.50 a bottle, and not the big bottle either, the small 12 or 11.x oz bottle.
The service has been bad everytime I've gone there. You have to flag down waitstaff to get anything, service is slow, and the order is usually messed up in some way.
The selection is only above average because they serve Sammy Smith. Nothing else out of the ordinary.
The food is just not that good. The wings are dry, the soup is off, the hamburger comes with one strip of bacon, etc... I have tried something different everytime I go there and I am with between 2-7 other people. Everytime something is off. The food is not bad, but it is not good either.
The only time I go there is to watch multiple games at the same time with friends.
1,309 characters

3.5
/5
rDev
+17.1%
vibe: 3.5 | quality: 3.5 | service: 3.5 | selection: 3.5
This Fox & Hound appears to be pretty much the same as the other locations. It is off Business 40 near downtown Winston-Salem, and from what I have seen is one of only a few places to have a couple drinks and watch sports on TV. It is located in a small strip and you shouldn't have too much trouble with parking.
Inside, the bar is pretty much divided into 3. There is a main room in the center that is about 3/5 of the total space, and it has the bar itself and a dining area with small TVs all around. That way, no matter what side of the table you are eating on, you will be able to watch a TV. The 2 adjoining rooms are pool rooms with a huge screen (4x4 big screens) surrounded by 4 separate big screens. These rooms have a couple pool tables each and less seating.
This location has about 24 taps. most of the beers available are the usual, but they did have a couple different Red Oaks (Greensboro) beers.
We were there during the OSU opener vs. Washington and the place was PACKED (who knew there were that many OSU fans in Winston-Salem). As such, service was pretty much nonexistent until we scored a table closer to the seating area. At that point the server was on the ball. My one gripe is that a bottle of Sam Smith Oatmeal Stout costs $6.50 here! That is out of line.
We didn't get any food, but I can expect it is similar to other F&H locations, fancy pub fare.
1,390 characters
Fox And Hound English Pub And Grille in Winston-Salem, NC
2.99
out of
5
based on
11
ratings.