Blonde D'Achouffe
| Brasseurs Du Nord Inc.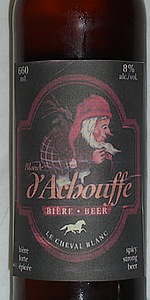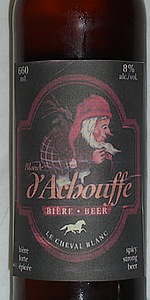 BEER INFO
Brewed by:
Brasseurs Du Nord Inc.
Quebec
,
Canada
boreale.com
Style:
Belgian Strong Pale Ale
Alcohol by volume (ABV):
8.00%
Availability:
Year-round
Notes / Commercial Description:
Not, in fact, brewed by Brasseurs du Nord. See Brasseurs RJ
http://beeradvocate.com/beer/profile/1535/14801
Added by BeerAdvocate on 04-15-2003
This beer is retired; no longer brewed.
HISTOGRAM
Ratings: 9 | Reviews: 9
Reviews by tdawgydog:
3.8
/5
rDev
-1%
look: 4 | smell: 4 | taste: 4 | feel: 4 | overall: 3
Are we sure this beer is retired? A co-worker of mine was recently in Ottawa and picked this up for me as part of a sampler 6-pack. In any case...
A - Pours a beautiful off yellow golden color with a decent head that subsided to leave a nice lacing around the top of the glass. A little bit of unfiltered goodness was included in the pour.
S - Smells like your typical Belgian Ale. The spice is not too strong, all around solid scent to this brew.
T - Pretty well done. Again the spice is not super evident in the beer, it tastes like something that I've had before but I can't put my finger on it.
D - Goes down super smooth. Unfortunately I only have one. I would guess that the 8% ABV would catch up to you if you were drinking a few of these.
M - Nicely done. Not too carbonated, pretty much just right. I would go for these again, that is if they are not retired ;-)
877 characters
More User Reviews:
4
/5
rDev
+4.2%
look: 4 | smell: 4 | taste: 4 | feel: 4 | overall: 4
Appearance – Beautiful light, hazy orange in color with a good head that puddled in the middle.
Smell – Lovely yeast and orange peel aroma with a good amount of coriander and a few more, darker spices. The yeast is especially appealing as the ale warms.
Taste – The orange and yeast flavors mixed well. There were a few medicinal notes. I could pick up some light fruiting, too, along with much bigger spicing than I got from the nose. They are almost herbal in nature and very bitter in a leafy kind of way.
Mouthfeel – Medium to full-bodied and a bit on the dry side. This one had a bitter quality to it that begged to be sipped.
Drinkability – This is a very good offering out of Quebec. It is billed as "strong and spicy", and that it most certainly is.
Comments – Rastacouere had the brilliant foresight to send me out a bottle of this. I have noticed that my BSPA preferences differ greatly from other BAs, so I can be "hard to please" when it comes to the style. This one was terrific though and was a pleasure to lay down.
1,055 characters
3.4
/5
rDev
-11.5%
look: 3.5 | smell: 3.5 | taste: 3.5 | feel: 3.5 | overall: 3
Definite coriander, which is not the recommended spice for men, and detracts from drinkability according to me mates and me. Bit thick and heavy to drink through, and did not particularly match food. Definite cloves, oranges, cinammon, pepper for taste, like a herbal tea.
272 characters
3.5
/5
rDev
-8.9%
look: 3.5 | smell: 3.5 | taste: 3.5 | feel: 3.5 | overall: 3.5
Golden color beer witha nice head when pourred into glass. Aroma of spice are really present and very tasteful. The alcohol is well hidden and overall this is another very refreshing beer from Cheval Blanc thought not as good as anything from the original brewery in Belgium.
275 characters
3.72
/5
rDev
-3.1%
look: 3.5 | smell: 4 | taste: 3.5 | feel: 3.5 | overall: 4
Golden ale with a big head. Coriander, yeasts and orange in the nose. Yeasty taste, but perhaps not as much as most other Cheval Blanc. Lots of malt, curacao, banana, coriander. Hoppier than I expected, dry finish. Definitly not a real chouffe, but pretty solid nevertheless.
275 characters

3.52
/5
rDev
-8.3%
look: 3 | smell: 3.5 | taste: 3.5 | feel: 4 | overall: 3.5
I don't think this beer is retired, just bought it the other day...
12oz bottle poured into a pint glass
Appearance - The beer pours a murky pale gold colour with an average size fizzy white head. I can't make out much carbonation due to the haziness of the beer. There isn't much lacing, and the head was gone in flash. There are lots of little particles floating around.
Smell - hops, wheat, a peppery spice mix and floral notes.
Taste & Mouth - The beer has a fair amount of carbonation; at first I can taste wheat and coriander, also some bubblegum flavors. In the middle there is a medicine like taste mixed with a peppery spice mix. It finishes with a lasting pine/spicy aftertaste.
Drink - An interesting beer with lots of different flavors going on... It's unfortunate that the appearance isn't a little nice, but it's still a decent beer. Not sure I would seek it out again though.
895 characters
4.32
/5
rDev
+12.5%
look: 4 | smell: 4.5 | taste: 4.5 | feel: 4 | overall: 4
This bier is made in Quebec under license by the same folks who make bier under the brandname Boreale. My wife and I recently went to Montreal, and had it in a bier bar there, and when we saw it at the duty-free, we had to get a 6. It's billed as a spicy strong bier, with 8% ABV.
It pours with an orange-yellow body, and the white head has little staying power. The major aromas are citrus and clove.
The taste is very Belgian in complexity, with lemon, blood oranges, clove, nutmeg, cinnamon, honey, and white pepper all making appearances. The mouthfeel has a smooth light oiliness, with just the right amount of carbonation tang. The finish is smooth and light, mostly clove, and a teeny bitter dry hoppiness, just enough to remind you that it's a bier, not wine or some fruity cocktail...
This is the bier that opened my wifes eyes to the complexity of bier advocacy. She's always savored wine and vodka, but now she understands why I can get rhapsodic about a bier. Merci, Brasseurs du Nord!
1,006 characters
4.21
/5
rDev
+9.6%
look: 3 | smell: 4.5 | taste: 4.5 | feel: 3.5 | overall: 4
served in 33 cL brown bottle.
i found this one at a depanneur (corner bodega) in montreal. the smell hits you right off. very coriandar-ish with some fruitiness (apples, pears).
taste is very winter-y. nicely spiced with coriandar. not much maltiness or hops. this seems to be more suited to wintertime, christmas, etc.
loses some points for appearance because it utterly lacks head retention. there wasn't even a foam ring after the first sip or two from my glass.
it seems to be very similar to a wit, but with more alcohol and a slightly creamier mouthfeel. pretty damn good, overall.
i recommend this beer.
617 characters
4.07
/5
rDev
+6%
look: 3.5 | smell: 4 | taste: 4.5 | feel: 4 | overall: 3.5
Hazy dark yellow, light orange colour with bright white head. Quite fizzy with little lace. Pleasant yeast aroma coupled with some citrus, coriander and cloves. Lightly bitter with a fruity sweetness and some spice at the front. Very peppery finish that, with some alcohol, produces noticeable heat on the taste buds and lingers at the back of the palate and makes your mouth water. Very interesting. Smooth with a dry finish. Fairly dextrinous body.
450 characters
Blonde D'Achouffe from Brasseurs Du Nord Inc.
Beer rating:
3.84
out of
5
with
9
ratings