Boréale IPA
| Brasseurs Du Nord Inc.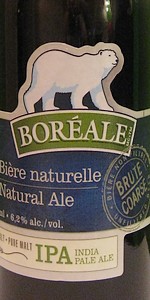 BEER INFO
Brewed by:
Brasseurs Du Nord Inc.
Quebec
,
Canada
boreale.com
Style:
American IPA
Alcohol by volume (ABV):
6.20%
Availability:
Year-round
Notes / Commercial Description:
No notes at this time.
Added by papat444 on 06-07-2012
Reviews: 15 | Ratings: 71

4.16
/5
rDev
+10.1%
look: 4 | smell: 4.25 | taste: 4.25 | feel: 4 | overall: 4
Actually I was very impressed by the Boreal's IPA, it was on special for 8 bucks for a sixer.
Smell is hoppy, but not too much, just well balanced, I was imagining a remake of the McAuslan's one or something, but you do smell the hoppiness.
Taste is bitter hoppy with a good hint of caramel but penchant toward bitterness.
Overall a good session IPA and cheap too
★
367 characters
4.15
/5
rDev
+9.8%
look: 4 | smell: 4 | taste: 4 | feel: 4.5 | overall: 4.5
341 ml bottle. BBF- 28-01-2013
A- Cloudy amber with moderate off-white head of tight bubbles. Fairly effervescent. Lacing on glass.
S- Grapefruit and orange zest with hint of grass and flowers.
T- Bitter flash up front followed by lingering grapefruit. Just enough sweetness behind the hops to balance the beer. Good malt backbone, though maybe a touch light.
MF- Medium-thick bodied. Very little astringency.
O- Very good and balanced beer. A lot of flavour but without being over the top. You taste all the complexity of the hops without being overwhelmed with bitterness.
★
579 characters
4.12
/5
rDev
+9%
look: 4 | smell: 4.5 | taste: 4 | feel: 4 | overall: 4
Bottle: Poured a clear light orangey color ale with a large foamy head with good retention and some good lacing. Aroma of floral hops is quite powerful and very enticing. Taste is mostly dominated by a solid floral hoppy base with light malt base with not much residual sugar. Body is about average with good carbonation. Solid IPA with great use of dry hopping technique.
★
372 characters
4
/5
rDev
+5.8%
look: 4 | smell: 4 | taste: 4 | feel: 4 | overall: 4
Pours a hazy golden amber color with a finger of white foamy head that leaves some nice sticky lacing on the glass as it dissipates.
Smell is pine and floral citrus.. a little toffee on the end gives it a sweetness to the aroma... smells near an American IPA.
Taste is wonderful... not as bitter as expected, but in a good way... the malts make this a very well balanced IPA. There is a definite caramel sweetness on the taste and the malts compliment the hops perfectly. If i could get this here in St Louis area i would have it in my fridge always as it is a very drinkable IPA... not quite sessionable at 6.2 abv though.
I always drink Boreale when i am in Quebec and i was pleasantly surprised to see this new offering from them on tap this summer... even more when i seen the bottles at Metro! ;-)
Most of the Canadian IPAs fall short, but this is a definite hit!
★
870 characters
4
/5
rDev
+5.8%
look: 4 | smell: 4 | taste: 4 | feel: 4 | overall: 4
hazy appearance; golden amber color
small head, moderate effervescence
floraly citrus smell
enjoyable citrusy taste after bitter flash; hoppy aftertaste
pleasant medium mouthfeel
well-balanced IPA
well-distributed (e.g., corner store)
recommended product
★
261 characters

3.95
/5
rDev
+4.5%
look: 3.5 | smell: 3.5 | taste: 4.25 | feel: 4 | overall: 4
A:
Beer poured a golden honey color with nice head although it was a little airy it maintained it okay.
S:
Light hoppy and floral aromas, not overpowering.
T:
Nice, dry unoffensive hoppiness. Some dank hop notes but nothing too intense.
M:
Smooth, crisp mouthfeel. Not too strong, nor overly bitter. Pleasant hoppy feeling in the
back of the mouth.
O:
Overall, a really solid beer. I sometimes find that IPAs go a little overboard on the whole bitter hop aspect, but this one is a nice light-tasting beer and is very drinkable. Honestly, it could be a little stronger on the hops and wouldn't suffer from it. If that were the case I might lean towards giving it a little higher rating. It would probably be a decent IPA for people that aren't big fans of IPAs.
★
771 characters
3.9
/5
rDev
+3.2%
look: 4 | smell: 4 | taste: 3.75 | feel: 4 | overall: 4
A-medium amber color with a nice white head and good lacing
S-toasted malt, citrus, pineapple, floral, little pine
T-toasted malt with a hint of sweetness, grapefruit, pineapple, light floral, light pine, mild to moderate bitter finish
F-medium body with moderate carbonation, crisp
O-decent IPA with good overall balance of flavors
★
336 characters

3.87
/5
rDev
+2.4%
look: 4 | smell: 3.75 | taste: 4 | feel: 3.75 | overall: 3.75
The color is copper, it is clear and the head is a nice cloudy looking foam. Very white. Nice looking beer. The smell is very interesting... for Boreale. Citrusy with some other fruity smell. Some caramel malts are present too. Makes you want to take a sip right now! Nice aroma.
The taste is more fruity than the smell. A nice bitterness which is well balanced. The bitterness is not over the top, but its well balanced. This one is good. A good IPA.
★
452 characters

3.83
/5
rDev
+1.3%
look: 4 | smell: 4 | taste: 3.75 | feel: 3.75 | overall: 3.75
L: A slightly hazed pale amber color. One finger of head. Excellent lacing and retention.
S: A bit of floral hops and some citrus. I noticed a touch of some metallic sort of aroma. A bit of malty sweetness as the beer dries.
T: Pretty solid stuff. I get the classic citrus and floral punch a good IPA should have. A nice malty - but not overly sweet or caramely - backbone works in harmony with the hops. Bitterness is restrained in terms of modern IPAs but still decently bitter. Nice and dry.
F: Carbonation is decent. Body is properly thick. Refreshing.
O: Pretty good example of the IPAs of yesteryear. A classicly styled IPA that focuses on citrus and malt balance instead of the more trendy tropical fruit, insane ABV, and over the top bitterness. Good beer would happily drink again and buy again if the price or situation was right.
★
844 characters
3.75
/5
rDev
-0.8%
look: 3.75 | smell: 3.75 | taste: 3.75 | feel: 3.75 | overall: 3.75
Boréale IPA
on tap @ L'Express, 3927 Rue St-Denis, Montreal, QC
Basic "American" IPA at 6.2% abv with a straightforward caramel-accented malt component and some citrusy hops. It's nicely balanced between malt base, hops, yeasty fruitiness, and drying bitterness. It's clean and without flaw, but fairly run-of-the-mill.
★
321 characters
3.63
/5
rDev
-4%
look: 4 | smell: 3.5 | taste: 3.5 | feel: 3.5 | overall: 4
A: Colour is orange/copper, low levels of cloudiness, pours a frothy white head that is consistent and laces the glace.
S: Citrus but not over the top, hints of caramel and nuts. Getting a bit of candy flavours
T: Sweet mild grapefruit, sweetness is well balanced and lingers with the bitterness. Hints of caramel and a bit of candy.
M: Well carbonated, a bit creamy at the end, a bit sweeter in the end.
O: This is a great beer. It's about time we see them come out with an IPA and I'm proud that this Canadian micro as properly designed one. The balance of the sweetness to bitterness is a bit off. I would like a higher bitterness in this beer.
★
651 characters

3.53
/5
rDev
-6.6%
look: 4 | smell: 3.5 | taste: 3.5 | feel: 3.5 | overall: 3.5
12oz Bottle from Brouehaha QC for 2.50$
Appearance - Slightly hazy copper colour with a largesize fizzy off-white coloured head. There is an average amount of carbonation and there is some faint lacing. The head lasted for around 2-3 minutes.
Smell - Malts, caramel, grapefruit, hops
Taste & Mouth - There is an average amount of carbonation and I can taste hops, malts, and caramel/toffee. There is also some grapefruit and apricot flavour. It ends with a slightly bitter aftertaste.
Overall - Surprisingly decent. I had low expectations but this beer actually has some of the flavours found in an american IPA. I can see this working well as a transition beer for someone just getting into hops/ipa's. With the selection of decent ipa's now available to me locally I have no reason to buy this one again, but it's worth trying. It would have been hit a few years ago when this type of beer was sparse in my parts.
★
919 characters

3.51
/5
rDev
-7.1%
look: 3 | smell: 3.75 | taste: 3.5 | feel: 3.25 | overall: 3.5
Bought it on special a pack of 6 for 8,99 $
Orange gold color. Nice fruity smell.
I tried the Alexander Keith IPA and wasn't very impressed about it.
Boreale IPA have a nice balance. I find it a bit strong 6,2 ABV I wish it was more about 5,5 or 5,8 ABV. But nothing to complain about.
I notice a very nice taste of the beer after 2 or 3 minutes after you drink it. I was surprise because most of the beer around 5 or 6 ABV, the taste goes away very soon but this one it stays and at the end it s a real smooth taste that u got even after 10 minutes that u drink it.
So would I recommend it ? For an IPA, for sure ! U can t go wrong with this one. Much, much better than the Alexander Keith IPA.
★
696 characters
3.41
/5
rDev
-9.8%
look: 4.5 | smell: 3.5 | taste: 3.5 | feel: 3 | overall: 3
Sampled at Le Mondial. Listed as 50 IBUs.
Appearance: A rather clear gold body but lots of off-white head that looks real nice with retention and all.
Smell: Nice hops aroma. A bit vegetal mixed with a touch of honey and nuts.
Taste: Has that nice brassy citrus hops taste with some delicate fruit, mangoes and peaches.
Mouthfeel: Bitterness is very low and i found the body a bit light for an IPA.
Overall: An ok IPA that has some good points but doesn't quite reach the standard.
★
486 characters

3.35
/5
rDev
-11.4%
look: 3 | smell: 3 | taste: 3.5 | feel: 3.5 | overall: 3.5
New product from Boreale.
Poured into my favorite pint, Chanvre rouge..
It got a clear apparence, amber color, small white head of foam with calm effervescence.
It smells like sweet citrus..shy smell..
It taste pretty much the same, some sweet citrus taste, hoppy, light body.
mouthfeel is right for the style, a bit dense,,with a after taste of bitterness,, small carbonation.
Overall its good, nothing extreme. It is a pretty smooth ipa,
nice hookup with my homemade-poutine,.heheh
★
492 characters
Boréale IPA from Brasseurs Du Nord Inc.
3.78
out of
5
based on
71
ratings.