Obolon Kwas Chlebowy
| Obolon Brewery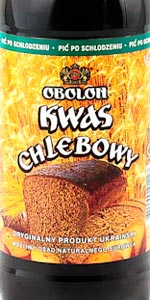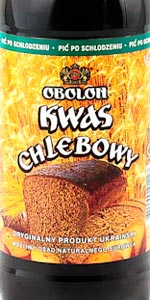 BEER INFO
Brewed by:
Obolon Brewery
Ukraine
obolon.ua
Style:
Kvass
Alcohol by volume (ABV):
not listed
Availability:
Year-round
Notes / Commercial Description:
No notes at this time.
Added by TMoney2591 on 12-12-2010
HISTOGRAM
Ratings: 13 | Reviews: 12
Reviews by wcintula:
3.12
/5
rDev
+8.3%
look: 3 | smell: 3.5 | taste: 3 | feel: 3 | overall: 3
Thanks to my wife's dad, Jerzy, that I could try my first Kvass!
Poured into a small rocks glass from a clear plastic liter-or-so bottle. Pours like, as mentioned in other reviews, cola. Soda-like head, not retained. Smell of strong sour rye/pumpernickel, sweeter notes of chocolate or molasses, maybe some fruit come through. A more complex drink than you'd expect.
The taste makes you pucker at first but the after taste is a melange of the above aroma notes. Fun to try, don't know if I'd enjoy a whole bottle, though.
523 characters
More User Reviews:
2.08
/5
rDev
-27.8%
look: 2.5 | smell: 2 | taste: 2 | feel: 2.5 | overall: 2
2L plastic bottle, from a local Russian grocery store that I didn't know existed until recently. Called 'Kwas Bogatyrskij' on my label.
This beer pours a clear, medium bronzed amber colour, with a thin cap of wispy and faintly bubbly off-white head, which leaves nothing in the way of lace anywhere near the glass as it quickly blows off.
It smells of musty caramel malt, some meaty yeastiness, raisins, and very little else. The taste is those Oxo beef cubes, sweet caramel/toffee, wet prunes, further indistinct dark orchard fruity notes, and some weird musty otherness.
The carbonation is damned near non-existent in its weak-sauce frothiness, the body a solid middleweight, and sort of smooth, as an unpleasant pithiness is pretty much there from the get-go. It finishes sweet, cloying, and still creepily meaty.
Overall - yeah, this is yet another example of a quasi-beer, which masquerades as soda pop (yuck) in a different culture. Interesting to try, but I still have no idea why this might be considered refreshing by anyone.
1,043 characters
3.95
/5
rDev
+37.2%
look: 4 | smell: 4 | taste: 4 | feel: 3.5 | overall: 4
Obolon Kwas Chlebowy
1 Liter plastic bottle - no freshness date.
The bottle opens without any sound, and even a rough pour fails to bring up any head. The liquid is a clear deep russet brown with a ruby cast.
The aroma expresses tea, coffee, cocoa, toasted bread, and a bit of molasses.
In the mouth it's medium-light bodied and smooth. There's very little carbonation to it.
The flavor is rich and full, offering a bready, gently toasty and molasses-like maltiness. It actually tastes like dark rye bread, and this is the only kvas I've found so far that tastes exactly like that. There's a bit of a fruit component to it as well, but it's hard to pin-point any exact flavors wrapped within the malt. I'm thinking it's like apple, soft red berries, and perhaps cherry; and there's just a subtle tartness to it. It appears in the middle of the mouth and into the swallow, then the malty breadiness returns in the lingering finish. Unlike many examples that are a bit sticky-sweet, and even astringent, this one is not. There's some residual sugar left, but the toasty/bready quality of it leaves it quite pleasant.
Overall, this is another impressive kvas. It's the first one I've found that has no real carbonation to it, which is more traditional. Kvas was served flat until the 1980's when producers tried to fizz it up to help compete with western colas; and if you coma across a yellow tank on wheels in Russia (or blue or white in the Ukraine), it'll be serving flat kvas. Worth trying!
1,497 characters
3.32
/5
rDev
+15.3%
look: 3 | smell: 3.5 | taste: 3.5 | feel: 3 | overall: 3
Thanks to woodychandler and his Kvass Kick for this beer. Poured from a clear plastic 1 liter bottle. Has a cola like color with no head at all. Smell is of molasses, and rye. Taste is prettty good, rye up front, sweet molasses, a touch of raisin and spices. Feels sweet and syrupy in the mouth and overall is a decent brew.
324 characters
3.02
/5
rDev
+4.9%
look: 3 | smell: 3.5 | taste: 3 | feel: 2 | overall: 3
Ingredients: water, light barley malt, brewer barley, rye malt, sugar.
Label has a green band that says "Drink A Frappe" which makes me wonder if this needs to be blended or something.
Raisin and molasses hit the nose first, reminiscent of gingerbread. A few large bubbles on the surface, but little in the way of foam. High clarity raisiny brown.
Lifeless feel with weak carbonation and cloying sweetness. Compared to other commercial Kvass, this is slightly more roasty/bready. Raisin, prune, and molasses flavors, with a mellow rye breadiness. Sweet like soda, somewhat astringent. Overall it's drinkable, but not something i'd seek out again. Pretty typical for a commercial kvass, on the lower end of the quality spectrum.
732 characters

4.21
/5
rDev
+46.2%
look: 4.75 | smell: 4.25 | taste: 4.25 | feel: 4 | overall: 4
C'mon, this is sweet! you say when you first try this one. Or at least, it is how I shouted out loud, not knowing what to expect fron a Kwas.
Thinking it was something like a beer, having heard that it was rather like a soft drink - well, it is rather the latter.
The smell is somehow malty and grainy, that starts making you think it will be something valueable. And then comes the taste and BOOM! you realize thet it is nothing but a juice. A cola. But with lots of caramel malts. A caramel malts cola? Still, all good as it is. Has a quite distinct, remarkable taste, just like carbonated black bread with sugar. Good that I tried it.
638 characters
2.42
/5
rDev
-16%
look: 2 | smell: 2.5 | taste: 2 | feel: 2 | overall: 3.5
My beer guy told me about this beer, actually didn't sound all that bad to me. I have never had a kvass so I figured I would give it a shot. 2 bucks, low risk high reward opportunity here.
Appearance- Pours a clear cola color with no head. A few bubbles atop but that's it.
Smell- Lots of rye, but not your typical rye beer aroma. More like toasted rye bread, a little caramel.
Taste- Pure rye again, but without the zesty pop or peppery like bitterness. Very bready, molasses, and some dark fruit notes, though nothing to specific. Sweet throughout, a bit dry on the finish. The initial taste is nearly revolting but the aftertaste is mildly pleasant. About 8 ounces from the liter was enough for me.
Mouthfeel- Has the feel of flat soda. 0 carbonation.
Overall- Well, I got my kvass tick, but don't see myself exploring this style too much. Interesting none the less. Higher overall score, since it is so unique.
926 characters

3.7
/5
rDev
+28.5%
look: 4 | smell: 4 | taste: 3.5 | feel: 3 | overall: 4
I also got the 1L bottle with the green band exhorting "Drink A Frappe", whatever that may refer to, in support of my own Kvass Kick, Kamarade.
This was one flat drink! I poured as best I could to stir up some carbonation, but to no avail. Color was a coppery-brown with NE-quality clarity. Nose was really pungent with rye, akin to a loaf of bread fresh from the oven. Mouthfeel was medium with an initial taste of rye bread, but then giving over to a raisin sweetness on the tongue. The finish had an interesting sweet/sour quality to it as though neither of the previously noted flavors could really dominate. I imagine this to be pretty close to a traditional form of the style and it has to be one of my favorites thus far.
729 characters
1.31
/5
rDev
-54.5%
look: 2.5 | smell: 1.5 | taste: 1 | feel: 1 | overall: 1.5
1 liter plastic bottle.
It pours a clear cola brown with no head.
It smells like rye bread, fruit, and chocolate.
It has a low carbonation. It is tangy, with some caramel, rye, and sugar.
Not one of my favorites. I guess I should stop messing with kvasses now.
264 characters

2.35
/5
rDev
-18.4%
look: 2.5 | smell: 2.5 | taste: 2 | feel: 3 | overall: 2.5
Served in a Chicago Bears shaker pint glass.
The Kvass Kick rolls into the Ukraine with this, a smaller bottle than usual. It pours a clear amber-garnet topped by a minor wisp of off-white fizz. The nose comprises heavy caraway seed, fennel, rye bread, maple syrup, and walnuts. The taste focuses on the caraway and fennel, with some burnt maple syrup bubbling up from underneath to form a backbone of sorts. It's all kind of overwhelming, really. The body is a light medium, with a light fizzy carbonation and a thickly watery feel. Overall, this is one of the most underwhelming entries the Kick thus far. The flavors are just too much and too disjointed to really work right. This, coupled with a lighter-than-usual body, makes for a not-so-enjoyable kvass-drinking experience.
781 characters

2.76
/5
rDev
-4.2%
look: 1.5 | smell: 3 | taste: 3.5 | feel: 1.5 | overall: 2
Now we venture into the seedy underbelly of beers. This kvass is from Ukraine. It comes in an ominous one liter clear plastic bottle. There's a picture of some type of bread on it and a bunch of people on the back having some sort of...party. The label is pretty much all in Ukranian, as well. No ABV on the bottle, but one can probably assume it's really, really low.
Getting one of the tougher styles knocked out of the way early on...It's actually not terribly difficult to find a kvass around here as there is a high number of Eastern Eurpean immigrants in the vicinity, so that's pretty cool.
Poured into a pint glass...
A: Pours light coca cola brown. There's zero head and zero lacing.
S: Smell is really heavy pumpernickel bread, various dark fruits, brown burnt sugar, caramel, and other unidentifiable smells.
T: Tastes like more of the same....nasty. I'm not a fan at all. Way too fruity, not beer like at all. Cloying sweetness all around. I will give it credit because it's complex and probably follows the style quite well. I just don't like it...
M: Thin...no body...no carbonation.
O: Is this a beer?
I can appreciate the history of the style, but it's definitely not my cup of tea. I guess I'm glad I tried it? I could choke down a pint...but no way in hell was I going to drink 33 oz. Poured down the drain after a few gulps. I don't need to needlessly deal with this torture.
1,404 characters

3.22
/5
rDev
+11.8%
look: 3 | smell: 3.5 | taste: 3.5 | feel: 2 | overall: 3
2L plastic bottle into a Weyerbacher tulip. Huge thanks to Knifestyles for bringing this to last night's epic tasting!
A: Clear mahogany body with a thin outgrowth of white bubbles that mainly flee while a handful cling to the edges. It's ugly, but maybe it's an ideal-looking Kvass. I sure don't know.
S: Quite intense, with malty bread, chocolate, toast, and a hint of smoke. Weird, unappealing, and yet oddly mesmerizing.
T: Sweet - very sweet, like a mixture of Whoppers malted milk balls and toasted pumpernickel. Some cola notes as well. What is this!?
M: Thin, watery, and yet sticky. Pretty gross.
D: For something that's basically non-alcoholic (assuming this is in line with other examples of the style - the bottle doesn't have any indication of ABV), it's both surprisingly flavorful and surprisingly hard to drink. Still, it's damn interesting.
Notes: What is there to say? I'm glad I got to try a Kvass, but I definitely won't be scouring Russian specialty stores for more. If I want a beer, I'll drink a beer. If I want a soda, I'll drink a soda. I don't see the point in combining the two.
Cheers!
1,120 characters
Obolon Kwas Chlebowy from Obolon Brewery
Beer rating:
2.88
out of
5
with
13
ratings