Obolon Beer Mix Grapefruit
| Obolon Brewery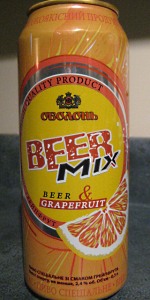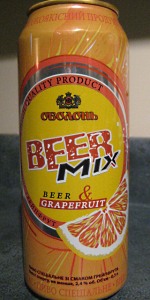 BEER INFO
Brewed by:
Obolon Brewery
Ukraine
obolon.ua
Style:
Fruit / Vegetable Beer
Alcohol by volume (ABV):
2.40%
Availability:
Year-round
Notes / Commercial Description:
No notes at this time.
Added by biboergosum on 10-20-2011
HISTOGRAM
Ratings: 2 | Reviews: 2
Reviews by Olek4374:

2.6
/5
rDev 0%
look: 2 | smell: 3.25 | taste: 2.25 | feel: 3 | overall: 2.5
I've been actively pursuing a can of this in Edmonton for quite some time, as I wanted to sample it before bringing it into my store. The Obolon Raspberry beermix has become a great hit, and I want to introduce this one as a less-expensive alternative to Stiegl Radler. Anyway, to the beer itself.
It comes in a can largely covered in Ukrainian writing. Now, seeing as I am born and raised Ukrainian, this is not a challenge for me. Still, it would have been nice if the cans for export were entirely in English, if for any reason but to make it more attractive to the genera public.
I've chosen my standard issue Heineken glass, since I'm a bit short on clean glassware this evening. it pours a very pale yellow with a finger of head. The colour, I've gotta say, is total balls. It is literally more pale than any other beer I've ever had - Canadian 67 included. The aroma is... grapefruit. Shocker. Honestly though, if you buy this, you should be expecting a tremendous grapefruit flavour - the can offers almost no English, although 'Grapefruit' is clearly noted, as well as a bursting segment of grapefruit.
The taste is a little watery, quite grapefruity, and unfortunately very sweet. This should not come as a shock to me - I've had the Obolon Raspberry beermix and it is sweet as pop. This is not a serious beer drinker's beer by any means. It's a beer intended for ladies who have never really enjoyed beer. Honestly, I can't imagine why any liquor drinker wouldn't at least tolerate this drink - it's a beer, so there's that. It's also sweet, so it appeals to the malternative crowd. It's also light tasting, so people who normally wouldn't drink much booze would take well to it. It is only 2.4% abv, after all.
A tasty beer this... isn't really. However, I can see this as a patio beer that appeals to all crowds apart from strict non-drinkers and craft beer snobs. Being none of the above, I can say I wouldn't be opposed to buying this again. Plus it has the added bonus of being from my home country, which is seldom a bad thing.
As for the comparison to Stieg Radler... lol. The Radler is WAY better than this, for sure. Still, I can see a lot of people buying this when I bring it in.
2,207 characters
More User Reviews:
3.11
/5
rDev 0%
look: 2.5 | smell: 4 | taste: 2.5 | feel: 3 | overall: 3.5
500ml can. Again, all in Ukrainian, so I'm SOL for discerning any nuggets of info from label. But I do get "Beer" and "Grapefruit"...
This beer pours a clear, very pale straw "colour", with two fat fingers of thin, foamy white head, which shows a bit of backbone in its retention, eventually leaving a mountain range vista of lace around the glass. It smells (from immediately after the crack of the can) of bitter, tart grapefruit rind, very much like the morning ritual for some of us (grapefruit, not beer), and some late arriving, subtly sweet, pastry graininess. The taste is more grapefruit right up front, but which is quickly consumed by a strongly sweet, doughy malt, full stop. The carbonation is quite sedate, if not actually in a coma, the body medium weight, and quite smooth, but not quite avoiding cloyingness altogether. It finishes with a step back in the banal sweetness, the neutered citrus rising back up.
Not exactly hard to put down, the grapefruit is at least real and enjoyable, but it could well do with some crispness, but lacking that, the beer part of the equation lags, and would preclude me from wanting the entirety of the can, let alone another one.
1,183 characters
Obolon Beer Mix Grapefruit from Obolon Brewery
Beer rating:
2.85
out of
5
with
2
ratings