Dismiss Notice
Dismiss Notice
Celestial Gold
| Church Brew Works
BA SCORE
81
good
62
Reviews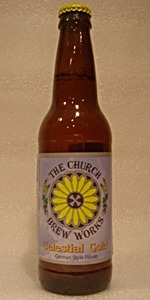 BEER INFO
Brewed by:
Church Brew Works
Pennsylvania
,
United States
|
website
Style:
German Pilsener
Alcohol by volume (ABV):
4.10%
Availability:
Year-round
Notes / Commercial Description:
No notes at this time.
Added by BeerAdvocate on 09-24-2001
Reviews: 62 | Ratings: 146
3.85
/5
rDev
+8.8%
look: 3.5 | smell: 3.5 | taste: 4 | feel: 4 | overall: 4
12oz. bottle poured a clear pale gold with thin white head and very little lacing. Light scent of caramel malt and faint hop presence. Taste has light flavors of malt and hops . Mouth feel seems light/medium with a nice touch of carbonation. This brew is easy to drink and is thirst quenching for those that are in the mood for something light.
★
344 characters

3.18
/5
rDev
-10.2%
look: 3.5 | smell: 3 | taste: 3 | feel: 3.5 | overall: 3.5
Sample at the brewpub. Pale golden color with a compact white head with fair retention. Minimal lacing. Light hops and nuts in the aroma. Light body with a clean mouthfeel, and mild but flavorful hops taste. There is a bit of grass and malt in there too. The finish is effervescent and lightly bitter. Pretty good for the style.
★
328 characters

3.85
/5
rDev
+8.8%
look: 3.5 | smell: 3.5 | taste: 4 | feel: 4 | overall: 4
What the macros aspire to be. Beautiful amber color with quickly vanishing head. Heavy, bready malt in the nose and then a full malt taste. (Corn as well?) Very minimal hops bitterness for a pilsner; and rather heavy mouthful with less than expected carbonation. But I couldn't put it down. Very nice, satisfying taste. Hand carried from Church Brew Works in Pittsburg by "N" this weekend. I can't wait to get up there myself and experience it in person.
★
454 characters

3.45
/5
rDev
-2.5%
look: 3 | smell: 3 | taste: 3.5 | feel: 3.5 | overall: 4
Poured a clear blond color with a thinner wispy white head that didnt last very long,aromas of toasted grain mainly with faint grassy hops underneath but like I said faint.The biggest flavor trait of this beer in my mind was the lightly toasted grain wich lent itself well with the grainy-like texture on the tongue there was a whisper of herbal/grassy hop that came in a pretty abrupt finish.The best thing that I can say about this beer as it down before I knew it and I drank a few quickly for Tigers-Pirates pregame.
★
520 characters
3
/5
rDev
-15.3%
look: 3 | smell: 3 | taste: 3 | feel: 3 | overall: 3
Color is a clear dull yellow. Fizzy white head disappears quickly. Splotches of lace in the glass. Nose? Not really. There's a whiff of earthy-grassy hop. Macro-esque flavor: can o' corn with some cracked grains. Virtually no aftertaste or memorable finish. Micro-brewed for the macro-seeking.
★
293 characters
2.38
/5
rDev
-32.8%
look: 3 | smell: 2.5 | taste: 2 | feel: 2 | overall: 3
Appearence: Pours a light gold (what're the odds) with a thin, white head. Head dissapeares rather rapidly leaving no lacing. Nice carbonation though.
Smell: Simple malt and hop aroma, with no real discernable scent. Very average smelling, with a bit of sulfer....
Taste and Mouthfeel: Pilsener? Nah. Light lager at best. Corn and cereal tastes mix with just a faint, tiny tiny bit of hop bitterness. Really a let down. The mouthfeel is watered down a thin.
Drinkability and Overall: The newest of CBW bottled brew, and this one (as with the others) is sub-par at best. CBW really makes some fabulous brews, but the 3 I've had in 12 oz. bottles were dissapointing and bland. Now, if only they'd bottle their Kolsch...
★
726 characters
4.57
/5
rDev
+29.1%
look: 4 | smell: 4.5 | taste: 4.5 | feel: 4.5 | overall: 5
WOW - the bottled versions must be much better than on draft since I'm the only one to review a bottle so far and it was excellent!
Straw colored (unfiltered with floating sediment), decent white head, and good carabonation. Flowery, grassy hop aroma dominates. Nice balanced hop and grain flavors. Medium-light bodied; crisp, dry, and a bitter finish that lingers long.
A nice American take on the German Pils.
Per Bottle: "German Style Pilsner"
Per CBW website:
OG 10.5o Plato
IBU's 18
Color 2.5oL Blond
Alcohol 3.1% w/w
Approx. Calories per 16 oz. Pint 200
Approx. Alcohol Content 4.1% by volume
Grain Pilsen, Munich, Cara Pils
Hops Lublin, Crystal
★
680 characters

3.83
/5
rDev
+8.2%
look: 4 | smell: 3.5 | taste: 4 | feel: 3.5 | overall: 4
Served as part of their beer sampler. This one poured very light, clear and was golden yellow in color. A small filmy head topped this one off. The aroma yields some small grassy malt notes. The taste is light and crisp with a very nice fresh flavor. Slightly sweet, yet clean finish. Some grassy hoppiness tingles the tongue after taking a sip. This is a no frills and simple golden ale that anyone could enjoy. I like it.
★
423 characters
3.43
/5
rDev
-3.1%
look: 3 | smell: 2.5 | taste: 3.5 | feel: 3.5 | overall: 4.5
The body is a pale and clear gold with a wispy, white head. The aroma is light and hard to pick up on. There is a touch of melon-like fruit in the flavor and the bitterness is very low. A sparkling body body turns this into a relatively tasty and very drinkable lager.
★
268 characters
2.63
/5
rDev
-25.7%
look: 3 | smell: 2.5 | taste: 2.5 | feel: 2.5 | overall: 3
Appearance: Pale golden with a nice sized white head coats the glass with nice lacing decen appearance overall. Aroma: Cereal grain sweetness very light but semi-aromatic hop profile. Taste: Mellow flavors of lightly toasted two row pale malts slgiht grassy hop note tame unoffensive beer. Mouthfeel: Light bodied soft carbonation, clean on the palate. Drinkability: So so, not crazy about a beer aimed at the masses, it's a typical golden beer mild and drinkable lacking flavor.
★
479 characters
2.8
/5
rDev
-20.9%
look: 3 | smell: 3 | taste: 2.5 | feel: 3 | overall: 3
Served as a sample at the Church Brew Works. The color was golden, with not much head. The smell was a low-alpha hoppiness over a very light malt. The taste was mostly a very light maltiness, with very litltle balance by the light hopping. Mouthfeel was somewhat thin. Drinkability, wouldn't really want another to be honest.
I'm not going to be too harsh on this beer because it serves its purpose: to satisfy the "Do you have Coors Light?" crowd. That said, I probably wouldn't have it again, as it's just not that interesting to me personally. Still, would probably buy it for a macro drinker as part of the conversion.
★
625 characters
2.95
/5
rDev
-16.7%
look: 3 | smell: 3 | taste: 2.5 | feel: 2.5 | overall: 4
This is a standard looking beer, pale golden yellow with a thin head. The aroma is delicate and not all that inspiring. The taste is better than a macro, but very light and clean with a very thin mouthfeel. However, you could drink this one all day and not realize it. Perhaps the near freezing temps outside detracted from the delicate nature of this beer. I will revisit this one in the summer. But it is very drinkable with low IBU (18!). I enjoy a little more assertive flavor profile in my brews. Not bad, but not what I was looking for in a "Celestial" beer.
★
564 characters
Celestial Gold from Church Brew Works
81
out of
100
based on
62
ratings.