Bush De Nuits
| Brasserie Dubuisson Frères sprl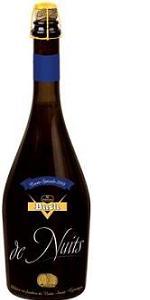 BEER INFO
Brewed by:
Brasserie Dubuisson Frères sprl
Belgium
br-dubuisson.com
Style:
Belgian Strong Dark Ale
Alcohol by volume (ABV):
13.00%
Availability:
Winter
Notes / Commercial Description:
Made from Scaldis (Bush) Noel aged for 6 months in Bourgogne barrels from the world famous "Nuits St Georges" vineyard.
Added by thierrynantes on 12-19-2008
Reviews: 40 | Ratings: 98

3.97
/5
rDev
-3.4%
look: 3.5 | smell: 4 | taste: 4 | feel: 4 | overall: 4
2009 bottle, labeled "Scaldis Prestige de Nuits." Consumed NYE 2010/2011, shared with the friend who bought it for me as a Christmas gift.
A: Poured from the bottle into a Piraat tulip/snifter-type glass. Body is light brown with no head whatsoever - a likely result of the high-ABV. Some sediment in suspension.
S: Port wine-like. Raisins and dried fruit over sweet malt, with a fairly strong waft of alcohol.
T: First impression follows the nose: I wrote "Vinuous." Dark, dried fruits (raisins, maybe prunes or plums, and basic grapes) and candied sugar. Slight sourness is perceived. Finishes with alcohol heat - an almost bourbon-like touch of tannic wood provides some bitterness.
M: This is a heavyweight. Fairly smooth in feel, with soft carbonation.
D: OK - call it "pretty good for a 13% ABV ale."
811 characters

4.13
/5
rDev
+0.5%
look: 4.5 | smell: 4 | taste: 4 | feel: 4 | overall: 4.5
Bottle. Corked bottle opens up with a nice big pop but no gushing. Poured into to a tulip glass a clear light brownish red orange color with a slight tiny bubbled head. Nice aroma of light fruit, oak, and red wine. Has an almost slightly sour note in the nose. Light mouhfeel. Starts with a light fruit flavor like apricot and apple which leads to a tanic like wine flavor. Some booze type notes as well. Drinks really nice. Thanks to matsciguy for sharing.
457 characters
3.64
/5
rDev
-11.4%
look: 3 | smell: 4 | taste: 3.5 | feel: 4 | overall: 3.5
Poured in my Bush sniffer.
A: A murky amber with a small head. Head retention is not good, not good at all. The head disappears to nothing far to fast. A lot of lacing going on though.
S: First of all, this beer smells of red wine. Further it has some hints of red fruits and cinnamon. It almost seems like it smells like cherries that are cured in liquor.
T: It starts with a little bit of caramel malts but after this a big wave a red wine flavor. A lot of grapes in there, maybe a few other red fruits. Ends somewhat tangy. A lot of alcohol heating going on.
M: Light carbonation, some thickness like a red wine. Feels like a bit of caramel.
D: At 13% abv it hides its alcohol reasonably well, but still it is a lot. I drank the 75cl bottle myself over a evening, and it was more than enough.
Conclusion: It tastes like mixing a beer with wine. Although Bush beers are always a bit vinous, this is a lot more. The combination is well done, but not really my cup of tea. Plus it is a little bit pricey. I'm Belgian so I can get this very easy in the supermarket, but still at 10 euros a bottle, it is much more than the bush noel. And that is a better beer in my opinion.
1,181 characters

3.86
/5
rDev
-6.1%
look: 5 | smell: 4 | taste: 3.5 | feel: 4 | overall: 4
2009 bottle, 2009 rate.
Pours deep mahogany with a large, fluffy light beige head. Nice lacing, a real looker. Really good nose, a nice bit of Chimay-esque yeast, ripe red fruits, maybe just a touch of barrel sourness, and some caramel malt. Dry and prickly in the mouth, focused and restrained. I expected a bit of sweet/sour hodgepodge, but it's quite elegant and straightforward. Has the champagne-like quality of Malheur Dark Brut, but may have a touch more wild complexity at the front. Not too sweet, which was my major worry hear, and it's really quite dry. A bit of sourness kind of creeps throughout but thankfully doesn't blossom as the soft elegance here is what does it. Very pretty, a neat beer.
As this warms it changes character, a sour apple edge comes out, and the whole thing is more tart. I'm trying to make sense of the two "worlds" of this beer but it's a bit disjointed at times. Drink it cold.
919 characters

4
/5
rDev
-2.7%
look: 4 | smell: 4 | taste: 4 | feel: 4 | overall: 4
Sampled July 2010 at De Heeren van Liedekercke
For the last beer of the night, we decided to put ourselves in the capable hands of Joost. We decided to start out tasting the beer blind and see what showed up in our glass.
The beer is nice and cold on this hot summer night. It has a certain mustiness to it and even a touch of tartness that seems almost acetic somehow and there is definitely a caramelized grain note to it. The beer has a frothy, tan tinged, light colored head. The body is a dark, burnt amber color that shows a clear amber color when held up to the light. Aromas of raisins, prunes, proper caramel note, suggestions of woody mushrooms, hints of tobacco, quite nutty smelling at times and there is even some heat from alcohol towards the finish after a bit.
The beer tastes sweet and fruity in a non-descript way up front and the finish is a bit astringent. Touches of children's aspirin, concord grape, raisins, dates and cherry (last seems accentuated by a light acetic note) are all noticeable in the flavor. This finishes with some heat that warms my esophagus. The beer is actually somewhat light body for its strength. It really does have a nice nuttiness to it and the alcohol becomes much more apparent as the beer warms up. The fruity notes are quite nice and seem to be the signature of the wine-barrel character.
This was a perfect end to an afternoon / evening of enjoying fantastic food and great beer at De Heeren van Liedekercke. This is best described as a big glass of wham that sent me overly satiated to stumble up stairs to sleep.
1,572 characters
3.5
/5
rDev
-14.8%
look: 3.5 | smell: 3.5 | taste: 3.5 | feel: 3.5 | overall: 3.5
Bottle: Poured a murky red/beige color ale with a large foamy head with good retention and some lacing. Aroma consists of lightly sweet malt with oak notes, subtle tart notes and a vinous character. Taste is also a mix between a lightly sweet non-descript malt base with tart notes and a vinous feel from the wine barrel. Body was quite full with good carbonation and no apparent alcohol. I must say I was disappointed by this one - I am not sure the wine barrel brought anything more that I appreciated. I was expecting more sour notes as opposed to some grapes. The price tag is another factor probably not helping.
617 characters

4.33
/5
rDev
+5.4%
look: 4 | smell: 3.5 | taste: 5 | feel: 4.5 | overall: 4
750mL brown glass cork & cage finish bottle. Cuvee Speciale 2009. Shared with sleepnbballrlife.
Appearance: Not as dark as I was expecting. Deep amber with sudsy off-white head that stands up and lays down rather quickly. Some light spotting.
Nose: Dark candi and dried fruit (prunes & dates), and some wooliness. There's a faint whisper of red wine (red fruit) that just instantly gets bowled over by dark fruit and Belgian yeast. Reminds me a lot of Gouden Carolus Blue.
Palate: Medium-bodied and slick with almost a wine-like body. Flavors turn to fresh fruit, plum, tangerine and red raspberry. Carbonation is soft and there's some french-bread flavor on the finish. Lots and lots of red berries and strawberry way out on the finish. Crisp, slightly tart (not sour) finish is neat and clean.
Notes: The aroma made me think this was going to be more raisin-y that it turned out to be. The palate is super bright and clean. Really really tasty. 13% is almost imperceptible. Bring this to a wine-lover who doesn't drink beer and you *might* win them over!
1,060 characters
4.1
/5
rDev
-0.2%
look: 4 | smell: 4 | taste: 4 | feel: 4 | overall: 4.5
Finished a bomber of this fine unique beverage, in the very glass it was designed for. Thanks for sendng both Vincent. Pours a blackish cognac coloured body with an initially notion only of a head. The aroma is rich wine (it was aged in such for 7 months), and the taste is secondary to this Belgian ale, with some chocolate. Special though not extraordinary special.Above average mouthfeel.
391 characters

4.52
/5
rDev
+10%
look: 4.5 | smell: 5 | taste: 4.5 | feel: 4.5 | overall: 4
Cloudy reddish brown with a thin tan head and persistent carbonation. Smells of cherries, wood, and a slight cinnamon. Taste is pronounced cherries, wine, and wood. The finish is slightly sour and a touch dry. The alcohol comes on as a definite warmth on the way down. Mouthfeel is soft with tingly carbonation to offset it. Drinkability is excellent for something this high in abv. This is a fantastic beer, delicate yet really powerful. Like a linebackerina. Tough to find, expensive, and worth it.
500 characters
4.19
/5
rDev
+1.9%
look: 3.5 | smell: 4.5 | taste: 4.5 | feel: 4 | overall: 3.5
Finally getting around to reviewing the one bottle I anticipated most at the Portland BA Gathering held the last week of March, 2010. I made sure to try this early and with the cleanest palate I could muster. justinatbeaumont generously donated this $40(!) 750ml bottle to the group; I got a 3-4 oz. pour to a small snifter-shaped taster.
Love the bottle, a tapered 'bowling pin' This is "Cuvee Speciale 2009 - Scaldis Noel aged in Bourgogne barrels from Nuits St. George Vineyards".
A: Murky chestnut brown, topped by a thin white ring of a head. Lace left in small dabs. A few flecks of floating yeasts dot the glass - not too detracting, but of note. Hard to find the carbonation in the dark brew/dark barrel room.
S: Alluring aroma of sweet malted milk balls, plentiful caramel and waves of Holiday spices and sugars. At times there's cinnamon, nutmeg, vanilla and mint. Christmas in March?
T: Not quite as nutty-sweet as the aroma, but there is a pronounced toffee/praline character and vanilla spice that's undeniable. A developing vinous fruit, earthy berries and dark grapes, lingering barrel-affected booziness.
M: Smooth feel in general, but the gentle prickle of carbonation impacts each sip nonetheless.Chewier and thicker given time, but that may just be the alcohol warmth subtly catching up.
D: A 13% sipper that's quite enjoyable in modest doses. Bush/Scaldis Noel is near the tops, in my opinion, when it comes to Belgian Winter ales so it's no surprise that the barrel-aged version works quite well, too.I'm impressed, though I'd be as apt to stick with the original (rather than drop some bigger bucks) at future tasting(s). But glad for the try ~ thanks again, Justin!
1,695 characters
4.28
/5
rDev
+4.1%
look: 4.5 | smell: 4 | taste: 4.5 | feel: 4.5 | overall: 4
Sampled the other night with some likeminded, beergeek friends over at Dyan's.
The beer pours a hazy golden tan color with very good head retention and lacing. The nose on this beer is quite interesting, with nuances of apricot, honey, vanilla and light sour funk. As good as this beer smells, I thought it even better on the palate. The sour funk component is much more pronounced on the palate, and it plays well with the underlying sweetness. This is very different from the regular and X-mas scaldis, and I think the burgundy barrel aging has really altered the flavor component (in a good way). This beer was much less sweet then the regular bottling, a beer I always thought was a bit too much on the sweet side anyway. Mouthfeel is rich and full, and this beer has a very long finish. The beer is also very drinkabible for its abv., and the alcohol does not seem to be quite as noticeable as I find it to be in the regular bottling and the scaldis noel. Still, the alcohol starts to catch up to you after a bit, and I really can't imagine enjoying more then a small glass or two of this at a sitting.
While delicious, I'm still not sure the $30 to $40 bottle price is really justified. So would have to think twice about getting another bottle at some point. Nevertheless, this is a very impressiive effort from this always reliable brewery.
1,350 characters

4.2
/5
rDev
+2.2%
look: 4 | smell: 4 | taste: 4.5 | feel: 4 | overall: 4
750ml bottle at 't Poatersgat, served in a Bush snifter, Bush De Nuits is a hazy mahogany with a small, off-white head that leaves nice lace, especially for a barrel aged beer.
Smell is strong, big phenolic wine notes, oak and toffee as well. Wow, intense and complex.
Taste is more wow factor. Very vinous, like the nose it's phenolic, caramel, oaky, very complex, with a lingering toffee aftertaste.
Mouthfeel is dry, smooth and slick, medium bodied.
Drinkability is good in that this is a smooth, rich and rewarding beer. It's also very strong, very expensive, and fairly rare. Special occasions only. Being in Bruges was enough of one for me!
652 characters
4.55
/5
rDev
+10.7%
look: 4.5 | smell: 4.5 | taste: 4.5 | feel: 5 | overall: 4.5
Thank you, John!
Mildly hazy orange brown with a dense off-white head with exceptional retention and lacing, especially for a beer this high in alcohol. The nose is just stunning. Rich, vinous and fruity with brown sugar, honey, some floral characteristics, this beer is beautifully complex and very well crafted. Oak, vanilla and a rich wine character are all present, and warming it up brings out some chocolate; the alcohol is very well hidden. The palate opens moderately sweet with a big red wine character, grape skin tannins, plenty of dark fruit (raisins and some figs). Vanilla and oak with a little alcohol on the finish with mellow tannins, this beer is awesome. Fullish in body with low carbonation and an exceptional, lingering finish with delicate tannins, some honey and brown sugar, this beer is very very impressive. I went back to this beer multiple times last night and was blown away every time
915 characters
3.7
/5
rDev
-10%
look: 4 | smell: 4 | taste: 3.5 | feel: 4 | overall: 3.5
A: this beer has an orange/brown color and has a frothy white colored head. Pretty large bubbles and good head retention.
S: On the nose I get a rich caramel/Toffee sweetness. Also there is a nutty quality like a sweet candied roasted pecan quality.
T: The oak in this beer is very present. It adds a woody vanilla flavor which hits the palate right away. I get that sweet candied pecan quality as well... almost cloying. The alcohol is noticeable and has a warming quality. Also I detect some fruity esters (dried orange peel mostly). Lots of complexity going on, but for me I think its a little unfocused.
M: Rich and mouth coating, long finishing.
D: Low drinkablity if not for the 70 dollar pricetag it is very sweet and alcoholic.... certainly a special occasion beer.
777 characters

4.33
/5
rDev
+5.4%
look: 4.5 | smell: 4 | taste: 4.5 | feel: 4 | overall: 4.5
Beer bottle (75 cl.).
Bush Christmas which has been matured in barrels of Nuits Saint Georges French Wine (during 6 months). This process means that bush De Nuits develops a very full palette of flavours.
Appearance : brown color, with a thin beige foamy head.
Smell : red fuits aromas.
Taste and mouthfeel : hamonious balance in the mouth with sweetness, a hint of acidity and a relatively dry aftertaste.
Drinkability : a nice beer in the style Belgian strong dark ale (Barley wine or Flanders oud bruin ?).
510 characters
Bush De Nuits from Brasserie Dubuisson Frères sprl
4.11
out of
5
based on
98
ratings.