Oak Aged Belgian Quad
| Iron Hill Brewery & Restaurant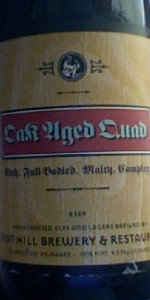 BEER INFO
Brewed by:
Iron Hill Brewery & Restaurant
United States
ironhillbrewery.com
Style:
Quadrupel (Quad)
Alcohol by volume (ABV):
12.50%
Availability:
Rotating
Notes / Commercial Description:
No notes at this time.
Added by akorsak on 10-08-2006
Reviews: 10 | Ratings: 17
4.57
/5
rDev
+12.8%
look: 4 | smell: 4.5 | taste: 5 | feel: 4.5 | overall: 4
Thanks to jkwalking05 for sharing this bottle.
Hands down, this is one of the best beers I have ever tried.
Pours a murky reddish-brown with a minimal white head. The aroma is strong oak with some vanilla, dark fruit and alcohol. The flavor is strong vanilla, oak and dark fruit, almost like a red wine. Medium mouthfeel, but very creamy. Low carbonation. Just an awesome beer.
380 characters
4.55
/5
rDev
+12.3%
look: 4.5 | smell: 4.5 | taste: 4.5 | feel: 5 | overall: 4.5
Brown color with a full forming, long lasting foam. Terrific aroma that showcases an array of barrel elements (bourbon, vanilla, coconut), along with some malt (caramel) and yeast character. Flavor is amazingly complex, with a well integrated barrel character and lots of flavors from the original beer as well. Weighty feel on the palate as well. Simply a damn good brew. I would collect it if it were a little more affordable.
428 characters
4.52
/5
rDev
+11.6%
look: 4 | smell: 4.5 | taste: 4.5 | feel: 5 | overall: 4.5
A wonderful beer that I was finally able to try thanks to the generosity of a wonderfully kind BA. This one was enjoyed throughout the evening and served at cellar temp. Consumed on 12/26/2008.
The pour was very nice. A rich dark brown color, mearly opaque with only the slightest bit of light on the bottom of the glass. Rich tan head of maybe an inch crept up along the sides and settled down nicely into a thin pillow like crown that broke up to nothing as the session wore on.
THe aroma was huge. Lots of malts, caramel, oak, hints of dark fruit and a touch of evil grain like smells. Lots of wood notes in here, had to be one of the oakiest aromas I have come across. Big flavor now as well. Lots of oak, vanilla, hints of raisins and a nice touch of light hops in the finish. One of the best feels I have come across as the carbonation was nearly spot on and the rich velvet like subtle feel was second to none.
Overall a wonderful beer that it was really a pleasure to get ahold of. I would like nothing better then to be able to have this one again any day, really a top quality product here for sure.
1,112 characters
4.35
/5
rDev
+7.4%
look: 4 | smell: 4 | taste: 4.5 | feel: 3.5 | overall: 5
Exceptionally tasty beer in my favourite style. Smell is licorice woody and spicey. Look is blackish, with a ring of head as if just served on tap. Taste is above average mouthfeel of pure heaven - delicious, with some coffee, anise, yeasty, malts, hops. Dangerously drinkable.
277 characters
4.32
/5
rDev
+6.7%
look: 4 | smell: 4.5 | taste: 4.5 | feel: 4 | overall: 4
This quad has been aged in oak barrels.
A: The ale is a brown hazy mix that has a small ring of head.
S: The ale has a buttery nose, more relaxed that a bourbon aged beer.
T: The dominant flavor is a buttery sofness that resembles a chardonnay. The twist here is that the malty strength of the quad manages to shine through the oak notes. The malt is strong and sweet, adding a depth that most barrel-aged beers can't muster.
M: The ale's malt profile and oak aging are very pleasant.
D: The malt is strong, the oak is strong, the flavor is strong. Stick to one glass, you'll enjoy it but it won't destroy you.
630 characters
3.97
/5
rDev
-2%
look: 4 | smell: 4.5 | taste: 4 | feel: 3.5 | overall: 3.5
On tap at KSBF '06...
Appears a hazy, dark brown with a light tan head that slowly fades.
The smell is of resinous plums, raisins, vanilla, oak, and port wine.
The taste was a little harsh and rough around the edges but an overall enjoyable experience with it's complexities.
The mouthfeel is sweet, oaky, and full bodied with a wallop of oak and molasses feel.
Needs time to mellow.
388 characters

3.8
/5
rDev
-6.2%
look: 4 | smell: 4 | taste: 4 | feel: 3 | overall: 3.5
A slightly aggressive pour yields a frothy, initially fat-one-finger thick, amber tinged, tan colored head that sits on top of an amber tinged, very dark brown colored brew. When held up to the light the beer shows a brilliantly clear, jeweled, ruby color. The aroma is clearly oak influenced; a bit like Bourbon with aromas of vanilla, soft butterscotch and a finish that has spicy oak notes as well as a bit of boozy alcohol to it. Competing with the oak character, especially after my nose gets used to it, is noticeable a substantial malt and fermentation character; chewy notes of concentrated plum, brown sugar, toffee and towards the finish notes of toasted biscuits ad whole grain read crust; that last being quite substantial if you dig for it. The aroma is definitely oak influenced as this is the most dominant note, but I like that you can get a sense of the other components too.
Somewhat thick feeling which nicely complements a sweetness that is not too cloying and seems a bit complex. By complex I mean the sweetness incorporates flavors of fruit, caramelized sugar, and grain without being simplistically sweet (like table sugar). The oak character is quite a bit more subdued in the flavor, which is a most welcome surprise, but it is still quite evident, especially towards the finish. The beer ends with a spicy oak character, some tannic woodiness and some alcohol that combines with the oak to provide a bit of Bourbon character. Soft vanillin flavors and light buttery oak combine up front with the malt sweetness. Fruity notes of rum soaked raisins, concentrated plums (but still with some tartness), a touch of fresh jam-like berry notes and even a bit of tart / sweet cherry notes.
At times this beer can taste a bit thin, but a little bit of age should help this out. Age would also add some aged-malt complexity to this brew that is perhaps a bit too simplistic in that department as it is missing the complexity and heft of the best Quads. Don't get me wrong though this is quite a nice a beer. This is one of those brews that proves that at least some American brewers are getting that oak does not have to be overwhelmingly noticeable; oak as only a component of the flavor palette is where it is at.
2,234 characters
3.8
/5
rDev
-6.2%
look: 4 | smell: 4 | taste: 4 | feel: 3 | overall: 3.5
Appearance: Pours a dark brown body with reddish-hued edges and a topped with a thin, fizzy, off-white head.
Smell: Aroma of handcrafted wooden fruits with notes of dark caramel, toasted vanilla, and a whiff of alcohol.
Taste: Lush, vinous fruitiness that's quite sweet. Plums and raisins initially, but then you get some black cherry later on. Dark caramel maltiness. Hint of vanilla. Fairly easy on the oakiness. There's an accretion of tartness and alcohol character as it warms. Sweet finish hampered by thick, syrupy texture.
Mouthfeel: Medium-full body. Medium carbonation. Syrupy mouthfeel.
Drinkability: Fairly nice for a Quad (and an oak-aged on at that), though I'm finding it to be just a hair too sweet.
720 characters

3.76
/5
rDev
-7.2%
look: 3.5 | smell: 5 | taste: 3.5 | feel: 3.5 | overall: 3
750ml bottle from a generous trader.
Pours an opaque mahogany with nary a head to speak of. There are some big bubbles that fade immediately after a vigorous pour. No lacing but some boozy legs on the sides.
Aroma is massive, just massive. Where to start...big sweet malt backbone with lots of candy sugar and dark fruits - figs, raisins, overripe plums. Throw in a hint of lest her and some substantial oak and alcohol and you've got a stunning nose.
Taste is similar but the sweetness is so thick that it really gets cloying. Molasses, brown sugar, caramelized fruits, all just coating the mouth completely. The oak is present but can't find its way though the sweetness much.
The mouthfeel is medium bodied with very little carbonation. It's crazy sweet and cloying on the palate.
Well, the nose on this one is fantastic but the taste and mouthfeel don't quite stack up. Over the top. Sweet with low carbonation, this is certainly not the most drinkable beer. An enjoyable sipper.
988 characters
3.15
/5
rDev
-22.2%
look: 3.5 | smell: 3.5 | taste: 3 | feel: 3 | overall: 3
Pours a hazy brown. Thick with lots of floaties. Smells strongly boozy. Oak and some light vanilla. Raisin up the wazoo. Oxidization. Tastes similar. So so much oxidation. Raisin, booze, harshness. Overall not that good. The mouthfeel is thick but boozy when you swallow.
271 characters
Oak Aged Belgian Quad from Iron Hill Brewery & Restaurant
4.05
out of
5
based on
17
ratings.