Quadrupel
| Iron Hill Brewery & Restaurant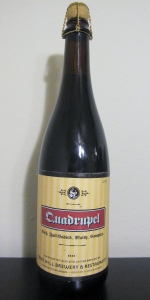 BEER INFO
Brewed by:
Iron Hill Brewery & Restaurant
United States
ironhillbrewery.com
Style:
Quadrupel (Quad)
Alcohol by volume (ABV):
12.50%
Availability:
Rotating
Notes / Commercial Description:
Rich, dark, malty and very complex. Belgian Abbey yeast, dark candi sugar and a huge assortment of specialty malts create layers of complex fruity aromas and a warming finish.
Added by weeare138 on 04-17-2009
Reviews: 9 | Ratings: 25
4.53
/5
rDev
+8.6%
look: 4.75 | smell: 4.25 | taste: 4.75 | feel: 4.25 | overall: 4.5
Poured from a 22oz bottle into pint glass in December 2015. I did not see a date on the bottle but I drank this less than 1 month after purchasing it from the brewery.
Appearance: Deep brown with dark tan head. Beer is not cloudy. Head is thin, and leaves a thin film on the glass.
Smell: Aroma filled with mix of roasted malt, sweet caramel, and some hops. Nice variety and balance.
Taste: There is a nice mix of sweetness from the malt and bite from the hops. There is a little roasted coffee flavor, and I get a nice strong caramel flavors, balanced with a bit of hops. There is a little alcohol bite as well. This was done in a nice combination with the other flavors. There is a nice variety of flavors in the aftertaste too.
Mouthfeel: Full-bodied. Strong alcohol, which confirms the 12.5% on the bottle.
This is a smooth full-bodied Quadrupel, and probably the best Quad I have tasted. It is an interesting combination of flavors, and I would drink this again.
974 characters

4.35
/5
rDev
+4.3%
look: 4 | smell: 4 | taste: 4.5 | feel: 4.5 | overall: 4.5
Thanks, Alex! Poured into Narke tulip.
A - Pours a copper color, white head, thin collar, thin cap.
S - Burnt sugar, toffee, oak, light alcohol booze. A lot of sweetness coming from the nose with well-hidden alcohol. If you like 'em sweet, this is your beer.
T - Dark fruit, burnt sugars, oak. Very sweet, rich, and drinks like a Port. Like I said with the nose, if you like a big level of sweetness, then you'll like this beer. The alcohol is almost nonexistent for 12.5%...impressive.
M - Full, light carbonation, syrupy, sweet candy finish.
O - I really liked this beer, some did not. I enjoyed the sweetness, and it's a sipper for sure. I really enjoy Ports and this kind of reminded me of that. Would def drink again....thanks Alex!
742 characters

3.75
/5
rDev
-10.1%
look: 4 | smell: 4 | taste: 3.5 | feel: 4.5 | overall: 3.5
Rare tick shared by Alex. Thanks!
A - Reddish brown colored beer with a bit of a white head that left some random stick on the sides and a decent ring.
S - There is a lot of candy going on in this one. Sweeter smelling than I would have expected from a quad with focus less on dark fruits and more on cidery ones. Intersting, but not sure how I feel about it.
T - I'm not really a fan of this. Somehow it tastes like chocolate and candy canes to me. That's great if you like sweets like that, but I was hoping for more of a traditional quad taste with the dark fruits, etc. Not that it tastes bad, just not my thing.
M - Soft carbonation, full bodied, little bit of alcohol burn.
O - An alright beer. Alcohol is well hidden, but strange taste and overly sweetness makes it not one of my favorites.
802 characters

4.05
/5
rDev
-2.9%
look: 4 | smell: 4 | taste: 4 | feel: 4.5 | overall: 4
Thanks to Tanger for this one. Someone wrote '07? in the upper right corner of the label - so I guess it's from 2007? Labels lists the Wilmington, DE location. Served in a Glunz taster glass.
A - Thin white foam settles to a partial cap, thin collar, a few spots of lace - good retention even with the lower volume. Transparent dark red-brown-orange color.
S - Candi sugar, molasses, caramel, some apple. It's slightly medicinal, with faint oxidation, and a touch of milled grain. Well-hidden alcohol is appreciated.
T - Slightly medicinal, with a hint of cherry cough syrup. Otherwise it's your typical quad flavors - candi sugar, molasses, dark fruits, candied cherries, slightly phenolic yeast.
M - Low carboantion, full-bodied, sticky texture, and mild alcohol warmth. Pretty much on point for the style.
D - There's a bit too much of the cherry cough syrup flavor than I prefer in my quads, but otherwise this is a very good American attempt on the style. I'd have this again, and I'd be curious to see what a fresh batch tastes like.
1,044 characters

4.3
/5
rDev
+3.1%
look: 4 | smell: 4 | taste: 4.5 | feel: 4 | overall: 4.5
Reviewed from notes. Had 8/8/2011. Purchased from the West Chester, PA location. 750 ml cork and cage bottle poured into a Delerium Noel Snifter...
A - Nice dark, murky burgandy-brown color. Nice carbonation visible. Creamy eggshell white head forms, about a finger thick, with nice retention.
S - Classic Belgian spice with nice dark fruits. Plums, dates, raisins come through nicely. A lot of cherry coming through in the nose adding nicely.
T - Very nicely balanced with all the aforementioned scents coming through in the flavor. Smooth and creamy with a nice sweetness from the fruit flavors and a bit of brown sugar coming through on the back end. Really nicely done.
M - Heavy bodied beer that is thick and slightly chewey. Sweeter beer, but nothing cloying or that takes away from anything.
O - Really a very nice beer. I was not expecting this level of balance in the flavors. Definitely one that I will look forward to trying again sometime.
956 characters

4.05
/5
rDev
-2.9%
look: 4 | smell: 4 | taste: 4 | feel: 4.5 | overall: 4
Wilmington, DE location. Jan. 2011.
Darn good beer. The abv was well hidden, especially behind a somewhat sticky facade. Significant malt profile, and slightly (but not cloyingly so) sweet. Lots of dark fruit in the nose and taste, yet also distinctive grassy malts. Not quite true Belgian as there was mild bitterness, but desipte that, I still enjoyed it! I'd have sampled it all night, in fact, if I wasn't keen to it's destructive power. Worth checking out.
462 characters
5
/5
rDev
+19.9%
look: 5 | smell: 5 | taste: 5 | feel: 5 | overall: 5
Hands down, this is the best beer I have ever had. Every sip (yes, this is a sipping beer) felt like a neatly wrapped present. It had a wonderfully heavy, yet sweet taste that left a nice warmth in your throat. I wish I could have had a gallon of it, but I think that would have precluded me writing this review. If you have the chance to partake of this seasonal, do so without hesitation.
390 characters
4.32
/5
rDev
+3.6%
look: 4 | smell: 4.5 | taste: 4.5 | feel: 4 | overall: 4
Appears a murky, dark brown with a 1 finger, off white head that slowly fades out into a gentle cap and collar. Scattered bits of lacing are left around the glass.
Smell is of rich, caramel syrup, sugary vanilla, ripe fruit, plums, raisins, and a touch of spice.
Taste is of the mentioned aromas with a deep raisin flavor and spicy Belgian yeast dominating the flavors.
Mouthfeel is of a thick, chewy, yeasty, sugary, borderline vinous, port-like flavor lingering on the palate.
481 characters
4.5
/5
rDev
+7.9%
look: 4.5 | smell: 4.5 | taste: 4.5 | feel: 4.5 | overall: 4.5
750 mL bottle. Dark burgundy color with ample creamy foam. Excellent purity in the nose with authentic Belgian aromas of dried cherry, prune and raisins. Flavor is very well balanced, very sweet and complex. Notes of brown sugar, raisins and cherries. Really a terrific beer. Love both the Quad and Oak Aged Quad.
313 characters
Quadrupel from Iron Hill Brewery & Restaurant
4.17
out of
5
based on
25
ratings.