Bayern Doppelbock
| Bayern Brewing, Inc. / Edelweiss Bistro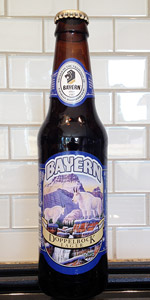 BEER INFO
Brewed by:
Bayern Brewing, Inc. / Edelweiss Bistro
Montana
,
United States
bayernbrewery.com
Style:
Doppelbock
Alcohol by volume (ABV):
8.00%
Availability:
Winter
Notes / Commercial Description:
No notes at this time.
Added by alexgash on 11-13-2004
Reviews: 39 | Ratings: 79

4
/5
rDev
+3.1%
look: 4 | smell: 4 | taste: 4 | feel: 4 | overall: 4
Poured into a pokal at 46 degrees.
Appearance: The beer is a dark copper brown with a one finger head. The head is creamy and off white the head has held for a little bit. There is a lot of effervescence present in the beer. The clarity of the beer is very clear. I am surprised to see that there is lacing on the glass, but it is there.
Nose: A caramel and a sweetness notes with a slight roasting of the malt. There is a slight note of toasted bread.
Taste: A nice complex malt with a toasty and caramel flavors. There is a subtle sweetness in the beer.
Overall: The mouth feel is creamy with some carbonation. The body of the is medium. The finish is nil. I was really surprised by this beer. It is really good. The beer has a really nice flavor and feel. I was thinking that it was going to have a thin watery body, but I was wrong.
842 characters
3.87
/5
rDev
-0.3%
look: 3.5 | smell: 4 | taste: 4 | feel: 4 | overall: 3.5
12oz bottle acquired in trade with kyzr (thanks!).
Poured a medium and hazy brown color with a thin sized off white head. Aromas of chocolate, some toasted nuttiness, and caramel. Tastes of chocolate, some nuts, caramel, and dark fruits. Alcohol content well hidden.
268 characters
3.88
/5
rDev 0%
look: 4 | smell: 3.5 | taste: 4 | feel: 4 | overall: 4
pours a deep dark brown with slight reddish hues and an offwhite head
rich malty aroma, carmel malt, slight apple notes as well
smooth malt followed by caramel, slight fruit on the finish, and slight sugary notes
medium bodied, not too sweet or heavy, reminds me of a belgian brune kinda
smooth, malty without being too sugary, very smooth and enjoyable
357 characters
3.49
/5
rDev
-10.1%
look: 3.75 | smell: 3.5 | taste: 3.5 | feel: 3.25 | overall: 3.5
Bayern Doppelbock is a decent representation of the style, not spectacular like Ayinger Celebrator but a good accessible beer especially here in Montana. I'm not sure why any Micros here in the US have not come close in this style to Celebrator. This one is above average though.
This beer pours very dark, head is average with little lacing. Carbonation is almost non existent. Smell is not pronounced, but there is a hint of cherry. Mouthful is pleasant and light. Taste is smooth and silky good in my opinion. Drinkability is pretty low due to the very evident alcohol bite to it which detracts from the overall experience.
If you see it at your local store pick a 6er up and try it.
688 characters
4.27
/5
rDev
+10.1%
look: 3.5 | smell: 4 | taste: 4.5 | feel: 4 | overall: 4.5
Pours a raisin brown with ruby and garnet hues up to the light. A fairly thin one-finger cream colored head of syrupy bubbles fades pretty quickly leaving behind a thin ring of bubbles without much noticeable lacing.
aroma is subtle, with light malts, vanilla and confectioners sugar. hints of raisin and spice... cinnamon and cloves?
The first sip is overly malty sweet, sugary, and maple. Once my palette adjusts, this brew opens up into a fairly complex expanse. Sweet rich malt with a fruity apricot, date, and raisin. woody oaky and rum notes mixed with a hint of smokiness... finishes with a smooth sweetness and a definite spice - pepper, clove and cinnamon. Interesting.
mouthfeel is full and slightly syrupy with a bit of vibrant carbonation that prickles the tongue and brings out the spices in the brew.
Every winter, I look forward to this one. It's definitely sweet, and if not in the right mood, could be slightly cloying. But it's richness and complexity is beautiful. All of the flavors blend nicely, yet remain distinct enough to be interesting and full. Not a bad iteration of a dopplebock. Very quaffable for an 8% brew... definitely worth a shot.
1,171 characters

3.23
/5
rDev
-16.8%
look: 3.5 | smell: 3 | taste: 3 | feel: 4 | overall: 3.5
A: a hearty brown color with red at the rim and base of the glass. Soapy-oiled reflection in the weak foamy head and a thin trace of lace
S: very sweet raisins and malts, and wet paper
T: malt heavy, cinnamon, light raisins and figs paired with a good chunk of caramel sweets. Somewhat of a festive beer according to the label, seems different for a doppelbock style, not really digging it. Alcohol notes showing through in and about the halfway mark
M: lingering fruit astringency and clove. Body is the best feature about this one, smooth/creamy and mild feel
D: as far as the flavor is concerned it is a bit to sweet at times and redundant. I was hoping for more hops, not really any that I picked up on. I thought it said that it was brewed with a few hops...if so, they take the backseat in this one. It is a doppelbock after all...
841 characters

3.57
/5
rDev
-8%
look: 3 | smell: 3.5 | taste: 3.5 | feel: 3.5 | overall: 4
Thanks to howl1309 for sharing. Poured brown with red highlights. Some light penetration when backlit; no head or lacing. Nose is dark fruit (raisins and prunes) and molasses. Taste follows nose, but flavors are somewhat subdued for the style. Mouthfeel is light-bodied with an even amount of background carbonation; no burn, just a presence. Easy drinking with a subdued flavor profile, which makes it easy drinking and less cloying.
434 characters
3.2
/5
rDev
-17.5%
look: 3.5 | smell: 3.5 | taste: 3 | feel: 2.5 | overall: 3.5
From Ashand, Oregon this poured dark ruby with a tiny brown head and little lacing. Nose was mostly of sweet malts. Thin body and mouthfeel nothing like it looks. Flavor is sweet and there are fruits in the finish. Overall the flavor is not bad, not good. I am not very expert on the type so don't know how to compare it on that basis, but I note below others thought a lot more of this than I did.
399 characters
3.65
/5
rDev
-5.9%
look: 4 | smell: 4 | taste: 3.5 | feel: 3.5 | overall: 3.5
12oz bottle from weefisheads via trade. Thanks for the opportunity.
Poured into an imperial pint glass, formed a 1/4" tan head above the translucent dark reddish brown brew. Head quickly fades down to an uneven layer of bubbles, with very nice lacing. Aroma is heavily sweet and vinous, enough to almost remind me of Samichlaus and Sam Triple Bock, but let's hope it's not that intense. Taste is dark malt sweetness, coupled with an anise character. Mouthfeel and drinkability are pretty good, but this one just goes a bit past dbock for me.
545 characters
4.35
/5
rDev
+12.1%
look: 4.5 | smell: 4.5 | taste: 4 | feel: 5 | overall: 4.5
A personal winter favorite. Because its run had ended at Bayern, it was poured from a bottle into a pint glass about 15 minutes after I landed in Missoula.
It rose with a tight, slightly tan head and was aromatic from the start. Garnett colored with a rich smell similar to how it tastes. If there's such a thing as "roasted fruit" then that describes its taste; a semi-sweetness over top of a rich malt and caramel flavor. Full-bodied with a taste that really holds up through-out.
It has a high alcohol content, but for a morning of icefishing, nothing tastes better. A true treat that I look forward to all year long.
627 characters
3.92
/5
rDev
+1%
look: 3.5 | smell: 4 | taste: 4 | feel: 3.5 | overall: 4
Pours a deep brown with ruby highlights when held up to the light. Creamy tan head is about 1/2 inch thick and dissipates rather quickly. Very sweet aroma of caramelized malt, dark fruit (prunes), and molasses. Palate is again full of dark sweet malt, with dark fruit (fig, prune), and molasses. Body is a little bit thinner than I would like in a strong doppelbock, but still conveys the flavors quite well. Significant alcohol presence is evident on the finish. By the time you get to the bottom of the glass, it is apparent that this is not a session beer (beware the sneaker effects of an 8% beer). Nevertheless, nice and tasty and a good domestic take on a doppelbock.
673 characters

3.83
/5
rDev
-1.3%
look: 4 | smell: 3.5 | taste: 4 | feel: 3.5 | overall: 4
12 oz bottle pours very dark brown with thin off white head that dissapears quickly. Aroma is sweet and toasted malt with a hint of alchohol. Full mouthfeel with no noticable alchohol warming as the aroma hinted at, a bit wet with no noticable carbonation. Taste is sweet maltyness with some toasted grain flavor and just a hint of chocolate, if anything it could be a bit too sweet. Pretty nice overall, very drinkable with great matly flavor.
444 characters
3.92
/5
rDev
+1%
look: 3.5 | smell: 4 | taste: 4 | feel: 3.5 | overall: 4
12oz bottle purchased at Daanen's in Hayden, ID for $2.50 (screwy ass prices there). "Best before March, 2005." Oops.
Poured a very dark garnet color, with a brief, off-white head. Wispy foam collar and slight lacing.
Smell was quite nice. There were dark fruits like plums and raisins in the scent, along with notes of oaky red wine and brown sugar.
Taste measured up to the smell. It starts with sweetly malty taste with notes of caramel and brown sugar, then the fruity bitter taste comes in to balance the sweetness. Not the best tasting doppelbock I've had, but it's pretty good.
Not quite as thick as most doppels I've had, but not wimpy either. It could use a little more body, but it's not a life threatening emergency by any means.
This is a nice tasty domestic doppelbock. It's not fantastic, but its nice. The main complaint is the price. It makes me wonder if there is some odd Idaho bottled beer tax at work that ups the price. If it were available in Spokane and for the usual regional micro prices, I'd buy this regularly.
1,052 characters

4.5
/5
rDev
+16%
look: 4.5 | smell: 4.5 | taste: 4.5 | feel: 4.5 | overall: 4.5
Very dark garnet-brown with a small, tight, light tan head.
Nose is rich, rummy malts, leathery plums, sugary-tangy grapes--almost vinous--with light alcohol notes. Delicious. Taste starts out very nice. Rummy, with ripe fruit skins (grape, apple, plum). Perfectly sweet. Rich, caramelly, malty base is exposed in the middle. Lightly roasted notes, and a spicy, vegetal hop bitterness take it gracefully into the finish. Finish is long, bittersweet, and warming. Good balance. Big-bodied. Good carbonation. Creamy feel on the palate with a syrupy finish. One of the better doppelbocks I've had.
596 characters
Bayern Doppelbock from Bayern Brewing, Inc. / Edelweiss Bistro
3.88
out of
5
based on
79
ratings.