Dismiss Notice
Dismiss Notice
Bayern Groomer
| Bayern Brewing, Inc.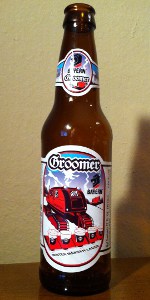 BEER INFO
Brewed by:
Bayern Brewing, Inc.
Montana
,
United States
|
website
Style:
Märzen / Oktoberfest
Alcohol by volume (ABV):
5.30%
Availability:
Winter
Notes / Commercial Description:
No notes at this time.
Added by flagmantho on 01-22-2013
Reviews: 8 | Ratings: 28

3.19
/5
rDev
-13.8%
look: 3.25 | smell: 3 | taste: 3.25 | feel: 3.25 | overall: 3.25
Poured from a standard pressure-cap 12oz bottle into a shaker pint glass in high elevation Libby, Mont. Reviewed live. Best-by May 2013.
A- One finger cream colored head with moderate retention. Walnut body with some light coming through. High clarity, medium darkness. Some sticky lacing.
S- Nutty, chocolate, actually a little grassy. Not the most appealing aroma.
T- Malty, nutty, spicy. Has the right flavor and consistency for a Marzen, but is missing that punch.
M- Smooth and wet finish.
O- Certainly not bad, above average for the style. However, another Montana brewery, Great Northern, makes a vastly superior Marzen to this one. That being said, drinking a sixer of this would not be a chore.
★
711 characters

3.52
/5
rDev
-4.9%
look: 3.25 | smell: 3.75 | taste: 3.5 | feel: 3.25 | overall: 3.5
Poured from bottle into a pint glass
Appearance – The beer pours a reddish brown/mahogany color with a nice two finger head of tan colored foam. The head has a moderate level of retention, slowly fading over time to leave a great level of foamy lace on the sides of the glass.
Smell – The aroma is mainly of sweeter caramel and molasses mixed with some notes of a roasted malt. Along with these smells are some lighter aromas of a darker fruit nature of plum with some other lighter notes of a grass and nut.
Taste – The taste begins much less sweet then would have been anticipated form the nose. The flavor begins with a moderately roasted malt taste along with a light molasses flavor with some notes of coffee. Right from the start there is a bit of an earthy and grainy taste with these creating a base flavor for the brew. As the taste moves forward, some darker fruit flavors of plum and red grape come to the tongue, but these remain quite light. A little bit of a bitter walnut taste comes to the flavor at the very end, leaving one with a dark and slightly more bitter roasted flavor to linger on the tongue.
Mouthfeel – The body of the beer on the average side in both its thickness as well as its carbonation. For the darker flavors of the brew a little more thickness may have been slightly better, but overall the feel was pretty good.
Overall – A decent roasted and slightly more bitter but somewhat still easy drinking marzen. Overall a pretty decent brew and not a bad one to try for yourself to see if it suits your style.
★
1,562 characters

3.59
/5
rDev
-3%
look: 3.5 | smell: 3.75 | taste: 3.5 | feel: 3.75 | overall: 3.5
Served from a 12 ounce bottle into a standard pint glass. The freshness date is June 2013 (reviewed in late April). The grooming machine depicted on the label honors the Snowbowl ski hill near Missoula, Montana. Color is a medium reddish-brown. An aggressive pour yields a 1/4 inch head that quickly reduces to 1/8 inch and sticks to the glass. The foam covers all but an oblong area of deep brown, which reminds me of pond ice breaking up on a late Spring day in bog country.
I have a poor sense of smell, but I definitely detect some caramel from a long-simmering wort, with barely a whiff of earthy hops. The taste is caramel-malt, with perhaps some bruised apple or mincemeat pie. The mouthfeel is light and fairly refreshing, with some pleasant burpiness in the nose.
I drink alot of this brewery's beer because it's pretty darn good and pretty darn cheap, especially when the stores decide they have to unload their "winter" beers.
★
939 characters
3.61
/5
rDev
-2.4%
look: 4 | smell: 3 | taste: 3.75 | feel: 4 | overall: 3.75
picked up in a random mixer pack on a trip to Montana
A - clear dark mahogany brown, thumb of tan head retained very nicely with consistent lacing as it receded to an eventual thin cover
S - starts with a sour and adjunct type aroma, some mineral bloodl ike sweetness, but something doesn't quite jive in this aspect
T - solid sweet molasses and blood like metallic flavours up front, somewhat earthy with a nutty background
M - medium body and carbonation, somewhat sweet with a prominent minerally finish
O - a nice take on a marzen, definitely has the dunkel type qualities that I love in festbiers, definitely pleased this was in the mixer
★
643 characters

3.72
/5
rDev
+0.5%
look: 4.25 | smell: 4 | taste: 3.5 | feel: 3.5 | overall: 3.75
Mostly clear, dark brown with ruby, copper, and caramel hues. Medium retaining head is a muted light, grayish brown. Fine, sweet, robust malty aroma of bread, caramel, and perhaps the faintest note of alcohol. Grain and caramel up front, then tartness (as others have said, cherries, when combined with caramel) and roastiness (more meat or nuts than coffee, in my opinion) come through, with gentle, hoppy finish. Slight warming quality goes well with bready/toasty aftertaste, hops subsiding. Equal parts smooth and crisp, medium in both body and carbonation.
★
561 characters
3.75
/5
rDev
+1.4%
look: 3.75 | smell: 3.75 | taste: 3.75 | feel: 3.75 | overall: 3.75
every time i have a beer from these guys i gain a new respect for them. authentic inspiration, new world innovation, and this fits that real well. marzen lager, we are thinking autumn, we are thinking oktoberfest, but no, a pinch of specialty dark malt (i assume) goes in, and bam, it becomes this really deep and tasty winter lager, similar to the oktoberfest style, but beefed up for colder weather. i love the dark malt addition, really appreciate its contribution to all aspects of this. i also love that i can taste the yeast, this is rustic german type, not overly purified or refined or anything, patiently brewed not hastily manufactured, and it really shows. enough body for the season too despite the low abv, it works on many levels. nothing else really like this going out there either. appreciably drier than the fall versions we are used to, i could drink a sixer without an issue. it doesnt always take pickles and carrots and chili peppers and boutique spirit barrels to make a beer an original recipe, and this is a great testament to that. really solid seasonal from one of my favorite operations in montana.
★
1,126 characters

3.94
/5
rDev
+6.5%
look: 4 | smell: 3.75 | taste: 4 | feel: 4 | overall: 4
Poured from 12oz bottle into a pint glass. The label calls this a "winter Märzen lager".
Appearance: very dark brown hue with a light haze and a strong effervescence. Head is a thick finger of frothy tan foam. Probably the darkest Märzen I've ever seen, but still it's pretty attractive.
Smell: lightly sweet caramel aroma with a hint of toasted malt and a light aroma of earthy hops. Not bad; it comes together pretty well!
Taste: sweet malty flavor with a little bit of caramel and a little bit of chocolate malt, it seems. Toasty and biscuity flavors, while often present in other beers of the style, are welcomingly absent here. I actually rather like this brew.
Mouthfeel: lightish body with a good level of carbonation and a surprisingly good creaminess. I can dig it!
Overall: this beer may be a little sweet for some, but I happen to quite like it. It's got a good dash of chocolate to it which really works for me.
★
930 characters
3.99
/5
rDev
+7.8%
look: 4.25 | smell: 4 | taste: 4 | feel: 3.75 | overall: 4
Nice malty aroma with a balanced, low hops influence. Pours a rich medium dark brown with an excellent, foamy head that retains well. Above average carbonation. Reasonable bite (most marzen/octoberfest style beers are not overly tangy).. Good marzen style malt flavoring. A lighter impact on the palate means that I could drink a few of these at a single setting without getting bloated. A good beer of this style that I will definitely have again.
★
454 characters
Bayern Groomer from Bayern Brewing, Inc.
-
out of
100
based on
8
ratings.