Bayern Bakken Bock
| Bayern Brewing, Inc.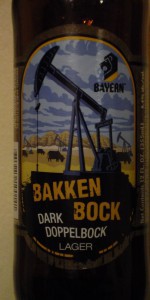 BEER INFO
Brewed by:
Bayern Brewing, Inc.
Montana
,
United States
bayernbrewery.com
Style:
Doppelbock
Alcohol by volume (ABV):
8.40%
Availability:
Rotating
Notes / Commercial Description:
No notes at this time.
Added by GeezLynn on 02-21-2013
Reviews: 5 | Ratings: 17

3.84
/5
rDev
-6.8%
look: 3.75 | smell: 4 | taste: 3.75 | feel: 4 | overall: 3.75
Bottle BB Dec 15 at 42 degrees into snifter
From a trade with @JayWhitson
Aroma of roasted malt, lasts entire glass
Head small (< two cm, aggressive pour), light brown, doesn't survive the pour, into a frothy ring and no layer
Lacing – none
Body dark brown/black, opaque, effervescent
Flavor of roasted malt, slightly sweet; no hops, no alcohol, no diacetyl
Palate medium, creamy, lively carbonation
Appearance 3.75, Aroma 4, Flavor 3.75, Palate 4, Overall 3.75
★
466 characters

3.97
/5
rDev
-3.6%
look: 3 | smell: 4 | taste: 4.25 | feel: 3.75 | overall: 3.75
I obtained a few bottles of this beer at a benefit auction for the Montana Archaeological Society in Lewistown, Montana. Apparently it has a restricted distribution, as I have not seen it in my town (Butte, America}. As another reviewer pointed out, the beer name honors the Bakken oil boom of eastern Montana and western North Dakota. I hope it doesn't ruin all those little towns with the oh-so-friendly locals (at least they once were!)
Served from a 12 ounce bottle with a label depicting an oil well in the foreground, with other oil wells, cattle, and a badlands landscape in the background, and the royal Bayern lion in the upper right hand corner. Freshness date of May 2013 (reviewed April 16).
Appearance: Pale reddish-brown with a 1/8 inch head that dissipates quickly. A bit of lacing sticking to the glass, with swirls in the center reminiscent of the crab nebula. Spinning, frolicking bubbles rising to the top, where they explode into the confined airspace at the top of the glass and straight into the nose.
Smell: I have a poor sense of smell, but I can smell this one just fine. There's a bit of an herbal sour smell that reminds me of a Belgian ale, and maybe some molasses. Hops are barely noticeable.
Taste: another delicious malt bomb from this brewery. Every sip tastes slightly different.
Overall, I would say that I detect perhaps some molasses, fruitiness somewhat like a wild plum, and raisins. The hops are in the background, which I generally prefer. Some spiciness and pleasant warming from the alcohol.
Mouthfeel: Crisp, and producing delicious burps that waft into the nose.
The more Bayern beer I drink, the better I like it. I first sampled their beer in the 80s, and it was quite a treat, I can tell you. When they first bottled it, I was a bit disappointed, because I was expecting it to be like the in-house draft and some of it was perhaps a bit flat (?), but I've been appreciating it more and more lately. Bayern beer is brewed by a genuine brewmeister from Bavaria, who strictly observes the Reinheitsgebot, and they make the best lagers around.
★
2,095 characters

4.17
/5
rDev
+1.2%
look: 3.5 | smell: 4 | taste: 4.25 | feel: 4 | overall: 4.5
In honor of the Bakken Oil Formation, a geological boon that in many ways has brought the Wild West back to MT and western NoDak.
Apparently this is only being sold between Billings and Sidney. Wondering if this may be a slight adjustment of their standard doppelbock (have not had in years). Either way, it's another example of great label art by Bayern.
A: Dark brown with the slightest red hue. No head.
S: Sweet, very malty, prominent lager yeast and raisin/fig-like fruityness.
T: Initially, flavor is heavy on roasted malt and coffee flavors, followed by mild chocolate and bready contributions. There's also bit of raisin, and a smooth bitterness that balances the malt very well. Finish is long and roasty.
M: Medium bodied, definitely dense for a lager, with moderate carbonation.
Burly and robust, but not at all harsh. Good stuff. In fact, I do need more!
To dark liquids, man-camps (not-so-much), mayhem, and budget surpluses.
★
947 characters
4.28
/5
rDev
+3.9%
look: 4 | smell: 4 | taste: 4.5 | feel: 4.25 | overall: 4.25
Dark brown body topped with a one-finger thick head; white and creamy. Malted milk balls, baker's chocolate, hint of coffee make up the aroma; roasted grain. The taste explodes the hints of the aroma; deeper chocolate flavors; smooth mocha; soothing hop bitterness to cut the sugary edge. Medium-heavy body; semi-sweet finish; smooth and buttery feel.
A doppel bock masquerading as a milk stout! Amazing richness and character ooze from all points. Smooth and chewy with a beautiful subtle sweetness and amazing dark malt headiness. The high ABV doesn't even make itself known as the malt and hops do all the tasteful talking. Simply amazing!
★
643 characters

4.55
/5
rDev
+10.4%
look: 4 | smell: 4.5 | taste: 4.75 | feel: 4.25 | overall: 4.5
Ruby red in colour Bayern is by far the best brewery in Montana and their mastery of malt is amazing. Malt daisy cutter Germanic heroes blasting malt riffs while hops double bass holds the rhythm. One of the best beers you can find in eastern Montana.
★
251 characters
Bayern Bakken Bock from Bayern Brewing, Inc.
4.12
out of
5
based on
17
ratings.