Innstadt Neues Helles
| Innstadt Brauerei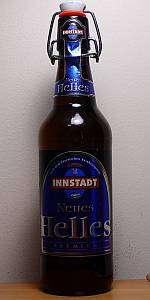 BEER INFO
Brewed by:
Innstadt Brauerei
Germany
innstadt-brauerei.de
Style:
Munich Helles Lager
Alcohol by volume (ABV):
5.00%
Availability:
Year-round
Notes / Commercial Description:
No notes at this time.
Added by Globetrotter on 05-08-2006
Reviews: 15 | Ratings: 33

3.15
/5
rDev
-20.7%
look: 3.5 | smell: 3.5 | taste: 3 | feel: 3 | overall: 3
Straw yellow body with a big white head. Mellow, grainy aroma with hints of honey. Light malt, honey, hints of lemon and a mild floral hops. Watery, smooth feel with a short finish. Not much here, no real flavor. I can appreciate a good, lighter lager, but this is just way too soft. On the bright side, I bet you could serve this to a lifelong Bud drinker and have a decent chance of turning him onto craft beer...until you tell him the price.
★
444 characters

3.48
/5
rDev
-12.3%
look: 4 | smell: 3.5 | taste: 3.5 | feel: 3 | overall: 3.5
Draft at Gourmet Haus Staudt in Redwood City, CA.
Served in a 1/2 liter mug, this beer is golden and clear, topped with two fingers of thick head that retains nicely. The aroma brings to mind fresh bread, honey and pale malt. There's a hint of buttery diacetyl in there as well, but it's not overwhelming. The taste is similarly malt-forward, a touch sweet for the style but not unpleasantly so. Very soft on the palate with pronounced grainy sweetness and a hint of stonefruit and honey. The mouthfeel is a bit slick and buttery, and the finish is lacking the crisp dryness I look for in the style. Not a bad beer, but fairly underwhelming.
★
642 characters
3.48
/5
rDev
-12.3%
look: 4 | smell: 3.5 | taste: 3.5 | feel: 3 | overall: 3.5
Golden maize with a perfectly pristine interior. A standard pour has produced half a glass full of manila colored foam that is deflating in its own sweet time. A wonderful array of patchy lace is visible in the end. Let's hope the beer tastes as Neues (new) as it looks Helles (bright).
The nose features malted grain with a helping hand from herbal-musky European hops. Although it represents the style pretty well, I'm not tempted to do handstands and cartwheels. Maybe the flavor will be more hoppy than the nose.
Neues Helles is pretty good beer, but it isn't among the world's best Munich helles lagers. Beer of this sort should be brighter and more crisp. I'm reminded of an American all-malt lager more than anything else.
This Innstadt Brauerei brew is slightly more sweet than bitter. Lightly sugar-crusted grain dominates. The second half of each mouthful is where the hops are most noticeable, but they still don't assert themselves as much as they should. As is the case with most Euro beer, the date code doesn't tell me a thing about how fresh or how old this bottle is.
The mouthfeel is on the medium-full side for the style and is a bit lacking in bubbles. More carbonation might have helped convey the sense of brightness that is lacking in the flavor profile.
Innstadt Neues Helles is of roughly the same quality as Passauer Weisse and Innstadt Bock Weisse. That is, it's slightly better than average, but doesn't even sniff special. If you're a helles geek, dive right in. If not, you might want to wait for a bigger and better wave.
★
1,557 characters

3.68
/5
rDev
-7.3%
look: 4 | smell: 3.5 | taste: 3.5 | feel: 4 | overall: 4
Thanks to the GHS crew for bringing this one down to share after the Bruery event.
A: The pour is a clear golden color with a nice big white head.
S: Starts off with a bit of corn, followed by floral and grassy hops. There are some nice pale, cracker-like malt aromas as well. Pretty simple and straight forward.
T: The hops are pretty evident on the flavor and are quite grassy and floral. The corn is again there, but a pretty solid showing of the pale/cracker malts, too.
M: The body is light to medium with a moderate level of carbonation.
D: A simple and straightforward Helles. Easy to drink, for certain, but not super flavorful, unfortunately.
★
656 characters
3.74
/5
rDev
-5.8%
look: 3.25 | smell: 3.5 | taste: 3.75 | feel: 4 | overall: 4
A - Clear, golden color with a one-finger, white head of bubbly foam. It left very little lacing on the glass.
S - It smelled fruity and sweet with some floral notes.
T - Good caramel flavor with a fruity sweetness. A touch of spiciness.
M - Crisp, sharp and smooth. A light bodied lager with a clean finish.
O - This is a pretty tasty Munich Helles Lager.
★
360 characters

3.88
/5
rDev
-2.3%
look: 4 | smell: 3.5 | taste: 4 | feel: 4 | overall: 4
Poured from 500mL swing-top bottle into a pint glass.
Appearance: nice golden color with a light cloudiness and a good effervescence. Head is a thick finger of pillowy, fizzy ivory foam. Nice.
Smell: sweet, malty aroma with a somewhat dank, fruity character. I like it.
Taste: malty with more of that dankish fruitiness. This is definitely a full-flavored beer. I find that it is growing on me.
Mouthfeel: medium body with a good level of carbonation and concomitant creaminess.
Overall: a very interestingly-flavored beer, this guy is clearly crafted to a specific taste. And I happen to have that taste, apparently.
★
622 characters
4.05
/5
rDev
+2%
look: 4 | smell: 4 | taste: 4 | feel: 3.5 | overall: 4.5
Chilled and served in a tall slender mug with the Innstadt logo. Glass of cold water on the side to sip from periodically. Know more about this beer, think "honey."
Appearance: As the beer is poured out of the 500mil bottle it is a honey gold color with a slight haze. The 1" thick head soon recedes to leave a small ring around the glass with some modest lacing when sipping.
Smell: The aroma is soft and sweet and the pale malts remind me of honey as much as they do malt. There are a few floral notes but the dominant aroma is honey-like.
Taste: The flavor matches the aroma and begins in nice pale malt sweetness. The hops are present and show up about midway through a sip, keeping the flavor from cloying by balancing the sweetness.
Mouthfeel: The mouthfeel is medium bodied and the carbonation remains prickly and noticeable through out the whole beer. The finish is medium long and begins with sweetness. Before long a hop "backbone" emerges and then the finish fades into a dry herbal bitterness that gradually just fades away.
Drinkability: This is a pleasant, fresh tasting helles lager and I could probably sit and drink them one after another all day. If I were in Passau Germany, where this beer is brewed, I'd be happy to drink more, but given local alternatives that are as good or better I won't go out of my way to find this one again.
★
1,358 characters
4.1
/5
rDev
+3.3%
look: 4 | smell: 4 | taste: 4 | feel: 4 | overall: 4.5
500 ml flip-top picked up at Tres Bonne Cuisine last weekend for about $4.50.. expensive? Yes... New? Yes... Poured into my small weizen glass.
2 finger head looks like an egg shell pillow.. dies back with some nice lace and constant cap.. the brew is crystal clear lite honey.
Nose is pretty much spot on... Really, how many different ways can we describe a well made Helles? grainy with a lite spicy hoppiness... very clean.. well made.
The flavor is again... perfect for the style.. malty pils malt.. very clean.. the body is pretty much perfect.. Very nice and hugely drinkable.
I'm running out of adjectives for the great German brews.. Christ, they've been doing it for hundreds of years.. and this is no exception.... I've brewed a bunch of Helle's over the years.. and I wish I could come close to this...
Give this to any BMC drinker.. they will say it has alot more flavor and aroma.. and then come to our side... but it was pretty damn expensive. :-)
*** Got another bottle today 9/6/9****
I am loving this.. It is just so much more fresh than the typical German lagers that take way too much time to make it to the states.... Very very clean and a great drinkability that is begging me to finally make the trip to Germany.
★
1,242 characters

4.15
/5
rDev
+4.5%
look: 4.5 | smell: 4.5 | taste: 4 | feel: 4 | overall: 4
Clear yellow lager with a great white head. Picture perfect.
Little sweet smelling and stoutly hoppy to the nose. Grassy and herbal to the nose with a spicy scent of raw tobacco leaf. Raw grain husk scent, yeast and bread round out the scent.
Starts out malty for a lager with a dry herbal hop finish. Quickly becomes a dryer lager than the first taste suggests. Hops aren't in the mouth quite what they were in the nose of this one. Having said that, this is a good lager, just not as outstanding as it smelled.
Mouthfeel is good.
Nice drinkable lager that I can see having again. Near world class but not quite.
★
617 characters
4.22
/5
rDev
+6.3%
look: 4 | smell: 4.5 | taste: 4 | feel: 4 | overall: 4.5
Found in a Moscow supermarket, this brown half-liter bottle carries a swing-top and a blue and silver label bearing little more than words. Purity law applies, of course. Best before 11/14/06, I opened it on 5/8/06 (Happy Western V-E Day!).
Pours a solid clear gold under an impressive 2.5 finger white head that displays some good contour while receding slowly but steadily to film and collar, leaving numerous perfectly vertical lace strings on the glass. The nose is full of sweet barley, enticingly inviting. The mouth is well-carbonated and fairly heavy, leaving a nice coating on the tongue. This is a good helles: lots of bready malt, neither too sweet nor too fruity. The hops are also there in the right proportion, dry and refreshing, leaving a bit of a bitter bite in the finish. The classic summer quaffer, ideal for the Biergarten.
★
847 characters
4.23
/5
rDev
+6.5%
look: 4.5 | smell: 4 | taste: 4.5 | feel: 4 | overall: 4
Straw colored with a dense white rocky head.
Great aroma filled with grainy pils malt and light grain. A little honey in the finish.
Malty sweet. Little to no bitterness. Clean and crisp.
This is a great session beer. I would like to say this is a good beer for accompanying a burger or some pizza, but it is really delicate and could easily be overpowered. Great for a warm summer day after spending the last hour mowing with a push mower...
Music enjoyed whilst sampling: Ma and Pa by Fishbone
★
500 characters
4.32
/5
rDev
+8.8%
look: 3.75 | smell: 4.25 | taste: 4.5 | feel: 3.75 | overall: 4.5
Innstadt Neues Helles
On tap at Bridgewater's Pub, Philadelphia (18 oz. / $6)
I can only assume that the glasses here at Bridgewater's Pub are not "beer clean" as the bright white head atop my beer steadily drops, and then leaves only average lacing behind. It's a quality German beer, so I've got to give it the benefit of the doubt. And it's got a proper carbonation.. Tiny bubbles can be seen streaming steadily upwards through the crystal-clear golden body.
The aroma is grassy and softly bready, like a combination of fine Pilsner and Munich malts. The Pils malt, of course, dominates. There are hops present but they're not particularly recognizable, they're just what you'd call "noble hops". And, there's some fruitiness to it (apple, white grape).
In the mouth it offers a medium body with a standard carbonation.
The flavor is as the aroma suggests. It has a very nice malt and fruit balance with a solid hop underlay and firm bitterness. It's impeccable in its balance, and it's nicely rounded in character. The malt has a richness to it, and yet it's not overdone. There's only as much malt as there should be. The same could be said for the hops. Obviously, high quality ingredients make a difference.
Overall it's quite impressive. Stylistically it's hard to fault unless you want to knock it for the fruitiness, which I don't believe is coming from the yeast. The malt dominates as it should, supported by the underlying hops, and with just the right amount of bitterness - a perfect Munich helles! Worth trying.
★
1,532 characters
4.37
/5
rDev
+10.1%
look: 4.5 | smell: 5 | taste: 4 | feel: 4 | overall: 4.5
Smells very good, probably the best beer-smell I can remember since long time ago.
A little salty for the overall taste... an I think is better to serve not too cold.
I really recommend this beer as number one choice for a moderate budget avg $4 per bottle.
1 to 10, I say 8!
★
278 characters

4.47
/5
rDev
+12.6%
look: 4 | smell: 4.5 | taste: 4.5 | feel: 3.5 | overall: 5
Looks to be a 17 ounce bottle into my Atlas 4-leaved clover Good-Luck jar.
A: Huge whole hand of head thats laces all up and down my jar then goes down to a thin collar and nice dollop of foam in the middle. Nice golden hue.
S: Clover-honey and hay.
T: Super refreshing one gets the flavor of the nectar from a clover top with grassy mild malts. Very nice reminds me a bit of my favorite: Landbier. Nice dry grassy finish. Perfectly balanced beer.
M: Light to medium-light bodied. Maybe the slightest bit watery, but nothing to complain about. Nice feel to this one. Crisp and refreshing.
D: Roll in a couple of kegs and lets roast a large animal... whee ist summertimes
★
675 characters
4.55
/5
rDev
+14.6%
look: 5 | smell: 5 | taste: 4 | feel: 4.5 | overall: 5
Before I begin, After all the years of trying many upon many beers from all over the world, I've never experienced a bad or unpleasant beer from Germany. It had a beautifull honey/wheat foam pleasant to the sences. Medium-bodied mouthfeel. It's taste was rich and aromatic with a rustic malty complex taste and somewhat earthy feel. Loved It!
★
342 characters
Innstadt Neues Helles from Innstadt Brauerei
3.97
out of
5
based on
33
ratings.