Innstadt Original-Hell
| Innstadt Brauerei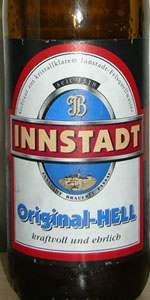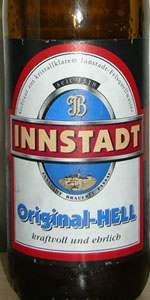 BEER INFO
Brewed by:
Innstadt Brauerei
Germany
innstadt-brauerei.de
Style:
Munich Helles Lager
Alcohol by volume (ABV):
4.90%
Availability:
Year-round
Notes / Commercial Description:
No notes at this time.
Added by TheQuietMan22 on 05-24-2012
HISTOGRAM
Ratings: 10 | Reviews: 6
Reviews by tone77:
3.59
/5
rDev
-6%
look: 4 | smell: 3.75 | taste: 3.5 | feel: 3.5 | overall: 3.5
Poured from a brown 16.9 oz. bottle. Has a golden color with a 1/2 inch head. Smell is malty, some sweetness. Taste is crisp, sweet, malty, grains, easy drinking and enjoyable. Feels medium bodied in the mouth and would probably be great on a hot, summer day.
259 characters
More User Reviews:
4
/5
rDev
+4.7%
look: 4 | smell: 4 | taste: 4 | feel: 4 | overall: 4
L: Pours brilliant gold under a clingy 2" white cap.
S: Light grain, Pilsner malt nose. Very faint sulfur.
T: Slight sweetness, grain and pils malts, low hop bitterness, finish and aftertaste are malty
F: Very crisp but there is some creaminess to mellow it out. Medium body, medium carbonation, carbonation has a bit of a bite.
O: An easy to drink, refreshing Munich Helles Lager.
387 characters
3.66
/5
rDev
-4.2%
look: 4.25 | smell: 3.75 | taste: 3.5 | feel: 4 | overall: 3.5
Poured from the bottle into a pilsner style glass.
Real looker. A bit hazy and cloudy partially with a super brass light lemon shiny color. Supper slow rising carbonation mixed with some long glowing rising carbonation. The head forms with wonderful pin head and bright white color. It's tall, large and foamy with a good sized cap and leaves a nice dolloped whipped cream appearance with ring lacing. Real impressive.
Nice light doughy malts, but some sweetbread like sweetness to match. White sugar. A little bit of a spicy herbal hop bent but also tuned down a bit with the sweet malt profile dominating. Has some sticky doppel like character to it as well. Pretty good.
Palate hits with a nice thick malt feel. Good mix of light sugars and sticky quality but with a nice grass herbal hop bent. Subdued and tamed though, with a good feel and sticky coating. The palate flavors don't last though, which is odd since the beer has a good coating effect that seems to get into every crevice of your mouth. Plain sweetness just seems to take over, without any grain or malt pleasantness.
Overall it's not bad, but feels quite dumbed down. No worries though, it can do in a pinch.
1,181 characters

3.79
/5
rDev
-0.8%
look: 3.75 | smell: 4 | taste: 3.75 | feel: 3.5 | overall: 3.75
I am now committed to reducing, if not eradicating, my backlog of bottles. This one was part of a local, in-person trade with tone77.
From the bottle: "Brewed according to the Bavarian Purity Law of 1516."; "Brewed from crystal clear Innstadt-Felsquell water."; "powerful and honest".
Not every pour need be heavy-handed to get things going! I merely began the pour when suddenly, I was getting a lot of foaming to go with the pseudo-cascade. Suddenly, there were three fingers of dense, rocky, bone-white head in my glass and they had some staying power. I am patient at this point of a day of beer, so I sat back and took in its pretty sunshine-yellow color (SRM = > 2, < 4) with NE-quality clarity. Nose smelled of grassy Saaz hops and toasty malts. I would have guessed it as a GER Pils if not told otherwise. I take that back, since as it warmed, I could also get notes of honey, which spells well-made lager, not Pils. Sehr gut! Mouthfeel was medium. The taste was a reminder of how good a simple lager can be. It had a slight grassiness to go along with a pleasant honey-like sweetness. No adjuncts, just the ingredients of the Renheitsgebot plus yeast. If they put this in a CAN, I could drink this sort of thing out of a cooler all day during the Summer. In the meantime, the finish was semi-sweet with the honey-like flavor lingering well past the swallow.
1,374 characters

3.97
/5
rDev
+3.9%
look: 3.5 | smell: 4 | taste: 4 | feel: 4 | overall: 4
Serving type: 500 ml bottle. There are cryptic notches corresponding to numbers and letters on the back label but no discernable freshness date.
Appearance: Poured into a pilsner glass. The color is reminiscent of lemonade and is a touch hazy. Two fingers of buttery, eggshell-colored head dissipated to leave a thin layer of foam.
Smell: The first whiff is very vinous and reminds me a lot of champagne. However, it thankfully fades (or maybe it was just me) to reveal sweet helles grassiness and pale malts. There is a little herbal spice, like grass gone to seed, but the grassiness and pale malts dominate. Very simple.
Taste: Crisp and malty with a nice, grassy hop bite to coat the mouth — exactly what I would expect from a helles. Very simple and clean.
Drinkability: This is simple yet very tasty stuff. It is what it is. Frankly, it is kind of quintessential.
883 characters
3.9
/5
rDev
+2.1%
look: 3.75 | smell: 3.75 | taste: 4 | feel: 3.75 | overall: 4
3.75
/5
rDev
-1.8%
look: 3.75 | smell: 3.75 | taste: 3.75 | feel: 3.75 | overall: 3.75
Bottle label data: notched bar graph with "2" and "A" notched.
Soft, light gold colored body with a thick, frothy, white head; clumps of foam clinging to the glass. Nice grain-like aroma; wet straw. Biscuit and bread crust flavors with a complementary degree of hop bitterness. Medium body with a very mild residual sugar sweetness.
An enjoyable, subtle and simple lager. Nice balance of light grain flavors and hop bitterness throughout. An uncomplicated yet satisfying beer.
478 characters

Innstadt Original-Hell from Innstadt Brauerei
Beer rating:
3.82
out of
5
with
10
ratings