Scheyern Kloster-Gold Hell
| Klosterbrauerei Scheyern
BA SCORE
82
good
13
Reviews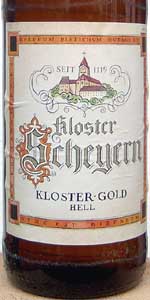 BEER INFO
Brewed by:
Klosterbrauerei Scheyern
Germany
Style:
Munich Helles Lager
Alcohol by volume (ABV):
5.40%
Availability:
Year-round
Notes / Commercial Description:
No notes at this time.
Added by GbVDave on 04-29-2007
Reviews: 13 | Ratings: 33
4.1
/5
rDev
+16.5%
look: 4 | smell: 4 | taste: 4 | feel: 4 | overall: 4.5
Poured from a .5l bottle into a 20oz imperial pint. Thanks to Iain for the hook up!
A: Pours a crystal-clear, bright-gold color. Lazy carbonation. Small 1/2 finger head that disappears almost immediately. Barely any lace present.
S: Toasted malt and restrained tart fruit. Fleeting hints of caramel and hops as well.
T: See above with the addition of bread crusts, and bitter, dry hops.
M: Dry and spicy. A touch of graininess. Quite prickly and very refreshing.
D: An excellently quaffable beer for this warm spring day. Extremely sessionable.
559 characters

4.08
/5
rDev
+15.9%
look: 4 | smell: 4 | taste: 4 | feel: 4.25 | overall: 4.25
Served cold from 500ml bottle into Veltins pilsner mug.
L) Pale straw colour, slight haze, lots of fine bubbles rising. 1cm dense white hide.
S) Sweetish Munich malt; hop odours are muted.
T) Quite sweetish soft lager malt flavour, very pleasant. Little to no hop bitterness bite.
F) Smooth and fairly refreshing. Not too fizzy and no bitterness in the aftertaste. Very easy to drink.
O) Another quality Helles; recommended.
433 characters

3.98
/5
rDev
+13.1%
look: 4.5 | smell: 4 | taste: 4 | feel: 3.5 | overall: 4
A: Clear golden pour with a large white creamy and a bit airy head. Slow dissipation leaves rich lacings.
S: Mild smell. Sweet malt. Honey. Some faint bitter hops, well balanced.
T: Sweet honeylike malt. Bready. Nice bitterness.
M: Light body, just true to the style. Rich carbonation. Short bitter aftertaste.
O: Nice one. A bit sweeter than others I've had earlier, but the bitter hops balances.
401 characters

3.9
/5
rDev
+10.8%
look: 3.75 | smell: 3.75 | taste: 4 | feel: 4.25 | overall: 3.75
Poured a golden colour, small head, retained some lacing, clear. Aroma was slightly malty with notes of apple. Tasted honey, malt, grass and apple, finish was slightly doughy. Had a light body, soft carbonation, smooth enough to go down easily. Overall great value for the price (10.99€ for 20 0.5 litre bottles). Beer was balanced and refreshing. Would say it borders a Maerzen.
381 characters
3.88
/5
rDev
+10.2%
look: 4.75 | smell: 4.25 | taste: 3.5 | feel: 4.75 | overall: 3.5
L:
-pours clear straw-golden with a fairly quickly dissipating head
S:
-really spicy,honey,floral
T:
-very spicy.honey,floral and faintly grassy
F:
-velvety smooth finish,medium carbonation,light
O:
-great example of the style
226 characters
3.63
/5
rDev
+3.1%
look: 3.5 | smell: 3 | taste: 3.75 | feel: 4 | overall: 4
look: 3.5 | smell: 3 | taste: 3.75 | feel: 4 | overall: 4
Appearance: Well filtered straw color with a weak head that disappears quickly. Vigorous bubbles, active.
Smell: Fruity small that has some of the grains on the outside. Subtle scents not anything that will knock your socks off through your nose.
Taste: Reminds me of a beer like apple wine. With notes of the earthiness at the end. Unique how they can extract such a flavor from such different ingredients.
Mouthfeel: A bit watery for my taste, but another good after the lawn is mowed on a hot summer afternoon brew. Goes down quick but the taste remains:
Overall: Not a bad brew compared with ones I have had before. definitely a unique flavor and a good showing if you are out for something different and not just the old hells standby.
807 characters

3.6
/5
rDev
+2.3%
look: 5 | smell: 3.75 | taste: 3.5 | feel: 3 | overall: 3.5
Pours two fingers of head on a clear golden body.
The aroma is grains and a bit of honey.
The taste is grains to start, a touch of lemon bitter in the middle and a mild metallic bitter finish.
The texture is crisp and fizzy.
Nice.
230 characters
3.39
/5
rDev
-3.7%
look: 3.5 | smell: 3.25 | taste: 3.5 | feel: 3.5 | overall: 3.25
Good looking beer. Active carbonation keeps the head alive, one finger deep...fluffy. Clear golden color . Light grainy, grassy-hay taste with pleasant lingering on the tongue. Easy drinker on a hot summer day.
210 characters

3.25
/5
rDev
-7.7%
look: 3.25 | smell: 3.25 | taste: 3.25 | feel: 3.25 | overall: 3.25
Clear straw color with white head. Aroma is really clean, just a bit of malt and a slight earthy hoppiness. Taste starts with sweet malt and a nice honey note. Finish is quite bitter and hoppy. Light body with crisp carbonation. Resembles more a pilsener than a classic helles. Crisp, clean and easy to drink but not very aromatic.
331 characters

3.1
/5
rDev
-11.9%
look: 3.5 | smell: 3.5 | taste: 3 | feel: 2.5 | overall: 3
I bought this beer a few ago when i was in Germany. What a country when you talk about beer!
Prices are unbelievable low for good pilseners. This one is best before november 2011.
Poured in my Struise glass the beer looks nice, not overwhealming. No carbonation at all, yellow fluid with a reasonable head.
Smell is with some citrus. Taste is a bit too sweet and very watery. I have had MUCH better German beers than this one.
429 characters

3
/5
rDev
-14.8%
look: 3 | smell: 3 | taste: 3 | feel: 3 | overall: 3
-pours crystal clear and yellow with a thin head
-minimal hop aroma
-delicate flavors, with the exception of a solid malt backbone
-clean fermentation leaves nothing to hide behind, but this beer has no flaw
-very dry and drinkable
-you can taste just a bit of the booze in this one as it warms
294 characters

2.98
/5
rDev
-15.3%
look: 4 | smell: 2.75 | taste: 3 | feel: 2.75 | overall: 3
Pours a clean, sun yellow color, with a decent, white head, which leaves back thick sheets of lacing.
Smells of grainy, dough malts, together with a note of wet hay and sunny wheat.
Has a lower carbonation with a decent copper bite after the swallow, which blends perfectly into the straw foundation of the beer, creating a spicy peak.
Tastes of white bread, accompanied by caramel, biscuity malts and leafy hops. Its distinct light maltiness developes a spicy bite, wrapped up by mellow hay and more bread. Finishes aqueous, with warming spices remaining on the tongue, adding to the wheat biscuity malts.
Well made lager with a pleasant spice inclusion. Mouthfeel is a bit thin during the finish, while its malt profile tries to make up for it.
751 characters
2.73
/5
rDev
-22.4%
look: 3 | smell: 3 | taste: 2.5 | feel: 2.75 | overall: 2.75
Deep golden, decent head.
Malt and honey in the smell, a bit too much.
Again a lot of maltiness at the taste, too sweet, with almost nothing to balance it.
Light body, average peristent aftertaste, again with malt and honey.
Not the best from this brewery.
256 characters
Scheyern Kloster-Gold Hell from Klosterbrauerei Scheyern
3.52
out of
5
based on
33
ratings.