Bison Organic Belgian Ale
| Bison Brewing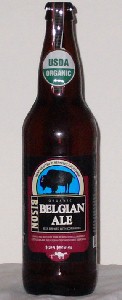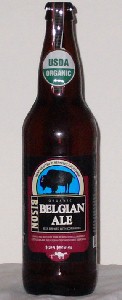 BEER INFO
Brewed by:
Bison Brewing
California
,
United States
bisonbrew.com
Style:
Tripel
Alcohol by volume (ABV):
8.10%
Availability:
Year-round
Notes / Commercial Description:
No notes at this time.
Added by xlperro on 12-01-2003
HISTOGRAM
Ratings: 62 | Reviews: 57
2.93
/5
rDev
-11.7%
look: 2.5 | smell: 2 | taste: 3.5 | feel: 3 | overall: 3
Pours a pale straw color, with a wimpy head. Closer in appearance to a Budweiser than any Belgian I know of. Maybe my nose is off tonight but I don't smell anything. It is however very flavorful. Tangerine, spices, honey... I like it, but there is NOTHING Belgian about it, hence the low scores. The best offering from Bison that I have tasted. But that is faint praise.
370 characters
4.16
/5
rDev
+25.3%
look: 5 | smell: 4 | taste: 4 | feel: 4 | overall: 4.5
Appearance: Poured from a 22 oz bottle into a 19 oz crystal sniffer. This beer is just glorious in appearance. A beautiful golden orange color with equisite dancing carbonation coming from all sides. A perfect 2 cm white head that has the best head retention on any beer I've ever had. I drank this one slowly and after an hour and half there was still a thin head on top. The 2 cm head lasted for at least 30 minutes. Sweet sassy molassy, it is pretty. The head is made up of very fine bubbles that make it look so creamy but keeps it stiff. It was artwork in a glass.
Smell: True to the tripel style aroma. Lots of corriander, citrus, pear, sour Granny Smith green apple, a touch of alcohol and some very light lavender and cinnamon scents. Very pretty. Something about the aroma makes me think of very clean water high up in the mountains. They could have used the tap water in Berkley to brew this beer for all I know, but it smells great nonetheless.
Taste: My first thought was that this beer is not what I expected from the color and aroma. This beer is very malty up front. There is some puckering sourness to start followed by tasty notes of light spices and sweet fruit flavors. The fruit flavors are mostly Granny Smith apple flavors along with pear-like wateriness and white grape juice. There are some floral characteristics to the flavor as well but they are very light and more like a perfume. The beer is sweet and oddly sour in the same way as a good, fresh apple. There is a very slight touch of bitterness on the end that sits in the rear of my tongue. Also, as the beer warms up the fruit flavors come out a lot more. The spiciness subsides and it is mostly fruity. Very tasty all around.
Mouthfeel: This beer is grainy and sandy but ever so smooth. The texture makes this beer very enjoyable as it waltzes across the palate. It also leaves a good apple-like aftertaste that is sweet but not sticky and annoying.
Drinkability: If I was looking for a good and readily available tripel I would gladly buy this one again. It's very well balanced and easy to drink. It's also one of the best looking beers I've ever seen so I might just buy it again for eye candy!
2,192 characters
3.58
/5
rDev
+7.8%
look: 4 | smell: 3.5 | taste: 3.5 | feel: 4 | overall: 3.5
Pours a blond color with an apple juice hue and minimal head with some carb action.
A light bready malt smell with perfume hops and hints of butterscotch.
A light sweet and acidic cookie dough malt; perfumy, lemon, and lime hops; with hints of vanilla and cola.
A light body, dry to slightly syrupy texture, soft carbonation, and a chalky finish.
Drinkability is ok there seems to be a slight musk in the finish.
424 characters
3
/5
rDev
-9.6%
look: 3 | smell: 3 | taste: 3 | feel: 3 | overall: 3
Bottle. Didn't taste very Belgian to me. It does have a decent amount of candy sugar flavour, but theres too many floral US hops to be calling it Belgian. The result was a little sweet, and a little odd. But, its drinkable, and interesting its own i suppose, , yeah.... not bad.
279 characters
4.17
/5
rDev
+25.6%
look: 3.5 | smell: 4 | taste: 4.5 | feel: 4 | overall: 4
Carefully poured, Bison's Organic Belgian Ale delivers a beautifully clear, golden-orange body beneath a short but creamy head of bright-white foam that dissipates quickly but still manages to leave some nice lace about the glass. Coriander is clearly evident in the nose, backed by some honeyish malt and notes of citrus rind. It's somewhat dextrinous and smooth across the palate; although it's very-fine bubbled, natural carbonation initially lends a light zest to the tongue. Fruit dominates the flavor once a quick sprinkling of spice has passed, with notes of peach, apricot, orange, and a subtle hint of lemon. (And the actual flavor from the grain is very nice... they must be using some good malt!). It's sweet, but not overly so; and the spice is nicely balanced to lend both flavor and a bit of zest. The bitterness is kept to a minimum, as it should be, and the spice helps to balance its sweetness and usher in a raspy, dry finish that lingers with coriander and a drip of honeyish malt. It's clean throughout; and there's no hint whatsoever of the 8.1% abv. A bit more complexity would be nice, and the lack of head retention is a bit disappointing; but overall this is a really enjoyable beer with a rich character and a good deal of drinkability.
1,262 characters
3.53
/5
rDev
+6.3%
look: 3.5 | smell: 3 | taste: 3.5 | feel: 3 | overall: 4.5
Pours a clear, true gold body with a fluffy, slightly sticky, white head that builds nicely and easily, but fades a little too quickly. The aroma is lightly spicy and has a touch of sweet straw malt. The flavor is lightly sweet, straw and cake malt, coriander and a bit of yeasty spiciness. The Belgian yeast character could have been a bit more promounced, although the alcohol is surprisingly well covered up. The flavor is also a little too quick to fade. Immensely drinkable though.
486 characters
3.5
/5
rDev
+5.4%
look: 3.5 | smell: 3.5 | taste: 3.5 | feel: 3.5 | overall: 3.5
The beer after its emancipation from the 22-ounce brown bottle sets in the glass a shining clear gold color with the head portly in size and a creamy white with the residual lace a thin velum like sheet. Nose is slightly musty sweet malt, crisp and clean with the start modestly sweet and the grain profile adequate, top is middling in its feel to the palate. Finish is biting in its acidity and the hops pleasantly spicy; aftertaste is desert bone dry with a slight hint of alcohol bitterness, a drinkable beer.
512 characters

4
/5
rDev
+20.5%
look: 4 | smell: 4 | taste: 4 | feel: 4 | overall: 4
Pours a flattish clear golden brew, looks like a Belgian trippel.
Smell is sweet with a scent of coriander and flowers. The bottle says there is a plum scent, I didn't smell that, just coriander and flowers.
Taste is sweet but not overly so. Mild coriander flavor and the flowers, tastes more like a Saison than a Belgian really. Fruit is there and is milder than most trippels.
Mouthfeel is good.
A tasty Belgian style brew, this is a good one for those that find most Belgians too sweet.
502 characters
3.89
/5
rDev
+17.2%
look: 3 | smell: 4 | taste: 4 | feel: 3.5 | overall: 4
Appearance – The body is "flat soda" orange and light. That's OK, but what's not OK is the complete lack of carbonation. This is supported by other BA reviews, so I don't think I got a bad bottle.
Smell – Very sticky sweet, spicy malts lead the way here with a nice hop balance. It's the fruits though that run this show. The orange and peach in particular stand out. Otherwise, it's a bit yeasty at times with some big coriander and white pepper.
Taste – The bitter orange almost reminds me of a pale ale. This is very well-balanced. I enjoy also the spicy malts and complex fruiting along with that sharp candy-type of sweetness. There are some nice watermelon flavors in there too, which you don't find very often.
Mouthfeel – Medium-bodied and very exciting in the mouth, due mostly to the spices. I didn't care for the lack of carbonation, though. On the other hand, I liked that little alcohol sting. It was just right in my book.
Drinkability – I'm not going to can this review just because it's uncarbonated, mainly because all the other components of a good Abbey Tripel were present. It was a distraction, though, I must admit.
Comments: This Abbey Tripel had almost no nose until it warmed. Take your time rating this one.
1,264 characters
3.28
/5
rDev
-1.2%
look: 3.5 | smell: 3 | taste: 3.5 | feel: 3.5 | overall: 3
Presentation: 22oz Bomber, picked up for $3.49. Most noticeable is the purple & charcoal paper strip that covers the crown cap and which is adhered to the front of the tall neck by a green and white roundel sticker that has the words 'USDA Organic' on it. The main label lists the beer as 'Bison Organic Belgian Ale', stated as 8.1% by Vol. No freshness date.
The blurb states "Our organic "Tripple-Style ale contains hints of fruit. Most notably plum, and was made with authentic Belgian Candi crystals, organic malts, water and yeast. The brew is balanced with a robust maltiness, a touch of coriander, and the subtle spiciness of organic Cascade Hops"
Appearance: It pours with a nice looking deep golden with amber-yellow hints when backlit. A small white head formed as the beer settled but disappeared as quickly as it formed. Once stabilized in the Goblet it has a very thin halo head that is completely devoid of any presence over the surface area of the beer. Medium-low carbonation and some active streamers give the beer some life and are the only things that prevent a dour 'flat' appearance.
Nose: Spicy fruity malts with some light hops. It has a nice nose similar to that of many other good Tripels, but just a little more reticent to let you know this, the odors are feint at times.
Taste: A spicy malt starts the beer, hops and coriander twang. It is pleasant and immediately relaxes the drinker, but it has a little raw quality to it which never really goes away. The alcohol is partially hidden, and only really comes through in the ending when it adds mild warmth to the swallow. A nice enough Tripel, but a little raw at times, and often restrained.
Mouthfeel: Above average mouthfeel that is aided by a large sweet malt character but sometimes detracted by the rather low carbonation lending a 'heavy and lifeless' feel to the beer at times.
Drinkability: The lack of any real carbonation can make this beer a little heavy going. In conjunction with the sticky sweetness and raw character that this beer has, makes one Bomber enough, I noticed that it took me a while to finish this one; I slowed as I worked my way down the bottle.
Overall: A little unrefined for a Tripel, and at times the sweetness has a sticky aspect to it. Not bad, but not one that I would invest in again, I would much prefer to pay the extra and have a Westmalle any day of the week.
2,412 characters
3.7
/5
rDev
+11.4%
look: 4 | smell: 4 | taste: 3.5 | feel: 4 | overall: 3.5
It poured a light golden yellow with not much foam and no lace at all. The smell was of a spicy and hoppy nature. The taste was of spicies and hop's like the aroma. The only set back was that had a little to much sweetness. Not really that bad, just not used to a Belgian Ale with so much sweetness.
299 characters
3.06
/5
rDev
-7.8%
look: 4 | smell: 3 | taste: 3 | feel: 3 | overall: 3
Orange gold color. Small white, quickly dissipating foamy head. Aroma is fruity and spicy. A medium bodied Belgian Ale. Malts are fruity and sweet. Oranges, apricots and peaches are the predominate fruit flavors. Slightly spicy, with a touch of coriander and slight hint of candi sugar. Very smooth taste. No hint of the 8.1 % alcohol. I'm not sure if I would call this a 'tripple", it a toned down Belgian style ale. It has a lot of the Belgian character to it, but they are way to mild. It needs to be kicked up a notch! Mouthfeel is full and round. Finish is clean and smooth. Aftertaste is slightly sweet.
612 characters
Bison Organic Belgian Ale from Bison Brewing
Beer rating:
3.32
out of
5
with
62
ratings