Dismiss Notice
Extreme Beer Fest:Los Angeles
Join us December 9th in Los Angeles for the ultimate throwdown of craft beer creativity!
Learn more...
Dismiss Notice
Bison Organic IPA Single Hop Series - Simcoe Hop
| Bison Brewing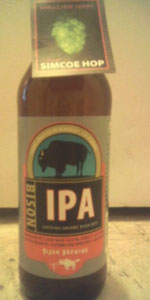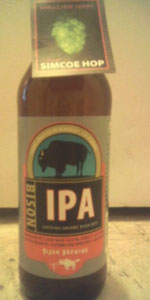 BEER INFO
Brewed by:
Bison Brewing
California
,
United States
bisonbrew.com
Style:
American IPA
Alcohol by volume (ABV):
6.80%
Availability:
Limited (brewed once)
Notes / Commercial Description:
No notes at this time.
Added by Gueuzedude on 09-04-2007
This beer is retired; no longer brewed.
HISTOGRAM
Ratings: 11 | Reviews: 10
Reviews by goschool:
3.62
/5
rDev
-2.9%
look: 3.5 | smell: 4 | taste: 3.5 | feel: 3.5 | overall: 3.5
Appearance: The pour is a cloudy pale-orange that, when the small white head disappears, reminds me of chicken broth.
Smell: The nose has a lovely apricot aroma upfront along with floral, citrus, and herbal hops in the nose.
Taste: The flavor profile has grapefruit upfront and a pulpy citrus taste. Biting bitterness compliments the predominant juicy citrus flavors nicely and a dab of pale malts hangs around in the background.
Mouthfeel: The body is a tad thin with a hoppy bite at the finish.
Drinkability: I like the idea behind the Single Hop Series. It's a great, and sometimes surprising, way to learn about hop varieties. I wish they could've made the leap from better than average to good.
706 characters
More User Reviews:
3.48
/5
rDev
-6.7%
look: 4 | smell: 3.5 | taste: 3.5 | feel: 3 | overall: 3.5
I like the idea of having a single-hop IPA series. Pours clear copper with a 2-finger white head. Clean, crisp hop aroma. Lots of pepper and pine with grass. Lighter taste than expected, almost like an XPA. Earthy, pine flavors with some lemon. A Bison beers go, this is pretty good.
283 characters
3.92
/5
rDev
+5.1%
look: 3.5 | smell: 4 | taste: 4 | feel: 3.5 | overall: 4
Presented in a 22oz bomber bottle with a collar tag to indicate that it's the Simcoe edition of the single hop series. Pours a fairly still golden-orange color, topped by a small amount of bright white head. Aroma is primarily brutally assertive Simcoe hops, in all their grapefruity, smoky goodness. Palate is full of hoppy bitterness that gets tempered slightly by some nice pale malt up front, only to take a serious backseat to the overwhelming lupulin qualities of the Simcoe hops.
Finish is dry and doesn't leave any lingering bitterness. Body is smooth, yet actually a little thin for an IPA of this caliber. Highly drinkable, this one goes down easy. Another interesting entry to the single hop series.
711 characters
3.83
/5
rDev
+2.7%
look: 4 | smell: 3.5 | taste: 4 | feel: 3.5 | overall: 4
A 22 oz bomber from a trade with limesmut.
A: The ale is a pronounced orange, easily darker than the Amarillo hop bottle that I just had. The head, however, remains lackluster. It barely rises above the beer and quickly slinks away.
S: The nose lacks a big oomph that makes it stand out. Citrus and floral aromas waft out of the glass, with orange peel and grapefruit adding a nice flourish.
T: The hop profile is quite floral, fruity with a subtle bitterness that lays just below the surface. The biscuity graininess is apparent but it never overtakes the hops. Instead it acts as a nice foundation for the power of the Simcoe. The hoppiness is more bitter than the nose lets on, with some grassy grapefruit flavors that are strong without a huge bite like the amarillo hop exhibits. The finish has tobacco harshness with touches of orange peel bitterness.
M: The hops are nicely bitter, strong with a bite that I can't help but enjoy.
D: I am enamored with the single hop line, each reveals a nuance that I often fail to appreciate in a mixed-hop IPA. I'd love to see a few more of these, if only to better acquaint myself with other varietals.
1,151 characters

3.41
/5
rDev
-8.6%
look: 4 | smell: 3 | taste: 3.5 | feel: 3.5 | overall: 3.5
Nice looking bright orange beer , small off white bubblybhead. Quite an unusual aroma, like raisin bread,doughy, small pine note, smells like oatmeal and raisin cookies! This one is more malt accented than the others of this series, its mostly semi-bitter malts until the end when the hops showcase..more on the piney side. Nice enough mouth feel to this one. Overall not bad and quite drinkable,.
397 characters
3.6
/5
rDev
-3.5%
look: 3.5 | smell: 3.5 | taste: 3.5 | feel: 4.5 | overall: 3.5
Served in a pint glass.
A: Moderate pour yields 1/4 finger of head. Where did it go IPA? Slightly hazy dark golden color. Very light for an IPA.
S: Cooked apple, slight off flavor right up front. Sitrus and pine, but very subdued hop smell. Is that just Simcoe hops?
T: Apple, subdued hop flavor too that is predominantly citrus.
M: Very smooth, not bitter much at all.
D: Tasty, but no more than one 22oz please.
I would not choose another bottle of this all-Simcoe IPA. Though it has a nice mouthfeel and smell, it is not my favorite flavor, and I wonder if that is the Simcoe talking.
588 characters

3.16
/5
rDev
-15.3%
look: 4 | smell: 3 | taste: 3 | feel: 4 | overall: 3
A vigorous pour produces a fat finger-thick, light tan colored head that sits atop a brilliantly clear, cranberry tinged, copper colored beer. The aroma is sharply aromatic with hop notes even at a distance of a couple feet. As I go in for a closer smell sharply herbal notes, pungent pine and dank hemp-like notes greet my nose. It almost starts to pick up a garlic / green onion like note as well. There are some typical hop fruit notes here, but not nearly what one would expect from Simcoe hops; muted candied orange peel, faint lychee and touches of tangelo are found if you really dig for it.
The beer is fairly light on the tongue; it is quaffable like a good IPA should be. The hop character is predominantly sharp & herbal, but there is some soft fruitiness that helps to provide a hint of balance. The malt here plays a completely supporting role with just a touch of toasty grain, and perhaps a hint of caramelized malt sugars. The finish is dominated by the hop character which is bitingly bitter, green, astringent and with a menthol-like like note that is almost minty. The expected, and more typically Simcoe associated flavors of fruit are more noticeable in the flavor than they were in the aroma, but still they are awfully muted from what one would expect from an all Simcoe hopped beer. Notes of lychee, ruby-red-grapefruit and tangelo are at a level above a hint, but not nearly as in your face and expressive as I was expecting.
I really am starting to be confused by Bison's hop series of IPAs. Both the Amarillo and the Simcoe have been completely counter to all other encounters / brewing experience with either of these hops. I wonder if there is something in there brewing technique that is creating / accentuating the harsher components of these hops (my guess, it is their water chemistry). This is a decent IPA, and in fact I would be enjoying it a lot more if I did not know that hop variety used in it.
1,940 characters
4.67
/5
rDev
+25.2%
look: 4 | smell: 4.5 | taste: 5 | feel: 4.5 | overall: 4.5
Looks like frozen honey. Very good head with great lacing.
Mild horseradish hops, malt fights it way through to back up the hops quite nicely but a bit of alcohol still stings the nose.
It's perfect. No one taste overtakes your palette at any time like most where you have to figure out what is what. This flavor is peppery and sweet and perfectly drying.
I have never had an IPA this good, and this is my favorite style. I can't give it 5's because I'm an old ornery college professor like that, but, drink this beer.
521 characters

4.07
/5
rDev
+9.1%
look: 4 | smell: 4.5 | taste: 4 | feel: 3.5 | overall: 4
I was curious about trying this one and also on familiarizing myself more with the simcoe hop, so here it goes.
Pours a rusty orange color, close to amber, with no head, maybe the beer is too cold or the bottle is not fresh. Looks a bit syrupy as well. Second half of the bomber produced an nice half inch or so of foam. Not very pronounced or intense aroma but very pleasant.
Sweet, ripe orange and tangerine with a touch of honey in the aroma. Caramel and toasted malts, also a bit of bread dough. Apricots and mango. I'm really liking the aroma in this one.
Tastes quite similar to the aroma, pretty refreshing and a nice change to other ipas. Toasted malts, tangerine and orange flavors with hints of pine in the finish. A nice, hefty malt profile with a generous dose of citrus. A touch of bitterness in the aftertaste.
Not too carbonated but still good, slightly thin in the finish.
894 characters
3.57
/5
rDev
-4.3%
look: 3.5 | smell: 4 | taste: 3.5 | feel: 4 | overall: 3
Appearance: Pours a clear body with just a slight orange tint to it. Tiny ring of white bubbles on top.
Smell: Handful of tropical fruits, grapefruit and papaya, served up in a light caramel sauce.
Taste: Caramel malts with just a hint of toast. More of the tropical fruits from the aroma displaying a nice juiciness. Fairly restrained medium bitterness. A touch citric on the finish.
Mouthfeel: Medium-bodied. Medium carbonation.
Drinkability: Not so enjoyable as an IPA, but it is pretty fun in terms of learning your hops and their various attributes and characteristics.
578 characters
Bison Organic IPA Single Hop Series - Simcoe Hop from Bison Brewing
Beer rating:
3.73
out of
5
with
11
ratings