Bison Organic Pumpkin Ale
| Bison Brewing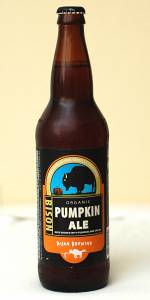 BEER INFO
Brewed by:
Bison Brewing
California
,
United States
bisonbrew.com
Style:
Pumpkin Ale
Alcohol by volume (ABV):
not listed
Availability:
Fall
Notes / Commercial Description:
No notes at this time.
Added by djeucalyptus on 10-02-2008
Ratings: 14 | Reviews: 14
Reviews by brownbeer:

2.49
/5
rDev
-19.7%
look: 4 | smell: 2.5 | taste: 2.5 | feel: 3.5 | overall: 1.5
Poured this one from a 22oz bomber into a pint glass.
Looks on par for a pumpkin ale, orangey.
Smells more like a flemish red, sour and no spice notes associated with pumpkin.
Taste is the same. It's not really bad but it's weird because it's sour. If this were a different style I'd be all about it.
I'm not sure but I think there was something wrong with this. Steer clear.
379 characters
More User Reviews:
2.13
/5
rDev
-31.3%
look: 2.5 | smell: 2 | taste: 2 | feel: 2 | overall: 2.5
Yuck is the first word that uttered from my mouth as this beer went down my throat. Pours hazy amber with a ring of white bubbles. Rotten pumpkin in the nose, like a 3-day-old jack o'lantern. Taste was missing one key flavor: pumpkin. There was nutmeg and malt, with and earthy woodiness, and something that tasted like butternut squash, but no pumpkin. Blech.
360 characters
2.96
/5
rDev
-4.5%
look: 2.5 | smell: 4 | taste: 2.5 | feel: 2.5 | overall: 3
Appearance- Pours a translucent apricot color with a good off-white head that settles pretty quickly to a ring. No head retention at all, no lacing to speak of.
Smell- Some pumpkin, no spice. Much more subtle than most pumpkin ales. It was served quite cold, so that could have something to do with it. Also has an interesting dry, earthy aroma. Quite promising.
Taste- Not to bad. Nicely spiced without being overly spiced (very common with pumpkin ales.). A bit sour for a pumpkin ale. Taste more like a Belgian sour.
Mouthfeel- Light for a pumpkin ale. Way over-carbonated.
Drinkability- Despite the low scores, this is actually a fairly pleasant beer to drink.
669 characters
3.7
/5
rDev
+19.4%
look: 4 | smell: 4 | taste: 3.5 | feel: 4 | overall: 3.5
The local market got a few cases of this in, an I've been on a pumpkin kick lately, so I had to oblige. Poured from a bomber into a tulip.
a. Pours a brilliant glowing amber with pumpkin-esque hues, on the red, gold, and orange spectrum of ambers. A vigorous pour yields a one-finger light head with a plethora of bubbles. It dissipated fairly quickly leaving a nice ring of thick lacing, following the ale down the glass.
s. Aroma is definite pumpkin. Not pumpkin spice but true pumpkin. Vegetable notes are dominant, and the squash aroma prevails. There's plenty of spicy malt present, with some toasted breadcrumb, burnt whole wheat toast and roasted pumpkin seeds. The "spices" are fairly hidden, a change from most pumpkin ales.
t. Complex malts accentuated by the earthy pumpkin squashiness. Spicy and sweet malts greet the tongue, leaving behind an unusual bitterness that I can only get close to describing as fermented squash. Sour but not acrid, funky but not rotten. the spices take a back seat to the malts, the pumpkin, and even the hops.
m. A full bodied amber with some good thickness. Creamy with a bit of carbonation pop. That bitterness and slight funk in the taste grabs hold of my tongue and doesn't let go, even when washed with the sweetness of the pumpkin and spice. It's a nice, rich, and complex ale. There's a tad of astringency that I assume comes from the squash being brewed in, but it's bordering on sharpness.
d. drinkability is tough to judge on this one. I enjoyed it, but it was a mouthfull and I certainly wasn't craving more. It's a nice balance of flavor profiles and the interplay between sweet malt and bitter hops is nicely accentuated by the earthy veggie-ness of it all. definitely worth trying, but more than once may be a stretch. This Bison almost reminds me more of squash ales I've tasted (like HOTD Greg). which can be good, but not if you want a true pumpkin ale.
1,918 characters

2.43
/5
rDev
-21.6%
look: 3.5 | smell: 3 | taste: 2 | feel: 3 | overall: 2
Bought this cause it's fall and I need to watch playoff baseball with a pumpkin ale.
Foamy white head which quickly dissipates into the warm orange body. Like That Oxy clean stuff, but orange.
Some pumpkin spices at first, leaving way for an acidy macro smell. Smells like berkeley after a renaissance fair.
Tastes nothing like a pumpkin ale, some bready malt tastes, pretty awful. It's as if they scraped the bottom of telegraph ave and put it in a bottle.
Horrible stingy aftertaste. A truly bad beer.
I've avoided this brewery for years, I will continue to do that.
576 characters

3.6
/5
rDev
+16.1%
look: 3.5 | smell: 3.5 | taste: 3.5 | feel: 3.5 | overall: 4
Slightly hazy ,light brown ale, with a huge,wonderful, tight bubbly head..light tan in colour.
Spicy aroma, some pumpkin in the malts.
Very malty, non sweet ,spiciness, pumkin shows through.Sometimes I get some "banana" esters..this is verging on a Belgian ale in spots, but quickly calms down to a good pumkin ale.
Good mouthfeel, maybe a wee bit under carbonated for style.
I liked this one and fouind it quite drinkable.
424 characters
3.25
/5
rDev
+4.8%
look: 3.5 | smell: 3.5 | taste: 3 | feel: 3 | overall: 3.5
22oz bottle.
Poured a medium and slightly hazy orange color with an averaged sized off white head. Aromas of pumpkins and spices (cinnamon, nutmeg, and others). Spices on the heavier side. Tastes of pumpkins and the same spices. I would say this one was definitely leaning on towards the spices vs. the pumpkin although the pumpkin was present. This one also had a light tart and sour finish.
393 characters

2.77
/5
rDev
-10.6%
look: 3 | smell: 3.5 | taste: 2.5 | feel: 2.5 | overall: 2.5
Now listening to: Eagles - Lyin' Eyes
A- dark orange with white head full of larger bubbles
S-pumkin, malt and mild spice
T-This is where it falls apart. Tastes like a watered down version of the beer that it is trying to be. More spice than pumpkin
M-Again, feels watered down and carbonation was really messed up. Felt like somebody shot seltzer into this.
D-Sorry, but the taste and mouthfeel really killed this for me. Could not finish glass. I will note that it is possible that this was a spoiled bottle, but it is hard to tell.
535 characters

3.1
/5
rDev 0%
look: 3.5 | smell: 3.5 | taste: 3 | feel: 2.5 | overall: 3
The aroma is malty with the requisite pumpkin and spice. But, I feel it isn't special. The appearance is deep gold orange with a nice head. The taste is like the aroma and too acidic. The mouthfeel is average. Overall it's drinkable but not very good.
251 characters
3.45
/5
rDev
+11.3%
look: 4 | smell: 4 | taste: 3 | feel: 3.5 | overall: 3.5
Shared at the Stuffed Sandwich tonight.
Pours orange with a little brown showing. Tall fluffy head with decent retention. Mild lacing.
Aroma is heavy on the spices. Cinnamon, maybe coriander, probably allspice or nutmeg. Not much pumpkin though. Some malt smell that reminds me of their other beers.
Flavor is alright. A bit like a malty beer thats past its prime. The staleness aside, it had a good spicy flavor going for it. Really no bitterness to speak of. Cinnamon, and again possibly nutmeg. Spices were a bit restrained but thats alright I guess.
Body was on the light side, low carbonation, refreshing and smooth. Almost sessionable but thats not quite how I like my pumpkin beers. Not all pumpkin beers have to Pumkings though.
742 characters
3.1
/5
rDev 0%
look: 3.5 | smell: 3.5 | taste: 3 | feel: 3.5 | overall: 2.5
22 oz. bomber, ran into this at Hi-Time, so I thought I'd try it,
A: Pours burnt orange with a small white head, medium lacing, better head retention than I've found in a lot of pumpkin beers.
S: Pumpkin flesh and a slug of cinnamon, but relatively good balance.
T: On the first taste this is a cinnamon bomb, though it balances out more as it warms up a bit. Nice pumpkin note at the end saves it a bit, I need some more pumpkin in a pumpkin beer though.
M: Nice body, full carbonation, spicy finish.
D: The overt cinnamon character makes it hard to get through at points though it's not a terribly bad flavour. Full-flavoured at least even if it's not all good, a far cry from some of the pallid tasteless pumpkin beers we get around here.
746 characters

3.63
/5
rDev
+17.1%
look: 4 | smell: 3.5 | taste: 3.5 | feel: 3.5 | overall: 4
Just picked this one up from SouthBay Drugs and Liquor. I've never had a pumpkin beer before so I needed to try at least one this season, starting with this one.
Pours a caramel color with about an inch of foam, decent retention.
Spices and bread upfront...I think I can pick out the pumpkin. Yep, I get a bit of pumpkin with some cinnamon, nutmeg, toast, and caramel. There's also a gaseous feel about this one, a little club soda. Quite fruity with some sweet apples, and a bit of dark fruits. There's also an aroma that reminds me of brett in wild ales, a bit of funk. I also get a aroma of squash near the end of my glass.
A lot of toasted malt flavor at first with a fleeting spicy taste that holds on in the finish. Some pumpkin in the mid-palate. Gets a bit sweeter as it warms up but not as pumpkin forward as I thought it would be.
Well carbonated but a tad thin, would have liked this one a little more meaty.
923 characters
2.73
/5
rDev
-11.9%
look: 3.5 | smell: 3 | taste: 2.5 | feel: 3 | overall: 2.5
Pristine pumpkin that glows like a jack-o-lantern when the slanting rays of the rising sun are allowed to enter the glass. The golden ecru colored crown has a decent amount of character and is starting to leave sudsy streamers of lace as it shrinks.
How can a beer that contains both pumpkin and spices smell like neither? There might be a hint of gourdishness with warming, but spice is nowhere to be... smelled. I'm reminded of a seriously underhopped amber ale more than the stated style. No off-aromas keep the score barely clinging to average.
The flavor doesn't deserve the same benefit of the doubt. In fact, there's no doubt about it, Organic Pumpkin Ale is not good beer in general and is a poor excuse for a pumpkin ale. BBC is usually more than capable, so I'm not sure what happened here. Did they taste it before shipping it out the door?
I'm now reminded of a fruitier than normal Oktoberfest. Toasted, earthy, nutty malts lead the way... and little else follows. The fruitiness could be coming from the ale yeast and/or the hops. This is a head scratcher. There's no way that I would have identified BOPA as a pumpkin ale if blinded. Again, no pumpkin and no spices. A wee hint of cinnamon perhaps, but it's probably just the power of suggestion.
Sour matches bitter, and both leave sweet in their dust. Warming adds precious little to the proceedings. The mouthfeel is a weak highlight, but only in relation to the rest of the beer's failures. It's on the thin side and has an acceptable amount of carbonation.
Without going through my other reviews, I have the feeling that Organic Pumpkin Ale is one of my least favorite Bison brews. If you don't like pumpkin ales, you're probably not even reading this. If you do, you probably won't like this one. Two thumbs down.
1,789 characters

4
/5
rDev
+29%
look: 4 | smell: 4 | taste: 4 | feel: 4 | overall: 4
This is a pretty good pumpkin ale, tasting like a solid ale with pumpkin and spice accents.
Copper-gold, very faintly hazy but bright with deeper redness in the wider part of the glass, it has a nice luminescent body. The head is thin, off-white and soon shrinks to a foamy ring and very thin foamy top.
The aroma is mostly malty with some bread, and a little burnt pumpkin and spice.
The taste is overall mostly a malty, somewhat toasty, ale with light yeasty bread, somewhat caramelly, and with hints of lemon and leafiness. However, it has a light, but clear, persistent accent of burnt/caramelized pumpkin throughout along with light spice. It has a crisp, but fairly long finish that is lightly toasty, caramelly, and pumpkiny with light lemony tartness.
It's quite drinkable and pleasant, and one of the better pumpkin beers I've had so far.
851 characters
Bison Organic Pumpkin Ale from Bison Brewing
3.1
out of
5
based on
14
ratings.