Lederer Premium Pils
| Lederer Bräu GmbH Lederer Kulturbrauerei
BA SCORE
83
good
10
Reviews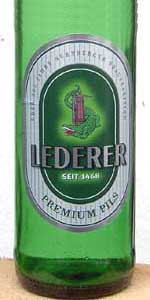 BEER INFO
Brewed by:
Lederer Bräu GmbH Lederer Kulturbrauerei
Germany
Style:
German Pilsener
Alcohol by volume (ABV):
not listed
Availability:
Year-round
Notes / Commercial Description:
No notes at this time.
Added by PatandDavid on 02-28-2004
Reviews: 10 | Ratings: 24
4.76
/5
rDev
+31.5%
look: 5 | smell: 4 | taste: 5 | feel: 5 | overall: 5
I'm a huge fan of good quality pilsners. So maybe i'm biased. Also, never had this out of glass - only tap from my local german bar. But its a great pilsner.
A - very beautiful pale golden color but not super clear (which is a good sign on quality pilsners). White and light frothy head.
S - wonderful subdued pilsner malt sweetness with a bit of noble hop earthiness and grassiness.
T - I really love this beer. Totally flawless as far as off tastes go (no metallic notes or diacetyl or anything bad). You get a rich, pure, pilsner malt sweetness with cracker followed by a phenomenal woody, foresty, earthy character from the hops. I LOVED the hop character to this beer - just crazy intense yet elegant german noble hop essense. You either love that or hate it. I love that earthy, grassy, flowery, slightly piney essence. Finishes dry and soft with the hops ligering nicely - and you can tell the water used in this beer is so soft soft soft
M- nice texture! light feel, yet seems so full and a bit grainy.
D - off the charts. I could drink this beer all night long.
I loved this beer. If you love high quality pilsners you will love this too. Some beer snobs sneer at pilsners but I find them to be beautiful in their simplicity if done correctly.
★
1,262 characters
4.52
/5
rDev
+24.9%
look: 4.75 | smell: 4.5 | taste: 4.5 | feel: 4.5 | overall: 4.5
All in all a suprisingly good bear a hot summer day.
Taste is good and it hold its good taste throughout the bottle.
Will try again. If I see this on a restaurant or bar I know wich beer I am getting.
★
200 characters
4.33
/5
rDev
+19.6%
look: 4.5 | smell: 4 | taste: 4.5 | feel: 4 | overall: 4.5
I have tried this beer several times at several different places, most of them being World Of Beer.
Apperance: Served in .3 Liter Lederer Pilsner glass, which I was allowed to take home. The beer is a clear golden color with a large light head, which takes a few minutes to disappate leaving a constanct quarter inch head.
Smell: Mild sweetness, hop notes, and a bit of spice.
Taste: Very crisp and clean, flavorful malt notes, noble hops as well, earth/grass notes. None of that skunky flavor you may associate with other pilsners (ie heineken). It has a crisp bite at the end as well, which may explain the alligator logo (are there even aligators in Germany?)
All in all, this is an excellent example of a pilsner and is indeed one of my go too beers. Be aware that it does have a bit of a bite, however, a pleasant one that most should find enjoyable.
★
859 characters
4.29
/5
rDev
+18.5%
look: 5 | smell: 3.5 | taste: 4.5 | feel: 4.5 | overall: 4.5
A: single finger white head with excellent retention on a clear bright golden straw body. Excellent lacing. This is as good ad a pilsner can look.
S: light grains, herbs, lemon and lime.
T: very clean. The grains and pale malts are flavorful without harsh notes or aftertaste. Some mild peppery zest and light lemon lime citrus. Hops are mostly herbal.
M: light body and moderate to high carbonation.
Overall: may be the smoothest and best pilsner I have had. I don't know if this style deserves many 5s but this may be as good as a pilsner gets.
★
550 characters
4.23
/5
rDev
+16.9%
look: 4 | smell: 3.5 | taste: 4.5 | feel: 4.5 | overall: 4.5
Ap: Golden metallic like color. Very beautiful.
Ar: Nice refreshing hop notes and spicy bitterness.
Ta: A crisp and engaging pilsner. Tastes mildly bitter with a sweet crisp bite at the end. A faint apple presence.
Mf: Refreshing and smooth. Very enjoyable.
Ov: One of my favorite pilsners along with Prima Pils. This is a very sessionable beer. Enjoy all night. Cheers!
★
374 characters
3.98
/5
rDev
+9.9%
look: 4.5 | smell: 4 | taste: 4 | feel: 3.5 | overall: 4
Started the drinking day at the Nürnberg Altstadtfest (visited on 26SEP09) with a Pils... a 0.3l glass for 3.20EU.
The tall, slender flute was filled with a light golden colored liquid, almost straw like. It was clear, with a steady, fine stream of carbo. Head was marshmallow white, smooth and creamy, lasted well and deposited decent lacing on the glass. Aroma was a tad bready, with lots of grassy hops and a hint of sharpness. Body was not quite medium, with lots of carbo airiness and some prickle on the tongue.
Flavor was light on the malt, with a bit of crackery sweetness present. Grassy hops were quite pleasant, being a touch flowery, too. Lingers quite well on the palate; a solid Pils.
Prosit!
4.05
look: 4.5 | smell: 4 | taste: 4 | feel: 3.5 | drink: 4
1167
★
777 characters
3.87
/5
rDev
+6.9%
look: 4 | smell: 3.75 | taste: 4 | feel: 3.75 | overall: 3.75
L:gives a light yellow color.clear, a decent top of head that stay there for a while.good lacings on the glass.
A: light malts.floral hops and different herbs as spices.i can sense cinnamon in small notes
T&F: starts of sweet and crisp ,the middle are more floral hops dominant.i also sense lemon rinds., I sense some notes of herbs to that are very noticable in the aftertaste, that is the one thing that I was not so impressed with. Else I find this pilsner have a very crisp mouthfeel and and very easy drinkable. Was a very refreshing taste
O: all inn all a good and thirst quenching pilsner that was easy drinking and good. Much better than a lot of other pilsner I tasted.
★
682 characters
3
/5
rDev
-17.1%
look: 3 | smell: 3 | taste: 3 | feel: 3 | overall: 3
This was on tap at the hotel bar where I stayed in Nurnburg...very basic beer, not awesome, not horrible. Pour was light golden, with a frothy white head. I thought the aroma was reminiscent of rye bread. The beer had a very light mouthfeel, so not highly carbonated. I didn't find the taste very strong...it wasn't watery or anything, but let's say it was very mild.
★
367 characters
2.73
/5
rDev
-24.6%
look: 2.5 | smell: 2 | taste: 3 | feel: 3 | overall: 3
Poured into a Spalter Pils glass with an initially large head that quickly faded in a matter of minutes. Most Pilseners have heads that are supposed to last much longer and be thicker. The smell is exactly that of a beer which is quite skunked and very similar to that of any other major European brew such as Beck's, Stella, Warsteiner, etc. The taste is nothing to write home about either, but it wasn't by any means terrible and like the aforementioned beers, very easy to drink.
★
482 characters
2.63
/5
rDev
-27.3%
look: 3.5 | smell: 3 | taste: 2 | feel: 3 | overall: 3
Poured into a tall Lederer glass with a handle (22 oz). The aroma is of grass and earthy hops. The taste is not as crisp or bitter as a pils ususally is. Carbonation is medium and the head retention is a foamy white head of three fingers. Very light in color, pale straw with a little chill haze. A very bland pils that is not what I am looking for at a nice beer bar.
★
368 characters
Lederer Premium Pils from Lederer Bräu GmbH Lederer Kulturbrauerei
3.62
out of
5
based on
24
ratings.