MerBear Rye IPA

Bear Republic Brewing Co.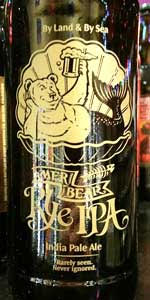 Write a Review
Beer Geek Stats:
| Print Shelf Talker
Style:

ABV:

7.5%

Score:

86

Avg:

3.79

| pDev:

10.29%

Reviews:

12

Ratings:

From:

Avail:

Retired (no longer brewed)

Wants

Gots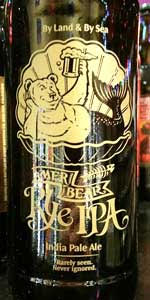 Notes: A Rye IPA collaboration with San Diego's pioneering Coronado Brewing Company. The pungent and layered blend of Ella, El Dorado, Equinox, and Azacca dry hops coupled with a whirlpool addition of Buddha's Hand creates an aromatic explosion, ending with a spicy malt caramel backbone.
3.75
/5
rDev
-1.1%
look: 3.75 | smell: 3.75 | taste: 3.75 | feel: 3.75 | overall: 3.75
a unique take on the ipa style here, nice to see bear republic cranking out some cool beer once again. this is a pretty rye heavy take on the style, and with some funky citrus fruit added. its a neat ix of flavors, and not something that has really been done at all on this scale. its darker in color, almost copper in the glass, brownish even, and a tad murky from the tap, but sporting a lovely tan head. the nose is sweeter rye malt, less of the spice, more of the baked bread aspect, bran muffin or something too, and then a nice bitter northwestern hop complexion with the mild citrus fighting to come through the other more robust aromas in here. its odd that the fruit seems to com first in this, bright and pungent right up front, way more than the nose lets on. the rye is still big and burly in here, not its usual spicy self s much as it is a little rounder, deeper, sweeter, rustic and earthy but also a little rich. hops aret over the top here, i think there could stand to be a bit more of them. bitterness is there and the beer is balanced, but the hops are the least exciting part of it for me. almost appears less like an ipa on my palate, but i do like the flavors, tons of rye, it comes together pretty well. definitely a welcomed change of pace in this style, cool beer, sneaky strong too.
1,309 characters
3.39
/5
rDev
-10.6%
look: 3.75 | smell: 3.5 | taste: 3.25 | feel: 3.25 | overall: 3.5
Bomber poured into nonic pint glass
A big, malty IPA from the collaborative efforts of Bear Republic and Coronado Brewing. Kind of a strange flavor profile, disjointed. Big, caramelly malted rye starts things off, nutty and bready, with a distinct cocoa-like undertone. Hops in tow, vinous and bitter. The brew has a grainy, rindy nose, with a spicy note of mint-clove. Long, bitter finish, oily and more chewy than it should be.
Unfortunately the sweet and bitter aspects of the brew do not compliment each other - it's too sweet and too bitter at the same time.
572 characters

4.08
/5
rDev
+7.7%
look: 4.25 | smell: 4.25 | taste: 4 | feel: 4 | overall: 4
Bottle poured into a Bear Republic Brewing Co pint glass
A: Pours rich copper brown with a frothy khaki head that settles to a firm layer and leaves some nice lacing.
S: Tropical fruit, passion fruit, mango, toasty malt, rye spice, resinous pine, citrus, grapefruit, orange, and a little dark caramel sweetness.
T: Pine and citrus up front, grapefruit, lemon, orange, peppery rye spice, gives way to tropical notes, passion fruit, mango, pineapple, candied watermelon, slightly toasty malt, and and a touch of dark caramel sweetness.
M: Medium body, moderate carbonation.
O: Was pretty happy to finally get to try this one. Well done beer with a great hop selection. And finally a limited release/collaboration that's not just a big imperial IPA.
751 characters

3.05
/5
rDev
-19.5%
look: 3 | smell: 3 | taste: 3 | feel: 3.5 | overall: 3
Thanks to rawfish for this extra, which will, I hope, compare favorably to its dull cousin brewed by Coronado. 22 oz. bottle split with my wife.
The pour is dark orange with a shot of orange, all crazy headed. The nose is light caramel…lots of dots. Nothing else. Rye appears to have left the building.
MerBear has been tamed & restrained for a long while. The rye is light - mild spiciness turning quickly into good farmland earth, split shot of citrus, pine, with a big pinch of caramel. Dry dry. The earthiness turns almost unpleasant on the finish.
Much like it's co-branded cousin, this is a Rye IPA brewed to the lowest common denominator. Decent enough, but I like more rye in my rye. This doesn't cut it.
724 characters

3.84
/5
rDev
+1.3%
look: 4 | smell: 3.75 | taste: 4 | feel: 3.5 | overall: 3.75
2016-04-14
22oz bottle served in a large snifter. Best By 06/05/2016. A large amount of beer left in the bottle (along with any sediment), since the glass is smaller than the bottle.
Pours a dark amber with a big light tan head. Head fades moderately quickly, except for a few clumps and a thick ring. Sheet of lacing appears to be deposited on the sides of the glass. Smell is roasty and spicy, mild fruity undertones.
Taste is very roasty rye with a quick fruit juicy splash followed by a moderate bitter finish. Bitterness builds much faster than the other flavors, and it comes across pretty roasty bitter pretty soon. Maybe a tad too biting, but not unpleasant at all (to my jaded palate).
Mouthfeel is smooth, a little oily. Overall, nice beer.
753 characters

4.25
/5
rDev
+12.1%
look: 4.25 | smell: 4.25 | taste: 4.25 | feel: 4.25 | overall: 4.25
On tap at BrassTap in a pint glass L: clear brownish Amber with active bubble streams, a finger of head, and mild lacing S: smells like a red ale with sweet malty notes, not much of an IPA aroma T: sweet malts and hoppy notes, not much bitter rye F: light and carbonated O: nothing mind blowing but a very solid beer
316 characters

3.69
/5
rDev
-2.6%
look: 4 | smell: 3.75 | taste: 3.5 | feel: 4 | overall: 3.75
A - Dark amber color with white soapy lacing.
S - Spicy, toasted caramel malt, earthy, and light citrus.
T - Earthy, earthy, and earthy. Rye spiciness, toasted caramel, and ends with a pine and citrus bite.
M - Big medium body with moderate carbonation.
O - Glad to have tried it but unfortunately wouldn't buy again.
322 characters

3.95
/5
rDev
+4.2%
look: 3.75 | smell: 3.75 | taste: 4 | feel: 4.25 | overall: 4
Thought this an inticing collaboration and had to pick up a bottle to give it a go. Deep ruby/brown hue, khaki colour head with nice, thick, creamy foam; giving way to lace that sticks it's way down the glass.
Definitely smells sweetly malty and spicy. Very earthy with subdued hops. Was expecting a little more of a hop bitterness, but the pine and hop cones do their bidding. A bit of roast and toastiness at the forefront, dark caramel, orange peel, grass, soil and a good bit of spice from the rye. Nice smooth and creamy mouthfeel from the grains round this one out quite well. Not really what I was expecting but I definitely enjoyed this. Always love a good Rye IPA.
674 characters

4.24
/5
rDev
+11.9%
look: 4.5 | smell: 4.25 | taste: 4.25 | feel: 4 | overall: 4.25
Rye IPA's are one of my favorite styles, so I am a little biased here, but I thought this was amazing. My favorite color for a beer...deep mahogany, with a white decent head. Great fruity, tropical, and piney aroma. Tastes of the same, with a sweet and peppery/spicy touch. All around great Rye IPA collab from two awesome breweries. Cheers!
347 characters
3.84
/5
rDev
+1.3%
look: 4 | smell: 3.75 | taste: 3.75 | feel: 4 | overall: 4
-No hop character to me, with strong malt caramel and toffee coming through. You pick up the rye in the aroma, and in the mouth feel and after taste. Overall a good beer, but not my style.
189 characters
3.99
/5
rDev
+5.3%
look: 3.75 | smell: 4 | taste: 4 | feel: 4 | overall: 4
Earthy, orange citrus, rye, & a mild spiciness as expected from the rye. The citrus and pine come out more as it warms. Nothing mind blowing, but a Solid rye IPA. Nice collaboration offering from two well respected breweries.
225 characters
3.7
/5
rDev
-2.4%
look: 3.5 | smell: 3.5 | taste: 3.75 | feel: 4 | overall: 3.75
On tap at Bear Republic Brewing Company in Healdsburg, CA.
Brewed with rye and Buddha's hand.
Pours a clear copper with a foamy khaki head that settles to a partial film on top of the beer. Foamy streaks of lace form around the glass on the drink down. Smell is of toasted malt, rye, citrus fruit, and earth aromas. Taste is much the same with malt, rye, citrus zest, and pine needle flavors on the finish. There is a mild amount of bitterness on the palate with each sip. This beer has a good level of carbonation with a crisp mouthfeel. Overall, this is a pretty good beer with a nice mix of rye and Buddha's hand.
Serving type: on tap.
642 characters
MerBear Rye IPA from Bear Republic Brewing Co.
Beer rating:
86
out of
100
with
53
ratings