Apex
| Bear Republic Brewing Co.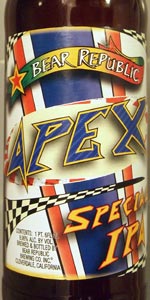 BEER INFO
Brewed by:
Bear Republic Brewing Co.
California
,
United States
bearrepublic.com
Style:
American Double / Imperial IPA
Alcohol by volume (ABV):
8.25%
Availability:
Rotating
Notes / Commercial Description:
Apex: The highest point, the culmination or climax. In racing, the apex of the turn is approached differently as conditions dictate, but always with a forward looking mindset. This beer is the culmination of years of brewing and drinking hop forward IPAs. We reserve the right to move forward to the next Apex.
2009 California State Fair - SILVER
2009 The Bistro Double IPA Fest – BRONZE & PEOPLE'S CHOICE
2009 Night of the Living Ales Cask Festival – 3rd PLACE & PEOPLE'S CHOICE
Added by BeerAdvocate on 02-22-2005
Reviews: 260 | Ratings: 1,012

4.72
/5
rDev
+12.4%
look: 4 | smell: 4.5 | taste: 5 | feel: 5 | overall: 4.5
On Tap @ The Blind Tiger 10-11-08
A: Pours an orange/brown, not very clear, with a large foamy head that says with the beer for the 1st few sips and leaves a thick lace
S: The aroma is very hoppy with a good background of citrus and caramelized malt. reminds me of 90min
T: Starts and finishes very hoppy with a caramel malt in the middle. The hops stay with ur tongue long after your last sip
M: Smooth and very crisp, medium body, medium carbonation, finish is clean and dry.
D: Very easy for a DIPA, the hop attack keeps you coming back for more. One of the best DIPA ive had, I had their mach 10 the same night and doesnt even come close to measuring up to this one. Please Bear Republic bottle this or make it available on tap more!!
743 characters

4.42
/5
rDev
+5.2%
look: 4 | smell: 4.5 | taste: 4.5 | feel: 4 | overall: 4.5
Oohfaaa this is the good stuff....happy to enjoy this on tap at the Blind Tiger in NYC this evening. Pours semi cloudy orangy amber, under a fluffy light tan head that leave plenty of ringed and splotchy lace. Nose is all about the citrus and resiny hops. On the tongue and in the mouth, the hop crunch here is outstanding and unmistakable, one sip and the brain says high quality DIPA.
386 characters
4.53
/5
rDev
+7.9%
look: 5 | smell: 4.5 | taste: 4.5 | feel: 4.5 | overall: 4.5
Pours a slightly fogged orange amber brown with a creme head. Damn that is one fine looking beer. Nose is piney citrus tones. Flavor is a bit bright. Vibrant citrus leaning on an orange-ish edge. Very balanced even though it's quite distinct. Feel is good on carbonation and the liquid is slick and smooth. Extremely easy to drink. Interesting to try this right after the Mach 10. Opposite ends of the hop spectrum. One earthy. One piney citrus. Both damn good. A sign of brewing prowess.
488 characters
4.85
/5
rDev
+15.5%
look: 4.5 | smell: 4.5 | taste: 5 | feel: 5 | overall: 5
On tap at the Bear Republic tasting at the Rubicon tonight. Another winner from Ricardo @ the bear.
A - Copper-amber, good retention, with a bit of head. Slight lacing.
S - Heavy malts, flowery, grassy hops, with a touch of caramel.
T - See the smell. Always good when smell and taste match.
M - Incredible. Just right, with a slight bitterness you expect from an IPA.
D - Excellent, no sense of alcohol whatsoever. Clearly a standard for the double IPA.
459 characters
4.35
/5
rDev
+3.6%
look: 4.5 | smell: 4.5 | taste: 4.5 | feel: 4 | overall: 4
Was initially disappointed when I was unable to get Racer X on tap at the brewpub, but have to confess I was quickly mollified once this was placed in front of me.
The beer pours the proto-typical light orange peach color with very good head retention and lacing. On the nose, this beer is all DIPA. One gets a blast of pine and citrus, with perhaps a touch of underlying lime and ginger. The flavors on the palate replicate the nose, with hoppy bitterness overtaking the sweet maltiness on the finish. This is a very hoppy DIPA! Mouthfeel is medium bodied and drinkability is fair. The abv. is fairly well disguised, though you can tell this is a big beer.
Perhaps not quite as excellent as the Racer X, but it would run a close second. This is a very solid DIPA from BR.
775 characters
4.92
/5
rDev
+17.1%
look: 4.5 | smell: 5 | taste: 5 | feel: 4.5 | overall: 5
On-tap 8/28/07 at British Beer Company in Walpole, MA, served in an imperial pint glass.
A: The beer is a murky orange-brown color, with a large foamy off-white head that fades very slowly and leaves a thick lace on the glass.
S: The aroma is very hoppy with a good background of citrus and caramelized malt.
T: The taste is very well-balanced with your typical West Coast IPA flavors of hops citrus and caramel. The hops presence is very strong and ends up winning out. The malt character is hearty but not too sweet. The after-taste is hoppy with a touch of sweetness.
M: Smooth and very crisp, medium body, medium carbonation, finish is clean and dry.
D: Very tasty, goes down quite easily, not very filling, nice kick, excellent representation of style and perfect example of a West Coast hop bomb, this is a perfect beer to stick with and drink a lot of, I enjoyed it a great deal. I'm hopes Bear Republic starts bottling this one.
941 characters
4.72
/5
rDev
+12.4%
look: 4.5 | smell: 5 | taste: 4.5 | feel: 4.5 | overall: 5
Enjoyed at the Bistro IPA festival. 5 oz. taster.
WISH I HAD MORE THAN THAT!
Though this beer was at the IPA festival and totally rocked all others on their rears in terms of taste, body and aroma. It was the bully of the bunch. It is listed here as a double IPA which I would agree with.
That said let's get down to the essentials: excellent floral nose... one of the few where you just smell and smell just to really get every particle of the aroma. Body was nice and thick... again, more like a DIPA, with a nice balance with carbonation.
Extremely drinkable. I'm hoping they'll have it on tap at Healdsburg!
623 characters

4.47
/5
rDev
+6.4%
look: 4 | smell: 4.5 | taste: 4.5 | feel: 4.5 | overall: 4.5
8/11/07- Had on tap at the Bistro IPA Fest.
Presentation- Via the tap into taster glasses.
Appearance- Deeper orange color headed towards the amber side. Slight head which decreases quickly, but leaves nice lace patches.
Smell- Super fruity in the nose. Bucket loads of grapefruit and a handful of pine needles. Caramel malt comes through as well. A bit of a whiff of alcohol.
Taste- Another fairly well balanced brew! Sweet caramel malt plays a bit part in this, but really compliments the hop flavor which is extreme sweet grapefruit and pine.
Mouthfeel- About the perfect level of carbonation and a great fruity hop aftertaste.
Drinkability- Tied for my 2nd favorite beer at the fest. Technically it's a DIPA and not a regualr IPA, but I won't hold that against it. Wonderful brew along the taste of PtE, but a bit more fruity and a bit more alcohol presence.
880 characters
3.68
/5
rDev
-12.4%
look: 4 | smell: 3.5 | taste: 3.5 | feel: 4 | overall: 4
solid burnt orange in appearance, rather clear with some gravity haze.. blurriness pushes the color towards brown. one finger of solidly airy foam, which leaves thin and porous walls of sheet lacing. peachy hop aroma with burnt brown sugar caramelization beefing up the boozy sniff. nothing overwhelming in the scent, very mild with fresh, floral wafts. dreading a bit of excessive sweetness though.
mouthfeel initially starts bold and grassy with an even spread medium level of bitterness. hops, yep. grapefruit zest and hop vine leafiness emerge like oils from a boiling bud. some buttery diacetyl, not enough to interrupt the flow of the flavor. a little bit of oddly placed strawberry yeastiness and smooth, off malt presence which contributes to the caramel flavor.
aftertaste carries that strawberry and brown sugar, the hop flavor dissipates quick but the bitterness lingers. really quite drinkable, reminiscent of he'brew's bittersweet lenny's ripa without the extreme thickness. while this is no racer x, it is a nice deviation from what you would normally expect from BR. recommended, but not in lieu of a 5 or an X.
1,133 characters
4.47
/5
rDev
+6.4%
look: 4 | smell: 4.5 | taste: 4.5 | feel: 4.5 | overall: 4.5
Mildly hazy copper color, topped by a fluffy off white head. Delicate floral hop aroma, just a little grassy. There is a mild caramel quality late in the aroma. Taste has more of the floral hop, mild mandarin orange citrus. Light sweet caramel blends with the citrus hops on the finish. Mouth feel is slick, but the beer is remarkably robust. Very drinkable. This is another winning IPA from Bear Republic.
406 characters
Apex from Bear Republic Brewing Co.
4.2
out of
5
based on
1,012
ratings.