Dismiss Notice
Meckatzer Weiss-Gold
| Meckatzer Löwenbräu Benedikt Weiss KG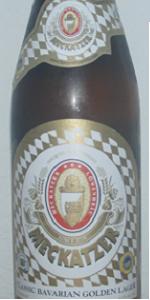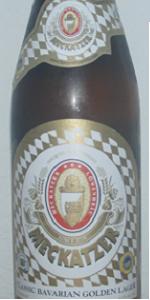 BEER INFO
Brewed by:
Meckatzer Löwenbräu Benedikt Weiss KG
Germany
meckatzer.de
Style:
Munich Helles Lager
Alcohol by volume (ABV):
5.20%
Availability:
Year-round
Notes / Commercial Description:
Despite the name, this is not a wheat beer, it's a lager. "Weiss" refers to the brewery's family name.
Added by stcules on 01-03-2005
HISTOGRAM
Ratings: 33 | Reviews: 25

4.09
/5
rDev
+10.5%
look: 3.5 | smell: 4.5 | taste: 4 | feel: 4 | overall: 4
330ML bottle poured into imperial pint glass
A - Slightly hazy yellow with an off white head that falls to a skim.
S - Grassy, grainy, toasted malts. Some hop bitterness. It has a nice abundant odor.
T - Taste follows smell.
M/F - Light in body. This beer is very smooth.
D - This is an easy choice for an everyday beer which is light yet has some nice mild complexities.
371 characters
3.88
/5
rDev
+4.9%
look: 4 | smell: 3.5 | taste: 4 | feel: 4 | overall: 4
Mildly foggy gold with a thin white head. Nose is sweet. Grain sweetness. Flavor brings much of the same. Not a large mass of complexity. Fairly smooth and decently consistent. Feel is smooth on liquid. Carbonation bites a bit, but not overly full. Easy to drink. Nothing wild or crazy, but it works. I can dig it
313 characters
3
/5
rDev
-18.9%
look: 3 | smell: 3 | taste: 3 | feel: 3 | overall: 3
I poured this very average beer into my tumbler at 50 degrees. The beer was cloudy and the color of pee. It had fine bubbles with a white headthat quickly decated. Lacing was decent. The beer smelled yeasty and like a fresh cut tomato. The beer was crisp and clean though watery. I would buy again.
298 characters
3.35
/5
rDev
-9.5%
look: 3 | smell: 3 | taste: 3.5 | feel: 3.5 | overall: 3.5
Pale yellow colored beer with a rapidly fading head.Aroma is grassy and floral.Taste is sweet,fruity and a touch grassy.This beer is pretty smooth and goes down pretty good.This is something I could see myself buying again.I definetly think it's worth trying at least once!!
274 characters

4.45
/5
rDev
+20.3%
look: 4.5 | smell: 4.5 | taste: 4 | feel: 5 | overall: 5
This is a nice, tasty helles.
Deep, bright gold it has a large, creamy, faintly off-white head that slowly shrinks to a thin lasting top and leaves some nice lace.
The aroma is strongly bready and herbal with grain and some lemon, pine, and hay. It's very nice.
The taste is similar and also excellent with bread, honey, a lot of herb, hints of lemon and pine as well as a sweet honey flavour with light herbal bitterness, but after the first few sips, it becomes slightly sweeter and blander, losing the wonderful initial balance and complxity. It still stays very tasty, thugh, with some complexity and it is very smooth and highly drinkable. The feel is creamy and smooth, yet lively and zesty. it is also very clean.
723 characters

3.95
/5
rDev
+6.8%
look: 3.5 | smell: 3.5 | taste: 4 | feel: 4 | overall: 4.5
11.2 oz bottle
Pours a transparent and very pale yellow color with a small white head and tons of visible rising carbonation. Toasty, corny and grainy characters in the nose with a hint at a hop kick. Lemon zest, clean yeast, pepper, banana, apple and semi sweet caramel malt come through more while tasting. A bit of funk on the after taste but all in all the beer is very balanced. Light in body and pretty drinkable. Worth a shot for fans of German lagers, no doubt.
470 characters
4.07
/5
rDev
+10%
look: 3.5 | smell: 4 | taste: 4 | feel: 4 | overall: 4.5
Meckatzer pours a brilliantly clear golden body (@3 SRM). The short head of bright white holds for a few moments, and then starts a quick descent. Lacing, however, is better than fair with lots of tiny spots and specks left behind.
The aroma is clean and sweetly-malty. It's lightly bready (think of a subtle toastiness) and grainy. Floral and grassy hops flitter about, accenting it.
In the flavor, the malt is less sweet than the nose suggests, and the hops are more present. The beautiful maltiness dominates, but the hops are also quite easy to pick out. The bitterness follows that course as well, being at a level that's restrained enough to allow the malt to shine up front before cutting through it and carrying you to a dry, herbal, floral, and just mildly grassy finish.
Very nicely done. Superbly balanced. Quite quaffable!
837 characters
4.12
/5
rDev
+11.4%
look: 4 | smell: 4.5 | taste: 4 | feel: 4 | overall: 4
Beautiful clear golden color, well carbonated with lasting snow white foam. Nose is very clean and refreshing, some light straw aromas with hints of walnuts and citrus. I really dig the nose on this one. Hops are very subtle, just backing the grains enough to achieve a perfect balance of grains and green.
The beer goes down clean with lots of carbonation to spare, it is very refreshing and have no flaws on the finish.
This is the type of lager I prefer, clean, simple and refreshing. I could have 6 in one day if my doctor recommended it.
545 characters
3.26
/5
rDev
-11.9%
look: 4 | smell: 3 | taste: 3 | feel: 4 | overall: 3.5
This is a good looking lager. In a mug, clear gold and a white one inch head that receded rather quickly. Lace sticks around (unlike an american lager). Smells like lightly cooked barley, a tad skunk, and minerally. Tastes clean, crisp, again minerally, slight noble hop bitterness backs up the grain. I mean it's a bit too minerally maybe almost a little metallic. It's a tad better than its american look-alikes but it isn't astounding. I'm sure it's better from the source.
476 characters
3.75
/5
rDev
+1.4%
look: 4 | smell: 4 | taste: 3.5 | feel: 3.5 | overall: 4
Thanks to Stefan my German students from this region for the gift!!
Pours a clear, golden color with a 2-finger white head. Lots of carbonation seen rising. Decent lacing.
Aroma is sweet, light hops, some grassiness.
Taste is of light malts, sweet, light hops and some yeastiness. Overall, quite light and very clean.
Mouthfeel is light bodied, crisp and cleansing.
Overall, a decent brew. Very sessionable. Easy drinking and quite good for the style.
456 characters
3.93
/5
rDev
+6.2%
look: 4 | smell: 3.5 | taste: 4 | feel: 4.5 | overall: 4
.33L bottle from the source.
Pours slightly hazy with a very pale golden color, topped with a frothy, tight, creamy head that's got plenty of glass stickage.
Aroma is soft, with a light hay note, faint floral, and hint of herbal.
Smooth and creamy on the palate, with an underlying and refreshing crispness. Light-bodied, but it leans towards medium due to the creaminess and round sweetness that begins to emerge. Nice, well-round mouthfeel. Light sugary note, bread, and Grape Nuts. Hint of golden syrup. Underlying herbal hop note. Clean finish with a residual sweet linger.
Despite it's appearance, this is a very flavorful lager and a pleasure to have tried. My only criticism is that perhaps it's a bit too sweet, which masks the hop subtleties.
756 characters
3.63
/5
rDev
-1.9%
look: 4 | smell: 3.5 | taste: 3.5 | feel: 3.5 | overall: 4
Slender 11.2 oz. bottle, with a bavarian checker pattern on the label. "Classic Bavarian Golden Lager"
Pours a pale yet bright golden tone. Swarm of bubbles rise to the surface. Foam is bone white, and leaves a coating of lace. Tiny bubbles rise slowly.
Grassy noble hop aroma, strong when the bottle was opened, and subdued a few minutes later.
Mild hop bite is felt with a big swig, even in a small sip. Dry papery taste of light malt and yeast. Light bodied and a little gaseous. Vague honeyish apple aftertaste without sweetness. Easy to drink a few, best in the warmer months. Paired well with a handful of cashews.
626 characters
2.87
/5
rDev
-22.4%
look: 2.5 | smell: 3 | taste: 2.5 | feel: 3 | overall: 3.5
Golden in color, full, with a not too compact head, white. It seeems to be too carbonated.
The smell is very malty, but also quite hopped, with a good balance. Herbal, fresh and inviting.
The start is malty, quickly covered by a good hopping, quite bitter. Aftertaste quite persistent of hop.
It is full in maltness and in hoppiness too, with a good balance. But the taste is a little less clean then the smell.
Good body. Maybe a little too carbonated.
453 characters
Meckatzer Weiss-Gold from Meckatzer Löwenbräu Benedikt Weiss KG
Beer rating:
3.7
out of
5
with
33
ratings