Zephyr Golden Lager
| Flossmoor Station Restaurant & Brewery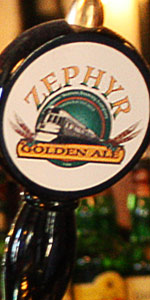 BEER INFO
Brewed by:
Flossmoor Station Restaurant & Brewery
Illinois
,
United States
flossmoorstation.com
Style:
German Pilsener
Alcohol by volume (ABV):
5.00%
Availability:
Year-round
Notes / Commercial Description:
Brewed to be highly enjoyable and drinkable, it contains 100% German malts, German hops, and German yeast! Deep golden color with a clean finish and some lager character to it! Prosit!
24 IBU
Added by BeerAdvocate on 05-13-2002
Ratings: 36 | Reviews: 16
2.07
/5
rDev
-36.5%
look: 2.5 | smell: 3 | taste: 1.5 | feel: 2 | overall: 2
on tap into a tasting glass at the brew pub.
Why oh why does each pub continue to dumb their self down to placate the dumb macro beer masses. This beer is nothing less than a crappy sell out. It looks and tastes exactly like a bmc. The taste is total garbage. At least the aroma has some character as its not at all skunk and provides a little sweet corn and actual hops.
Avoid this unless it comes as a freebie in a sampler.
427 characters
3.62
/5
rDev
+11%
look: 3.5 | smell: 4 | taste: 3.5 | feel: 3.5 | overall: 3.5
Appears a transparent light gold with a small white cap that quickly fades into a small collar. Spotty bits of lacing are left around the glass.
Smell is of rye, and cocoa nibs up front with notes of dry grain.
Taste is of the aroma with a refreshing, bready flavor that leads to a mildly tart finish.
Mouthfeel is medium bodied, sweet, lightly tart, and dry.
359 characters

3.03
/5
rDev
-7.1%
look: 3 | smell: 2.5 | taste: 3 | feel: 3.5 | overall: 3.5
On tap at Flossmoor pre-DLD.
Clear golden-straw in color with a thin white head.
Aroma is grainy with somewhat sweet pale malt. Pretty bland.
Flavor is pale malt, grain, nuts, and a slight ricey/adjunk note. I see now that they actually used rice in this beer. Why?
Light and crisp on the palate with average carbonation.
Not too exciting overall, but decent for the style I guess. Revolution's golden ale, which I had earlier that day, killed this.
454 characters
3.37
/5
rDev
+3.4%
look: 3.5 | smell: 4 | taste: 3 | feel: 3 | overall: 3.5
on tap poured into a pub glass at the brewpub in Flossmoor. pours a light straw/golden color with a half finger of white head that leaves light lacings and has weak retention.
aroma is lightly grainy, with a subtle citrusy hop note and a touch of yeasty biscuit in the base. nicely proportioned and concentrated for a blonde ale.
taste is more of the same with a grainy presence and a mildly hoppy finish very fresh and nicely composed on the palate.
mouthfeel is light bodied with a semi dry texture and finish, with a lightly tart character overall and a lightly bitter finish.
drinkability is good. a mild and dry blonde ale, with a rather hoppy character when compared to the style overall, but still tolerable.
719 characters
2.48
/5
rDev
-23.9%
look: 3 | smell: 2.5 | taste: 2.5 | feel: 2 | overall: 2.5
Pours gold with a light head that is almost nonexistant. Smell is faint, light malt and not much else. Taste is light and sweet malt with faint hops coming through to balance. Still pretty thin and bubbly, and reminiscent of a light beer. Drinkable, but not especially noteworthy, especially with so many other great beers at Flossmoor.
336 characters
2.68
/5
rDev
-17.8%
look: 3 | smell: 2.5 | taste: 2.5 | feel: 3 | overall: 3
I was not overly impressed with this beer. I had this on-tap at Flossmoor Station the night before DLD '08. I felt this had more of a macro-brew smell and taste to it. It's hailed as the lightest and most popular at the brewpub and I can certainly see why - even people who drink Miller can appreciate it. I would probably try this one again just to make sure, but was dissatisfied. Right now, I probably wouldn't recommend it.
427 characters
4.1
/5
rDev
+25.8%
look: 4 | smell: 4 | taste: 4 | feel: 4 | overall: 4.5
(Served in an American pint glass)
A- This beer has a light golden yellow crystal clear body with a creamy white head that fades after a bit. There is a nice good carbonation of tiny bubbles.
S- There is a nice smell of slightly sweet pale malt but it is still pretty neutral and a faint dry corn note in the background.
T- The slight sweet pale malt is balances very nicely by a crisp bittern noble hops at the finish. Not much depth but very fresh crisp flavors.
M- This beer has a medium-light mouthfeel with a soft fizz in the finish texture.
D- I usually don't like this style but they really do a nice job of keeping the beer light while giving good malt and hop flavors. They don't shy away from taste but a BMC drink could easy down a few of these and not be offended. I wished they served this at one of the ballparks.
846 characters
4.28
/5
rDev
+31.3%
look: 4.5 | smell: 4 | taste: 4.5 | feel: 4.5 | overall: 4
Sampled on: July 20, 2005
Aroma: Very faint. Has a slight aroma.
Appearance: Clear. Gold color. It has a moderate head.
Taste: I liked the taste of this beer. I could taste the hops which had a mild and almost fruity flavor. It is fairly sweet and was refreshing.
Mouthfeel: It was smooth beer. It has a light body and refreshing.
Drinkability: It is definitely worth the trip!
The brewer, Matt Van Wyk, has achieved an excellent product and I would return to Flossmoor Station in the future!
511 characters
3.52
/5
rDev
+8%
look: 3 | smell: 3.5 | taste: 3.5 | feel: 3 | overall: 4
Sampled at the pub. This is their "base beer," the one they have to have on tap for the neophytes and ladies. Very light in color and taste. Almost like a pilsener, believe it or not, but redeemed by a good spicy hop taste as the glass warms up.
245 characters
3.7
/5
rDev
+13.5%
look: 3 | smell: 3 | taste: 4 | feel: 5 | overall: 3.5
This brew pours a large white colored head of large mostly lasting bubbles and a transparent yellow colored body. It has a hoppy aroma and a mild hop flavor. I did not get anything else from the beer but hops. Flossmoor Station is a wonderful place to go and sample many fine beers near Chicago.
295 characters

3.83
/5
rDev
+17.5%
look: 4 | smell: 3.5 | taste: 4 | feel: 3.5 | overall: 4
Light straw color. Nutty aroma. Rice and corn on palate mixed with nutty flavor. Light bitter finish. Pretty simple
119 characters
Zephyr Golden Lager from Flossmoor Station Restaurant & Brewery
3.26
out of
5
based on
36
ratings.