.357 Imperial Pilsner
| Flossmoor Station Restaurant & Brewery
BA SCORE
79
okay
33
Reviews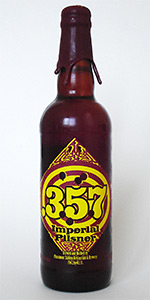 BEER INFO
Brewed by:
Flossmoor Station Restaurant & Brewery
Illinois
,
United States
flossmoorstation.com
Style:
American Double / Imperial Pilsner
Alcohol by volume (ABV):
12.00%
Availability:
Limited (brewed once)
Notes / Commercial Description:
"Go ahead. Make our day. Open up this bottle of .357 and enjoy this beer with THREE different malts, FIVE hop varieties (of course we used Magnum), and lagered SEVEN weeks. Ride off into the sunset with this in your holster!"
Added by Kegatron on 04-29-2010
This beer is retired; no longer brewed.
Reviews: 33 | Ratings: 51

2.63
/5
rDev
-20.1%
look: 4 | smell: 3.5 | taste: 2.5 | feel: 2.5 | overall: 1.5
A - Golden color with a small white head, a little bit of lacing, not bad looking for the style.
S - Lot of malts here, not caramelly, but a sweet, grainy malt. A bit yeasty, surprising amount of alcohol.
T - This beer drinks way too hot for me, actually felt a burn on a pilsner, not what I wanted, even if it is imperial. Very sugary, also not working for me. Decent amount of grain, but the alcohol and sweetness kills it for me.
M - Moderately carbonated, but I think it's too thick, sticky, and slick for the style, or if nothing else, just not to my liking.
D - Too much alcohol burn, too sweet, very poor drinkability. Would not drink this beer again.
662 characters
4.25
/5
rDev
+29.2%
look: 4.5 | smell: 4.5 | taste: 4 | feel: 4 | overall: 4.5
Pours a golden color with two fingers of thick sticky white head with nice retention time.
Scent of sweet malts, bread, spicy, bitter hops, and a hint of earth. The alcohol is nearly unnoticeable in this fantastic scent.
Taste of sweet, mild malt, dry, spicy earth, and some mild alcohol. Finishes dry with a hint of alcohol and grain. This is an unexpectedly great Imperial Pilsner, but again, I doubt age will be kind to this one.
Mouthfeel is medium bodied and oily with fair carbonation, I prefer the mouthfeel of this beer on tap.
With the smoother mouthfeel, this one is easier to drink, which may not be the best considering the strength.
649 characters
4.34
/5
rDev
+31.9%
look: 4 | smell: 5 | taste: 4 | feel: 4 | overall: 4.5
What a session beer this is ! I had it with a Reuben sandwich. It really paired well. Flossmoor Station does well with food. The people I was with remarked on the hoppiness of this one. I took the malt smells, but must admit to enjoying the hops. Big beer does pair with food. The blah blah of drinking it alone to savor it is crap. Eat and drink...everything gets along with something. Why deny it?
399 characters
4.2
/5
rDev
+27.7%
look: 4 | smell: 4 | taste: 4.5 | feel: 4 | overall: 4
Pours solid golden with a light mist of white head.
Smell is malty and very flowery with a light sting of booze.
Taste is well layered starting with earthy hops then to a flash of malts and bite with an ending of hops.
Finish is dry with a flash of flowers and malt.
Drinks very well but the strong bite makes it tough.
323 characters

3.15
/5
rDev
-4.3%
look: 3.5 | smell: 3.5 | taste: 3 | feel: 3 | overall: 3
On tap at Flossmoor Station pre-DLD.
Pours a slightly hazy straw color with a one-finger white head and some lacing.
Decent aroma - very sweet pale malt and grain along with a nice complex hop profile.
Flavor falls a bit flat. It's a bit underattenuated with very sweet pale malt dominating. There are some grassy and citrusy hop notes, but overall the balance is just not really there.
Medium-bodied and sweet on the palate with average carbonation level. The hop kick is not as big as I'd like.
Overall, wow, the high ratings on this one really surprise me. I thought it blew somewhat hard. I really don't get the hype around Flossmoor. Besides Wooden Hell, nothing I've had from this place has impressed me much.
720 characters
3.87
/5
rDev
+17.6%
look: 3.5 | smell: 4 | taste: 4 | feel: 4 | overall: 3.5
Had this on draft at Flossmoor the night before Dark Lord Day. Served in Chalice goblet.
A: Gold color with a little cloudiness, nice head.
S: Bready, yeasty aroma with a little citrus tones a bit of alcohol.
T: What came to my mind as I sipped this beer was an orangey triple sec flavor. Lots of alcohol and booziness, some honey and maltiness sweetness.
M: Medium to full bodied, lots of warming alcohol notes provides a real belly warmer feeling. Beer finishes with more of the orangey triple sec flavors.
D: Intrigued, I bought a couple of these in bottles to take home. Very much a slow sipping beer, I can't imagine pairing it with a meal or having more than one.
674 characters

2.85
/5
rDev
-13.4%
look: 3.5 | smell: 3.5 | taste: 2.5 | feel: 3 | overall: 2.5
On tap @ Flossmoor pre DLD 2010.
I figured I needed a beer to drink with my sandwich and the Anno Unum was only pouring outside, so I'd give this one a whirl. Plus, if it was good, I could pick up some nice looking wax-dipped bottles with great labels to take home or crack at Dark Lord Day.
Well, I didn't end up buying any bottles because this beer was really just not that good.
Brought to me in an open mouthed glass, it was gold and cloudy. Looks nice, now for a whiff...
OK, this will work! Nice skunky hops, earthy and grassy. And lots of 'em. Pilsen malt hangs out in the background but puts out its signature smell, a touch of toast, and grain. I raise the glass, we toast our journey from Ohio, our arrival at such a cool brewery and I take a sip...
Oh hells noes. What a bummer. Cleanup on isle 357, someone spilled a shit-ton of sugar. This is so unbalanced from the sweetness, it's too bad because I thought I liked where this was going. Fruity sweetness and dank hops. That's about all. Not impressed - in fact, I had a tough time giving the second half away. It was also noticibly hot, which I guess you can't avoid with a 12% pils, but wow, this was a choke-down or give up.
Mouthfeel was average, no holes to poke there. The finish is a bit dirty, though. Couldn't finish the pint I bought. Dissapointing at best - maybe Pilsners shouldn't be 12% - for an excellent example of a proper imperial pils, check the Blvd/Orval collab. Between this and Dark Lord I now have diabetes. Still had a blast there for pre DLD, though.
1,545 characters

3.65
/5
rDev
+10.9%
look: 4 | smell: 4 | taste: 3.5 | feel: 3.5 | overall: 3.5
22 oz burgundy wax topped bomber poured into an oversized snifter.
Pours a clear coppery gold, which settles into a tight finger of bright-white frothy head. Retention is nice looking here, with a ¾ finger cap of foam that throws a huge cascade of spotty lacing all over the sides of the glass. Bold American hops control the aroma at first, with grass & herbal tones, earth, spice, and a good bit of juicy smelling citrus towards the back of nose. Underneath lies the malts, with a rather beefy feeling layer of grainy toast, buttered biscuits, and warmth. It seems to be pretty even between the hops and malt here and luckily this isn't coming off as too overly warm in the nostrils.
Lots of sweetness here in taste, being full of grainy bread and with a surprising amount coming from the tropical fruit notes of the hops (which honestly is a bit overdone). Speaking of the hops, they definitely have their work cut out for them against that wall of sweetness. Earthy and spicy bitterness tries valiantly to keep up and does for the most part when this was cooler but as the profile warms up, all of that malty and fruity sweetness starts to become a bit cloying. This finishes with equal parts sugars and earthy grit, which latches on the tongue and can be hard to shake out of the mouth. The feel is full and thick in the mouth and I was definitely getting much more crispness to the body when this was served cold but room temp brings about a more viscid and sticky feel as all of that saccharine sweetness emerges. You know, there is naturally a good bit of warmth to the body but I never do get any kind of alcohol burn from the ABV and I must say that this is far less boozier than a LOT of other beers that I've had near 12% or even much less.
Well this certainly packed a punch and with a beer this extreme for the style, you have to know going in that there's going to be a good bit of warmth and sweetness going on with it. What impressed me however was just how well it kept its balance on the cooler side (I couldn't believe just how fast I was working through my first glass of the bomber) and even when it warmed, the alcohol never did become a huge problem. This bottle was a little much for me to nurse over the course of a couple of hours but I'd definitely recommend serving this on the chillier side and splitting it with a buddy or two. This wasn't NEARLY the mess that I was afraid it might end being. For what it is, this was a solid effort from Bryan & Crew.
2,490 characters
.357 Imperial Pilsner from Flossmoor Station Restaurant & Brewery
3.29
out of
5
based on
51
ratings.