Bourbon Barrel Aged Hi-Fi Rye
| Flossmoor Station Restaurant & Brewery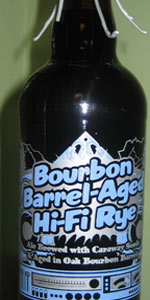 BEER INFO
Brewed by:
Flossmoor Station Restaurant & Brewery
Illinois
,
United States
flossmoorstation.com
Style:
American Barleywine
Alcohol by volume (ABV):
10.90%
Availability:
Rotating
Notes / Commercial Description:
Bourbon barrel aged American Barleywine brewed with 57% malted rye and caraway seeds, very spicy and boozy!
79 IBU
Added by MasterSki on 01-11-2011
Reviews: 113 | Ratings: 332

4.44
/5
rDev
+1.8%
look: 3.5 | smell: 4.5 | taste: 4.5 | feel: 4.5 | overall: 4.5
Thanks very much to both Richard and Jeff for sending me bottles of this!
A: The pour is much darker than the regular version. Very dark brown in color with a thin layer of khaki colored head.
S: Bourbon is the first thing to hit my nose. Lots of vanilla, caramel, and maple syrup all providing sweetness. There is a mild chocolate note on the back end, and you still get the rye and caraway.
T: Intensely sweet, but not cloying, sounds strange but it works. Vanilla, caramel, bourbon, maple syrup, and chocolate are all there and seem to work perfectly together. Again, the rye character comes through and is a nice counterpoint to the sweetness.
M: Medium in body with a somewhat low level of carbonation, but a really smooth feel on the tongue.
O: Damn was this good. I could drink plenty of this beer.
★
810 characters

4.59
/5
rDev
+5.3%
look: 4 | smell: 5 | taste: 4.5 | feel: 4.5 | overall: 4.5
22oz silver-waxed bottle into an unmarked snifter. Thanks azaaron for the trade!
Pours with a rich, toffee-amber hue beneath a thin wisp of newspaper-colored foam that, despite its lack in size, still leaves some nice webs of lacing. Enormous bourbon barrel aromas lash at the nose with an off-setting sweetness from caramel malt, spicy rye, and an earthy chocolate note. Incredible fragrance, very complex and inviting.
The flavor packs toffee and roasted chocolate malts into each sip, with the booze coming off as hot on the top of the palate, but the alcohol is so well integrated into this beer that it doesn't seem in the least bit harsh or boozy. The rye finish is tangy with a spice kick...AMAZING. Body is full, creamy in its consistency and flush with carbonation. All in all, an amazing beer that definitely raised some eyebrows. The comparisons with Wooden Hell are legit.
★
886 characters
4.5
/5
rDev
+3.2%
look: 4.5 | smell: 4.5 | taste: 4.5 | feel: 4.5 | overall: 4.5
Poured from a silver wax sealed bomber into multiple glasses. Thanks to Justin for sharing!Special thanks to Justin, Wil, Joe, Chris, Chris, Margaret, Matt, Aaron, Alex, and Jay for the assist!
A: Pours a cloudy, carmel-y brown with a 1/2 finger of bubbly light khaki colored foam. Retention was ok with a collar persisting 'till the end of the glass. Lacing was minimal.
S: Rich bourbon on the nose with help from vanilla, molassas, caramel covered cherries, and toasted coconut.
T: I loved how the bourbon didn't just run wild here. Sure the bourbon takes center stage, but the help from the supporting cast is excellent. Vanilla, plug tobacco, brown sugar/molassas, cherry, earthy damp barrel, and Heath Bar.
M: Rich, sticky, and smooth with just a hint of heat. Also, picking up a bit of dryness (other than from the alcohol) that might be from either the rye malt or the caraway seeds or both. That added another interesting layer to this.
O: Brian managed to take regular HiFi, which is a killer Barleywine, and fully succeeded in cranking up its' greatness by another couple of notches here. Excellent!
★
1,116 characters

4.14
/5
rDev
-5%
look: 3.5 | smell: 4.5 | taste: 4 | feel: 4.5 | overall: 4
Bomber shared by nickd717. Thanks!
Muddy, murky brown. Low carbonation and little head. Not the best looking beer, but I'll be forgiving.
The nose, on the other hand, is great. Tons of earthy rye balance by sweet barrel notes: vanilla, toffee, a little integrated booze and caraway spiciness. Really nice.
Spicy and earthy rye meets vanilla and toffee from the -bals, creating a delicious and balanced flavor. Caraway appears mid-palate, which leads into a dry earthy rye bread finish. Full bodied, pretty damn sippable and easy to drink. Best Flossmoor beer I've had behind Wooden Hell.
★
590 characters

4.47
/5
rDev
+2.5%
look: 4 | smell: 4.5 | taste: 4.5 | feel: 4.5 | overall: 4.5
Bottle @ a pre-Hunahpu's tasting at CCB.
A - Pours a syrupy reddish/brown color, small off-white head that doesn't stick around too long. Some bubbles remain here and there, but really, not much else.
S - Sweet burnt sugars, caramel, smooth bourbon, some oak. Very sweet, smooth, and rich. Decadent. The sweetness and alcohol work well together and don't overpower each other at all. Just the right balance.
T - Caramel, bourbon, touch of oak, burnt sugars. The impressive part here is how smooth this beer already is. For a newly-released BA Barleywine, it's unbelievable smooth, complex, and rich.
M - Medium, smooth, slight carbonation.
D - One of the most impressive beers I've had from Flossmoor (this includes Wooden Hell). The barrel-aging does wonders for the base beer (which is also good) and adds some wonderful complexity. One of the best BA Barleywines I've had in recent memory.
★
897 characters

4.67
/5
rDev
+7.1%
look: 4 | smell: 4.5 | taste: 5 | feel: 4.5 | overall: 4.5
Silver Wax, bought at brewery during Rls Day February 2010.
A: Clear, dark brown. Small off-white foam is gone quickly .
S: Caramely, sweet bourbon. Then some spiciness from rye or it seem more like hops with faint citrus scents. Definately inviting and many layers to peel back.
T: First there is a semi-sweetness, seemingly fruit as much as malt. Then the bourbon flavors of vanilla, dark cherry, whatever else came out of the barrel. A full mouth feel that seem totally approriate. Alcohol add's an element to the experience of this brew, it doesn't overhelm.
D: Complex and extremely well balanced. It's a very rich mix of the kind of flavors you expect in a bourbon barrel aged brew. I am huge fan of brewer(Brian S.) and this is probably my fav of his brews...so far. If I remember correctly it did win a silver medal at FoBAB. This brew is just another proof point that midwest brewers rule bb aged beers.
★
916 characters

4.52
/5
rDev
+3.7%
look: 4 | smell: 4.5 | taste: 4.5 | feel: 4 | overall: 5
Bomber into a Weyerbacher tulip. Huge thanks to Tony for sharing this and its unoaked counterpart.
A: Far darker than regular Hi-Fi Rye: clear, deep mahogany body with a thin head of fine tan bubbles. Nice.
S: The bourbon overpowers this entirely, and I'm fine with that. Nothing but bourbon, vanilla, and oak. Cool.
T: Rich, sweet bourbon, vanilla, caramel malt, rye spice, and more barrel. Wonderful integration, huge flavor. Fantastic.
M: Fairly light body with plenty of carbonation. Enjoyable, but it doesn't quite match the richness of the beer's flavors.
D: Beautiful. I could drink tons of this.
Notes: Wow, what an improvement. The barrel aging made a good barleywine truly great. I woke up the next morning still imagining the taste of this, out of all the amazing beers at the tasting. I may have to track down another bottle or two of this one...
Cheers!
★
873 characters
4.85
/5
rDev
+11.2%
look: 4.5 | smell: 4.5 | taste: 5 | feel: 5 | overall: 5
Omg! Poured from a chilled bomber into a snifter.
Edit: re-reviewed with about a year under it and about a year of barleywines under my belt as well.
A: dark brown with minimal carbonation but ruby sides.
S: FULL of amazing smells mostly darker candies like toffee, chocolate(sweet not bitter), and of course a really nice bourbon overtone.
T: vanilla, bourbon, chocolate, toffee, mild hops(don't know what), and hot balanced alcohol.
M: smooth as hell with just a fantastic fullbody mouthfeel! Hot on the finish but a pleasant finish.
D: it's young so I couldn't do this all night... Oh who am I kidding! This is the best barleywine I've had. I could drink this all night! (Update) It's calmed down a lot after a year making this without a doubt the best barleywine i've ever had! No i've never had M, WH etc but i've had utopias, shticky monkey, arctic devil, MoaS, and old mirror mirror and BA hi-fi beats them all out of the water. MORE PLEASE!
It's boozy of course because it's like a month old or so. (after a year it is not!) But I'm expecting this to be amazing!
★
1,078 characters
4.38
/5
rDev
+0.5%
look: 4.5 | smell: 4 | taste: 4.5 | feel: 4.5 | overall: 4.5
poured into oversized wine glass.
Appearance: dark murky brown body with a white tanish head.
Smell: Malty sweet with oak and brown sugar.
Taste: This beer is really malty and sweet, but is not cloyingly sweet...just right. Brown sugar flaored oatmeal, oak, and rye. No bitterness and no alcohol burn.
Mouthfeel: Full bodied beer. Low carbnation and smooth.
Drinkability: This beer drinks very well. Alcohol is hidden well.
Overall: Tried both versions of HI FI RYE tonight. Hands down the barrel aged beer wins; it drinks better because of how smooth this beer is. I really enjoyed both beers and they are both great beers to seek out!
★
642 characters

4.47
/5
rDev
+2.5%
look: 4 | smell: 4.5 | taste: 4.5 | feel: 4.5 | overall: 4.5
Murky/cloudy brown color. Nice thick ring of foam that leave some chunky & spotty lacing all around the glass.
Aroma & flavor are very similar with massive notes of vanilla, bourbon, cinnamon, caramel, & toffee with a semi-sweet maltiness as the backbone behind everything.. The key here is how well all of the flavors blend together and balance eachother out - no single element overpowers any other which makes this insanely drinkable, particularly when you consider how "BIG"of a beer it really is.
Super smooth, but not flat by any means. Mouthfeel is spot-on for the style. I cannot recommend this highly enough.
★
619 characters
4.4
/5
rDev
+0.9%
look: 4.5 | smell: 4.5 | taste: 4.5 | feel: 4.5 | overall: 4
Hazy dark reddish copper, offwhite khaki foam that dissipates into a wispy skim. Flecks of lacing all around the rim of the glass.
Soft bourbon nose, mellow and rich. Vanilla, brown sugar, toffee, fried plantains. Low level spiciness/heat reminds me a little of Templeton.
Rich and velvety smooth. Palate coating sweet heat, distinct bourbon flavor, toffee, rye bread, spice, caramel, maple syrup, dry tobacco. Lightly carbed, extremely smooth and well blended. Lip smackingly sticky. One to share (Thanks to beertooth for sharing this one!).
★
544 characters
4.37
/5
rDev
+0.2%
look: 4 | smell: 4.5 | taste: 4.5 | feel: 4.5 | overall: 4
On tap at FoBAB. Been waiting for Alex to add this as I knew he would have all the details. Let the hype train begin...The body on this is a murky brown with dark shades of orange. Not clear, ugly overall. A light tan head with better retention and lacing...This is sweet is well but more balanced by oak and chocolate notes, still lots of caramel and rye. Pungent yet smooth, not a ton of bourbon, barrel is more of an accent...The taste on this is great, a really smooth easy to drink barleywine, toffee and dark fruits with bourbon, and rye.
I need to have this again as my fobab pour doesn't do this justice.
★
614 characters

4.44
/5
rDev
+1.8%
look: 3.5 | smell: 4.5 | taste: 4.5 | feel: 4.5 | overall: 4.5
Sampled on-tap at FoBAB 2009.
A - Pours with a dime of tan foam that settles to a thick ring. The body is a hazed medium orange-brown color. Not as attractive as the regular version.
S - Chocolate, butterscotch, burnt sugars, chocolate, light oak, and perhaps a kiss of faded citrus hop character. This is definitely barrel heavy, as the rye and caraway is pushed to the periphery compared to the base beer.
T - Flavor is more into barleywine territory, with lots of caramel, toffee, and dark fruits. Barrel flavors move into the background and provide a rich earthy undertone. Quite mellow and highly enjoyable.
M - Smooth, creamy, medium-full body, with light carbonation and a sticky finish.
D - Brian's best beer at Flossmoor Station, and a significant improvement on an already solid base beer. Looking forward to the upcoming bottle release!
★
862 characters
Bourbon Barrel Aged Hi-Fi Rye from Flossmoor Station Restaurant & Brewery
4.36
out of
5
based on
332
ratings.