Shadows In The Smoke
| Flossmoor Station Restaurant & Brewery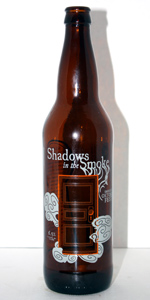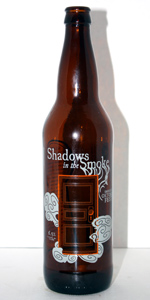 BEER INFO
Brewed by:
Flossmoor Station Restaurant & Brewery
Illinois
,
United States
flossmoorstation.com
Style:
Märzen / Oktoberfest
Alcohol by volume (ABV):
6.50%
Availability:
Fall
Notes / Commercial Description:
No notes at this time.
Added by TMoney2591 on 10-22-2012
HISTOGRAM
Ratings: 14 | Reviews: 5
Reviews by mynie:
3.15
/5
rDev
-13.9%
look: 3 | smell: 3 | taste: 3.25 | feel: 3 | overall: 3.25
In music, a band's genre status does not become calcified until ten, twenty years past the time when something comes out. This makes reviewing especially difficult, as having a set of generic reference points is crucial to explaining your opinon of a particular record—it would be downright unfair to compare, say, Ride the Lightning to Abba Gold. The two albums go for very different things, and both fail or succeed in very different terms.
But what does it mean if the genres keep shifting? Think about Weezer's first album, the blue one. When that came out, everyone (including me) thought it was totally indie-tastic, a hard-rocking testament to the fact that real, rebellious rock and roll was never gonna die, man. But then, after an emo second album and 15 years worth of pop rock records that range from middling to soul-crushingly horrible, it's become clear that Weezer were never really alternative, certainly never rebellious. They were guitar pop, a slightly more effective, less moody take on the same territory covered by Collective Soul or Live. Looking back at the reviews of the blue album circa 1995, then, everything seems off and stupid. Why were the reviewers reviewing it in that way, according to those standards?
Which brings me to a smoked fucking Oktoberfest. Maybe someday this will be its own thing—a smoked malty lager category that somehow formally differentiates itself from rauchbiers. But right now, this here, I am drinking a beer that claims to belong to a genre and then it does something that blots out all the distinguishing features of that genre. It's like a death metal boyband with all the guitars turned up so you can't hear the boys singing.
This isn't a very good smoke beer. It's okay, but problematically carbonated. The first, most salient flavor is a grating fizz, which is followed by smoked wood and light salami nodes. Nothing in here resembles an Oktoberfest.
1,935 characters
More User Reviews:
4.03
/5
rDev
+10.1%
look: 4.5 | smell: 4 | taste: 4 | feel: 4 | overall: 4
Saw this on the shelf and grabbed it, thinking it would be fun to try... not realizing it rang up at $11.99. Thanks Vas Foremost, use lube next time, sheesh.
Poured into a tulip glass, the color was a burnished copper orange, with a dense head of creamy foam on top. A halo of lace sticks to the glass, and the head retention is long lasting.
Definitely ample smoke in the aroma, light tobacco and leather, solid peaty smoke.
Flavors are pretty pronounced, moderate smokiness hits first, nutty smooth specialty malts blend in harmony. Hints of banana, dry smoke, and walnuts in the aftertaste. Hint of sweet toffee in the middle. Very well balanced and nicely structured, super clean and smooth in feel. Perfect beer for the cool fall weather, matched up well with some smoked gouda and (ideally) next to a warm fire.
823 characters

3.58
/5
rDev
-2.2%
look: 4 | smell: 3.5 | taste: 3.5 | feel: 4 | overall: 3.5
Served in a Local Option cervoise.
I didn't expect to see a new Flossmoor beer on my local shelf, much less a smoked Oktoberfest with a name that evokes compounded limited visibilities. This stuff pours a clear sunset amber topped by a finger of off-white foam. The nose comprises light banana, grass, very light plastic-y smoke, and light caramel. I somehow didn't see that particular combination coming, especially the pronounced, if slightly muted, banana. The taste holds notes of sweet caramel, dry toffee, beech smoke, and light grass. The body is a light medium, with a light moderate carbonation and a dry finish. Overall, this was a nice little O-Fest, but little more. I mean, it's a clever, original idea, but the end product isn't anything all that special.
772 characters



3.81
/5
rDev
+4.1%
look: 4 | smell: 3 | taste: 4 | feel: 4.5 | overall: 4
Pours a dense, tan-white head that is frothy and light...and HUGE, but not too persistent. Bright sweet malt with a touch of smoke (kind of disappointing in how little smoke aroma manifests). A burnt sienna color.
WOW! This is SMOKEY (the aroma is VERY misleading)! It starts with a nice hop bitterness, builds into a slighty grapefruit hoppiness, and the smoke comes back in, overpowering most of it, subduing in the finish to be slightly smoked with a surprising hop bitterness.
The juxtaposition between the aroma and the taste of this is mind-boggling. It smells SWEET and malty, but it is SMOKEY and BITTER. I am surprised by the amount of bitterness (it's a touch too bitter for me), and I wish there was more of this malt.
The hop bitter tends to muscle my palate around, while a maltier flavor would let the smoke shine through better (probably explains why Rauchbier tends to be malty bocks).
Overall, I love the effort in making a Rauchoktoberfest, but I think the base was too hoppy to let the smoke shine.
(For what it's worth, I like my Rauchbier to be INTENSELY smoked, a la Schlenkerla).
This isn't bad. It's a solid Oktoberfest with a touch of smoke. I was expecting a solid Rauchbier with a touch of Oktoberfest, so maybe my expectations are at fault here.
1,276 characters

3.5
/5
rDev
-4.4%
look: 3.5 | smell: 3.5 | taste: 3.5 | feel: 3.5 | overall: 3.5
3.67
/5
rDev
+0.3%
look: 3.5 | smell: 3.25 | taste: 4 | feel: 3.25 | overall: 3.75
Aroma is malts, fruit and a hint of smoke. The flavor is smoked malts, mild earthy notes and a mild tartness/tangy finish.
123 characters


4.05
/5
rDev
+10.7%
look: 4 | smell: 4 | taste: 4 | feel: 4.5 | overall: 4
From: Friar Tuck's, Savoy, IL
Date: None
Glass: Ayinger willi glass
Flossmoor station once again proves they can do no wrong to me (except, maybe, in price) with this smoked marzen. Substantial flavors of toasted malt, toffee, European hops, and beech smoked malt all combine into a fairly wonderful beer that may be the best American marzen I've tasted. This is a beer I would readily drink again, as well as purchase bottles of, though at $11 per 22 ounces, I'll probably only have one per season (if it's consistently released).
Pours a 2cm head of off-white bubbles, which features slightly above average retention, gradually falling to a thin cap atop the body of the beer while leaving substantial lacing caked along the sides of the glass. The beer has a hazy, orange-amber coloration, with light bringing out bright orange colors with a slight tint of red and brown, the beer about 70% opaque. Carbonation is visible, though minimal and somewhat sluggish.
Front of palate picks up rich toffee and toast malt flavors and sweetness, with a lingering hint of beech smoke in the background. Very nice in general, and the smoke component covers up anything lacking (which I generally find to be the case in American marzens).
The dominant flavors in the beer are fairly rich, toasted malts, beech smoked malt, and European-style hop bitterness. The resultant mix is an interesting blend of toasted bread, toffee, and European hop bitterness, with substantial smoked characters in the background. Front of palate picks up rich toffee and toast malt flavors/sweetness, with a lingering hint of beech smoke in the background. European hops appear in mid-palate, bringing in some spiciness, bittering qualities, and a mulch and leaf litter-like aspect to the toasted bread and toffee malt flavors/sweetness. Mid-palate is, in general, a very nice blend of toasted bread and smoked malt sweetness/flavors with European hop bitterness. Back of palate brings out some bread crust, more beech smoke, and continued bitterness. Aftertaste of lightly smoked malt with a hint of acridity and bittering European hops.
Beer is medium bodied, perhaps even medium-heavy in weight, with carbonation levels that are medium to low in intensity, generating a slightly foamy mouthfeel that is never prickly. The feel fits just right for the flavors and heaviness of the beer. Closes dryly, with modest stickiness across the palate; again, fitting for the style.
2,448 characters
Shadows In The Smoke from Flossmoor Station Restaurant & Brewery
Beer rating:
3.66
out of
5
with
14
ratings